LA LOVES THE NEXT BIG THING

By Ramona Shelburne
ESPNLA.com
Archive
A lot of you reading this are too young to remember much about what it was like to have an NFL team in Los Angeles. You don't have to. Just go back about five years to when Pete Carroll had USC on top of the college football universe. Trojans home games were a civic event. It didn't matter who they were playing. To get a decent parking space, you had to arrive four hours early. The Coliseum was packed full. Scalpers beefed up their kids' college funds. Celebrities clamored for sideline passes.
An NFL team would be like that, only bigger. And if that NFL team wasn't awful, watch out.
There are those who think Los Angeles is blasé about the NFL. All you need to do is look at the ratings for NFL games in Los Angeles since the Raiders and Rams left town to see how wrongheaded that is. The highest-rated NFL games in L.A. this year drew ratings between 13.6 (Jets-Vikings on Oct. 11) and 15.1 (Minnesota-Green Bay on Oct. 24).
There's something about the weekly nature of football that makes every game feel bigger. The Lakers always will be the Lakers in this town. They'll own it as long as Kobe Bryant is still playing. But having 41 home games a season cheapens the product. In a strange way, so does winning. We've been writing all season about whether the Lakers' players are too complacent and lackadaisical. Lakers fans can be the same way.
This town loves a winner. But it loves the next big thing even more.
JUST WIN, BABY

By Arash Markazi
ESPNLA.com
Archive
The success of Los Angeles' NFL team will entirely depend on its ability to win and win big. This city has little patience for average to mediocre teams that waste the public's time and money with a subpar product. Take a look at the teams that draw in this town, and the one constant is a legacy of championships and success. It's the reason fans come out to watch the Lakers, Dodgers, USC football and UCLA basketball, but are less inclined to sell out Clippers, USC basketball and UCLA football games.
As hungry as Los Angeles is for the NFL to return to the city for the first time since Christmas Eve 1994, the fans' enthusiasm will be comparable to watching a well-established comedian take the stage during an open mike. They'll make some noise and show some support at the beginning out of respect, but if they're not entertained, and fast, they're heading for the doors.
Even though the Lakers are currently the kings of Los Angeles, they are not immune to this citywide apathy. The day Kobe Bryant retires and the Lakers are unable to adequately replace him with a comparable superstar, this city will turn its back on the Lakers quicker than a director dealing with a starlet past her prime.
This city may not have a reputation for being a great sports town, but it is a fair and uncomplicated sports town. If you win, fans will support you and give you everything we have. If you lose, however, expect to be playing in front of empty seats, because there are plenty more entertaining things to do in this town than watch a bunch of losers -- no matter what sport they're playing.
You've heard our takes; now give us yours. DISCUSS
LISTEN LIVE!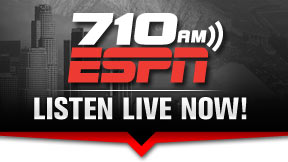 Want to sound off on today's Hot Button topic? Give us a call at 877.710.ESPN. Listen Live »