MALOOFS WOULD SUCCEED AS THE ANTI-DONALD STERLING

By Arash Markazi
ESPNLA.com
Archive
Despite what Los Angeles Angels of Anaheim owner Arte Moreno would like you to believe, Anaheim is not in Los Angeles and Los Angeles is not in Anaheim. They are rival cities connected by the Interstate 5 feeway. On a good day with no traffic (don't laugh) it will take you about 45 minutes to drive from the Staples Center to the Honda Center. On most other days that have come to define Southern California's famed gridlocked highways, it could take you closer to two hours.
The notion that Anaheim and Los Angeles are the same market is as absurd as saying Santa Monica is no different than Santa Ana. Attendance at Angels and Ducks games don't take a hit because of the Dodgers and Kings, and vice versa. Not only would an NBA team be successful in Anaheim but they would probably draw more fans on a consistent basis than the Clippers, even without a Blake Griffin. Los Angeles sports fans have to make a choice between going to Lakers or Clippers games at Staples Center. But if you live and work in Anaheim, Irvine, Fullerton, Orange, Santa Ana, Costa Mesa, Huntington Beach, Mission Viejo or Laguna Beach and want to drive to an NBA game at 5 or 6 p.m., the decision on which team to watch and support becomes pretty simple.
Forget how bad the Sacramento Kings are at the moment. There is a reason attendance at their games has been terrible and the team is looking to move out of their aging arena. They would essentially be like an expansion team had moved to Orange County. My guess is they would rebrand the team and create a new image to make them feel more like Anaheim's team and not a relocated team. It would be nothing new for the well-traveled team formally known as the Royals in Rochester and Cincinnati and then later the Kings in Kansas City and Sacramento.
Anaheim would no doubt embrace their new NBA team and its owners, the Maloofs, who would serve as the anti-Donald Sterling when it comes to interacting with fans and players and making the team an integral part of the community. Chances are, with the Maloofs in charge and the support of NBA fans in Orange County, we're more likely to see a Freeway Series in the NBA playoffs than a Hallway Series.
BAD TIMING MAKES IT A BAD MOVE

By Ramona Shelburne
ESPNLA.com
Archive
The Honda Center is a beautiful arena that should have hosted an NBA team a long time ago: the Clippers. But because Clippers owner Donald Sterling didn't want to fight traffic from his Malibu home to Orange County 41 nights a season, or pull a Kobe and take a helicopter, what should've happened never did. Which is how we've arrived at this awkward moment with the Sacramento Kings, where two struggling owners seem determined to take the richest lifeboat available to them regardless of whether the market can bear them or will embrace them.
The issue isn't whether Southern California can support three NBA franchises. It can. But the timing for this move couldn't be worse. Why in the world would you want to move a team that hasn't been relevant in almost a decade? To a town with two franchises on the rise? Heading into what will likely be a lockout season? In a down economy?
There are plenty of cities around the country that would love to have the Kings: Seattle, Vancouver, Kansas City and Louisville, to name a few. Each of those towns would sell out the entire home schedule the moment relocation plans were announced. I can't imagine any such fanfare in Orange County, where the Lakers have already deeply penetrated the market and everyone else is waiting for USC to start spring football practice.
If the Kings were a successful franchise, things might be different. But like Donald Sterling, this town has no interest in fighting traffic 41 nights a season to watch a losing team.
You've heard our takes; now give us yours. DISCUSS
LISTEN LIVE!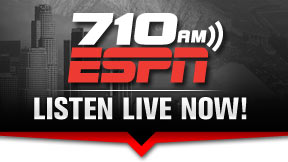 Want to sound off on today's Hot Button topic? Give us a call at 877.710.ESPN. Listen Live »