LESSON LEARNED FOR PHIL AFTER JOYLESS SEASON

By Andy Kamenetzky
ESPNLA.com
Land O' Lakers
I firmly believe Phil is gone for good. Or at least if he's smart, he will be.
When PJ announced his "leaning towards retirement" last June, some interpreted the statement as a ploy to leverage salary. I never doubted his sincerity. Jackson looked like a guy with nothing left to prove, worn down by the travel and rigors of NBA life and the chance to go out absolutely on top. But instead, a sense of obligation, plus the challenge of matching previously accomplished history prompted Phil to go against his better judgment.
There was a price paid for second guessing himself.
His legacy hasn't been permanently altered by any stretch, but it suffered an avoidable black mark. The regular season hardly represented his best work, and he performed even worse during the playoffs. There was even relief expressed over the premature flame out.
No matter what peace Jackson claims, I can't imagine there are zero regrets about reversing his decision. The season felt like a joyless trudge for Phil -- his team, too -- and a lesson should have been learned about visiting the well one time too often. I'd be stunned if Phil risked putting himself in that position again.
You've heard our takes; now give us yours. DISCUSS
NOTHING LEFT TO PROVE FOR PHIL JACKSON

By Arash Markazi
ESPNLA.com
Archive
The rumors will undoubtedly begin as soon as Phil Jackson officially retires. He will be linked to every marquee head coaching job that becomes available. He will be thought of as the final piece of a championship puzzle to lead a group of talented players to the promise land.
Don't believe it.
Phil Jackson is done. He has coached his final game. Let it sink in and get used to it.
Jackson didn't want to come back in 2005 after he initially retired but did so at the behest of his girlfriend Jeanie Buss. He didn't want to come back this year but did so because the lure of a fourth Three-Peat was too great. There's nothing left to pull him back this time.
What more does he have left to prove? He's won 11 championships, 13 if you count his days as a player.
He has already made his final toast and said goodbye to cities on the road he will never see again, such as Cleveland, Memphis and Milwaukee. He is done with back-to-back travel days, three-week road trips and dealing with players not listening to him.
The NBA has changed over the past 20 years since Jackson won his first NBA title as a coach and so has Jackson. He arrived in Chicago and Los Angeles with Tex Winter by his side. Winter helped instill his Triangle offense on both teams while Jackson masterfully coached and massaged the egos on those teams to unprecedented success.
Winter suffered a stroke two years ago and the failing condition of his friend and mentor opened Jackson's eyes to life after basketball. Winter will finally be inducted in the Naismith Basketball Hall of Fame next month and Jackson, who was inducted four years ago, will be in attendance. It will be the appropriate final chapter of Jackson's career in basketball no matter how rumors follow him the next few years.
LISTEN LIVE!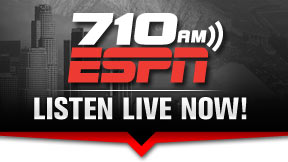 Want to sound off on today's Hot Button topic? Give us a call at 877.710.ESPN. Listen Live »