TIMES HAVE CHANGED. LA IS READY FOR SOME FOOTBALL.

By Arash Markazi
ESPNLA.com
Archive
Los Angeles is more than capable of supporting an NFL team or two. Anyone who says otherwise by citing the city's loss of two NFL teams in 1994 is failing to understand how and why those teams left.
There is a litany of reasons why looking at the Raiders' and Rams' attendance figures in the early 1990s is a false barometer of how much interest Los Angeles has in the NFL. Let's first begin by pointing out how much more popular the NFL is now than it was in 1994, the last year the city had an NFL team. Back then things like fantasy football and NFL Sunday Ticket, which have helped grow the NFL into the most profitable and popular sports league in the country, were in their infancy.
Back in 1994, the Raiders and Rams were two mediocre teams playing in mediocre facilities. Not only was the product on the field subpar but Los Angeles football fans were afraid to go to the Coliseum and Anaheim Stadium was too long of a drive to make to watch a bad team. After failing to improve their facilities and their teams, it wasn't hard to understand why the Raiders and Rams left. It also isn't hard to understand how a team could come back now and be successful in a brand new state-of-the-art stadium.
There is no question Los Angeles football fans would easily sell out a 68,000-seat Farmers Field on NFL Sundays and support their team. Of course, at some point the team in question would have to win some games and become a contender but there are more than enough football fans in Los Angeles to fill up a 68,000-seat stadium for 10 days out of the year even if they aren't contending for the Super Bowl initially.
NFL IN LA: RIGHT IDEA AT THE WRONG TIME

By Ramona Shelburne
ESPNLA.com
Archive
As much as I think Los Angeles wants and needs the NFL, there might not be a worse time politically and financially for this to finally be happening.
Too many people have let us down in the last few years. Too many people are unemployed or underemployed. Our state can barely meet its financial obligations, and our city leaders have to scramble every quarter for ways of meeting our civic obligations.
If you believe in deficit spending at all -- basically, spending money to make money -- all of these are actually reasons to pursue the NFL. Deep down, I think our politicians know this. Deep down, I think we all know this. But knowing something is a good idea and actually taking that risk are two different things. It's going to take guts to move this project along, at the pace AEG, the NFL or Ed Roski's group need it to move. I hope we have the stomach for it, but I worry we do not.
You've heard our takes; now give us yours. DISCUSS
LISTEN LIVE!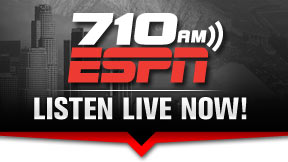 Want to sound off on today's Hot Button topic? Give us a call at 877.710.ESPN. Listen Live »