CHARGERS WOULDN'T CAPTURE LA FANS' SILVER AND BLACK HEARTS

By Ramona Shelburne
ESPNLA.com
Archive
Before we begin, I'd like to correct a common misconception. It's widely reported, written and stated that for the past 16 years Los Angeles has been without an NFL team. That's completely wrong: Los Angeles is still a Raider town. The Silver and Black may not play in the Coliseum anymore, and yes, they only played here for 13 seasons, but there is no team that stirs our football passions here in L.A. more than the Raiders.
Don't believe me? Head to the Southwest terminal of any local airport on the Sunday morning of a Raiders home game in Oakland and you'll see Raider jersey-wearing fans fill up all the direct flights to Oakland. Or head down the 405 Freeway on a Sunday when the Raiders play in San Diego against the Chargers and you'll see caravans of L.A.-based Raider fans heading to the game.
I know the Chargers are more likely to move to L.A. than the Raiders and yes, the Chargers are a lot better team than the Raiders right now and their success will probably connect with the casual fans here faster than a team run by Al Davis on his perpetual, but sort-of-lovable-dictatorial-whims.
But for a lot more people than you realize, the idea of switching allegiances from the Raiders to their division rival Chargers is tough to swallow.
For those people, I offer one consolation: At least it's not the Broncos.
You've heard our takes; now give us yours. DISCUSS
RAIDERS ARE MARRIED TO OAKLAND. LA WAS JUST A BRIEF FLING.

By Arash Markazi
ESPNLA.com
Archive
I'm not going to play into the stereotypes that normally surround the Raiders and their fans. That's not why I want the Silver and Black to stay in Oakland. There are bad fans associated with every team and most of the Raiders fans I know are actually great people. I don't want the Raiders to come back because they are professional football's version of Larry Brown -- they are always looking for the next best destination.
They left Oakland hanging in 1981 when they moved to Los Angeles and left L.A. hanging when they moved back to the Bay in 1995 and we're supposed to be sitting here, waiting to welcome them back with open arms in 2014? I don't think so.
What has always amazed about me about Los Angeles' love affair with the Raiders is they were only here for 13 years. They were in Oakland 21 years before that and have been in Oakland 17 years since. Don't you get it Los Angeles? You were a short-term rebound for the Raiders. Yeah, they got into a little fight back in the 80s but the Raiders have been married to Oakland for nearly 40 years. I've never considered L.A. sports fans pathetic but seeing the way they've clung on to the Raiders after after they were essentially dumped by them back in 1994 is just sad.
The Chargers are not only something new and refreshing, they're actually a winner. While the Raiders have gone 37-91 over the past eight seasons, the Chargers have gone to the playoffs in five of the last seven seasons, going 76-36 and advancing to the AFC Championship game in 2007. And as we know, above all else, Los Angeles supports a winner.
LISTEN LIVE!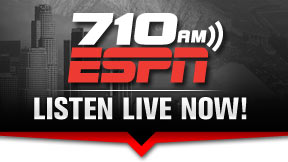 Want to sound off on today's Hot Button topic? Give us a call at 877.710.ESPN. Listen Live »