TROJAN TALENT CAN DELIVER TOP 10 FINISH UNDER KIFFIN, BARKLEY

By Ramona Shelburne
ESPNLA.com
Archive
USC is ranked in the preseason top 10 because it is one of the ten most talented teams in the country. Matt Barkley is one of the top five, maybe even top 3 quarterbacks in the country. Robert Woods is about to become a breakout star, and the Trojans had another star-studded recruiting class this year.
What the Trojans don't have is depth or much room for error.
I expect a huge improvement in terms of familiarity with the offense, defense and culture Lane Kiffin brought with him last year. I expect Barkley and Woods to blossom. And I expect several other players to develop into first-round draft picks.
In the best case scenario, everything that can go right does go right and the Trojans avoid major injuries or even too many minor injuries that rob them of their depth, and their stars carry them to a top-10 finish.
In the worst case scenario, USC's lack of depth comes back to bite it, inexperience on the offensive line gets Barkley and/or a top running back hurt, and one or two losses spiral into a mediocre season.
What generally happens is something in the middle, which is what happened last year.
The difference from last year to this year is that USC won't be answering questions about Pete Carroll or sanctions every day anymore, asking Monte Kiffin about his concepts on defense, or wondering whether Barkley will live up to his high school hype (he already has).
USC may not have a lot of room for error, but it certainly has the talent, the opportunity and the leadership from Barkley to live up to its preseason ranking.
TROJANS WILL RETURN TO TOP 10, BUT NOT IN '11

By Arash Markazi
ESPNLA.com
Archive
I couldn't help but think of Jim Mora's "Playoffs?!" rant when I first heard this question.
"Top 10?! Top 10?! Are you kidding me?! I just hope we can win a game."
OK, so USC will do more than win a game this season. I actually think they'll go 8-4 this season, which is a solid record and will put them in the Top 25 of the AP poll (they're not eligible to be in the coaches poll), but they will not be in the Top 10. Anything more than 3 losses knocks you out of that lofty company and I just don't see USC being 9-3 or better this season.
I see USC losing to Oregon, Stanford, Arizona State and Utah.
There is far too much inexperience on USC for me to envision them bouncing back from an early loss with no bowl game to play for. USC's mantra this season, as it was last season when they were on probation, will be to go undefeated with the hope of winning the AP national championship. That goal goes out the window after the first loss, and playing for pride becomes harder and harder after that second and third loss as last year's 8-5 squad discovered.
This year's team will have to overcome the loss of five offensive linemen with starting experience as only six offensive starters return and seven defensive starters come back. The team will also be breaking in a new kicker and punter. This is a team in flux, still adjusting to a new coaching staff and NCAA sanctions. The Trojans will return to the top 10 one day, but it won't be this year.
You've heard our takes; now give us yours. DISCUSS
LISTEN LIVE!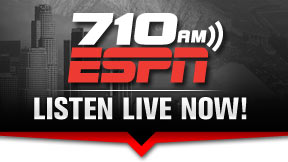 Want to sound off on today's Hot Button topic? Give us a call at 877.710.ESPN. Listen Live »