NEUHEISEL'S AGAINST THE WALL, WITH NOBODY LEFT TO BLAME

By Arash Markazi
ESPNLA.com
Archive
"The Football Monopoly in L.A. is Officially Over."
From the moment Rick Neuheisel was hired to become UCLA's head coach in 2008, the whole idea of taking it slow, moving step-by-step and not having high expectations went out the window when the school took a one-page ad out in newspapers proclaiming USC's days as the king of football in L.A. were numbered.
USC certainly isn't as dominant as they once were but the gap between the Trojans and Bruins hasn't changed much under Neuheisel's watch.
Last year the NCAA hit USC with a two-year bowl ban and the loss of 30 scholarships and the Trojans continue to recruit better than the Bruincs and as far as the bowl ban? Well, UCLA might as well have one too considering the Bruins have only gone to one bowl game (the now defunct EagleBank Bowl) in Neuheisel's three years at the school.
Neuheisel has gone 15-22 in his three seasons at UCLA with a 7-6 record in 2009 serving as the only season he hasn't gone 4-8. He has finished no better than eighth in the Pac-10, finishing ninth last season, and is 0-3 against USC.
UCLA is giving Neuheisel one more chance this year and after letting go of offensive coordinator Norm Chow and defensive coordinator Chuck Bullough. Neuheisel doesn't have anyone else to blame but himself if he doesn't lead UCLA back to a bowl game. Neuheisel's seat is scorching right now and nothing less than a winning record and maybe a win against that team across town still holding a football monopoly in L.A. will save him.
You've heard our takes; now give us yours. DISCUSS
"NUANCES OF UCLA" PROVIDE NEUHEISEL A BIT OF SLACK

By Ramona Shelburne
ESPNLA.com
Archive
UCLA athletic director Dan Guerrero had an intriguing answer when I asked him this very question last spring. He didn't say "yes," and he didn't say "no," but what he did say gave important clues about the criteria he will use in evaluating Neuheisel and the football program after this season.
"Rick did not inherit a pat hand," Guerrero told me last spring. "You'd like to push the button and go straight to the penthouse. But it doesn't happen that way. You still have to build step by step and that's what we're doing.
"I think I'm probably more patient than others in my profession because I know and understand the nuances of UCLA. It's not only different, it's much more difficult in a lot of ways. So you have to be able to give a coach that opportunity to make that change, to turn that program around."
In other words, Guerrero seems to recognize that there's no use replacing Neuheisel if this season doesn't go well, if he's not sure the next guy will do any better given "the nuances of UCLA."
What are those nuances? Try academic admissions standards that are as rigorous as any school in the Pac-12 not located in Palo Alto; a stagnant pool of money to pay assistant coaches; the slow, bureaucratic oversight of the Board of Regents that hamstrings UCLA more often than anyone realizes, and an often tepid fanbase that can barely fill the Rose Bowl to 60 percent capacity for most games.
The reason Guerrero hired Neuheisel in the first place had a lot to do with the fact that as an alumnus, Neuheisel seemed to understand all "the nuances of UCLA" and have the right skill set to overcome them.
I don't think Neuheisel can survive a four or five-win season, but if they get to a bowl game and start looking good in recruiting again, I think Guerrero not only will let him finish out the final season of his contract, but sign him to a short extension to avoid putting him in lame duck status next year.
After all, who's going to do better?
LISTEN LIVE!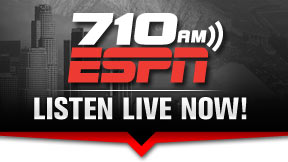 Want to sound off on today's Hot Button topic? Give us a call at 877.710.ESPN. Listen Live »