GAME ON: STERN WON'T LET A MISSED SEASON TARNISH HIS LEGACY

By Ramona Shelburne
ESPNLA.com
Archive
David Stern has been one of the most successful commissioners in the history of professional sports. For the last 37 years he's helped the NBA become one of the most popular sports in America. He's also 69 years old, which means part of his focus these days has to be one his own legacy. Losing an entire season after one of the NBA's best seasons in recent memory, seems like the fastest way to sully that legacy. Stern's too smart of a guy not to know that.
While his public comments the last week or two have been blustery and dire, I don't believe his bite will be nearly as severe as his bark. Threatening to cancel the entire season at this point is a negotiating tactic intended to scare the public and panic the players association. It won't work at this point because the public fundamentally won't believe that the regular season must be cancelled in the beginning of October. There's still plenty of time for both sides to come to a deal and salvage at least a shortened season.
Stern's owners have all the leverage in this because they can bear a lot more pain than the players or fans. But at the end of this, they have an Achilles' heel: Stern. He'll break before his legacy is turned bad over this.
You've heard our takes; now give us yours. DISCUSS
GAME OFF: OWNERS WILL DO ANYTHING TO FIX BROKEN ECONOMIC MODEL

By Arash Markazi
ESPNLA.com
Archive
Let me first begin by saying I think we will see an NBA season. Whether that's a full 82-game season or another 50-game season like we saw in 1999, I'm not sure, but I think at some point cooler heads will prevail in these negotiations between the owners and players and we'll have basketball.
That said, I can totally see a scenario where the entire NBA season gets cancelled and we don't have any basketball games until the fall of 2012 at the earliest. This isn't like the NFL where every owner is making a profit and locked out the players looking to make more of a profit. More than half of the owners in the NBA are losing money according the league and many of them would be just fine not playing a season and paying the inflated salaries of their players.
This isn't about preserving legacies, maintaining fan interest or doing what's best for the league short term; this is about fixing the economic model of the league, which the owners claim is broken and cannot continue as is.
David Stern will threaten to cancel the NBA season this weekend if no progress is made in negotiations, and while some will consider this a negotiating ploy, don't think he won't do it if the players don't make the necessary concessions he is looking for.
Something tells me Stern and the owners will get what they want from the players, who can't afford to miss paychecks come October. If they don't Stern won't blink an eye as he pulls the plug on the season, leaving the NBA in the dark for the foreseeable future.
LISTEN LIVE!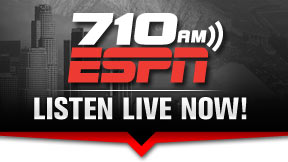 Want to sound off on today's Hot Button topic? Give us a call at 877.710.ESPN. Listen Live »
PLAYER MOVEMENT

Which superstars are planning to ball abroad during an NBA lockout? Check out our chart.

Several NBA stars can hit the open market in 2012. Check out who might be on the move.