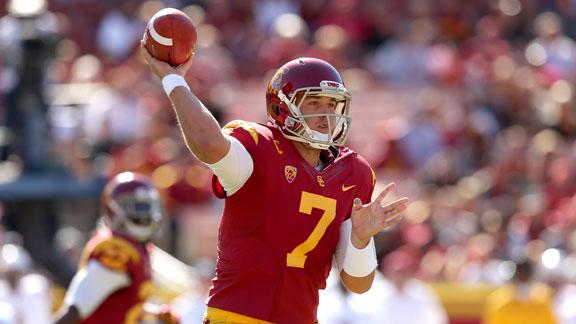 Bruins need a statement
By Peter Yoon
ESPN.com
Archive
UCLA can talk all it wants about heading in a new direction under coach Jim Mora, but nobody will believe it until the Bruins beat the Trojans.
USC has owned Los Angeles and has been a fixture in the national college football scene for much of the past decade. The Trojans are the measuring stick for college football programs in the West. Until the Bruins can escape that shadow, they will remain the junior varsity of the city.
Mora has taken the Bruins to heights not seen around Westwood for quite some time. The No. 17 Bruins are ranked ahead of the No. 18 Trojans for the first time since 2001 and are ahead of USC in the standings, but UCLA has lost five in a row and 12 of the past 13 games against USC.
It's no wonder oddsmakers, despite the better record and UCLA playing a home game this week, have pegged the Trojans as a three- to four-point favorite. In order for UCLA to start getting the kind of national respect Mora and the school would like, the Bruins have to show they can stand up to one of the elite programs in the country.
UCLA is lucky to get this measuring stick of a game each year, but lately, things haven't gone their way. A lack of success against USC is major reason why UCLA is largely seen as an also-ran in the big college football picture. If USC loses this game, it's just another blip in a disappointing season but probably won't harm the long-term image of the program. If UCLA loses, it will signify that, despite the nice record and new coach, nothing has changed in the Bruins' role as USC's understudy.
A UCLA victory punctuates the statement that Mora, indeed, has his team on the rise. That is why UCLA needs to win this game more than USC.
Stakes are much higher for USC

By Mark Saxon
ESPN.com
Archive
It's all about perception in college football.
If USC loses this game, its season will be viewed as a disaster. Four losses -- at least -- for a team entering the season No. 1 in the nation? Fans' disappointment will turn to rage.
If UCLA loses, presuming it's not 50-0 again, its season still will be viewed as the first step in a long comeback attempt. Fans will remain understanding.
Saturday is USC's last stab at redemption. If it wins, knocks off a top-five Notre Dame team and travels to Oregon and shakes up the national polls with an upset win in the Pac-12 title game, it will be viewed as a fast finisher and a dangerous team -- even while losing its senior quarterback -- for 2013.
If it loses, its coaches' jobs could be in jeopardy, it will be headed for a December bowl game, and playing the spoiler for Notre Dame will be its only reason for competing. Quarterback Matt Barkley and safety T.J. McDonald will have essentially wasted a year of development in the NFL to return for their senior seasons.
This rivalry has tended to run in streaks. UCLA dominated from 1982 through 1998. Since then, USC has won 12 of the last 13. The one loss was that sluggish 13-9 loss in 2006, the one that knocked USC out of the BCS title game. The prize isn't as alluring in 2012, but the stakes are, in some ways, higher. Saturday is all about staying on top of the city.