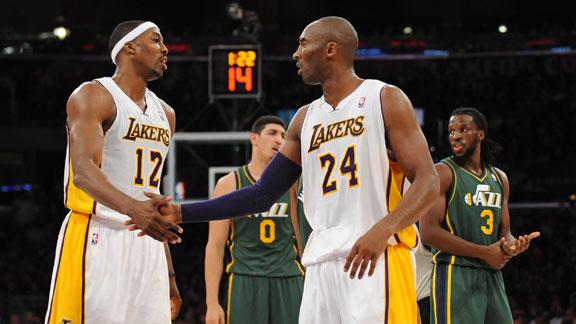 PROBLEMS MOUNT
UNLIKELY, BUT YES
Can't ignore the huge obstacles

By Ramona Shelburne
ESPN.com
Archive
It's crazy to write the Lakers off so early in the season.
Too much has gone wrong and too much can still be corrected. When Steve Nash comes back -- possibly by the end of the month -- we'll really get to see what Mike D'Antoni's offense looks like and whether Nash is the key to making it all work.
But it's crazy to ignore what a deep hole the Lakers have dug themselves.
Just to make the playoffs, they'll probably need to win at least 36 more games. Add about 10 games to that number if they're hoping for a top-four seed and at least one round of home-court advantage.
That would be some kind of run. While this team is certainly capable of it, it's also just as likely it continues to struggle for the next couple of weeks and goes through an adjustment period when Nash comes back.
The Lakers will rally and make the playoffs. But winning a championship from a seventh seed is a much harder road to travel, even for a team as talented as the Lakers.
They're still a tough team

By Arash Markazi
ESPN.com
Archive
The team you are watching now is not the same team you will see in April. Call me optimistic, call me crazy, but when a healthy Steve Nash and Pau Gasol join Kobe Bryant, Dwight Howard and Metta World Peace by the end of the month, the Lakers will turn their season around.
Now don't get me wrong. This team isn't winning 60 games this season. They might not even win 50 games at the pace they're going, but if they go 49-33 and are a No. 5 or 6 seed in the playoffs, they'll be the one team no one wants to face and could easily find themselves in the Western Conference finals.
While I believe the Lakers are a top-four team and a championship contender when healthy, I don't see them actually winning the title this season. The season is very much like a game. If you find yourself down 16 points in the third quarter, as the Lakers have a few times this season, you can certainly claw your way back and make it a one-possession game late. But that usually takes so much out of you that it becomes almost impossible to finish the job.
The Lakers will hit that wall at some point in the playoffs after turning their season around, but that doesn't mean they won't contend for a title before that time.