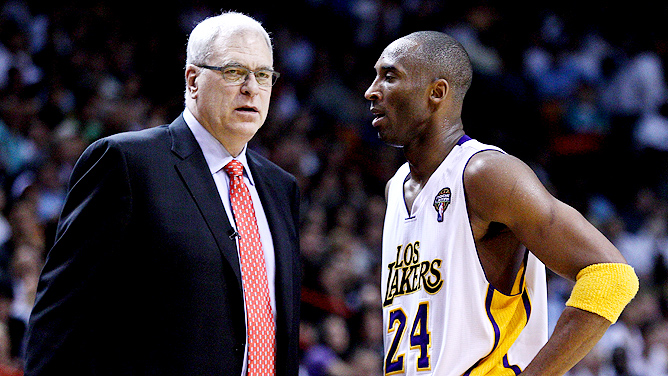 Derick E. Hingle/US Presswire Kobe Bryant has won only one MVP and Phil Jackson has won only one coach of the year award.
Our regular run-down of Kobe sightings in the digital sphere:

• ESPN.com's LZ Granderson opines that we will later regret it -- deeply regret it -- if Kobe Bryant finishes his career with only one MVP award, as he has now. Both Bryant and Lakers coach Phil Jackson possess only one of their respective best-of-the-year awards, and Granderson thinks that's ludicrous especially in Bryant's case:
"I get it, dude rubs people the wrong way," Granderson writes. "He used to take ill-advised shots. He's been accused of tanking games to make a point. He's had legal trouble. He ratted out Shaq. He tried to be a studio gangsta. Trust me, I get it all. But he's not being considered for Miss Congeniality."

• The Los Angeles Times' All the Rage blog passes along a recent photo of Bryant in a Giorgio Armani suit from an ad and talks to the designer of the clothing, who provides some interesting insight on dressing a man like Kobe Bryant.

• Tommy Beer of HoopsWorld.com goes over the MVP candidates at this point in the season and believes he can't get too far down his rankings before including Bryant. His placement on the list? Fourth place, although Beer seems to think only Chicago's Derrick Rose or Orlando's Dwight Howard have good shots at winning it:
"Not surprisingly, Kobe has been the driving force behind the Lakers surge of late," Beer writes. "Over his last four games, Bryant is averaging 34.3 ppg, 6 boards, and 6 dimes. It appears the demise of the Lakers and Mr. Bryant may have been greatly exaggerated."

• CBSSports.com's Ben Golliver takes recent comments from Bryant on ESPN's Pardon the Interruption on the unlikely return of Jackson next season and puts them into a little bit of context, going off of what we know about Kobe.
-- Pedro Moura