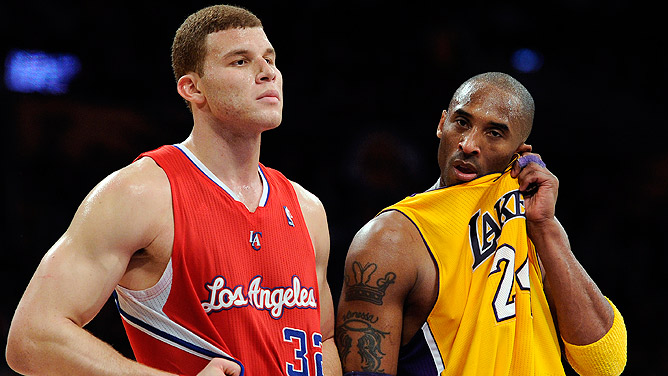 AP Photo/Mark J. Terrill
Our regular run-down of Kobe sightings in the digital sphere:

• The Los Angeles Times' Mark Medina takes Kobe's passing of Elvin Hayes for seventh-place on the NBA's all-time scoring list as an opportunity to discuss just how well Bryant's been able to preserve his health and physical well-being over time, just like Hayes. This is his 15th season, after all:
"What's sometimes lost in Bryant's ongoing quest to maintain basketball excellence amid his injuries is how he's managed to remain on top and evolve despite all the wear and tear. It's intriguing to wonder how much Bryant can get out of a diminishing shelf life and, in the case of the NBA's all-time scoring list, who else he'll be able to pass," Medina writes. "As Bryant goes through that process, however, it's also necessary to look at it out of appreciation that he's made it this far already."

• SportsIllustrated.com's Hot Clicks blog passes along a humorous video that shows Kobe throwing a towel at Lamar Odom's face after he missed two free throws during Sunday's win over the Oklahoma City Thunder. Up for debate is whether or not it was intentional.

• Yahoo! Sports' Kelly Dwyer showcases another video from Sunday's Lakers-Thunder game, this one featuring referee Eli Roe telling Kobe to "make the shot" after he complained about not getting a foul call. Dwyer found the exchange funny and expanded upon it to wonder why Bryant was taking that particular shot in the first place:
"Even Kobe Bryant's most ardent admirers often chafe at the way he forces long two-point shots," Dwyer writes. "With the man's ability to wriggle his way toward freedom closer to the hoop, and especially with his Jordan-esque gifts in the post, why does Kobe always want to seem to chuck those long two-point shots? And complain endlessly when they don't go in?"

• Kent Youngblood of the Minneapolis Star-Tribune talks to Timberwolves swingman Wesley Johnson about Kobe and comes away with one clear conclusion: don't talk trash to Bryant. Johnson made that very clear leading up to Tuesday's Lakers-Wolves game.
-- Pedro Moura