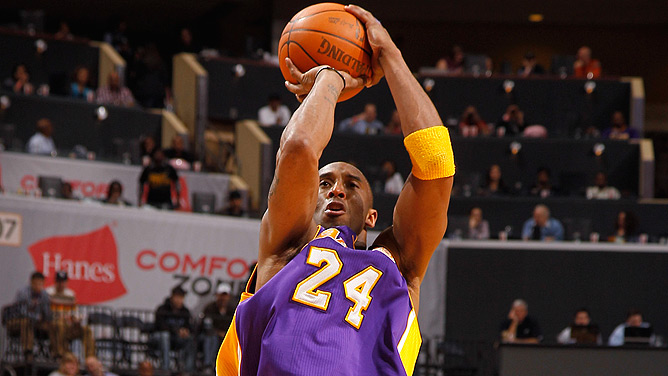 Kent Smith/NBAE/Getty Images
Our regular run-down of Kobe sightings in the digital sphere:

• The Atlanta Journal-Constitution's Jeff Schultz reports that the Hawks have started selling opponents' gear on gamedays at Phillips Arena. Guess who had gear on display before Tuesday's Hawks-Lakers game? Yes, one Kobe Bryant -- who had all of his t-shirts sell out midway through the game, Schultz reported. He also asked Atlanta guard Jamal Crawford what he thought about it:
"In the arena? Are you serious? Unbelievable," Crawford said."

• Tennis star Novak Djokovic recently hung out with Kobe before the Indian Wells ATP event in Los Angeles, a Serbian news site passes along -- with a picture of the two athletes together. Djokovic is currently ranked third in the world behind Rafael Nadal and Roger Federer.

• Much was made about the Boston Celtics trading away center Kendrick Perkins at the deadline and giving up one of their biggest defensive advantages on the Lakers with that deal, but Boston may have acquired another defensive specialist in former Mavs swingman Sasha Pavlovic, the Boston Herald's Steve Bulpett reports. And Bulpett adds that Pavlovic might be just the player to stop Kobe if the Celtics end up facing the Lakers in the playoffs.

• The Sporting News' Marcus DeNitto reports that, with Orlando's Dwight Howard getting the NBA's first one-game suspension after 16-technicals penalty of the season, star players are called for technicals a lot more than non-stars are. He uses Kobe, who's approaching that 16-technical number, as an example:
"Guys like LeBron James and Kobe Bryant, the thinking goes, get to the free throw line more often than other players not only because they are more skilled and more aggressive, but also because referees tend to call fouls in their favor," DeNitto writes. "A quick look at the league leaders in technical fouls, however, shows that this notion does not hold true when it comes to refs dishing out technical fouls."
-- Pedro Moura