Jon Weisman of ESPNLosAngeles.com's Dodger Thoughts blog
offers a player-by-player look at some of the key members,
best stories and biggest disappointments of the Dodgers' season.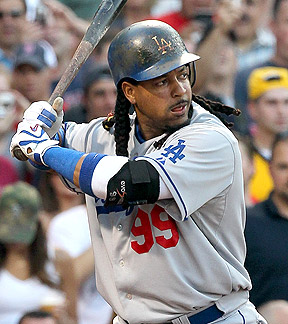 Getty Images
99
LEFT FIELD
WT: 200 lbs. HT: 6-0
BATS: Right THROWS: Right
BORN: May 30, 1972
BIRTHPLACE: Santo Domingo, D.R.


He started strong, with a .500 OBP and .659 SLG ... until his first trip to the DL in late April. He still led all Dodgers with at least 200 PAs in OBP and SLG, but his day in the sun was done. ... Highlight: A pinch-hit, two-run homer in the bottom of the eighth lifted L.A. over the Giants on April 18. ... Lowlight: From July 1 until being traded at the end of August, had 16 trips to the plate. ... Sidelight: His 46 starts in left led the Dodgers (L.A. had nine players start in left in '10).
012
| SPLITS | G | AB | R | H | HR | RBI | AVG | SLG | OPS |
| --- | --- | --- | --- | --- | --- | --- | --- | --- | --- |
| 2011 | 5 | 17 | 0 | 1 | 0 | 1 | .059 | .059 | .118 |
| Career | 2302 | 8244 | 1544 | 2574 | 555 | 1831 | .312 | .585 | .996 |