Jon Weisman of ESPNLosAngeles.com's Dodger Thoughts blog
offers a player-by-player look at some of the key members,
best stories and biggest disappointments of the Dodgers' season.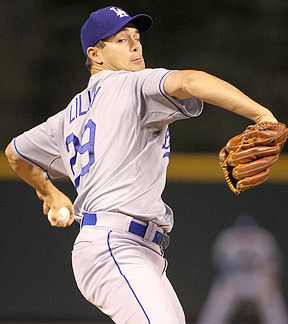 Getty Images
29
PITCHER
WT: 195 lbs. HT: 6-1
BATS: Left THROWS: Left
BORN: Jan. 4, 1976
BIRTHPLACE: Torrance, Calif.


One of the Dodgers' best deadline pitching acquisitions ever, he struck out five times as many batters as he walked. Unfortunately, L.A. was barely a .500 team when he pitched. ... Highlight: A two-hit shutout of Colorado with 11 strikeouts Aug. 19. ... Lowlight: Getting rocked for six runs in 3⅓ innings Sept. 16 by San Francisco. ... Sidelight: Beat L.A., 1-0, on May 27 in Chicago, and drew accusations from Casey Blake that he was cheating off the pitching rubber.
013
| SPLITS | G | IP | BB | SO | W | L | WHIP | ERA |
| --- | --- | --- | --- | --- | --- | --- | --- | --- |
| Career | 356 | 1982.2 | 661 | 1681 | 130 | 113 | 1.25 | 4.14 |