Jon Weisman of ESPNLosAngeles.com's Dodger Thoughts blog
offers a player-by-player look at some of the key members,
best stories and biggest disappointments of the Dodgers' season.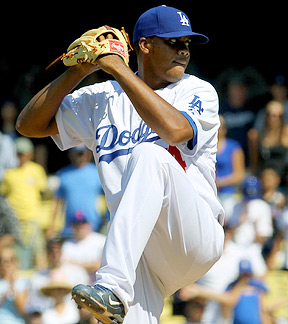 Getty Images
74
PITCHER
WT: 220 lbs. HT: 6-6
BATS: Switch THROWS: Right
BORN: Sept. 30, 1987
BIRTHPLACE: Curacao, Netherlands Antilles


Allowed a run only twice in his 25 outings. There's room to improve his 4.8 walks per nine innings, but he's still in line to become the team's top reliever. ... Highlight: On consecutive days, faced three batters and struck out two, the second time saving a 1-0 Dodger win vs. the Mets on July 25. ... Lowlight: Allowed an RBI single in the first of Phillies' back-to-back four-run innings Aug. 12. ... Sidelight: Reached base in both his PA and scored a run.
017
| SPLITS | G | IP | BB | SO | W | L | SV | WHIP | ERA |
| --- | --- | --- | --- | --- | --- | --- | --- | --- | --- |
| Career | 407 | 406.2 | 117 | 629 | 19 | 13 | 189 | 0.89 | 2.19 |