Jon Weisman of ESPNLosAngeles.com's Dodger Thoughts blog
offers a player-by-player look at some of the key members,
best stories and biggest disappointments of the Dodgers' season.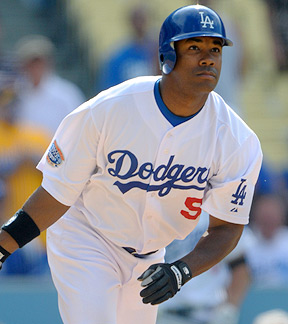 US Presswire
9
LEFT FIELD
WT: 225 lbs. HT: 6-3
BATS: Left THROWS: Left
BORN: June 30, 1972
BIRTHPLACE: Los Angeles


Entered season with 2,501 career hits, but that player no longer existed. His adjusted OPS of 30 (based on a .475 OPS) was the second-lowest by a Dodger since World War II. ... Highlight: RBI single in the bottom of the 14th gave L.A. a 1-0 win over Arizona. ... Lowlight: Struck out four times at San Francisco on June 30. ... Sidelight: Went 12-for-50 (.240) with two walks as a pinch-hitter, but was 16-for-105 (.152) with three walks in all other appearances.
019
| SPLITS | G | AB | R | H | HR | RBI | AVG | SLG | OPS |
| --- | --- | --- | --- | --- | --- | --- | --- | --- | --- |
| Career | 2228 | 8640 | 1084 | 2529 | 287 | 1365 | .293 | .461 | .785 |