Jon Weisman of ESPNLosAngeles.com's Dodger Thoughts blog
offers a player-by-player look at some of the key members,
best stories and biggest disappointments of the Dodgers' season.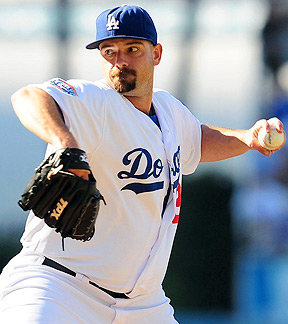 US Presswire
52
PITCHER
WT: 230 lbs. HT: 6-0
BATS: Left THROWS: Left
BORN: April 19, 1977
BIRTHPLACE: Memphis, Tenn.


While his ERA dropped from the 40.50 it reached on Opening Day, it never saw the sunny side of 6.00. ... Highlight: Pitched a perfect 13th and won July 24 vs. the Mets. ... Lowlight: Asked on April 10 in Florida to preserve a two-run lead, he hit his first batter, walked the second, allowed a double to the third and ultimately a sacrifice fly to take the loss. ... Sidelight: His '09 and '10 with L.A. are almost a statistical mirror of Broxton's '10 first half and '10 second half.
023
| SPLITS | G | IP | BB | SO | W | L | SV | WHIP | ERA |
| --- | --- | --- | --- | --- | --- | --- | --- | --- | --- |
| Career | 442 | 324.1 | 154 | 320 | 19 | 17 | 56 | 1.34 | 3.77 |