Jon Weisman of ESPNLosAngeles.com's Dodger Thoughts blog
offers a player-by-player look at some of the key members,
best stories and biggest disappointments of the Dodgers' season.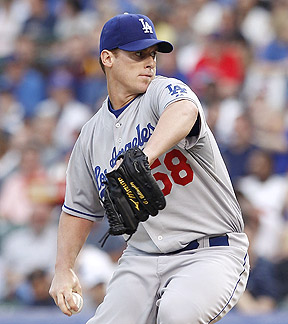 Getty Images
58
PITCHER
WT: 245 lbs. HT: 6-1
BATS: Right THROWS: Right
BORN: July 29, 1984
BIRTHPLACE: Defiance, Ohio


Rallied from a subpar second half of '09 and re-established himself as an indispensable player. Had an ERA of 2.45 with 82 Ks in 92 innings in his final 14 outings. ... Highlight: Five-hit shutout of the Giants on July 21. ... Lowlight: A day after Kershaw was KO'd in the second inning by Milwaukee, Billingsley was touched for four runs in the first. (He threw five shutout innings after that.) ... Sidelight: After Arizona's three HRs off him May 31, allowed one HR in 126⅔ innings.
004
| SPLITS | G | IP | BB | SO | W | L | WHIP | ERA |
| --- | --- | --- | --- | --- | --- | --- | --- | --- |
| Career | 226 | 1212.1 | 499 | 1052 | 83 | 64 | 1.37 | 3.72 |