Jon Weisman of ESPNLosAngeles.com's Dodger Thoughts blog
offers a player-by-player look at some of the key members,
best stories and biggest disappointments of the Dodgers' season.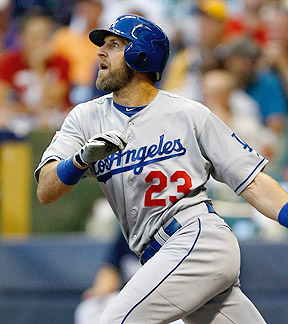 Getty Images
23
THIRD BASE
WT: 205 lbs. HT: 6-2
BATS: Right THROWS: Right
BORN: Aug. 23, 1973
BIRTHPLACE: Des Moines


The hot-and-cold hitter was cold often enough that by season's end, after his 37th birthday, some observers were wondering whether he'd be a part-timer in 2011. ... Highlight: Twice gave L.A. leads with home runs April 24 at Washington. ... Lowlight: Went 0-for-11 with seven strikeouts in a Sept. 14-16 series with the Giants. ... Sidelight: Baseball-Reference.com says the only Dodger to play at least 100 games at third base at age 37 or up was Doc Casey in 1907.
010
| SPLITS | G | AB | R | H | HR | RBI | AVG | SLG | OPS |
| --- | --- | --- | --- | --- | --- | --- | --- | --- | --- |
| 2011 | 63 | 202 | 32 | 51 | 4 | 26 | .252 | .371 | .713 |
| Career | 1265 | 4500 | 644 | 1186 | 167 | 616 | .264 | .442 | .778 |