Updated:
April 2, 2010, 4:55 PM ET
| | | | | | | |
| --- | --- | --- | --- | --- | --- | --- |
| What are the odds LeBron ... | Abbott | Adande | Broussard | Hollinger | Sheridan | Stein |
| Stays in Cleveland if the Cavaliers win the NBA championship? | 99% | 50% | 90% | 90% | 80% | 80% |
| Stays in Cleveland if the Cavs don't win the NBA championship? | 90% | 60% | 75% | 60% | 40% | 70% |
1. How Will The LeBron Situation Play Out?
Henry Abbott, TrueHoop: After seeding the market to give himself maximum opportunities to join a winner in a huge market and advance the value of his personal brand, the reality on the ground is that, as those opportunities shape up, there will not be a situation out there markedly more appealing than Cleveland, where he can get a better NBA contract.
J.A. Adande, ESPN.com: Winning a championship makes it easier for LeBron to leave with no regrets. He could still have hometown hero status and try something new. But if it doesn't happen this season, suddenly this is a getting-older team that hasn't done anything.
Chris Broussard, ESPN The Magazine: At this point, I don't think even LeBron knows for sure what he's going to do. Cleveland is the heavy favorite, but you can't completely write off Chicago and New York, which is a city he truly loves. LeBron knows it's all about the rings and of the realistic possibilities, Cleveland and Chicago give him the best chances of winning.
There is good logic out there that LeBron will sign a short, three-year deal with Cleveland, which makes sense basketball-wise. The problem is that if the new collective bargaining agreement is as bad for the players as expected, he'll never make up the money (at least not in b-ball salary) he leaves on the table. Either way, at the end of a dramatic run of tours, I think LeBron remains with the Cavaliers.
John Hollinger, ESPN.com: I think he'll do the full wine-and-dine with all of his pursuers, spend lots of time basking in the spotlight, soak up all the attention and free press ... and then re-sign with Cleveland. But he might only do a three-year deal.
Chris Sheridan, ESPN.com: First it must be said that whether he ends this season with a W or an L will be a major, major factor, but I expect the Knicks to make a full-court press either way, even if that includes waiting at the foot of his driveway until 12:01 a.m. on July 1. The Knicks have to give it their best shot either way, and they'll want to know what LeBron's timetable will be, and what other pieces LeBron would want to add to the roster if he came. I'd imagine Miami will make a bigger push than people might expect, with Riley the Recruiter selling sunshine and a chance to team with D-Wade and another, lesser unrestricted free agent.
Marc Stein, ESPN.com: Get ready for a media frenzy like you've never seen before in this league. All signs point to LeBron entertaining numerous offers and holding up the whole league for several days in early July while he decides where to play, which translates to in-home visits with several teams to make up for the college recruiting frenzy he never experienced and the very real possibility that even Wolf Blitzer will be giving live LeBron updates on CNN.
The Cavs, though, remain the overwhelming favorite to get LeBron's signature, mainly because owner Dan Gilbert's deep-pocketed determination to make sure LeBron is always surrounded by a title-contending supporting cast will be hard to walk away from. LeBron needs championships (plural) on his résumé to truly reach global-icon status and Gilbert has proven he's willing to spend whatever it takes (witness all the extra salary Cleveland took on in February to acquire Antawn Jamison) to make sure LeBron has that opportunity. LeBron can also sign that shorter deal everyone's talking about to ensure the Cavs' commitment doesn't change.
2. Legler: Will LeBron Stay In Cleveland?
3. Top 30 Free Agents
Chad Ford
ESPN.com

James
1. LeBron James, Cavaliers (PO)
The ongoing buzz surrounding LeBron's foray into free agency this summer has been the loudest in NBA history. Several teams have focused their entire strategy on having a chance to sign him or another superstar on this list.
But will LeBron actually leave Cleveland? The Cavaliers did their part in trying to convince him to stay when they pulled off a deadline deal for Antawn Jamison, who should help give LeBron his best shot at an NBA title.
Still, other teams will make a run at him, offering him a bigger market or more talented teammates.
The New York Knicks and New Jersey Nets were thought to be his biggest suitors, and they'll both have the money to pay him. But both teams are so depleted from a talent standpoint that he might not want to join them. A couple of other teams, including the Miami Heat and Chicago Bulls, also will be far enough under the cap to pay him if he wants to go to a team that already has a superstar (D-Wade) or potential superstar (D-Rose) on the roster. And don't count out the Los Angeles Clippers, who have a lot of talent and the cap room to pay him after their deadline moves.
While I think LeBron ultimately will stay in Cleveland, he will create some thrills and very worried Cavs fans if he shops around this summer.

Wade
2. Dwyane Wade, Heat (PO)
Wade's potential departure hasn't had nearly the same hype as LeBron's, for two reasons: (1) most people in the league believe Wade wants to stay in Miami, and (2) he turned 28 in January, so he's not the young franchise cornerstone LeBron is.
Still, there will be plenty of teams interested in Wade, especially the Chicago Bulls, who will try to court him back to his hometown. But the Heat will use Wade as a recruiter in an attempt to get one or more of the top free agents to come to Miami instead.
• For the rest of Chad Ford's list, click here.

4. Which Teams Have Cap Room?
By Kevin Arnovitz
TrueHoop
After the madness of trade season, several teams have lined themselves up to be in position -- or very close -- to sign a maximum-salary player this summer. Calculating exactly how much money each team has to spend is a tricky exercise. There's a lot we don't know -- the salary cap figure, where each team is picking in the draft (which affects their budget), whose team options will be picked up, which guys will exercise their early termination options, and other smaller variables.
The figure listed beside each team represents their projected 2010-11 team payroll, which includes all options (team, player and early termination options) as well as conditional contracts. To estimate how much cash each team has available to spend under the cap, we're going to project a salary cap number of $53.6 million.

Los Angeles Clippers: $33.53 million in 2010-11 payroll
By shipping Al Thornton to Washington and Sebastian Telfair to Cleveland, the Clippers left themselves with only $35 million or so in commitments for five players and their first-round draft pick (we'll project the No. 10 overall pick). They'll need to fill at least six roster spots (so let's charge them another $2 million and change), but that would leave the Clips with enough shekels to offer a max deal, provided they renounce the likes of Travis Outlaw. If they fail to land one of the big names, they'll be able to round out their roster with some mid-level talent, or perhaps absorb an existing contract with a sign-and-trade.
• To read the entire TrueHoop post, click here.
5. New York State Of Mind
By Chris Sheridan
ESPN.com

GREENBURGH, N.Y. -- Everyone knows what Plan A is, so we won't even bother cluttering this first paragraph with the name of a certain physical freak from Cleveland who has been flirting with New Yorkers for two years.
It's when you look beyond that plan -- and whether it succeeds or fails -- that you run into the brick wall of mystery when quizzing Knicks president Donnie Walsh about the myriad possibilities.
There are so many of them, plus so many other variables still to be determined between now and July 1, that there really isn't yet a Plan B, a Plan C or a Plan D firmly in place.
What's important, Walsh insistently says, is that the options are going to be so plentiful that there could be a dozen or more scenarios that might eventually make sense -- and not all of them involve spending all of the $33 million to $34 million in salary cap space the Knicks expect to have when the free-agent market opens for business July 1.
"That's the beauty of having the ability to have two," Walsh said with a hearty laugh, referring to the option of being able, with a little more maneuvering, to sign two maximum salary free agents in what will be the most star-studded free-agent class in NBA history. "I can't answer every question as to what if this guy does this, and another guy does that. But basically we're in a position where we can go out and make offers, and we will with whoever's out there."
NBA tampering rules prohibit Walsh (and officials from other franchises) from publicly discussing players currently under contract to other teams, but Walsh was willing to speak in general terms as he sat with ESPN.com for nearly an hour on Tuesday discussing the two years that have passed, the five years that lay ahead and the anxiety and excitement that come along with looking three months down the road to when the Knicks will have the ability to be free spenders on the free-agent market for the first time since 1996.
• To read the entire column, click here.
6. Free As A Bird?
By Larry Coon
Special to ESPN.com
Bird rights will be front and center in this summer's free-agent-palooza. All eyes will be on LeBron James in July as he hums "Should I Stay or Should I Go" to himself, perusing identical offers from a third of the league -- and weighing them against a larger offer to stay home.
Six years with Cleveland, or five from anywhere else? Should he settle for 8 percent raises with another team when he can get 10.5 percent raises from the Cavs? The dollars add up quickly.
There's more security in that extra year. What if he's injured before he hits free agency again? What if the next collective bargaining agreement is really bad for the players? Should he lock in that extra year while he can, under the purview of the current agreement?
Decisions, decisions ... but Cleveland definitely has the edge here.
But is it a lock? Not necessarily -- there's a flip side to this coin.
• To read the entire column, click here.
7.

LeBron In Play For Lakers/Clips?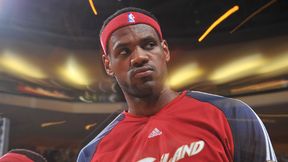 (Brian Babineau/Getty Images)
J.A. Adande (ESPN.com)
Can't envision LeBron taking less money to play in L.A. or the Cavs wanting anything the Lakers could offer in a sign-and-trade.
With the Clippers, the Donald Sterling factor negates all the positives (money, market, talent).
Lakers' chances of
getting LeBron:
5%
Clippers' chances of
getting LeBron:
10%
Kevin Arnovitz (TrueHoop)
The average NBA game features approximately 95 possessions -- probably not enough to sate both Kobe Bryant and LeBron James, assuming Bryant and the Lakers come to an agreement on a contract extension.
The Clippers' sales pitch to James will come with all sorts of enticements -- a solid supporting cast, the perks of playing in Los Angeles and the possibility of naming his own coach.
Those sweeteners aside, popular perception of the team's history and ownership would likely trump those assets in any discussion of LeBron as a Clipper.
Lakers' chances of
getting LeBron:
5%
Clippers' chances of
getting LeBron:
5%
Andy Kamenetzky (ESPNLosAngeles.com)
Unless the Earth spins backward on its axis and Kobe leaves, the Lakers are out. They'd still be Kobe's team and LeBron's not entering a "1a" situation.
As for the Clippers, even with their nucleus, there's still a matter of putting your eggs in Donald Sterling's basket. I imagine LeBron will allow Rudy Gay that privilege.
Lakers' chances of
getting LeBron:
0%
Clippers' chances of
getting LeBron:
10%
Brian Kamenetzky (ESPNLosAngeles.com)
LeBron-to-L.A. is a much better fit for us (the media) than for him. The Lakers are the longest of long shots, and while the Clippers offer as much talent as he'll see outside Cleveland, does LeBron really want to try and reverse the curse and hitch his legacy to Donald Sterling?
To play in Kobe's building? He could pick his coach and GM, but coming to the LAC would require serious hubris.
Lakers' chances of
getting LeBron:
2%
Clippers' chances of
getting LeBron:
15%
Ramona Shelburne (ESPNLosAngeles.com)
I've seen the Lakers pull off too many crazy, impossible deals over the years to completely rule this out, but so many things would have to line up via sign-and-trades it's probably just too complicated.
As for the Clippers, they really should be in play because of their core group of young players and this being L.A., but I just can't see it happening because of who the owner is.
LeBron obviously has vision. I just don't think he's having visions of being a Clipper.
Lakers' chances of
getting LeBron:
5%
Clippers' chances of
getting LeBron:
15%
Marc Stein ( ESPN.com)
I've heard the theory that LeBron secretly covets a move to the Lakers because hooking up with Kobe and Pau is the surest path to numerous championships. Say what? Following that path would subject LeBron to the same sort of endless asterisk talk Kobe endured until he won a championship last season without Shaq.
Even a fistful of rings won with those two would expose LeBron to the claim that he couldn't take a team all the way or build a legacy without otherworldly amounts of help. Going to the Clippers, by contrast, would represent taking on the challenge of a lifetime ... going head-to-head with Bryant in his own city (and his own building) and aligning himself to laughingstock owner Donald Sterling.
But that's just it. The presence of Sterling kills any chance that the Clippers have, in spite of the Clips' considerable cap space, some undeniably attractive pieces (Chris Kaman, Eric Gordon, Baron Davis and Blake Griffin) and LeBron's inevitable off-court interest in Hollywood. There's just no chance he's entrusting his legacy to the whims of The Donald. No way.
Lakers' chances of
getting LeBron:
0%
Clippers' chances of
getting LeBron:
0%
8.

LeBron's Split Personality
By Brian Windhorst
Special to ESPN.com

When he was still talking about free agency, James said he wanted to compete for championships and be somewhere where he was most comfortable. Right now, that place seems like Cleveland.
"I've been a Cav for seven years now," James said. "And I've never given any indication I was leaving."
That envelope of comfort and protection he enjoys in Northeast Ohio is a big part of the James story, a part that many might not understand when they project what James is going to do this offseason, when he can opt out of his contract and hit the free-agent market.
But it isn't the whole story. There's another side to James, and this is the fraction of his personality that still unnerves the Cavs organization that has done all it can to bring James coziness and surround him with high-priced talent. And it is what scares so many Cavs fans to their very core.
It is another personality, even if it doesn't come out as often as his Akron-rooted sensibilities.
It is New York LeBron.
•
To read the entire column, click here
.