Category archive:

NBA Draft
July, 1, 2013
07/01/13
1:17
PM ET
Underclassmen Phil Pressey, Vander Blue, C.J. Leslie, BJ Young, Marshawn Powell, C.J. Aiken and Adonis Thomas all weren't drafted.
If the rule still existed in the NCAA where they could return to college after going through the draft without being selected -- and not signing with an agent -- would they?
Best guess? No shot. Surprisingly, college coaches aren't clamoring to change the rule back. There is no movement to do so.
[+] Enlarge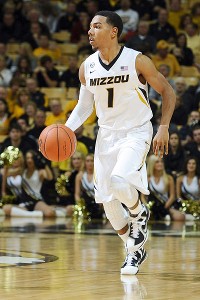 Dak Dillon/USA TODAY SportsPhil Pressey and other underclassmen on the draft fringe take a risk by declaring early.
"When they're gone, they're gone,'' NC State coach Mark Gottfried said.
Now Gottfried wouldn't mind a switch back, but he's also realistic. He said Leslie wouldn't have returned, and players have mentally divorced themselves once they decide to leave. They are told -- many times incorrectly -- that they will go in the first round, let alone a guarantee in the second. To reel them back into thinking about college basketball again would be pointless.
Pressey wouldn't have come back. He's playing for Boston this summer.
"Not sure if I would want it back because you are kind of in limbo,'' Missouri coach Frank Haith said about returning to a rule allowing players to return.
Memphis coach Josh Pastner said he told Adonis Thomas about his draft position. But as we have found out, players hear what they want to hear. Pastner said coaches can't wait until late June or early July to see if they have a scholarship open. Plans change. Recruiting takes precedence. Once the player is gone, it's hard to consider him returning.
Saint Joseph's coach Phil Martelli said Aiken's family sat in front of him and told him that he had a first-round guarantee. Clearly that wasn't the case. If this were true, then this kind of misinformation has been going on for decades and will continue to do so.
Players can also get guaranteed contracts as summer-league free-agents, so not being drafted isn't the end for the players, even if it makes for a humbling evening on draft night.
"I'm not in favor of changing the rule,'' said Martelli.
But Martelli wants to make other changes. He doesn't understand why the NBA and its players association won't go back to a scenario where players can declare out of high school, but if they go to college, they must wait two or three years (similar to the baseball scenario). Of course, this cannot change until it is collectively bargained.
Martelli echoed the sentiment of every coach I've spoken with on the subject of the NCAA's declaring date a week after the Final Four.
"The NCAA just picked a date, the ACC just picked a date,'' Martelli said. The ACC coaches were the ones who pushed for the legislation to change the early-entry deadline. The problem is the NBA didn't move its date, and that's the only one that matters when the early-entry deadline is due at the end of April.
The whole process needs an overhaul -- yet again.
Here is my suggestion:
[+] Enlarge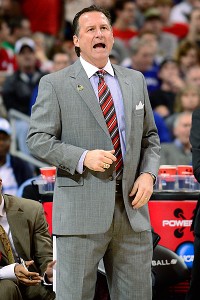 Scott Rovak/US PresswireMark Gottfried and other college coaches wouldn't be in favor of welcoming undrafted players back to school.
The problem from the past is the NCAA has essentially taken away the ability for players to work out for teams with the early-entry deadline. Team workouts don't occur until after the Chicago pre-draft camp in mid-May.
So why not have an underclassmen combine? The combine could be the weekend after the Final Four, or the week after, for all underclassmen who want to declare for the draft. Of course, players like Ben McLemore, Otto Porter, etc., -- the expected lottery picks -- don't have to attend. But for all the players who are projected from the late-first to second round to going undrafted, this would give them a realistic sense of where they stand.
General managers and player personnel directors could line up the perimeter of the court and then poll their counterparts and form a committee. The committee would then offer up a report at the end of the weekend with possible tiers of where the players could land.
If the player still chooses to ignore the information, then that is his choice. But this would actually give the player some real information, not manufactured by someone who has his own self interest.
The combine would be exempt from any NCAA rules, allowing the underclassmen to attend the weekend event. It would also be on Friday night, Saturday day/night and then, if needed, Sunday morning, so players wouldn't miss class.
The current setup gives players, like the ones mentioned above, false hope. They get invited to a slew of team workouts in late-May and through the month of June, only to be passed over on draft night. NBA teams are already spending thousands of dollars on each player, flying them around the country for a look that ends up being a waste of everyone's time.
The players would still be in school presumably during the underclassmen combine, so the influence of outside individuals would/should be limited.
Something has to change, or else there will continue to be players who are left humbled and embarrassed on draft night.
May, 27, 2010
05/27/10
2:03
PM ET
NBA draft hype usually surrounds the elite talent in the lottery or the underclassmen who dominate the chatter.
Lost amid the headline names are players who are scrapping their way into the first round in the NBA's sanctioned Chicago pre-draft camp last week and in Minnesota this week -- the first of two group combines prior to the draft.
[+] Enlarge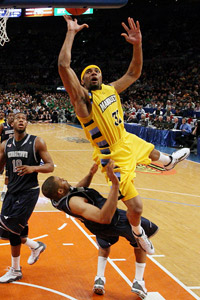 Jim McIsaac/Getty ImagesMarquette's Lazar Hayward isn't a household name, but he's proving himself with a strong work ethic.
Every year there are players, some seniors, and certainly juniors, who earn their draft position by proving to NBA personnel that they can play in the league, regardless of being pigeonholed into a position.
I'll give you three players who, through various sources, are proving that it's not all about the hype:
Lazar Hayward, Sr., F, Marquette: Wes Matthews became a major player for the Utah Jazz this past season, yet he wasn't drafted. Hayward and Matthews don't play the same position, but they came from the same school. And it matters. The work ethic out of Marquette is getting a positive vibe from NBA personnel in Chicago and those who were in Minnesota.
"He was one of the three best basketball players who participated in the workout,'' said one general manager who attended the Minnesota workouts. "He knows how to play. He's not sexy. But he knows who he is. If you put him on a playoff team that is picking in the 20s, you could plug him in the rotation.''
Hayward increased his minutes and scoring throughout his four years at Marquette, while playing for Tom Crean and Buzz Williams. He's a 6-foot-6 forward who has a nose for the ball and can crash the offensive glass. Will he sneak into the first round? His best shot might be for a team that has multiple picks, like Oklahoma City or Minnesota. But he's doing everything right to impress upon the decision makers that he'll be worthy of a first-round selection.
Hayward is proof that a player can earn his way into the NBA through development over a four-year career and without being a household name. "If you talk to coaches in the Big East, they'll tell you that he does everything for your team, playing the two, the three or the four,'' said the general manager. "He makes good decisions, boxes out and sets screens. He's perfect to play alongside big-time guys on the floor.''
Greivis Vasquez, Sr., F, Maryland: Vasquez was the ACC player of the year, so he was hardly a non-factor during the conference season. But he has been poorly tossed to the back of the line because he's a senior, and he wasn't billed as the quickest or the hotest name among point guards. He's behind John Wall, Evan Turner (yes, he has to have the ball in his hands to be effective, so put him in with the point guards), Avery Bradley and Eric Bledsoe.
But the numbers don't lie (19.6 points a game, 6.3 assists). The basketball IQ hasn't diminished, and his passion to play and to work is high among potential picks. "He's calmed down personality-wise and was terrific in the interviews,'' said one general manager. "How is he not the third-best point guard in the first round?''
You can easily make the case that if you take Vasquez behind Wall and Turner, you're getting an experienced, reliable playmaker. Bledsoe hasn't played the position for a full season by himself; he was the understudy to Wall at Kentucky in his only season there. Meanwhile, Bradley was never Texas coach Rick Barnes' choice at the position because he experimented with Varez Ward, Dogus Balbay, J'Covan Brown, Jai Lucas and Justin Mason.
Vasquez actually played the position. He's not as athletic as Darren Collison, the former UCLA standout. A year ago Collison was pushed as a possible second-round pick, but he was selected late first and ended up being a valuable player for New Orleans after Chris Paul was injured. Vasquez could end up serving a similar role to a potential playoff team looking for another experienced point.
Dominique Jones, Jr., G, South Florida: The common comment at the Chicago pre-draft camp was that Jones knew how to score big-time against Big East opponents.
So, too, did Luke Harangody of Notre Dame. But there are shortcomings with Harangody that teams will have to get over (athleticism, defensive liability, not long). With Jones, though, the upside is high with his body of work and his physical presence, earning him plenty of praise.
"Anyone good enough to get in the lane will play,'' said one general manager. "His jumper needs a lot of work, but what he can do against second-unit guys in the NBA is score. He can help teams that need a scorer off the bench. He really defends and is a better passer than people think. His interview was off-the-charts good.''
Jones averaged 21.4 points a game for the Bulls in the Big East.
There will be other three-to four-year players who didn't get much hype and will turn out to be solid additions, such as VCU's Larry Sanders. But what this proves, yet again, is that the formula to make the league isn't always about the one-and-done.