Category archive:

Arizona Wildcats
November, 29, 2013
11/29/13
9:16
PM ET
NEW YORK -- Arizona freshman Aaron Gordon watched the Champions Classic two weeks ago, like most college basketball fans.
After studying the teams -- notably the three led by freshmen -- he realized that he was in the perfect spot at Arizona.
"The offense runs through the freshmen,'' said Gordon of Kentucky, Duke and Kansas. "At Arizona, it's more equal-opportunity and more team-oriented.''
And that's why Arizona -- at least as November ends -- looks more like a potential national champion than Duke after a 72-66 NIT Season Tip-Off victory at a raucous Madison Square Garden on Friday night.
Duke has arguably the top freshman and maybe the best player in the country in Jabari Parker. But Arizona has the more complete team.
[+] Enlarge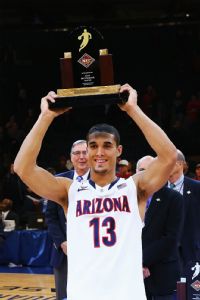 Al Bello/Getty ImagesArizona's Nick Johnson was named MVP of the NIT Season Tip-Off.
Parker, and offensive partner Rodney Hood, are the focus for Duke. But if they're not touching the ball, there is cause for concern. How much Duke can rely on Quinn Cook, Rasheed Sulaimon or anyone inside beside Parker to get a bucket is unknown. And the defense is still a work in progress after giving up 90 points to a depleted -- and at the time one-win -- Vermont team last week.
Gordon is an integral part of Arizona's team, a definitive difference-maker, but he's hardly the reason the Wildcats win.
"I'm the glue guy on a team that has talent," Gordon said. "You can stick me in the middle of all these pieces and we have all the potential in the world.''
Arizona has met every challenge so far this season: Winning at San Diego State at one of the more hostile road venues, coming back from down 19 to Drexel here Wednesday and being down six to Duke with 13 minutes left before turning it into a 10-point lead.
Gordon guarded Parker for long stretches Friday, and helped lead Parker to his five turnovers and 7-of-21 shooting. But Arizona coach Sean Miller put Brandon Ashley and Rondae Hollis-Jefferson on him, too. Those are three players with length and defensive activity, where most teams might be lucky to have two. Oh, and the Wildcats have a developing power player in the half court in Kaleb Tarczewski.
That's just up front. Arizona now has a go-to, get-a-bucket player in late-possession situations in Nick Johnson, a backup shooter in Gabe York and the one piece that was desperately lacking a year ago in point guard T.J. McConnell, a transfer from Duquesne. McConnell went from one of the worst high-level programs to one of the best. He sat out last season, got stronger, more comfortable and has suddenly assumed a leadership role (eight assists and two turnovers Friday).
Ask any of the Arizona players where the difference lies from last season in terms of legitimately chasing a title, and they all point to McConnell.
"You have to start with the point guard,'' Johnson said. "It's a big role, especially when it's played right. T.J. is a pass-first point guard. He makes the right pass. He's developed over the years and he's going to be crucial to our team.''
[+] Enlarge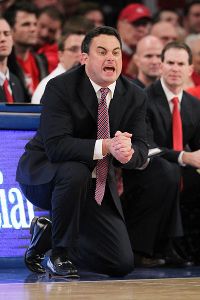 Al Bello/Getty ImagesCoach Sean Miller's Wildcats are undefeated on the season.
The Wildcats displayed that flip-a-switch mentality in both games here this week. When they were down big to Drexel or even multiple possessions to Duke, which seemed like more, they were never rattled.
"We're a complete team,'' McConnell said. "We can guard at every position. Not just one player is trying to score for us.''
Gordon echoed that the talent means the Wildcats are never out of the game. The Wildcats, added Ashley, have "so many dudes who can do so many things.''
Miller, who said he lost to Duke as an assistant at NC State so many times that he can't even count, also fell to the Blue Devils in the Elite Eight as an assistant at Xavier in 2004 and as Xavier's head coach years later in a regular-season game at the Meadowlands. Now, he has won two in a row over Duke. Arizona knocked off Duke in the 2011 Sweet 16 before losing to Kemba Walker and UConn in the Elite Eight. That game had more meaning, obviously, but this one, at this time, creates even more of a feeling of confidence in the Wildcats' title chase.
"It obviously raises (our confidence), and Duke speaks for itself,'' said McConnell.
"But it doesn't change anything,'' said Johnson. "It just adds to our belief. We know what our talent is. We knew it four months ago when we were practicing to get ready for the season. Now this verifies it a little bit. We're just seven games into the season. We were 14-0 last season.''
This year is different, though. The talent isn't the same. The roles are more defined. The early-season competition doesn't compare, with more to come at Michigan on Dec. 14 before the Pac-12 favorites are every conference team's target for two-plus months.
"It was a big test and we passed,'' said Johnson. "I honestly didn't think we played our best basketball of the season and we still won.''
And that's why Arizona was and is one of the favorites to win the title.
June, 20, 2013
06/20/13
9:20
AM ET
The FIBA U-19 World Championships may not resonate here at home, but the goal of winning gold has never been more explicit within USA basketball.
As the seriousness of the men's national team has taken on a new level in the last eight years, the junior national team has followed that example.
Coaches are returning. Players are, too. Suddenly, playing for Team USA has value -- as it should.
But this is not an all-star team. This is a team that will compete in Prague next week, crafted to fit Florida's Billy Donovan's coaching style. He wanted a team that could press, rebound, defend and generate turnovers. The havoc fits the way one of his assistants -- VCU's Shaka Smart -- loves to coach.
"I like this team a lot,'' Donovan said. "More than anything this group of kids understands the sacrifice and attitude and work ethic.''
Here is the final 12-man roster and Donovan's assessment of what they've done and can do for Team USA, which begins play in the Czech Republic on June 27. The gold-medal game is set for July 7.
Michael Frazier, 6-4, G, So., Florida
"He comes in as the best shooter. One of the things we struggled with was behind the line. He really provides shooting. In our scrimmage against Air Force he was 4 of 6. He can be a spot-up shooter against a zone and help us space the floor a bit.''
Aaron Gordon, 6-6, F, Fr., Arizona
"He's really, really athletic. He's got a great motor. He can play the 3, the 4. He's really, really good in the press. He's really, really active, and he's going to be a very good player with a great motor.''
[+] Enlarge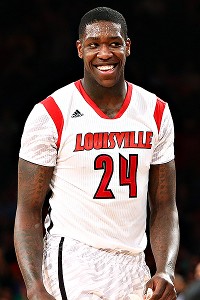 Debby Wong/USA TODAY SportsMontrezl Harrell will have an increased role at Louisville this season and his experience with Team USA should help.
Jerami Grant, 6-6, F, So., Syracuse
"He's been sick with strep throat. But he'll be healthy [for the tournament]. Like Gordon, he gives us another versatile frontcourt guy. Like Gordon, he can play a 3, 4 and 5 and his shooting has gotten better. He was on the team a year ago. He gives us great length and is versatile.''
Montrezl Harrell, 6-7, F, So., Louisville
"He's like Gordon and Grant in that he's really athletic. His skill level has gotten better [since last year]. He's really active. We can do a lot of things defensively with those three guys in Gordon, Harrell and Grant. We can press and switch and they can guard a lot of different positions, get out and run a little bit. We could play all three at the same time.''
Jahlil Okafor, 6-10, C, Whitney Young HS, Chicago
"He's really, really skilled in the low post. He's got a big body with a long wingspan. The way we're playing fast, running and pressing, he's the guy we can throw the ball inside and he'll make good things happen. He's a lot more mature than his age. He's going to play well with the pick-and-roll. He's a big, strong kid. We can go high-low with him and he can work his way to the basket. He's got a good skill level.''
Elfrid Payton, 6-3, G, Jr., Louisiana-Lafayette
"He came in as the surprise. He's really rangy and a very good defender. He can play multiple positions. He's really crafty with the ball and can get in the lane. The best thing he does is pass. He's a really good on-ball defender.''
Marcus Smart, 6-4, G, So., Oklahoma State
"He's been great leadership-wise. I think he's gotten better shooting the ball. His presence and competitiveness and strength and size will help us. So will his will. He came back to school and to us and that really helps our team. He has an incredible presence. I will play him at the point. But he'll also play the 2 and 3. We've got a lot of guys who can play different positions.''
Jarnell Stokes, 6-8, F, Jr., Tennessee
"He's really physical. He was with us last year and he can be a monster around the basket for us. Last year, we kept more guards. This year, more frontcourt guys.''
Rasheed Sulaimon, 6-3, G, So., Duke
"He's a good scorer. He was with us last year. He's shooting the ball with more consistency. He's more comfortable with the international line. We've got to get him to take over more of a leadership role. He was on the trip last year with Smart [when Donovan led them to the gold in Brazil for the U-18 title]. And he played a lot with Duke and that's important.''
Mike Tobey, 6-11, F, So., Virginia
"He's been really good. I think he'll really help us against the zone. After the first day or two, he adjusted and played really well.''
Nigel Williams-Goss, 6-3, G, Fr., Washington
"He's got a lot of the intangibles. He's a great leader and a really good motor. He's more advanced than his age. He's always played at a high level. He'll play the 2 for us.''
Justise Winslow, 6-6, F, St. John's HS, Houston
"He's a 6-6 guy that can play the 2, 3, 4 and really good in the press. The thing that's good for him is his overall skill, passing and unselfishness. He can guard several different positions. He's really athletic. He's a pass-first player that can slash to the basket.''
May, 7, 2013
05/07/13
11:36
AM ET
At the annual league meetings last week, the Pac-12 basketball coaches didn't dwell on the turbulence created by Ed Rush's style as coordinator of officials or the new independent investigation into how Rush handled the Pac-12 tournament and the ensuing inquiry by the league office.
Instead, the coaches who gathered in Phoenix looked forward, hoping the conference will find someone who can secure high-profile officials.
According to a number of coaches who were in the room, the overall sentiment was that the league needs more elite officials.
"We expressed a sense of urgency,'' Arizona State coach Herb Sendek said. "Officials are starting to contract for their schedules and commitments with different leagues pretty early. We want someone who is well-liked, who is a good magnet for top officials and that can run the program effectively.''
A month ago, Rush resigned after one season on the job. He had replaced Bill McCabe a year ago, but only after the Pac-12 coaches met, meaning this was the second straight year the coaches were meeting without knowing who would lead the officials.
Rush's resignation came on the heels of a CBSsports.com report that Rush told officials at the Pac-12 tournament they would get inducements like a trip to Mexico or cash for carrying out the rule of bench decorum, including giving a technical to Arizona coach Sean Miller. Rush later told ESPN.com that he was joking and denied all charges made by officials in the meeting that he was ruling by intimidation. Pac-12 commissioner Larry Scott called Rush's actions inappropriate but said his actions didn't constitute a fireable offense.
But then he resigned on April 4. Rush had been an NBA official for 32 years prior to taking the job with the Pac-12.
The Pac-12 conducted its own investigation and talked to a number of officials, but since Rush's resignation, the league office decided to hire an outside counsel to look into the matter. The Pac-12 hired the Indianapolis based law-firm Ice Miller and its lead NCAA-case attorney Stu Brown to investigate the matter. Brown is conducting interviews and has to report back to the Pac-12 CEOs by June.
When contacted, Brown said he couldn't comment. Neither could Arizona athletic director Greg Byrne.
The coaches said there was some talk about the Rush situation at last week's meetings, but the majority of the agenda was about finding the right person to lead the conference's officials.
There was some who suggested to push for long-time West Coast official Scott Thornley to lead the conference.
The key, more than anything, is to figure out a way to get top referees to come west even if they work some of the other higher-profile leagues east of the Mississippi.
"The general tone is to attract more lead officials,'' Colorado coach Tad Boyle said. "I don't care what league you're talking about it, it's the same guys on the same nights. And because of our geographic location, it makes it challenging. We want to get someone who can attract more quality to work our league. The ones we have are very good.''
The coaches did discuss the physicality of the sport but acknowledge that's more of a national discussion not limited to the Pac-12. The league's chore for now is to put the officiating controversy behind it and ensure the conference can latch onto a long-term solution for the current mess.
December, 27, 2012
12/27/12
3:48
PM ET
The beauty of the college basketball regular season is that a team can lose a few games and still be in fine position for a national championship run.
But there is always an allure about those who enter their conference season unblemished to see how invincible they will be entering the New Year.
Prior to Thursday night's games, there were five remaining unbeaten teams and 19 one-loss teams, as well as two others (Florida, 8-2) and (Kentucky, 8-3) that cannot and should not be dismissed from any Final Four discussion. Both the Wildcats and Gators have played a much more difficult schedule than the majority of one-loss and undefeated teams.
There are a slew of one-loss teams that are more than capable of winning the national title such as Kansas (10-1), Louisville (11-1), Syracuse (10-1), Indiana (11-1), Creighton (11-1), UNLV (11-1), Missouri (10-1) and Gonzaga (11-1). And it's easy to make the argument that those teams, such as Kansas, Louisville, Syracuse and Indiana, are more likely to challenge for the national title than the five remaining undefeated teams.
But for the purposes of this argument, let's look at the remaining unbeatens as they stand today:
Duke (11-0)

Most impressive wins: Minnesota, VCU and Louisville in successive days in Atlantis; Kentucky in Atlanta; Ohio State at home and Temple in New Jersey.
Biggest question answered: Quinn Cook is a starting point guard and has been a stable presence.
National player of the year candidate: Mason Plumlee. Plumlee has been a double-double machine for the Blue Devils. He may be the most reliable player at his position in the country.
Difference-maker: When Seth Curry is making 3s, the Blue Devils are even harder to beat.
What to watch for: How will Duke handle true road games in the ACC? The three toughest games on the schedule would seem to be at NC State (Jan. 12), at Maryland (Feb. 16) and at North Carolina (March 9).
Final Four potential: Duke has to be considered a favorite to land in Atlanta. The team possesses experience at key positions, younger players who are becoming increasingly comfortable, there is size inside and now a growing confidence that it can win the championship.
Michigan (12-0)

Most impressive wins: Pitt in New York at the NIT Season Tip-Off and NC State in the ACC-Big Ten Challenge.
Biggest question answered: The Wolverines don't miss Stu Douglass and Zach Novak as much as was predicted. The youthful Wolverines have bought into John Beilein's defensive concepts.
National player of the year candidate: Trey Burke is an exceptional point guard. He gets the Wolverines up and running as efficiently as any point in the country. His play has allowed Tim Hardaway Jr., to flourish in his natural position.
Difference-maker: The continued development of the Michigan big men in Jordan Morgan, Mitch McGary and Glen Robinson III as well as the stretch shooting of Nik Stauskas.
What to watch for: How does Michigan get through the Big Ten gauntlet? The Big Ten is the toughest conference this season, and Michigan will have to navigate trips to Ohio State (Jan. 13), Minnesota (Jan. 17), Illinois (Jan. 27), Indiana (Feb. 2), Wisconsin (Feb. 9) and Michigan State (Feb. 12). I would put that conference road schedule against any other contender in the country. It's not close. This is the toughest.
Final Four potential: Michigan has proved that it has the point guard play, the shooting, the power play inside and can defend well enough to get to Atlanta.
Arizona (12-0)

Most impressive wins: Florida in Tucson and San Diego State in the final of the Diamond Head Classic in Honolulu.
Biggest question answered: Mark Lyons has adjusted as well as any one-year transfer I can remember. He was handed a leadership role and has excelled, making a game-winning shot to beat Florida. He has proved to be a consistent presence for the Wildcats at the point.
National player of the year candidate: Lyons, Solomon Hill and Nick Johnson have all had their moments and will be in contention for Pac-12 player of the year. But none will get enough momentum for consideration for national player of the year.
Difference-maker: Johnson. He has been the ultimate glue guy, making key plays in a variety of ways, none bigger than blocking Chase Tapley's potential game-winning layup in the Diamond Head final.
What to watch for: Arizona is the favorite in the Pac-12 and enters the conference doing more than enough to raise the conference's profile. The road wins at Texas Tech and Clemson were games the Wildcats should have won and they did. The comeback win over Florida was a tremendous effort and confidence boost. Getting through the rugged Diamond Head proved they had the stamina. Now, Arizona has to rise to the challenge of being the team to beat in the Pac-12. It is more than doable based on the inconsistency of the rest of the conference.
Final Four potential: This squad has it. The key will be the continued development of the newcomers, notably Kaleb Tarczewski, who is getting featured more and more as he improves his activity on the court.
Cincinnati (12-0)

Most impressive wins: Oregon in Las Vegas; Xavier in a rivalry game and Alabama at home when the Tide were playing well.
Biggest question answered: The Bearcats are never going to be a dominant low-post scoring team. But when needed, the Bearcats have been able to finish around the basket. Titus Rubles, JaQuon Parker, Justin Jackson and Cheikh Mbodj can take care of business of scoring and defending the post when locked in to the task at hand. The Bearcats have bigs serviceable enough to get by in the Big East.
National player of the year candidate: Sean Kilpatrick will enter the Big East as a legit player of the year contender. He has the ability to score in bunches. He flourishes playing off Cashmere Wright, who has stabilized the point.
Difference-maker: Wright. Mick Cronin has the confidence to hand him the ball and let him make a play, as he did against Alabama. Wright is a senior and has asserted himself as much more of a leader on a team that desperately needed to be led.
What to watch for: The Bearcats take possessions off and sometimes go through the motions. That cannot happen in the Big East with a host of teams that could easily knock them from their perch. Cincinnati believes it is in the same category as Louisville and Syracuse and above Pitt, Georgetown and Notre Dame in the pecking order of Big East title contenders. Now the Bearcats have to prove it. The schedule didn't do them any favors since they go to Syracuse (Jan. 21) and Louisville (March 4) without a return game. Cincinnati will find out about itself early at Pitt (Dec. 31) and at home against Notre Dame (Jan. 7).
Final Four potential: The Bearcats have it, but I'd be surprised. The lack of a proven post player may cost them in trying to win four in the NCAA tournament. Their lack of focus at times could bite them in an early round.
Wyoming (12-0)

Most impressive wins: Colorado and at Illinois State.
Biggest question answered: Leonard Washington has been a leader for the Cowboys despite all his issues, including a suspension last year. The Cowboys weren't sure who they could rely on early on but Washington has done everything asked of him so far.
National player of the year candidate: Washington is a Mountain West Conference Player of the Year candidate, but he won't be in the conversation for the national honor.
Difference-maker: Larry Nance Jr. The sophomore has played up in the big games for Wyoming, scoring 14 against Colorado, 19 in the win over Illinois State and 21 in a win over rival Denver. The Cowboys' staple has been their defense, as you'd expect from a Larry Shyatt-coached team, but it's their surprisingly-balanced offense that has been a pleasant plus.
What to watch for: Wyoming may be in the most balanced league in the country. It has to deal with two games against UNLV, San Diego State, New Mexico, Colorado State and Boise State, let alone playing Nevada and Air Force. There are zero easy games on this schedule. To expect Wyoming to get through this without getting beaten up is unrealistic.
Final Four potential: No shot. But the Cowboys are going to the postseason. Shyatt has already put the Cowboys in the NIT conversation, barring a complete collapse. An NCAA berth is hardly out of the question if they can hold serve at the Arena Auditorium.
June, 19, 2012
06/19/12
9:08
AM ET
Mike Dunlap saved a season at Arizona.
He did something similar at St. John's.
Now he faces his toughest challenge yet with the NBA's Charlotte Bobcats.
[+] Enlarge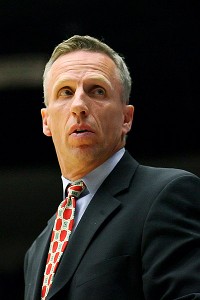 Chris Morrison/US PresswireMike Dunlap's ability to handle adversity should help in his new gig with the Charlotte Bobcats.
A revered basketball savant among his coaching peers, Dunlap has become the "fix-it man."
One of Dunlap's disciples in the NBA said Monday night upon learning the Bobcats hired him: "He has the most organized approach to player development ever. He makes players better. He's brutally honest and extremely loyal. He will not stop working. He gets through obstacles with unbelievable problem-solving lenses. He's very thorough."
He'll need to be with the Bobcats, who finished with the worst record (7-59) in the NBA's lockout-shortened season.
Of course, he'll need players to succeed. But his ability to handle adversity has been on display at two high-profile stops in college.
Dunlap was not the face of Arizona when he served as interim coach in 2008, when Lute Olson retured. Russ Pennell was the one who stood up on the sideline and handled the postgame and weekly media responsibilities.
But it was Dunlap who was the conductor of a team that somehow managed to go 21-14 in 2008-09 and reach the NCAA Sweet 16.
Former Oregon coach Ernie Kent, who knew his job was on the line, tabbed Dunlap to help with the tactical aspect of the game in 2009-10. Kent didn't survive a 16-16 season, but Dunlap was one of the most sought-after assistants again.
When Steve Lavin got the St. John's job, he pursued two people -- Dunlap and his mentor Gene Keady. He knew he needed both to be successful in his return to coaching.
Dunlap has his quirks. He is much more at home on the court and watching tape than he is promoting himself or a program/franchise.
Yet he was in the spotlight again this past season, his second at St. John's. He pursued a few head coaching jobs a year ago, getting deep in the interview process at Wyoming before going back to the Red Storm when the Cowboys chose former coach Larry Shyatt.
His decision to stay put was a blessing to Lavin, who had major prostate cancer surgery in the fall and lasted only four games on the bench before retreating to a suite at Madison Square Garden or his home to watch games and avoid stress. The strain of coaching was too much for Lavin's battered body to handle during the recovery stage.
The team was young and took a number of hits during the season, but still finished 13-19 overall and 6-12 in the Big East.
Sure, Keady was on the bench in an emeritus, sage-like role. But Dunlap was the reason Lavin believed he could take his time recovering. If someone with less experience had to handle the day-to-day operations, Lavin may not have stayed away as long to focus on recruiting and rehabilitation.
"During this past season, Coach Dunlap and the rest of the staff held it down on campus, which allowed me to better focus on a full recuperation from surgery while simultaneously hauling in another stellar recruiting class,'' Lavin said Monday night.
Last week, St. John's added the No. 77-ranked player to the 2012 class in 6-foot-8 Chris Obekpa, a defender and shot-blocker the Red Storm desperately needed. They had already recommitted Jakarr Sampson after he had to go to prep school for a year and nabbed junior college scorer Orlando Sanchez.
Lavin crisscrossed the country, New England and New York to recruit while Dunlap ran the day-to-day operations.
Dunlap helped develop NBA talent at Arizona and St. John's, including Moe Harkless, a certain first-round pick in next week's NBA draft.
His connections to Charlotte's brass are strong. He worked under George Raveling at USC and Iowa. Raveling is extremely close with Charlotte owner Michael Jordan through Nike. The respect Dunlap has in Denver hasn't withered, as George Karl and Tim Grgurich are known to be fans. If Grgurich joins Dunlap in Charlotte, it would give the Bobcats two recognizable development coaches on one bench.
Bobcats general manager Rich Cho said Monday night that getting a coach with a "strong emphasis in player development was extremely high on our priority list."
The roster, with Kemba Walker and the No. 2 pick, demands this. They are the new faces and future of the franchise. Bismack Biyombo is a potential rising talent, too.
"Mike is more than prepared for this job," said Wake Forest coach Jeff Bzdelik, a former Denver Nuggets coach who got to know Dunlap when he was the head coach at Metro State.
"He's simply a basketball junkie,'' Bzdelik said. "He has traveled the world -- literally -- to study the game. Everyone needs talent. No one is a genius of the game. But he'll do a great job with the X's and O's and the preparation and the motivation and teaching and developing.
"They'll need to be patient, so he can develop a team that obviously needs an injection of talent," Bzdelik said.
Lavin said Dunlap was in the picture throughout the search process, even though his name wasn't mentioned with Jerry Sloan, Brian Shaw or Quin Snyder.
And that's exactly how Dunlap has operated in his career -- never front and center.
He had no choice at Arizona or at St. John's. He had to take over a significant role and stabilize two critical seasons. The Arizona situation set up the program for Sean Miller's arrival. He gave Lavin the freedom to recruit and recover, knowing he didn't have to rush back.
Lavin and St. John's owe Dunlap are in debt for his service.
Now, Charlotte will receive the benefits. The hire may seem odd to the mainstream public. The talent level is low by NBA standards, so he will have a hard time winning. But he won't shirk his responsibilities as a teacher of the game. And he won't give anything less than his best.
His departure is a major hit to the St. John's staff. But to NBA personnel, it was a sign that the Red Storm had a well-respected, hidden gem who needed a chance to succeed where others have failed.
May, 4, 2012
05/04/12
12:58
PM ET
UCLA's recent mediocrity hasn't been celebrated or seen by the rest of the Pac-12 as an opportunity.
Instead, the conference desperately needs the Bruins to come back -- and fast. Having Arizona dip, even just for one season, didn't help either.
So when the coaches gathered this week for the annual spring meetings in Phoenix, the mood was upbeat. The Pac-12 -- that ultimate big-boy punching bag in college basketball lately -- has two of the nation's top three recruiting classes. And they're from the league's two most prestigious programs.
[+] Enlarge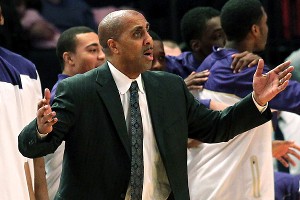 Anthony Gruppuso/US PresswireYou know it's a down year when your regular-season champ doesn't make the NCAA tournament.
"I think any buzz for our league is good for everybody,'' Oregon State coach Craig Robinson said. "As competitors, we would like the buzz to be about us, but as long as it's somebody in our conference and especially a brand name like UCLA, that can only be good for the rest of us.''
The Pac-12 had only two teams make the NCAA tournament in 2012, and one of those (Cal) was in the First Four in Dayton and lost. Regular-season champ Washington didn't get a bid, an embarrassing situation for the conference, which became the first big six league to not have its regular-season winner receive a bid.
Utah arrived in the conference and was abysmal in its first season, finishing 3-15 in the Pac-12 and 6-25 overall. Arizona State fell apart and finished 10-21. USC was decimated by injuries and was the worst of all, finishing a stunning 1-17 in league play and 6-26 overall.
The saving face of the Pac-12 was actually new member Colorado. The Buffaloes won the conference tournament, beat UNLV in the NCAA tourney and hung around with Baylor before losing in the Round of 32.
But perception of the league being down wasn't a reach. It was reality. The numbers and results didn't lie. The Pac-12 was an almost hard-to-fathom 1-25 against the RPI top 40 in nonconference play.
So with Arizona loaded up with four ESPNU 100 recruits in the Class of 2012 and UCLA having secured Kyle Anderson in the fall, the Bruins kept up the momentum in the spring by grabbing another top-five recruit (Shabazz Muhammad) and a four-star big man (Tony Parker).
That's not just good for those two schools, it's welcomed by the rest of the league.
Don't think Pac-12 commissioner Larry Scott didn't take notice of the Bruins' big April.
"It's extremely important,'' Scott said. "The public and media follow big brands, and it doesn't get any bigger than UCLA basketball in our conference.
"Having them have a strong recruiting class [and] a new Pauley Pavilion to move into is great news for our conference. We've got new TV deals. The timing couldn't be better.''
The conference's coaches have long complained about the television package and a general lack of national exposure. A few years ago, first-place Cal was at USC in a critical game and it wasn't even televised.
Well, the Pac-12 finally has a new TV package that will allow every conference game to be televised on one of three networks: ESPN, Fox or the new Pac-12 Network. The league will shift from a straight Thursday-Saturday/Sunday schedule to one that has more flexibility.
[+] Enlarge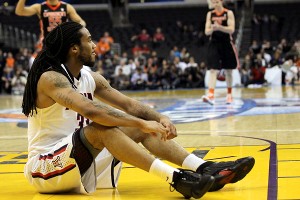 Stephen Dunn/Getty ImagesThe Pac-12 tourney has had some thrillers over the years, but few in L.A. bothered to notice.
In addition, the conference tournament now has a chance to have a sellout with the league choosing Las Vegas as the neutral destination. The Pac-12 had struggled mightily to draw consistent crowds to the Staples Center in Los Angeles. That shouldn't be the case at a destination venue like the MGM Grand, where the Pac-12 will become the fourth conference to play its conference tournament in Vegas, joining the Mountain West (Thomas & Mack Center), WCC and WAC (both at the Orleans Arena).
What will this conference look like by next March, though?
A year ago, the league was gutted by early entrants to the NBA draft at USC, UCLA, Washington, Washington State, Arizona and Stanford.
"Our league wasn't going to be good in the nonconference in November or December because of who left,'' Oregon coach Dana Altman said. "And then UCLA lost Reeves Nelson [dismissed early in the season] and so we weren't in a position to do well.''
Now they must be.
"We need some top-10 teams,'' said Cal coach Mike Montgomery, who has consistently been a Pac-12 title contender at Stanford and Cal. "We didn't have any, and it hurt us. Based on the recruiting, Arizona and UCLA should be in the mix.
"You need good teams going in. It will help us all if we're competing against better teams. Our RPI goes up. One through nine we were pretty good last year.''
The early onus will be on UCLA. The Bruins have to show well at the Legends Classic in Brooklyn, N.Y., with Georgetown and ESPN.com preseason No. 1 Indiana in the four-team field.
"We've had some bad losses out there,'' Montgomery said of the Pac-12's shoddy nonconference record lately. "Typically, everyone looks at UCLA and makes a judgment. It may not be fair or right and they haven't been the best team, but when they [are down], it hurts everybody. It's incumbent on everybody to win the games [you're supposed to win] in the pre-conference.''
Montgomery didn't excuse his own team. The Bears beat no one of significance outside league play last season and were annihilated by Missouri and UNLV.
"We didn't perform well, and that hurt our league,'' Montgomery said. "The impressions start early. We shouldn't lose games we shouldn't lose, because then when the league plays each other, we're screwed. We can't do anything to improve the reputation. That's on all of us to have a better November and December heading into the conference.''
USC coach Kevin O'Neill isn't doubting the Pac-12's ability to bounce back this season with several NCAA tournament teams.
"And we plan on being one of them,'' O'Neill said of the Trojans, led by Jio Fontan, who missed last season with a knee injury. "UCLA and Arizona had top recruiting classes, and that helps everybody improve. I think it's great. We'll see how they react to stressful situations.
"All our teams look good on paper, and we should be one of the top leagues in the country. We lost more pros in this league than the five other power leagues together the last few years. We're producing great players and most are doing well. But all of that is going to change. It's going to be a great year for our league.''
October, 3, 2011
10/03/11
11:17
AM ET
At this time last year, Ben Hansbrough's name didn't appear on the Wooden Award preseason watch list.
Five months later, he edged out Connecticut's Kemba Walker for Big East Player of the Year.
Using that as a backdrop, let's remember that the list of 50 Wooden nominees is flawed, much like any of the award lists. The Wooden Award does not allow its voters to nominate any freshmen or transfers (either four-year or junior college) on their ballots.
And with college basketball as loaded with talent as any year since 2007-08, narrowing it down to 50 is not easy. So below I've attempted to come up with the names that didn't make it, either as "just missed the cut" omissions or just because they're freshmen or transfers. These guys aren't on the list (which can be found here), but might show up when it's updated during the season.
This group is by no means definitive, either. There's no telling who else might emerge nationally as the games get under way.
Let's take a look …
The omissions (in alphabetical order):
Julian Boyd, Long Island: The Blackbirds are the favorite again in the Northeast Conference and the main reason is because Boyd is back and ready to dominate the stat sheet.
D.J. Cooper, Ohio: The diminutive point guard does a little bit of everything; he averaged 15.8 ppg, 7.5 apg and 5.0 rpg for the Bobcats last season.
[+] Enlarge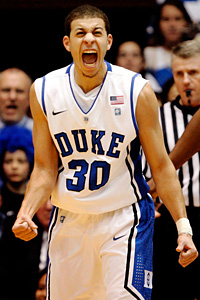 Streeter Lecka/Getty ImagesSeth Curry hasn't done enough to warrant a mention on a preseason watch list, but he might end up being a Wooden addition.
Jared Cunningham, Oregon State: Cunningham has some of the best hops in the sport and a chance to be a Pac-12 star, allowing the Beavers to finally move up in the standings this season.
Seth Curry, Duke: Curry was a standout shooter for the Blue Devils on their trip to China and could be one of the top scorers on the team.
Brandon Davies, BYU: Davies was recently reinstated to the Cougars, and the offense is expected to flow through him inside and out as BYU mounts a campaign to win the WCC in its first year in the league.
Matthew Dellavedova, Saint Mary's: SMC coach Randy Bennett envisions this as one of the best teams he's ever had, but a lot of that will have to do with whether Dellavedova can shoot like Mickey McConnell did last season.
Greg Echenique, Creighton: Echenique was a rebounding force for Venezuela this summer and should do even more for the Bluejays with a full season to work with.
TyShwan Edmondson, Austin Peay: The Governors should be the favorite in the Ohio Valley with a legit scorer like Edmondson, who has a strong man, Will Triggs, to take pressure off him.
Kyle Fogg, Arizona: Fogg is next in line to assume a leadership position for the Wildcats, who are in a position to compete for Pac-12 titles for years to come.
Kevin Foster, Santa Clara: As a sophomore, Foster sort of came out of nowhere to average 20.2 ppg and become one of the nation's top 3-point shooters.
Chris Gaston, Fordham: The Rams aren't any good, but the nation's leading returning rebounder (11.3 rpg) at least deserves a shout-out in this space.
Yancy Gates, Cincinnati: UC coach Mick Cronin said he'd be surprised if Gates wasn't one of the 10 names on the Big East preseason first team.
Malcolm Grant, Miami (Fla.): The Hurricanes have to play most of the season without big man Reggie Johnson, so Grant will have more opportunities to shine.
Rob Jones, Saint Mary's: Jones could be a double-double regular for the Gaels, and for Saint Mary's to win the WCC, Jones will have to be a star.
Doron Lamb, Kentucky: John Calipari says Lamb will be the Wildcats' best player. Just Coach Cal mind games, or the truth?
Meyers Leonard, Illinois: Leonard didn't contribute a whole lot as a freshman, but he was a hidden gem on the U.S. U-19 team in Latvia this summer. The Illini are expecting big things out of him.
C.J. McCollum, Lehigh: McCollum is the nation's leading returning scorer (21.8 ppg) and is in the top five in steals (2.5 spg). Oh, and he did that as a freshman. What more do you need to know?
Cameron Moore, UAB: The Blazers have been consistently good under Mike Davis and have had unheralded C-USA stars. Moore is the latest.
Toure' Murry, Wichita State: If the Shockers win the Missouri Valley over Creighton, a lot of the credit will end up going to the veteran Murry.
[+] Enlarge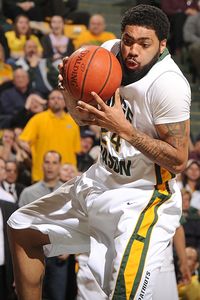 Rafael Suanes/US PresswireRyan Pearson looks to lead Mason to another run to the NCAAs.
Brandon Paul, Illinois: Illini coach Bruce Weber was a bit surprised Paul didn't crack the top 50 on the Wooden list, given his overall importance to this team.
Ryan Pearson, George Mason: The Patriots are a trendy pick for the Top 25 and a lot of that has to do with the versatility of Pearson.
Damier Pitts, Marshall: The Thundering Herd are a real sleeper to gain an NCAA tourney berth out of Conference USA in large part because of Pitts.
Herb Pope, Seton Hall: Pope has come back from multiple life-threatening situations and has a real shot as a senior to put it all together and finally shine.
Terrence Ross, Washington: The Huskies can't be dismissed as a major player for the Pac-12 title, and if they win it, Ross will be a significant reason why.
Robert Sacre, Gonzaga: Sacre has matured into a solid post player, and that progress shows no signs of stopping as the Zags once again compete for the West Coast title.
Mike Scott, Virginia: If the sleeper Cavs mount a run to the NCAA tournament, the oft-injured Scott will be the reason why.
Renardo Sidney, Mississippi State: If Sidney is in shape and plays up to his potential, he has SEC Player of the Year potential and could be the difference between the Bulldogs making the NCAAs or NIT.
Andrew Smith, Butler: The Bulldogs will have fewer stars this season, but Smith has a chance to outshine Khyle Marshall and newcomer Roosevelt Jones with his scoring prowess in the post.
Chace Stanback, UNLV: Stanback's suspension to start the season is only one game, so that won't diminish his ability to lead the Rebels in their hunt for a Mountain West title.
Raymond Taylor, Florida Atlantic: FAU quietly won the Sun Belt East Division last season and Mike Jarvis' diminutive point guard was the catalyst behind the regular-season championship.
Hollis Thompson, Georgetown: If the Hoyas are to make the NCAA tournament again and be a pest in the upper half of the Big East, then Thompson needs a breakout season.
Kyle Weems, Missouri State: Doug McDermott is the one everyone is talking about in the Valley, but let's not forget that Weems is the reigning MVC Player of the Year. Too bad for the Bears he's their only returning starter.
Kendall Williams, New Mexico: The sophomore guard was the leading scorer in four postseason NIT games for the Lobos and should only get better with the addition of Australian Hugh Greenwood.
The transfers
Dewayne Dedmon, USC: Trojans coach Kevin O'Neill firmly believes this JC transfer is an NBA talent who could dominate the post and average a double-double for SC.
Arnett Moultrie, Mississippi State: The former UTEP big man is ready to have a bust-out season for a team that has serious bounce-back potential after a disappointing 2010-11 campaign.
Mike Rosario, Florida: The former Rutgers scoring guard finally has plenty of support around him and will put up numbers for a winner.
Rakim Sanders, Fairfield: The Boston College transfer should flourish after dropping down a level, and he should get coach Sydney Johnson another trip to the NCAA tourney. Johnson is beginning his first year at Fairfield after leading Princeton to the 2011 tourney.
Royce White, Iowa State: White is finally ready to be a star on the college scene after multiple transgressions at Minnesota.
Brandon Wood, Michigan State: The Spartans picked up a rare senior transfer (taking advantage of the graduate transfer rule) from Valparaiso who could be one of the best shooters in the Big Ten.
Tony Woods, Oregon: The embattled Woods arrived from Wake Forest after legal issues and has a chance to really shine as a double-double player for the first time in his career.
The freshmen
Bradley Beal, Florida: Beal has a chance to be a productive player in a frontcourt that has a vacuum after multiple seniors departed.
Gary Bell Jr., Gonzaga: Coach Mark Few has been anticipating Bell's arrival for over a year now. He's expected to step in and deliver right away.
Wayne Blackshear, Louisville: The Cardinals fancy themselves a Big East title contender, and that's partly because they consider Blackshear a star in the making.
Jabari Brown, Oregon: Brown was the star of the Ducks' trip to Italy with his scoring prowess, and expect that to continue in the Pac-12.
Jahii Carson, Arizona State: There is some question right now as to Carson's eligibility, but if he's good to go, the Sun Devils might become relevant in the Pac-12 again.
[+] Enlarge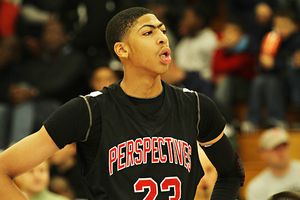 Brendan NolanThere seems to be little doubt that freshman Anthony Davis will have a major impact for UK.
Erik Copes, George Mason: Copes was bound for George Washington before Karl Hobbs was fired; now he'll be a headline performer for the Patriots and first-year coach Paul Hewitt.
Anthony Davis, Kentucky: Davis has a chance to be the SEC Player of the Year and the No. 1 pick in the NBA draft, so expect him to be on the midseason list when freshmen are allowed.
Andre Drummond, Connecticut: He will be an immediate star and help lift the Huskies into the national title chase again. He's more than likely a future top-five pick in the NBA.
Myck Kabongo, Texas: Coach Rick Barnes has had quite a bit of success with big-time freshmen guards, and Kabongo is next in line.
Michael Kidd-Gilchrist, Kentucky: Gilchrist will be another star on what will be a headline team throughout the season.
Johnny O'Bryant, LSU: Coach Trent Johnson needs the Tigers to start trending upward again, and he has a shot with the arrival of the big man from Mississippi.
LeBryan Nash, Oklahoma State: OSU is a bit of a mystery team in the Big 12, but the All-American from Dallas could push the Cowboys into contention.
Austin Rivers, Duke: Rivers will have the ball in his hands quite a bit and appears to be the next Duke star in a lengthy list of recognizable names.
Josiah Turner, Arizona: The Wildcats will win the Pac-12 regular-season title if Turner is as good as advertised.
Cody Zeller, Indiana: If coach Tom Crean is going to turn the Hoosiers into a relevant team this season, it will be because of Zeller and his impact in the Big Ten.
September, 26, 2011
09/26/11
12:04
PM ET
The NBA has canceled the opening of training camp and the start of preseason games -- and regular-season games could be next if the players and owners can't come to an agreement fairly soon.
The more the NBA season looks in peril, the smarter Memphis coach Josh Pastner appears for adding Memphis Grizzlies assistant coach Damon Stoudamire and Los Angeles Lakers forward Luke Walton to his staff.
Stoudamire is a full-time employee regardless of when the lockout ends. And while Walton is with the Tigers almost as a temp, he certainly brings a wealth of pro experience that is enticing to both the current Memphis players and the ones he is trying to woo to the program.
Regardless, it seems obvious both are thrilled with their new gigs, especially in light of the alternative.
[+] Enlarge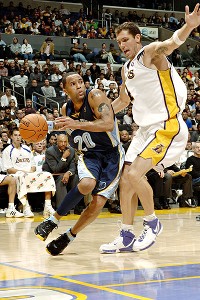 Andrew D. Bernstein/NBAE/Getty ImagesArizona alums Damon Stoudamire and Luke Walton used to compete against each other in the NBA. Now they're on the same team.
Stoudamire wouldn't be doing much of anything if he were with the Grizzlies. Now he's coaching and recruiting, and he said he's even working out the Griz players at the Larry Finch practice facility on campus.
"I don't know what I'd be doing, to be honest with you," Stoudamire said. "I've been through a lockout before [in 1998] and it was boring. There wasn't anything to do. Right now [the Grizzlies] aren't doing much, and what I've been doing is working out the pro guys for them to stay sharp. They can't use their facility so we opened up ours. If I were still with the team, I couldn't do that."
If Walton were still in Los Angeles, he would have no access to the Lakers' facilities, either. So here he is -- 1,800 miles away -- coaching, recruiting and working out daily with full access to a training staff as he rehabs from a back injury that nearly forced him to retire during the 2009-10 season.
"I've got a bunch of Grizzlies players I'm working out with, my shooting coach is coming this week, and I've got a training staff and strength coach here at my disposal," Walton said. "I can do all of this during my time off when we're not practicing [during individual workouts], coaching or recruiting, so I make sure to stay ready for when the lockout ends."
How long does Walton think he's going to be at Memphis?
"If I had to guess right now, at least until the end of December and even into January. But I'm also hearing that the season might not happen at all this year," said Walton, who added that he talks frequently to players' association rep and Lakers teammate Derek Fisher. "It's crazy to think about it. But the deeper we get into this -- into November and actual games are missed and both sides are missing paychecks -- that's when the negotiations will really heat up. It will come down to who is willing to give in. After listening for six hours [during a recent players rep meeting], neither side wants to fold. I think the pressure will pick up in November and we'll have a clearer idea if and when the season will start."
Stoudamire won't be shocked if Walton is on staff longer than anticipated. He said he's waiting to see if the players really do take a stand and sacrifice the whole season.
"I don't think they'll ever get what they want out of it," Stoudamire said. "It's millionaires battling billionaires, and you know who's going to win that battle."
Regardless, the decision by Walton and Pastner to take this gamble has paid off for both, even with less than two weeks to go before the official start of practice on Oct. 14.
"If the lockout ended tomorrow, even having Luke Walton for this amount of time was worth it," Pastner said. "I know when the lockout ends he's going to go back to being a Laker. But this has outweighed the risks."
Pastner said the reason is Walton's on-court experience at the highest level of basketball. It also doesn't hurt that he has a tremendous relationship with fellow Arizona alums Stoudamire, Pastner and assistant Jack Murphy, who moved to San Diego to work out Walton in preparation for the 2003 NBA draft.
"Part of the reason I took this job was because I know what Coach P and Coach Murph have to offer, and they were with me at Arizona and helped me improve as a player," Walton said. "I know that if you come here that you'll improve."
Walton recently went with Pastner and Murphy on a recruiting visit to the Clarksville, Tenn., home of Alex Poythress, the No. 17 player in the ESPNU 100 who has narrowed his choices to Kentucky, Florida, Vanderbilt and Memphis. Walton said he can't promise a player he will be coaching him, but he is selling the program and the current staff. He's also not doing too much evaluating for the same reason -- he simply doesn't how long he'll be at Memphis.
Regardless of their roles, Walton and Stoudamire love the chemistry on this staff.
"We are supposed to meet for 20 minutes and it turns into two-and-a-half hours," Walton said.
Stoudamire did admit he's having a hard time grasping the reality of recruiting. The talent isn't NBA-level and the people you are dealing with aren't just parents.
"I have to taper my expectations a bit," Stoudamire said. "It's not what I'm used to seeing. I'm not evaluating pro players. I think I've seen maybe four players that I can say, 'Yeah, he's a pro.' And the landscape in recruiting is different since you're dealing with so many people as opposed to what I was dealing with.
"The unwritten rule is that there are people who represent these kids. You've got to be able to win over the kid and win over the handlers too. That's just as important as the kid, and in some instances I've found out that no matter what the kid thinks, it's more about the handler. Sometimes you're trying to impress the handler more than the kid."
Stoudamire said Walton has grasped that coaching is a full-time gig -- mostly, at least. Walton said he's still in player's mode when it comes to the alarm clock. In general, coaches rise early. Players do not.
[+] Enlarge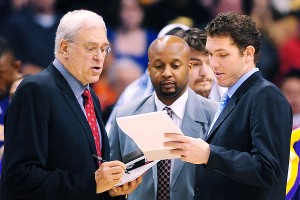 Mark J. Rebilas/US PresswireDuring the 2009-10 season, an injured Walton spent plenty of time around the Lakers coaches.
"You've got to be here early and leave late," Stoudamire said. "He's getting the time commitment now. Luke is going to be a head coach. He's got the demeanor. He knows what he's talking about and he commands respect. He's a very cerebral player and he maximized his ability as a player. [Memphis forward] Tarik Black is already benefiting in a short period of time."
Walton, 31, has two years remaining on his existing contract, and due to the back injury -- which was concentrated in his spine and vertebrae -- it might be his last deal. He said that's another reason why he has jumped into the coaching world.
"It nearly took me out of the entire season," said Walton, who played in 29 games in 2009-10. "It was pretty scary. I was in a dark place and I was off to myself. Coach [Phil] Jackson invited me to be a part of the staff and sit in the coaches meetings. I had a really good time doing that. I was meeting with doctors and there were some who said I shouldn't play again. I had to think for the first time what I would do without basketball."
Walton has quite a mentor in this regard. His father, Bill, has had to battle ankle, foot and back problems for years.
"It was a scary time for him to see his son go through it," Luke Walton said of his dad, known best in Memphis as the UCLA redhead who went 21-of-22 against the Tigers in the 1973 national title game. "I love coaching now and working with this staff and players and can't wait for the season to get started. But I love playing, and when this contract is up, it will be more of a health-related issue. If at any point I have to live with anti-inflammatory to play, well, I've had a long career."
For now, Walton said his mindset is in Memphis, where he has moved for the time being.
"But I'm aware that if the lockout ends, I'm going back to L.A. and rooting for the Tigers," Walton said.
Until that happens, Walton is banking on coaching Tigers headliners Black, Joe Jackson and Will Barton in a season in which the Tigers are the unquestioned Conference USA favorite and will likely start the season in the top 15 nationally.
And Walton knows he could be in Memphis to see the whole season through.
"There is a really good chance that does happen," he said. "Obviously, as a player I want to play basketball. But I'm in a situation that I enjoy in Memphis and I feel we can have an extremely successful season. I see this team making a Final Four run. And that would be so much fun to be a part of. This is a good situation. I'm not sitting around thinking about the lockout."
May, 6, 2011
05/06/11
11:34
AM ET
To put it simply, Maryland is one of the best jobs in the country.
The Terrapins can boast fertile recruiting territory in the Beltway and surrounding areas. Maryland fans are as loyal and passionate as any in college basketball. The facilities are top-notch.
Yes, North Carolina and Duke are the perennial favorites in the ACC, but there's no shame in being the third-best job in the conference behind those two. That just means it's among the top 10 or 15 in the country. So why wouldn't top-tier coaches run to College Park if athletic director Kevin Anderson calls to find a replacement for Gary Williams, who abruptly resigned Thursday?
Well, after discussing the topic with a number of sources that have direct knowledge on the subject as it relates to these coaches, there are reasons that make moving to Maryland difficult.
Some of the key points that have come up:
• How many coaches leave an elite job to go to another elite job when things are going well?
• How many coaches in their late 40s or early 50s want to rebuild again if they don't have to?
• How many coaches want to go to a team next season that will likely miss the postseason when they have an NCAA tourney team on their own campus?
• How many want to re-invent themselves in a new community and go through the rigors of establishing new contacts?
• How many are willing to go laterally financially if they're already making millions in their current job?

A while back, moving to Maryland from a school like Pittsburgh (see Jamie Dixon) would've been a no-brainer. But now schools like Pitt have emerged as national players, which makes a decision to leave a good situation a tough one to digest.
[+] Enlarge

AP Photo/Rob CarrKevin Anderson has already hired a football coach during his short tenure as Maryland's AD. Now he has the monumental task of replacing Gary Williams.
The big-to-big moves of note recently were easy to explain. Roy Williams went from Kansas to North Carolina. That's two of the top five jobs in the country and Williams is a UNC alumnus. Bill Self left Illinois to replace Williams at Kansas, and that one made sense too.
Herb Sendek going from NC State to Arizona State was a geographic move and one in which he simply didn't feel appreciated enough at his old school.
Ben Howland left Pittsburgh for UCLA. Pitt was a new player in the Big East at the time. UCLA is, well, UCLA and Howland is from Santa Barbara. No need for an explanation.
Frank Haith going from Miami to Missouri was an obvious move. Missouri is a much better job. Mike Anderson going from Missouri to Arkansas was an easy choice since he had once coached at Arkansas.
But not every situation provides an obvious answer.
Let's look at the candidates Maryland will likely pursue based on a number of sources. It may not be limited to this list, but these guys will likely be among the first to get a call, if they haven't already:
Mike Brey, Notre Dame: This one seems obvious. Brey, 52, is from Maryland. He has a beach home in Delaware. He coached at Delaware. He played at George Washington. But he also hasn't lived in the area for more than two decades. Yes, Brey had a senior-laden team last season, including Big East player of the year Ben Hansbrough. But the Fighting Irish will be better than the Terrapins next season and Brey feels like he has created his own program in South Bend. He doesn't necessarily have the energy to re-start his career. He loves coaching the Irish and doesn't need a new challenge. If he were in his 40s, he might reconsider. But if he were asked now if he wants to stay at Notre Dame or coach at Maryland, his answer would likely be to stick with the Irish.
Jamie Dixon, Pitt: Dixon and Anderson have a special relationship. Anderson was the athletic director who hired Dixon's late sister Maggie at Army. They have shared a closeness since her death. So Dixon will likely be asked by his friend for advice, but it's not likely he will take the Maryland job if asked unless something were to change. Pitt is a Big East power now and has been within a layup of the Final Four. Dixon is entrenched in the Pittsburgh community. There is no reason for him to leave.
Jay Wright, Villanova: Wright has built Nova into a Big East perennial power. He has recruiting locked up in the corridor. He has coached the Wildcats to the Final Four. And he is extremely comfortable in Philadelphia. If there is a next move for Wright, it's likely to the NBA. Wright doesn't need to jump to a basketball-football school. According to sources, Wright wouldn't leave Villanova for Maryland.
Tubby Smith, Minnesota: Smith was reportedly high on the lists at Georgia Tech and NC State but claimed all along he had no plans of leaving Minneapolis. Georgia Tech couldn't have paid him what he could command anyway. Smith is from Maryland, so it would make sense for him to go home. But is that what Anderson wants? Smith is in his 60s and Williams just retired at 66. Smith is in the same coaching era as Williams, Mike Krzyzewski, Jim Boeheim, Jim Calhoun and Roy Williams. He has coaching left in him, but Maryland is in a rebuilding situation. Yes, Jim Larranaga at age 61 just went to Miami, but the Hurricanes have players and can win next season. Smith is an intriguing name with a national title to his credit, but would he be a long-term solution?
Mark Few, Gonzaga: Few has flirted with plenty of jobs in the past, notably Indiana. But he's never bitten. He loves his life in Spokane and with the Zags. He has built a national name at Gonzaga and the Zags recruit at a high level now. He makes over $1 million and is firmly entrenched in the Northwest. He would listen, according to sources, but would he really be willing to go from Spokane to College Park? Does Anderson want to pluck someone who doesn't have any ties to the area, as good a name as he is nationally?
Brad Stevens, Butler: Stevens should only leave Butler for a top 10-15 national job after coaching the Bulldogs to consecutive national title games. This is one of those jobs he would have to listen to if called. But Stevens has never worked outside Indiana. Is this the right fit for him? Anderson would hit a home run with this hire. Stevens has become one of the most well-respected coaches in the business in such a short time, drawing immense praise from none other than Krzyzewski the past two seasons. But would Stevens leave the two-time defending national runner-up? Tough call. If Stevens is going to move, he'll likely stay in the Midwest at an elite job in the Big Ten.
Mark Turgeon, Texas A&M: Turgeon played at Kansas. He fully understands what it's like to be at a basketball-crazed school. He coached at one in Wichita State. He would enjoy being at a basketball-first school like Maryland. He has done a wonderful job keeping the Aggies relevant in the Big 12 and A&M will again be in the mix in the conference title race next season. But would Turgeon be the choice for Anderson? That's still an unknown. As one source said, Turgeon may not be the news conference name that Tubby Smith would be on day one, but two years into his tenure at Maryland they would know they had an elite coach and a winner.
Sean Miller, Arizona: This is by far the most intriguing name. If this were a year ago, Miller would have probably run to Maryland. His first year at Arizona wasn't easy after taking over for two interim coaches who succeeded Hall of Famer Lute Olson. But Miller then coached the Wildcats to the Pac-10 title and a trip to the Elite Eight. He has an elite recruiting class coming to Tucson. This is a great time to be in the Pac-12 at a school like Arizona because it is winnable with so many programs in flux. Unlike Dixon, Wright, Brey, Few or even Stevens, Miller isn't entrenched in his community or the school. He went from Xavier to Tucson just two years ago. He is an East Coast coach, he played at Pitt and coached in the ACC at NC State. So he would be a great fit at Maryland, but is he willing to move after bringing back some of the glory to Zona? Is he willing to start over again and rebuild? Does he have the energy for that type of move again? This might be the most agonizing call.
Shaka Smart, VCU: Obviously Smart's name wouldn't have been on this list a year ago. But that was before he coached the Rams to an improbable Final Four run. He committed to VCU by staying put this offseason and the school upped his salary quite a bit. But he would almost certainly jump at an offer from Maryland. The question: Is this too big a leap for Maryland to make?
Johnny Dawkins, Stanford: Dawkins is from Maryland. He is an all-time great Duke player. He is trying to establish himself at Stanford, but it doesn't appear he's done enough to warrant interest from the Terps. But he does have a name that would resonate locally and in the ACC.
There likely will be others, possibly some names from the NBA. But any list that Anderson checks off should at least begin with the aforementioned coaches. Maryland shouldn't aim for anything less.
Quick hitters on a Monday heading into the Sweet 16:
• We can't have it both ways -- criticizing the officials for not officiating until the final seconds of the Rutgers-St. John's Big East tournament game and then officiating until the final buzzer in other games. I'm not going to shill for the officials, but they got it right in the Pitt-Butler game. Those were fouls at the end of the game by Butler's Shelvin Mack and Pitt's Nasir Robinson. They were incredibly dumb fouls at the worst time, but they were fouls. The officials didn't affect the game. The players did by putting themselves in position to be called for legit fouls.
[+] Enlarge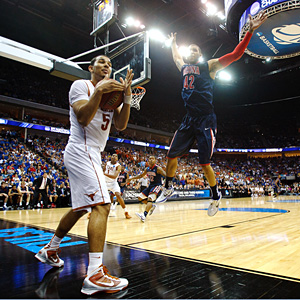 William Purnell/Icon SMICory Joseph tried to call a timeout in the final seconds of Texas' loss to Arizona.
• The five-second count on Texas' Cory Joseph was debatable by a half-second. But the official had the count in his head and was standing right there. It's hard to debate that point. And Texas shouldn't have even put itself in that position to lose to Arizona the way it did.
• Official Doug Shows also was not wrong with the clock in the Washington-North Carolina game, judging the amount of time remaining in the game by the whistle (0.5 seconds) rather than when the ball hit the floor (one-plus seconds). Once again, Washington had no business being in a position to worry about an official. The Huskies missed so many opportunities to either tie or win the game. It wasn't the officials' fault that Justin Holiday tried to pass the ball over John Henson or that Venoy Overton ignored Isaiah Thomas in two of the three final possessions.
• Princeton has received inquiries about whether it would allow coach Sydney Johnson to talk to Bradley and Towson. Huh? Johnson has done a sensational job resurrecting the Tigers program. But Bradley and Towson? Sure, there are connections with Bradley's AD Mike Cross, who was at Princeton, and Johnson has Maryland ties in the Towson area. But leaving his alma mater, Princeton, a place where he has a great emotional investment, for one of these two schools would only be a money grab.
Meanwhile, Princeton has to do more to step up and keep Johnson. These are no longer the days of Pete Carril, when a coach was just happy to be there. It's a competitive marketplace, and even if Georgia Tech or NC State were to call -- which are much more palatable jobs -- the Tigers, led by AD Gary Walters, must make the Princeton job work within the marketplace. There is money within the alumni base who love seeing their school in the NCAA tournament -- go get it. Princeton is an Ivy League power. Harvard has raised the recruiting ante in the Ivy, and now there is going to be serious competition for the top spot and a bid. So the competition to keep coaches has increased. Johnson is a better fit where he is now and will likely see that to be the case, if he hasn't already, unless he gets an offer from an ACC school.
• The Big East has two teams left in the NCAA tournament, but it's not a reflection on the regular season. The Big East deserved every one of the 11 bids. Those are two different arguments. I never believed outside of Pitt that the Big East had a team that could even reach the Final Four. Connecticut still could and, of course, so can Marquette, but the odds are less likely based on the East regional. But crushing the Big East in the NCAAs is a moot argument. The 11 bids were deserved.
• Can you imagine if Kentucky's Terrence Jones had stuck with his first choice and gone to Washington? I thought about that while watching how well the Huskies scored Sunday. That would have been quite a team.
• No one has said much about the job John Calipari did with Kentucky this season. All I know is he has the Wildcats within one game of the Elite Eight again with nearly a new roster. That's quite impressive.
• The noise about the selections last Sunday should have been more directed to the seeding and the bracketing. Texas, even though the Longhorns lost, shouldn't have been a No. 4 and Florida, even though the Gators won, shouldn't have been a No. 2. Why was Richmond a 12-seed after winning the A-10 tournament? Oakland could have been a 12 more than a 13. Butler did play to its 8-seed by losing in the Horizon League. And the bracket in the East was just too strong with Kentucky, North Carolina and Ohio State all jammed together. The Sweet 16 bracket now is too imbalanced.
• The NIT better start handing out some free tickets for the semifinals in New York. It might be tough to fill the seats with the College of Charleston playing Wichita State for one berth, Colorado against Kent State for another and the possibility of Washington State as a third. The NIT bracket was lopsided, too, with one quadrant loaded with four teams that could have been in New York (New Mexico, Alabama, Miami and Missouri State).
• Darius Morris should be a star next season for Michigan. He has a chance to be a Big Ten Player of the Year candidate along with Purdue's Robbie Hummel, assuming the rest of the underclassmen stars like Jared Sullinger leave.
• Losers from the weekend -- UCLA, Michigan, Washington, Texas -- should feel good about next season. All four of those teams are going to be major factors in their respective conferences next season.