Category archive:

Rutgers Scarlet Knights
June, 7, 2013
06/07/13
10:46
AM ET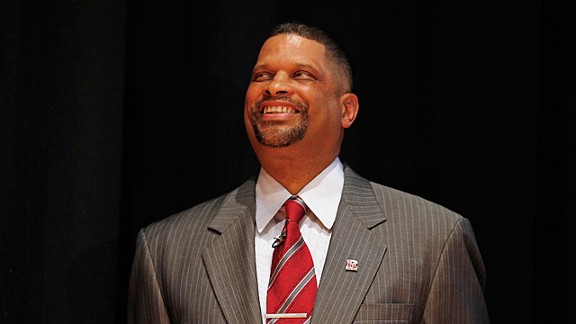 Rich Schultz/Getty ImagesAmid turmoil at Rutgers, Eddie Jordan has found an opportunity to be enthusiastic about.
Quietly, amid all of the noise about the controversial hiring of his new boss, athletic director Julie Hermann, men's basketball coach Eddie Jordan was focused on his own tasks.
Recruiting.
Individual workouts.
Fundraising.
Donor meetings.
Studying.
Yes, he is hard at work trying to finish his Rutgers degree, which had been the subject of confusion as to when and if he had earned it.
Jordan spent Thursday night studying, with the sound off on Game 1 of the NBA Finals. A few months ago, he was in the midst of prepping for NBA games against those same teams as an assistant coach with the Lakers. Now he's juggling his first head coaching job in Division I and being a student at the same time.
"I'm in school taking classes," said Jordan who played at Rutgers from 1973 to 1977. "It's fun and exciting. I'm doing my work, trying to squeeze it in and get done by December or by this time next year. Rutgers is my school, and I always wanted to finish. I showed that every summer while I was playing and came back and took a class. When I was volunteering coaching here, the registration got screwed up. I take the blame for that. I showed there was an intent on finishing, but once you get into coaching and you have a young family and you're in the NBA, it's hard. The NBA isn't a résumé league."
True. Nobody in the NBA was checking if Jordan actually had his degree, but coaching on a college campus pretty much makes one necessary. And to Jordan's credit, he acknowledged that he hadn't completed the process fully. He believed he had earned the degree with the necessary course hours in 1985, not realizing until afterward that he had not registered officially.
Now, even as the head coach, he is setting an example, finishing academically what he started 30-plus years ago.
Jordan was so busy this past week with hosting a recruit, workouts and academics that he didn't have much time to visit with Hermann while she was on campus. He attended the meeting with Big Ten commissioner Jim Delany and made it for the end of Hermann's talk with the coaching staff.
But he's fully engaged with the task at hand. He knows he's part of the reputation rehabbing process at the school as much as Hermann or anyone else. They are two of the highest-profile replacements in the scandal that cost former men's basketball coach Mike Rice and athletic director Tim Pernetti their jobs.
[+] Enlarge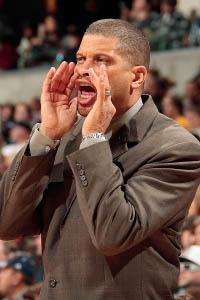 Ron Hoskins/NBAE/Getty ImagesJordan is busy selling New York and the Big Ten at Rutgers.
"Everyone is a bit beaten up by the stories, but underneath it all, we're getting kids excited about us and going into the Big Ten," Jordan said of the pending move in fall 2014. Rutgers will play one season in the new American Athletic Conference before joining the Big Ten. "There is no concern among the families and the kids about the AD situation. Kids are excited about the Big Ten and the new coaching staff. This is the first year. We are selling the Big Ten and New York. No other school can say that."
Jordan said he has had to fundraise as well, in the hope that the Rutgers Athletic Center will be renovated.
"There's no doubt it will," Jordan said of the Scarlet Knights' home court. "How much we can put into it and how much we can do is a matter of logistics and raising money. People are excited, though."
Players have transferred, including Jerome Seagears, Mike Poole, Eli Carter, Vincent Garrett and Derrick Randall. But a core has stayed, with Myles Mack, Wally Judge and Kadeem Jack as the expected anchors of Jordan's first team.
He said the players have adapted well to his NBA system. He is letting them play, and he said the response is that they are enjoying the freedom. Rutgers is still waiting for Junior Etou and Craig Brown to get on campus as they finish academically elsewhere. The Scarlet Knights also have a newcomer in JC transfer D'Von Campbell.
They don't have high expectations in the American. The learning curve in the Big Ten will be steep. And hiring an alum to coach hasn't always been the correct move. NC State had a hard time finding consistency under Sidney Lowe and ultimately had to part with its beloved former guard. Lowe, like Jordan, hadn't been a Division I head coach but had been a longtime NBA coach, mostly as an assistant. Their career paths are similar.
For Rutgers to achieve stability, Jordan needs to make sure he has a longer shelf life. And to do that, getting back in the classroom is as important as being on the court.
"We have a lot of work to do on different levels with parents, high school coaches, AAU coaches and a lot more dots to connect," Jordan said. "You have to bring out your skill and sell your school and academics and sell the league. We have to be creative and enthusiastic. We can do this. I'm a head coach again, and that means a lot. I have a lot of responsibility, and I'm really enjoying it."
December, 29, 2012
12/29/12
11:46
AM ET
Mike Rice spent Friday heading to another youth sporting event involving one of his children rather than coaching his Rutgers team.
He loved being forced to spend quality time with his children and wife the past two weeks on an unexpected Christmas vacation at home. He found out how passionate fans watch and listen to Rutgers games through a live stream on the Rutgers website as his family went to the games, supporting the players and the staff without him.
But it's been embarrassing nonetheless. And he has no one to blame but himself for the time off.
Now there is no one who can bail him out of his situation but himself.
[+] Enlarge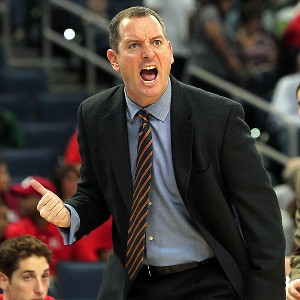 Kim Klement/US PresswireMike Rice was fined $50,000 and suspended three games by his own university.
Rice's boorish and inappropriate practice behavior got him suspended by the university for three games, along with a hefty $50,000 fine and banishment from any contact with the staff, players or school. The Newark Star-Ledger reported Rice threw basketballs at players' heads during practice in either his first or second season and used profane language. The newspaper reported there was video evidence supporting the claim.
His behavior, and his win-loss record, going forward will determine whether he is the coach at Rutgers in two years when the Scarlet Knights enter the Big Ten in Rice's final year of his current contract.
"It's fair to say this was very challenging," Rice told ESPN.com. "It was an emotional two-week span, a thought-provoking two weeks."
The Scarlet Knights (9-2) won all three games under interim coach David Cox in Rice's absence, beating UAB, Howard and Rider at home. Rice returned to practice Saturday afternoon in advance of the Big East opener Wednesday at Syracuse.
Rutgers athletic director Tim Pernetti hasn't put the head coach on notice, but Rice can't afford to make himself the story anytime soon. Rice is confident he will be the coach of the Knights when they enter the Big Ten.
"I'm not one of those guys [who ducks challenges]," Rice said. "I know the challenge I have now. I'm not one to back down to a challenge. If you think like that, then you shouldn't coach."
But has this embarrassing situation of being singled out with a suspension changed him?
"I've told my players for the last 21 years that you have to adjust to change and to develop, and now I have a chance to do that myself," Rice said. "I have to do that. Whether it's right or wrong or indifferent, I have to take responsibility and get better."
Rice said from now on he will use different techniques to get his point across. He said his suspension was a culmination of his behavior (not one single act in practice) and didn't occur this season, which backs up the Star-Ledger report that the incidents were in his first two years.
"I take responsibility for my actions," Rice said. "I'm not proud of some of the things I did in practice early on. I'm going to move and take it as a challenge. My intensity and passion and level of demand will be there, but I have to be more responsible and develop different techniques to get the same message across."
Rice cited the graduation of 18 of his last 19 seniors as evidence of his commitment to the greater good in coaching and said he fully expects his team to welcome him back without any issues.
"It will be another business day, another opportunity to get better," he said. "I've got a good relationship with my team. I thought we made great strides. What I saw watching the games is that we've got the pieces, we've got talent, and I saw improvement as well as weaknesses. The defense isn't where it should be."
The season started out poorly with a home loss to St. Peter's. While Eli Carter, Kadeem Jack, Myles Mack and newcomer Wally Judge have been stable, there simply isn't enough evidence to gauge if the Knights will be a real threat in the Big East.
The core of the team, save Judge, returned from a squad that finished 14-18 overall, 6-12 in the Big East. Rutgers has finished under .500 overall and in the conference for six straight seasons. Rice was the coach for two of those and has a 29-35 record at RU, 11-25 in Big East games.
The conference season starts out with at Syracuse, Pitt, at St. John's and Cincinnati. Going 1-3 in the first four games wouldn't be a shock and may be expected unless Rutgers and Rice can capitalize on a fresh start and some momentum from a five-game win streak, the last three without Rice.
"Everyone except Wally Judge has the experience of the [Big East] gauntlet," Rice said. "They've had failures and ultimately learned from it. We've got experience and more depth and more size and strength, but you'll never know until you get into the battles."
And we won't know if Rice has truly changed until he's back in the heat of the job.
If he changes, and wins, all will be forgotten. If neither occurs, then Rice will be remembered more for the suspension than anything else during his tenure.
"Everyone at Rutgers has been very supportive," Rice said. "I know the expectations and the standards of behavior have to be enforced. I'm being punished for that and I'm moving on."
May, 22, 2012
05/22/12
12:22
PM ET
The Big East will send out its annual straw poll to its coaches to get their preseason predictions about the strength of the league's teams to help put together next season's conference schedule.
The league office said Syracuse's Jim Boeheim and Pitt's Jamie Dixon will be allowed to vote in the poll, even though the schools are leaving the conference for the ACC. They weren't invited to the conference meetings earlier this week in Florida.
The results of the poll will determine which teams face each other twice during the conference schedule. Having a tiered system based on those predictions has worked well for the Big East, rather than the predetermined rotations of which teams play each other twice used by the Big Ten, ACC and SEC.
[+] Enlarge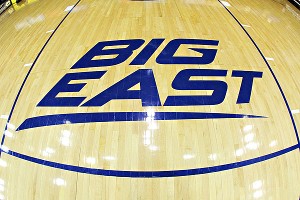 Bill Streicher/Icon SMIBig East coaches are confident the formula the league uses to determine conference schedules ahead of each season has helped in getting more NCAA tournament bids.
The Big East had 11 teams in the NCAA tournament in 2011; it sent nine teams last season. Coaches firmly believe handling scheduling this way is the reason.
"We've been able to give the league the flexibility to balance the schedule," Cincinnati's Mick Cronin said after the Big East meetings wrapped up Tuesday morning in Ponte Vedra Beach. "The repeat opponents have been set up by the hierarchy of the league in the summer. Something has been done right. We've had 11 teams and then nine teams in the NCAA. The coaches were against 18 league games but then it has helped us get more teams in [the tournament]."
Notre Dame coach Mike Brey agreed that the formula has worked for the Big East.
"It has driven us to get more bids," said Brey, who added it was odd not to have Boeheim at the Big East meetings for the first time during Brey's tenure at Notre Dame. "We've got to stay with this formula. It's not too constrictive. We don't want a rotation. We've got to keep an open mind. Some of it is by design, some of it is by luck, but it has really worked. You can sit there as a coach and say, 'If you're in the top eight, you're in the tournament.'"
There were 13 men's basketball coaches in attendance at Monday's meeting. Four coaches stayed to meet with athletic directors Tuesday. UConn's Jim Calhoun and Louisville's Rick Pitino weren't in attendance and neither were coaches from incoming 2013 members Temple (Fran Dunphy), Memphis (Josh Pastner) and SMU (Larry Brown).
According to Brey, the 11 other coaches in attendance, outside of him and Cronin, were: Stan Heath (South Florida), Ed Cooley (Providence), Kevin Willard (Seton Hall), Steve Lavin (St. John's), Mike Rice (Rutgers), Jay Wright (Villanova), Buzz Williams (Marquette), John Thompson III (Georgetown), Oliver Purnell (DePaul) and 2013 new members Donnie Jones (Central Florida) and James Dickey (Houston).
Heath said that there was even discussion about possibly opening up to 20 games from 18 when the new teams come into the conference.
"We had some conversation, but nothing was shot down," Heath said.
Heath, Cronin and Brey all said there was a renewed sense of optimism in the room, especially with presentations from television executives from NBC and Fox. ESPN and CBS have the current Big East rights, but the league will enter a new negotiating period in the fall.
"There was excitement over the TV presentation possibilities," Cronin said. "The Big East can't negotiate now but there was interest in our product. You could see people spending valuable time on the presentations and they say we'll be even stronger with the media market changes in adding Dallas, Houston and Orlando, which only helps the big picture."
The coaches agreed that the conference tournament must include all members in 2013, regardless of that number.
Heath said he brought up to the coaches that former USF player Kentrell Gransberry never played at Madison Square Garden during his career at South Florida because all the teams weren't invited.
"It's meaningful to the players and the teams even if it's one game," Heath said. "It's a big part of being in the Big East."
The format for the 2013 Big East tournament is still being discussed. There are 15 teams in the league this season with West Virginia's departure. Connecticut is currently not eligible for the tournament since it is not allowed to play in the postseason because of an NCAA ban for poor academics.
The coaches said the plan would be a for 14-team tournament with two games on Tuesday (instead of the previous four) and the rest of the schedule going forward from Wednesday on during championship week with the remaining teams.
Brey said the number of games for an 18-team Big East is still an issue.
"Everybody wants to play everybody," Brey said. "We can't have no-plays. And we need all of the schools to come to New York. A lot of these schools do a lot of business around the Big East tournament. We've got to figure out a way to do this. We're going to figure this all out together."
January, 13, 2012
01/13/12
1:38
PM ET
Quick hitters on a Friday:
• Morgan State coach Todd Bozeman said Friday that athletic director Floyd Kerr told him that the committee that met to discuss his incident submitted its findings to the acting vice president of student affairs. Bozeman is now awaiting a response. The Bears play Norfolk State on Saturday and Hampton on Monday. Bozeman denies that he struck his own player (Larry Bastfield) during a game at South Carolina State. He was pulled from the road trip and not allowed to go to Savannah State. Bozeman remains indefinitely suspended until further notice.
• An NCAA spokesperson said Friday that UAB submitted new information to a subcommittee dealing with waivers and appeals on behalf of former Saint Joseph's center Todd O'Brien. O'Brien graduated from Saint Joe's and wanted to play at UAB, where he said he found a graduate school major not available to him at Saint Joe's. The Hawks didn't endorse his transfer, which, according to the NCAA, was used as one of the reasons for denying O'Brien's waiver to play for the Blazers.
O'Brien has been practicing with the Blazers throughout the fall and into the winter. UAB coach Mike Davis said he doesn't understand why Saint Joe's, and especially coach Phil Martelli, won't sign off on O'Brien's waiver, which has been denied multiple times. A Saint Joseph's spokesperson, in defense of the PR hit Martelli is taking on the subject, said that the decision was made by the institution, not Martelli. The spokesperson said Martelli didn't have the option of simply saying "yes" or "no." Saint Joseph's won't comment on the O'Brien case anymore, citing privacy laws. The NCAA spokesperson said a decision by the subcommittee is due next week.
• The NCAA tournament selection committee met in Indianapolis on Thursday and then took in the Wisconsin-Purdue game in West Lafayette, Ind. The committee is being led by former Connecticut athletic director and current Big East consultant, Jeff Hathaway. Oklahoma athletic director Joe Castiglione took the place of former Big 12 commissioner Dan Beebe on the committee. The committee members are supposed to be impartial and, of course, they should get out and see as many games as possible. That's why the visual of Wisconsin's win was probably a huge plus for the Badgers. Wisconsin had struggled mightily recently, including losing at home to Iowa, but the Badgers shot the ball well in their win over the Boilermakers. That's a lasting memory for the committee when the Badgers come up for discussion.
• Arnett Moultrie should go down as the most impactful four-year transfer this season. His arrival at Mississippi State from UTEP is a game-changer for the Bulldogs. Moultrie's shot-blocking and shot-altering presence ensures the Bulldogs won't fade.
• I will be interested to see how the selection committee judges Murray State if the Racers are undefeated in the regular season or have one to two losses. The Racers will get a quality opponent in the BracketBusters event, possibly one of the following teams: Saint Mary's, Nevada or Long Beach State. The comparison I've made is to a two-loss George Washington team from the Atlantic 10 in 2006. The committee dinged the Colonials on their nonconference slate, and they received a No. 8 seed. I would put the Racers higher if they finish with an impressive record, but I'm not sure the committee would view it the same way if they strictly look at the strength of schedule of their opponents. The road win at Memphis and beating Southern Miss in Alaska will help, but how much?
• The Colonial Athletic Association may not get an at-large bid this season, but it will have quite a league race. Drexel beat George Mason on Thursday night, handing the Patriots their first loss of the season in conference play. Georgia State has been the surprise thus far. And VCU is still more than capable of winning the conference along with the aforementioned teams. I was probably wrong on Old Dominion. I thought after the Missouri game that the Monarchs would still be a contender. That might not be the case.
• When ESPN analyst Len Elmore had Virginia's Mike Scott as ACC Player of the Year a few weeks ago, I immediately thought of other choices. Looking at things now, he may be right. No other player in the ACC has been as important to his team. Take Scott off the Cavs and they have no shot to be a top-three team league.
• Saint Mary's took advantage of the front-loaded schedule by knocking off BYU and Gonzaga at home. The Gaels have to return the games later in the season. I still think the Zags are better-suited for a deeper March run, maybe more so than any other team in the West. Gonzaga has a hot hand in Kevin Pangos from the 3-point land, and multiple forward scoring options in Robert Sacre, Sam Dower and Guy Landry Edi, as well as a tough matchup with slasher Elias Harris. Having David Stockton in the game gives the Zags a steady hand at the point and someone to make free throws late.
January, 12, 2012
01/12/12
4:18
PM ET
Pitt is in a free fall. The Panthers can't score and are winless in the Big East after four games.
But the story from Wednesday's surprising 62-39 result is the team that leveled the beatdown: Rutgers.
The Scarlet Knights have work to do to be an NCAA tournament team. It's highly unlikely it would occur this season with Rutgers at 10-7.
[+] Enlarge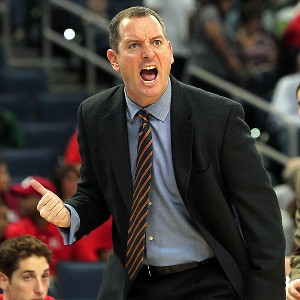 Kim Klement/US PresswireRutgers coach Mike Rice says his team wasn't ready to win some of its early games this season.
But just look at what Mike Rice's crew has done so far this season. They've held Pitt to 39 points at the Petersen Center, beat Florida in double overtime at the RAC and took out Connecticut by seven in the same building. Those two teams will be in the NCAA tournament and have a legitimate shot of finishing second in the SEC and Big East, respectively.
Rutgers goes to West Virginia on Saturday. Ten days ago the Mountaineers beat Rutgers by 21 at the RAC.
"We shouldn't be afraid of anybody now," said Rice, who has infused the Scarlet Knights' program with excitement like no other coach before him at SUNJ. "We went toe-to-toe with the best backcourt in Florida, the best rebounding team [which he calls Pitt] and the national champs."
While there is a crisis in confidence at Pitt there is no such thing at Rutgers.
"We just can't get bullied," Rice said of this encore against West Virginia. "There were literally six three-point plays. They had points off turnovers. We took quick shots and they ran it down our throats. We showed a lack of poise and purpose. We better take care of the ball and not get bullied."
Rice said the Scarlet Knights weren't ready to win games earlier in the season against Miami, Illinois State, Richmond, LSU, Princeton and even to start the Big East against South Florida.
And it showed. Some games were close. Some were not.
"We're just so much more consistent now," Rice said. "These freshmen aren't freshmen anymore. They have games under their belt. We finally have Big East size. Last year [his first], we were playing with people out of position. We've got size and strength to match up with the Big East frontcourt."
Rutgers is maximizing freshmen who aren't afraid to make mistakes because they're apt to make winning plays within the game, too. Guards Jerome Seagears, Myles Mack and Eli Carter have been able to hang with any backcourt on the schedule. Sophomore Gilvydas Biruta gives the Knights an interesting forward who can score in a variety of ways, and junior Dane Miller is complementing him well on the boards.
Rice, a former assistant to Jamie Dixon at Pitt, said he still can't get over the defense Wednesday night in limiting the Panthers to 39 points. Rutgers was 5-for-19 on 3s, so it wasn't like the Knights were some offensive juggernaut. But Pitt guard Ashton Gibbs was 0-for-7 on 3s and Lamar Patterson was 1-for-7 from the field. Pitt shot 21 percent overall and the same from 3.
Rice said he's not ready to say there is a shift in the Big East with Pitt and Villanova at the bottom, Seton Hall rising up with Rutgers certainly challenging now, as well.
"We're all just scratching and clawing to get to the top eight, seven or six," Rice said. "There were teams you could pencil in at the bottom five or six. But now there's a lot more fight and toughness in our league."
Rutgers was always tabbed as a sleeping giant. So far this season, the Knights have enough quality wins or at least recognizable victories that they are clearly not just a tough out going forward but a team that doesn't appear to be a pretender anymore.
July, 28, 2011
07/28/11
9:19
AM ET
LAKE BUENA VISTA, Fla. -- Quick hitters after talking to several coaches here at the AAU nationals:
• The U.S. World University Games team -- led by Purdue coach Matt Painter (U.S. team head coach) along with Butler coach Brad Stevens and Tennessee coach Cuonzo Martin (U.S. assistants) -- continues to lose key players. Xavier's Tu Holloway turned down the invite to stay and play with his XU teammates. Wisconsin's Jordan Taylor is having minor ankle surgery. And now Painter said that UConn forward Alex Oriakhi is also out in order to rest an injury. Stevens said losing Oriakhi will be a big blow since the team that heads to China next month for the competition needs a rebounder like him in the tournament. Painter said Detroit's Ray McCallum Jr. and UConn's Shabazz Napier were added to the tryout list. Pitt's Ashton Gibbs and Syracuse's Scoop Jardine are still on the roster and are certainly favored to make the squad.
• There are still 22 players trying to make the U.S. squad and they'll compete and train in Colorado Springs from Aug. 4-7. The event runs Aug. 13-22 in Shenzhen, China. A number of players could use this international stage as a springboard for their college seasons; these players include Alabama's JaMychal Green, Texas A&M's Khris Middleton, Kentucky's Darius Miller, Northwestern's John Shurna, Minnesota's Trevor Mbakwe, Vanderbilt's John Jenkins, Michigan State's Draymond Green, Missouri's Kim English and Marcus Denmon and Notre Dame's Tim Abromaitis.
But perhaps more than any other player, Cincinnati's Yancy Gates needs to make this team and show he can be a force in order for the Bearcats to continue their rise in the Big East. Last season, he was suspended for a game due to team-related issues. Cincinnati coach Mick Cronin said Gates can come out of this looking like a team player and a stronger player who can change his image with a positive performance in China.
• Painter said fifth-year senior Robbie Hummel is tired of answering questions about his right knee (ACL surgery). And so are the Boilermakers. He said Hummel should be good to go once the season starts. Meanwhile, the Boilermakers are troubled by the foot surgery for John Hart that will keep him out for an extended period. Hart has had trouble with his right foot for quite some time.
• Villanova coach Jay Wright said JayVaughn Pinkston has been cleared by the school to play for the Wildcats this season. Pinkston was not allowed to play last season due to an assault charge. He was expected to have a major impact on last season's team prior to the incident. The Wildcats are prepping for a trip to Amsterdam, where they will play a few national teams. Wright said the Wildcats will be much different than any squad he's coached in recent years, with the team centered more around big men rather than being guard-oriented.
[+] Enlarge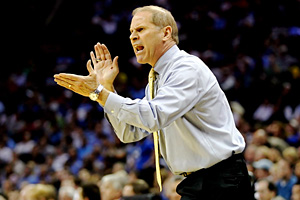 Kevin C. Cox/Getty ImagesJohn Beilein is looking forward to the two new guards he'll have on campus this season.
• Michigan coach John Beilein said the addition of freshmen guards Trey Burke and Carlton Brundidge should allow Stu Douglass to return to his natural off-guard position. Losing Darius Morris to the NBA draft was a huge blow to the Wolverines, but Tim Hardaway Jr. showed with the U-19 team in Latvia that he can create quite well with the ball in his hands. If the freshmen can be facilitators and Douglass can play off them, the Wolverines may not take a step back. Michigan is in the Maui Invitational in a loaded field, has to travel to upstart Virginia in the ACC-Big Ten Challenge, and gets a sleeper Big 12 team at home in Iowa State. The Wolverines are likely going to add a nonconference game at Arkansas that will take place during the Big Ten season.
• While on a recruiting trip in February, North Carolina coach Roy Williams took a side trip to an aircraft carrier in San Diego to see what it would be like in advance of the Carrier Classic on Nov. 11 against Michigan State. The USS Carl Vinson will be the host of the game, but it wasn't the ship that Williams toured. Williams wanted to see how this would work with a game on top of the ship deck. He couldn't get over the narrow passageways through the ship and wondered how his taller players would maneuver through the ship to get to the deck. Well, apparently there will be a lift that will help that occur so that shouldn't be a problem.
• Williams isn't ruling out Leslie McDonald coming back this season from an ACL injury. Williams said McDonald will have surgery on Aug. 3 and made it clear there's no reason to make any declarative statements at this juncture about a return.
• There was no consensus among the coaches in Orlando about whether to add a stipend, how it would be handled and how it could be divided up for all student-athletes. UConn's Jim Calhoun and Louisville's Rick Pitino said they would like to see $75 to $100 a week for the athletes -- roughly $400 a month.
• Not one coach endorsed the NCAA's new draft early-entry withdrawal date of April 10, 2012, after which no player will be allowed to enter the NBA draft. Makes you wonder why this was passed. Every coach who discussed it said it would lead to more poor decisions of players leaving early.
• Ole Miss coach Andy Kennedy tossed out this prediction about Vanderbilt: The Commodores are a Final Four contender.
• Old Dominion coach Blaine Taylor has gone to the Fred Hill makeover school. Hill, the former Rutgers head coach and current Northwestern assistant, was bald when he was head coach of the Scarlet Knights. Now he's gone with long hair in the back and new glasses. As for Taylor, he got rid of his famed mustache and dark hair. He's gone with something of an auburn or almost light red look. He was standing to the side of our TV set, and I wasn't the only one who had no idea who he was until you could read ODU on his golf shirt.
• Stanford is prepping for a trip to Spain in early September. The Cardinal and coach Johnny Dawkins need to get away to figure out who will stand out for them now that Jeremy Green is gone.
• New Fairfield coach Sydney Johnson squeezed in a team trip to Italy next month, which will be critical for him to get to know his players more and see how Boston College transfer Rakim Sanders meshes with a team that won the MAAC regular-season title last season and is back almost in full.
• The travel some of these coaches put on themselves is a bit ridiculous. Dawkins was in Orlando on Monday, then took off for Phoenix and then Los Angeles before he headed back to Orlando by Thursday. Temple coach Fran Dunphy was in Orlando on Monday and was off to Phoenix before a return to Orlando by the end of the week.
• New Maryland coach Mark Turgeon said he has reviewed his team enough to know that scoring up front will be a challenge. He said he'll likely go with four guards on the court on a consistent basis.
• Northwestern's Bill Carmody clearly wanted to be noticed in showing his school spirit. He had a rather loud pair of purple sweat pants that I'm not sure you could or would want to buy at the campus bookstore. Michigan State's Tom Izzo went with Spartan green, which Carmody pointed out, but the green was certainly more muted than the purple.
February, 9, 2011
02/09/11
12:03
PM ET
The villains are missing.
The hatred, the jealousy and the nastiness are no more.
Rivalries have tamed in college basketball.
My two favorites from covering the sport for the past 20 years -- outside of the obvious North Carolina-Duke -- were obscure nationally but not in the region in which I worked.
The New Mexico State-New Mexico and BYU-Utah rivalries in the 1990s had real venom between the coaches, programs and schools.
Then-New Mexico State coach Neil McCarthy was a classic villain. He loved and relished that role. He recruited off the radar, trolling around for junior college- and four-year transfers. He was his own breed. He didn't conform. He would smoke a clove cigarette on the ramp leading down to the Pit floor at New Mexico, despite the clear violation of doing so in the building. He didn't care. I witnessed him scoff at those who passed by as he puffed. He loved to challenge the media, once pounding the press table after a key play during the game and saying to a colleague of mine, "How'd you like that?" This was during the game.
He loved being the one person who everyone in the building wanted to boo. And, of course, he loved to send Dave Bliss and the Lobos cowering back three hours from Las Cruces to Albuquerque if they won at the Pan Am Center.
New Mexico was the favored state school. New Mexico State? It was the less-publicized of the two since it was closer to Texas than the state capital in Santa Fe.
McCarthy and Bliss didn't like each other. The players weren't chums. And the fan bases couldn't stand one another, either.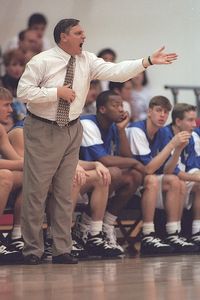 Jamie Squire/Allsport Former BYU coach Roger Reid's hatred for Utah's Rick Majerus made the Cougars-Utes rivalry one to watch in the 1990s.
The hatred between BYU and Utah was even more intense. BYU coach Roger Reid, now the coach at Southern Utah, couldn't stand Utah's Rick Majerus, now the coach at Saint Louis, because of Majerus' popularity with the national media and the power brokers in the state. They weren't friends. They didn't pretend to be buddies. There was an obvious jealousy that Reid had of Majerus that was apparent every time their teams played.
The games were nasty, chippy and intense. It helped that, as was the case in the Lobos-Aggies rivalry, both teams performed at a high level in the '90s. But what made Utah-BYU even more intense was that they were in the WAC together. Utah was the state school and BYU was owned and operated by the Mormon Church. The players were familiar with each other and there was an intensity that existed in every game.
When Reid left, the Cougars sunk (before their revival began under Steve Cleveland and now has flourished under Dave Rose), and the rivalry was tempered. Ray Giacoletti of Utah was not an antagonist, either, and the intensity of the rivalry waned. The common respect between current coaches Rose and Utah's Jim Boylen has lessened the rivalry as well. Now that the schools are heading off to different conferences -- Utah to the Pac-12 and BYU the WCC -- it will be hard to replicate the rivalry. If the schools choose to do what New Mexico and New Mexico State still do -- play home-and-home despite being in different leagues -- then it has a chance to survive. But much like the Lobos-Aggies rivalry has been diminished because of the calm nature of Steve Alford (UNM) and Marvin Menzies (NMSU), the BYU-Utah rivalry may be hard to go back to its angry stage of the '90s.
I asked my colleagues on ESPNU's "The Experts" on Tuesday what were their favorite rivalries in the sport as a player, coach or fan. Here's what they had to say:
Mark Gottfried, former Alabama player: "To me it was Auburn-Alabama back when it was Wimp Sanderson and Sonny Smith. The recruiting battles were nasty."
Stephen Bardo, former Illinois player: "Our rival was Iowa. We hated Iowa. They had pros like B.J. Armstrong, Roy Marble, Brad Lohaus; they had eight pros. We never won in Iowa City. And you had the whole Bruce Pearl thing [turning in Illinois as an Iowa assistant for a recruiting violation]. Now that's come full circle."
Adrian Branch, former Maryland player and area product: "Growing up for me it was NC State versus Maryland. Whoever beat each other was going to win the national championship in 1974. When I played, it was us and Virginia, the two most Northern schools before Virginia Tech got in the ACC. In my four years, it was us then. But growing up it was Len Elmore of Maryland against David Thompson of NC State. "
Len Elmore, former Maryland player, native of New York: "Back then, it was St. John's before the Big East. The rivalries were with all the other New York schools. There was a lot of good college basketball. But I'd also say Davidson versus North Carolina when it was Lefty Driesell versus Dean Smith."
Fran Fraschilla, who was once a former assistant at Providence: "The Providence-Rhode Island rivalry was the most hated I've been a part of.''
Going forward, these are the rivalries I'm interested in seeing develop:
[+] Enlarge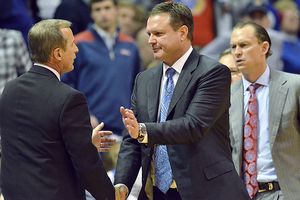 Denny Medley/US PresswireKansas coach Bill Self (right) and Texas' Rick Barnes have a friendly rivalry that should only get better in future seasons.
Kansas-Texas: Bill Self and Rick Barnes don't have a testy relationship. They like each other quite well. But these are clearly the two best teams in the Big 12 and now the 10-team Big 12. Finally, the two will play home-and-home every season, allowing the fans for both squads to get a look at the other each season. The rivalry has a real chance of developing, even if it's not nasty, because it will be the two elite programs going forward in the league.
Baylor-Texas A&M: There is no love between these two staffs. They play twice each season and the games have been very competitive. This trend should continue. The rivalry doesn't get much attention out of Texas, but it should.
St. John's-Rutgers: There is no way Steve Lavin could have a tense rivalry with anyone. It's not in his nature. But there will be a rivalry between the two staffs in recruiting now that Mike Rice is at Rutgers. And if Rutgers can continue to improve, this should be a competitive rivalry, which would be good for the New York-area market.
Memphis-UTEP: Josh Pastner is hardly someone to dislike, either. But Tim Floyd's presence in El Paso means Memphis will have a competitor in recruiting for the long haul. Expect these two programs to set the standard in Conference USA.
Harvard-Princeton: Penn coach Jerome Allen will have something to say about the top two spots in the Ivy. And nothing in the Ivy can or will replace Penn-Princeton. But the top spot for the foreseeable future is Harvard-Princeton. It might be the most competitive competition for the next few years as Sydney Johnson and Tommy Amaker build conference powers.
Arizona-UCLA: Welcome back this rivalry. Sean Miller has the Wildcats atop the Pac-10. UCLA isn't going to fade. And while Washington has been a consistent top-four Pac-10 program, the two elites in this conference in the '90s were UCLA and Arizona. They have the most national reach. And it should be the best annual rivalry in the future. Hopefully, under the new Pac-12 basketball schedule, this is a protected rivalry that ensures they play twice every season.
August, 25, 2010
08/25/10
2:54
PM ET
While the Big East decided it won't change its tournament format for 2011, where and when its conference games will be played this season remains a long, drawn-out process.
The Big East handles its 18-game conference schedule using a poll voted on by the league's coaches in May. According to where teams are ranked, they're placed into tiers. In some years, there have been just three tiers, sometimes four, sometimes five or even six, depending on the discrepancy between the teams' point totals.
Creating a schedule for a 16-team league is inherently difficult, especially taking into consideration games played on national television. This season, the league is facing the toughest time it has had in finalizing its conference schedule because of the late release dates of schedules for professional sports teams that share venues with half of the league's teams.
The AHL minor league hockey schedule was released Tuesday, which affected home dates for the Providence Friars at the Dunkin' Donuts Center, the UConn Huskies at the XL Center, DePaul at Allstate Arena and Marquette at the Bradley Center. The NBA schedule was released later than normal this season (due in large part, the Big East thinks, because of the reshuffling of games to accommodate the changes brought on by LeBron James' free agency saga). The NHL television schedule was supposed to be released Wednesday, which would help with arenas that house NHL and Big East teams (Georgetown at the Verizon Center, St. John's at Madison Square Garden, Seton Hall at the Prudential Arena and Villanova for its handful of games at the Wachovia Center).
Georgetown and St. John's also share their venues with NBA teams as well as other events that come through New York and Washington, D.C., in the winter months. Even Louisville had scheduling issues in the past with events when it played at Freedom Hall. The new arena is still a public facility, although the Cardinals are the primary tenant.
Big East associate commissioner Tom Odjakjian, who has to put the master schedule together, has no idea when it will be finalized.
Associate commissioner Dan Gavitt said scheduling at the Wachovia Center, Madison Square Garden and the Verizon Center has historically been the most difficult to finalize.
For the 2010-11 season, there were five tiers, determining which teams are paired up together for their three repeat games.
The tiers, based on the coaches' poll, went like this:
Tier 1: Pitt and Villanova
Tier 2: Syracuse, West Virginia, Georgetown.
Tier 3: Louisville, St. John's, Notre Dame, Connecticut.
Tier 4: Marquette, Cincinnati, Seton Hall.
Tier 5: South Florida, Providence, Rutgers, DePaul.
Pitt and Villanova received 13 of the 16 first-place votes. One of the three first-place votes went to St. John's. Louisville coach Rick Pitino admitted he gave the Red Storm and new coach Steve Lavin a first-place vote May 14. "I was debating between St. John's, Pittsburgh, Villanova and Cincinnati, but I didn't want to put that on Mick [Cronin, Pitino's former assistant] so I went with St. John's."
Pitino told ESPN.com Wednesday that he was sticking with St. John's, saying in a text: "Nine seniors. Everyone but Pitt and Villanova lost key players."
St. John's was picked in the ballot to finish anywhere from first to 13th while Cincinnati's range spread from fourth to 13th. Coaches couldn't vote for their own teams.
Gavitt said the Big East has been fortunate that some of the league's notable rivalries, such as Pitt-West Virginia and Rutgers-Seton Hall, have been in tiers that allow the teams to play each other twice.
"If you're in one of the bottom [tiers] then you generally get one very difficult repeat and two repeats against your peers," Gavitt said. "If you are picked in the middle, then you don't end up playing one of the top-tier teams. But you don't get a bottom-tier team either. It hasn't happened yet where a rival is way down away from the other team."
Below is a list of each team's repeat assignments for the upcoming season:
Tier 1
Pitt: Villanova (1), West Virginia (2), South Florida (5).
Villanova: Pitt (1), Syracuse (2), Rutgers (5)
Tier 2
Syracuse: Villanova (1), Georgetown (2), Seton Hall (4).
Georgetown: Syracuse (2), St. John's (3), Cincinnati (4).
West Virginia: Pitt (1), Louisville (3), DePaul (5).
Tier 3
Louisville: West Virginia (2), Connecticut (3), Providence (5).
St. John's: Georgetown (2), Notre Dame (3), Cincinnati (4).
Notre Dame: St. John's (3), Marquette (4), Connecticut (3).
Connecticut: Louisville (3), Notre Dame (3), Marquette (4).
Tier 4
Marquette: Connecticut (3), Notre Dame (3), Seton Hall (4).
Cincinnati: Georgetown (2), St. John's (3), DePaul (5).
Seton Hall: Syracuse (2), Marquette (4), Rutgers (5).
Tier 5
South Florida: Pitt (1), Providence (5), DePaul (5).
Providence: Louisville (3), South Florida (5), Rutgers (5).
Rutgers: Villanova (1), Seton Hall (4), Providence (5).
DePaul: West Virginia (2), Cincinnati (4), South Florida (5).
Gavitt said that the Big East attempts to get the best intelligence it can from its coaches when pairing teams for their conference schedules.
"Over the last five years it has been right about 75 percent of the time," Gavitt said. "We're always going to have teams finish higher like Pitt and Syracuse did last year. You can't bat a thousand."
• The Big East is also mulling what to do with the SEC/Big East Invitational. The event is in its final year of its current format of playing at neutral sites, which it has struggled to schedule and fill. The Big East has been fortunate with the home run of Kentucky-Connecticut last December at MSG but even Syracuse-Florida in Tampa wasn't a sellout. Coaches would like to see the event continue but on campus sites with all 12 SEC schools going against 12 of the 16 Big East schools. There would be a three-year rotation for the 16 Big East schools of home/road and off (out of the event) over an eight-year time frame.
• The Big East is trying to lessen the number of Saturday-Monday turnarounds for teams to around three this season.
• A source in the Big East said there would have been serious discussion within the league to add Kansas and Kansas State had both schools been made available if expansion dismantled the Big 12 but that there has never been any real discussion about adding Memphis. Football coaches haven't been shy about the need for a ninth member for scheduling purposes but basketball coaches are against a 17th school, and for the Big East to add one or two members it has to be a home run on all fronts. Kansas and Kansas State would have been if they were available. But they're not.
March, 17, 2010
03/17/10
3:23
PM ET
Fran McCaffery has had quite a run of late, taking Siena to three straight NCAA tournaments, including two upsets in the first round.
The Saints are a trendy pick to win a third straight first-round game as No. 13 Siena goes up against No. 4 Purdue in Spokane on Friday.
Whenever McCaffery is done coaching this month, he'll have a decision to make.
Does he stay at Siena, where he has recently ruled the MAAC, or chase a bigger payday in a tougher conference?
Two years ago, he could have been a major player for the Providence job that Drake's Keno Davis ended up taking. McCaffery, however, was smart to stay put and not push for the job.
Now, McCaffery is definitely high up on the lists at Seton Hall and DePaul. If Norm Roberts isn't able to survive at St. John's, he could be in play there as well. McCaffery has the pedigree of someone who would be marketable to these Catholic schools. He was an assistant at Notre Dame under Digger Phelps. He is coaching at a similar institution now, though it is smaller and in a less rigorous conference. He has strong ties in the New York metro area, and there are no NCAA violations or any behavioral issues on his record. It would also make sense for Charlotte to look at him since he was once at UNC-Greensboro.
Still, he has to balance what would be a big payday with the assurance that it's the absolute right job he's taking.
He's a winner. But this is an intriguing situation for someone like McCaffery. There always seems to be the assumption that you have to go where the money and the league says you should. But do you?
I've covered the game for 20 years now, and I've seen plenty of questionable moves. The most recognizable ones came out of Butler. Few coaches have realized just how good a gig they've had in Indianapolis. Todd Lickliter left for Iowa and was fired three years later. Lickliter believed he could turn the Hawkeyes around. Barry Collier left for Nebraska. He was fired and ended up back at Butler as the athletic director.
McCaffery has to be careful here. He must make the right decision at a critical point in his career. Does also he look at Iowa, where he could be a fit since he was at Notre Dame and knows the Midwest?
The same could be true of someone like UTEP's Tony Barbee, who is a strong candidate at Auburn and DePaul. Barbee has the Miners in the NCAA tournament as a 12-seed and regular-season champions of Conference USA.
UTEP should be just as good next season, assuming the NBA doesn't grab Derrick Caracter and/or Randy Culpepper as early entrants. Barbee could be even hotter as a candidate with another successful season in El Paso. Another strong season could really improve his position in the market; he might not have to take a job at the bottom of a league that doesn't present much of an opportunity to move up in the standings quickly.
The most intriguing development Wednesday was Rutgers' announcement that it was sticking with Fred Hill. That news came to light hours after it was reported by the Newark Star-Ledger that Bobby Gonzalez was out at Seton Hall. Hill's contract situation didn't help Rutgers make a move -- he's reportedly owed over $1 million. But while Hill has had some attrition lately, such as losing big man Greg Echenique, he didn't draw attention to himself like Gonzo.
Gonzo's antics didn't help him. That fact was clear Wednesday. The lack of decorum of his Second Chance U. players -- from Keon Lawrence's wrong-way driving in the fall to Herb Pope's punch in the groin Tuesday night in the NIT loss to Texas Tech -- the Hall's appearance was not appealing.
Seton Hall should try to woo someone like McCaffery or Davidson's Bob McKillop, but the school is also smart enough to know that both coaches are in good situations. McKillop loves his life in the Davidson community north of Charlotte. Why would someone want to leave what makes sense for the craziness of the bottom of the Big East in the competitive New York metro area?
Still, the Hall will have to go with someone who has had no trouble in his past. Likewise, Fordham is trying to do that in looking for a replacement for Dereck Whittenburg. The Rams are looking to make a splash with the hire, but instead they need to ensure it is someone who makes sense, who wants to rebuild and doesn't mind grinding. That's why someone like Rhode Island's Jim Baron -- who might have overstayed his situation at URI after failing to make the NCAAs -- would be an interesting call. But why not look at a coach at a school that can't compete financially, like Northeastern's Bill Coen? There are coaches out there who need to take a gamble to move up rather than leave a comfortable situation. That's why places like Fordham and Seton Hall should also consider Tom Herrion, the top assistant at Pitt, or Hofstra's Tom Pecora. These might be jobs at which NCAA tournament appearances or success isn't the issue, but character and personality fit are more likely the answers. Pitt promoted Jamie Dixon as an assistant and that worked, right? Robert Morris' Mike Rice worked at Fordham, where he is an alum.
Some other quick hitters

• Hawaii already interviewed Gib Arnold, the former USC assistant, and Saint Mary's Kyle Smith. Arnold and Smith have strong ties to Honolulu. UH officials were on the mainland in Los Angeles on Wednesday talking to Gonzaga assistant and former Utah and Eastern Washington head coach Ray Giacoletti, Colorado assistant and former Wyoming coach Steve McClain and Southern Miss assistant and former San Jose State coach Steve Barnes. The Warriors couldn't go wrong with any of these choices. All have a sense of the difficulties of the job at Hawaii. I still contend it is a quality job.
• Charlotte is lurking as a quality gig for someone who can move quickly up the A-10 ladder. What will be interesting is whether former Charlotte assistant Dalonte Hill, now at Kansas State, can get a serious look after he left the 49ers and took committed player Michael Beasley with him to Manhattan. I would think the 49ers would get a lot of hits from head coaches.
• Oregon will wait until Gonzaga's Mark Few finishes the season before an official push. After that, expect the Oregon program to look long and hard at coaches with Nike ties who have been at a national-championship level. That's why Minnesota's Tubby Smith will be dangled as a candidate.
• Would Providence's Keno Davis go back to Iowa to coach the Hawkeyes after his father Tom was pushed out? I would say yes. Would they hire him? I think it would be hard after the way the Friars' season ended.
• I find it hard to believe that Trent Johnson would leave LSU and head back home to Boise State. Coaches are squawking about this occurring. I would be surprised if Johnson left an SEC job for the WAC. This was one bad year at LSU after winning the SEC West the previous season, but give him time.
• I'm not just shilling for a fellow colleague. I do love the knowledge Fran Fraschilla and Tim Welsh share with me on the game. They both were and should coach again if they feel it's right for them and their families. One coach just started with us and I wouldn't be surprised if he got a call this spring: former Alabama coach Mark Gottfried. He won with the Tide and reached the Elite Eight but had a number of injuries that derailed him late in his tenure. Gottfried deserves another shot.
• Was the Ernie Kent firing the longest, most drawn-out process recently? Why didn't Oregon just make it official when Mike Bellotti informed Kent? It made no sense to wait.
October, 2, 2009
10/02/09
12:43
PM ET
Greivis Vasquez
didn't gravitate to baseball. The expectation was that he should.
But those who knew Vasquez when he was growing up in what he termed a middle-class neighborhood in Caracas, Venezuela, understood the passivity of the sport wasn't for him.
He was too hyper. He needed to be in action.
"I couldn't stay in one place,'' said Vasquez, who has been known to be a bit wound-up -- maybe even too much -- during heated ACC games while playing for Maryland.
"I was a shortstop, a center fielder, but it was so rare, in center field when the ball was hit to me,'' Vasquez said. "It was like I was waiting for an hour for the ball. I loved baseball, but it never attracted me to become a baseball player.''
Vasquez's father, Gregorio, took note of Greivis' lack of interest in baseball and started taking him to professional basketball games. Greivis saw a pro player, an American named Sam Shepherd, who would later become the oldest Olympic participant for Venezuela when he played at the 1992 Summer Olympics at the age of 39.
[+] Enlarge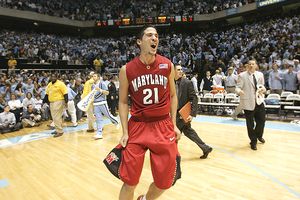 AP Photo/Gerry BroomeWith the help of Greivis Vasquez, Maryland has upset UNC in each of the past two seasons.
"He had stayed so long in Venezuela that he became Venezuelan,'' Vasquez said. "He was legendary to me. He was a great point guard with great vision. He was an offensive scoring point guard at the same time. That's who I wanted to be when I grew up."
Vasquez played at the junior level and at a tournament in Brazil, where he was noticed. There were offers to go overseas, to be part of a club system in Europe and start a pro timeline. But Vasquez's family was middle-class and education was a priority, so he went to the States.
Through various connections, Vasquez ended up at Montrose Christian in Maryland, playing for well-connected coach Stu Vetter. The move to College Park, Md., almost seemed natural two years later.
Vasquez has steadily made his imprint on the college game -- North Carolina fans surely remember his 35-point performance in last season's upset of the Tar Heels -- and should be a first-round pick in 2010 after flirting with the NBA draft last spring.
His averages have steadily climbed from 9.8 points to 17 in each of the past two seasons. He also averaged a team-best 5.4 assists a game last season (and his turnovers went down dramatically from 149 as a sophomore to 98 as a junior). In 2008-09, Vasquez became just the sixth player in ACC history to lead his team in points, rebounds and assists.
The emotion that Vasquez displays has been reined in at times, but it is what defines him. And being a Venezuelan is something that he cherishes. If he can make the NBA, his goal is to ensure basketball is not just some fleeting sport in his home country -- that there are more facilities where children can play and get involved in a sport that he discovered somewhat on his own after growing bored of baseball.
"We have to do a better job of access to gyms at home,'' Vasquez said. "There's a lot of talent at home, but somebody needs to get all the talent going. I thank God that I am so lucky and thankful for this opportunity, because so many kids back home don't have it.
"I want to help basketball at home, to increase the number of kids interested in the game,'' Vasquez said. "So they can go to high school and a Division I school."
Vasquez and Rutgers' Gregory Echenique share a similar path. They are both Venezuelans who jumped into the American educational system as a pathway to playing professionally.
Echenique, who is from Guatire, Venezuela, said he grew up watching his father, Jose, play for Venezuela's Liga Nacional de Baloncesto. Echenique dabbled in baseball for two months, but ultimately being 6-9 was not conducive for that sport. So like Vasquez, he came to the States and attended a private school, suiting up for St. Benedict's Prep in New Jersey.
Echenique said he and Vasquez, both members of the Venezuelan national team, have a shared responsibility.
"Somehow we have to, as the younger players on the national team, help get the sport more publicity,'' Echenique said. "Basketball is a great sport and we have to do something for them to believe in us.''
Vasquez said the influence of Spanish-speaking players in the NBA like Spain's Pau Gasol and Argentina's Manu Ginobili helps players of all nationalities in South America. It helps prove anyone from anywhere can show no fear and play with the Americans and in the NBA.
"That motivates me to work even harder, to have a huge influence for Spanish-speaking kids that look at the NBA,'' Vasquez said.
Echenique said there is a following -- through the Internet since fans can't watch games -- of him playing basketball in the United States. Vasquez certainly has more opportunity to draw attention to himself by playing for a higher-profile school and one that was in the NCAA tournament, is on national television more often, and could be a team that makes an NCAA run for a round or two again in March.
"I'm really passionate about this game, I love this game,'' Vasquez said. "Some people are judgmental about me being so passionate, but I work hard and have so much confidence every time that I'm going to win the game. I'm not disrespecting the other team or the other fans or anybody. It's just me being passionate about the best game in the world."