Category archive:

San Diego State Aztecs
June, 24, 2013
06/24/13
3:12
PM ET
The Clippers and Celtics are in the process of completing an unprecedented deal, which involves trading a coach and reworking his contract in exchange for a future first-round NBA draft pick.
[+] Enlarge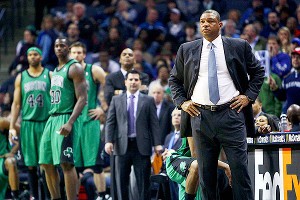 Spruce Derden/USA TODAY SportsWill Doc Rivers' NBA deal affect how athletic directors handle coaches' contracts in college?
Few coaches in the NBA are as coveted as Boston's Doc Rivers.
But what are the chances that athletic directors could attempt to receive legitimate compensation, outside of money, for a coach leaving a college program in the middle of his deal?
Well, it has already happened, and it may continue, depending on the program.
Putting in hefty buyouts are a deterrent and have prevented a number of coaches from moving, or at the very least caused courts to settle the dispute. Some ADs, like NC State athletic director Debbie Yow, have been able to add heavy buyouts to prevent the poaching. Some schools, like West Virginia, had them in and have been vigilant about coaches paying for leaving.
And in a unique move that adds to compensation, some athletic directors have attempted to put game commitments into contracts. If a coach leaves for another school, the program he's going to would have to schedule the coach's previous school. Western Kentucky did this when Dennis Felton left for Georgia, and those two programs began a four-year home-and-home series.
In light of Rivers, could this be a trend? Can schools receive more than money when a coach leaves while under contract?
"More and more schools are putting language in contracts concerning games,'' said Creighton athletic director Bruce Rasmussen. "For instance, you could have Bradley put in that if the coach were to go to a BCS school, then that school would have to play Bradley in a home-and-home. Obviously, many schools are putting buyout language in coaching contracts that the acquiring school has to pay. I think you will see this more frequently.''
Rivers had a noncompete clause in his contract, and the Celtics had the right to block Rivers from just walking away from his deal and signing to coach another team. The Celtics wanted compensation if Rivers wasn't going to be their coach and got a future player out of the deal with the draft pick.
The NCAA doesn't have a say in the contracts. But going forward, could more schools attempt to put in safety nets to receive more when a coach leaves?
"I have seen it written in contracts, and I have written in some where a coach agrees to a home-and-home if they leave for another school,'' said New Mexico athletic director Paul Krebs. "[Steve] Alford said he would play home-and-home when he was leaving. Doubt he will honor it. It's not in his contract.''
Alford isn't going to play his best friend, new New Mexico coach Craig Neal, even if the Lobos wanted -- as they should -- a home-and-home with UCLA. But he would be forced to if it was written into a contract.
Northwestern athletic director Jim Phillips said he could envision stronger restrictive language in assistant coaching contracts going forward. And additional compensation for playing football or basketball games, especially between mid- to high majors, could be done.
Arizona athletic director Greg Byrne said it could be included in negotiations too.
"I don't think ideas like that are far-fetched, but one also has to think of another institution's ability to deliver,'' said Oklahoma athletic director Joe Castiglione. "It sure could be seen as a strong deterrent.''
One coach's agent said he has seen the need for midlevel schools to put that clause (playing a game against a higher-level school) in the contract if the coach leaves. But whether or not it will become commonplace at a high-major level is still to be determined.
"The model is really set up as a straight buyout or termination by the coach as all financial,'' said Missouri athletic director Mike Alden. "Everything that I've seen has really been based on a penalty to be paid if the coach leaves and/or has been recruited. Could you start including a game obligation? I guess, but there would be a ton of things to consider. Is it within the same conference? BCS or non-BCS? You'd have to find a way to tie it to the coach. If you leave me, you owe me X, and the hiring school would have to also give me a home game within 14 months or something like that. I haven't seen contracts written like that, but you could try to put it together. It is an interesting/intriguing concept.''
The Rivers NBA deal could set a precedent. Or it could be a fluke.
Colleges could try to copy it. Or choose to ignore it.
Nothing seems out of reach at this point.
June, 10, 2013
06/10/13
12:13
PM ET
San Diego State has finally become a major West Coast player thanks to its great home court at Viejas Arena.
The organically formed student-crazed fan base dubbed "the Show" has made it a happening place to go for games.
[+] Enlarge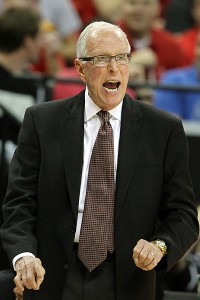 AP Photo/Isaac BrekkenSteve Fisher is continuing to develop NBA-caliber players at San Diego State.
By reaching the Sweet 16 and earning a No. 2 in 2011, the Aztecs also made a significant step toward becoming a regular name in the national conversation.
And deciding to stay in the Mountain West instead of leaving for the Big West was a critical move (or nonmove in this case) in maintaining their current status.
But putting two players in the first round of the NBA draft in the past three years -- both of whom are expected to be major contributors -- is a strong sign that they have staying power.
The basketball mainstream is now seeing what the West and the grinders knew about former San Diego State star Kawhi Leonard. Outside of the core big three of Tim Duncan, Manu Ginobili and Tony Parker, Leonard has been one of the most important pieces in the San Antonio Spurs' run to the NBA Finals.
"You looked at him, and he looked like an NBA player,'' said San Diego State coach Steve Fisher. "He had the biggest hands I had ever coached next to Chris Webber. He had the physical skills. He set himself apart. I knew he would make it. He was in the gym relentless. He had the good fortune to land with an organization like the Spurs. He is not doing anything out of the box. He is flourishing in that environment, and now he's on a stage for the whole world to see.''
Jamaal Franklin could be next. He's battling a foot injury now, but he's still a likely first-round draft pick. He was the Mountain West Player of the Year two seasons ago. He followed Leonard and learned from him and is now on the verge of getting a similar chance in the NBA if he's selected in the right spot.
"I haven't had anyone work as hard as he did on his game,'' said Fisher. "He's such a gifted athlete. He changed his shot to become one of the better free throw shooters. He has that tough-mindedness that no one is better than him. I tried to redshirt him his first year but he didn't want to since he didn't think anyone would be better. He was MVP in his second year and then had to deal with being the focus. He benefited from being around Kawhi. Jamaal will be the guy [who] will do what they want.''
If Franklin goes in the mid- to late first round, the Aztecs will surely benefit. Programs can survive without placing multiple players in the first round. But San Diego State was so far down for so long that this is still new territory. If the Aztecs can continue to produce pros, even though they aren't always the highest-rated prospects entering college, it's yet another sign the program is on the rise.
Now if San Diego State can pull off the draft hat trick, it will prove something substantial. So who's next?
Fisher is looking at 6-7 rising junior JJ O'Brien (7.2 ppg, 4.5 rpg), 6-8 sophomore Winston Shepard (5.7 ppg, 3.5 rpg) and 6-8 senior Tulane transfer Josh Davis (17.6 ppg, 10.7 rpg).
"JJ has improved his offensive game and can shoot it rather than drive it every time he gets it,'' said Fisher. "He has the size to play multiple spots. Josh Davis will be with us for just one year, but he'll be physically mistaken for Kawhi. He was the second-leading rebounder at Tulane. He needs to work on shooting the ball. I haven't seen him enough yet on that. But if he can make the face-up 17-footer, then he'll have a chance. Our most heralded recruit is Winston Shepard. He's got the size, versatility and athleticism from multiple spots.''
From day one, Fisher recruited pro-bound players as the coach at Michigan. He's now developing them at San Diego State.
"It's something we take great pride in,'' said Fisher, whose Aztecs will once again be picked to finish in the top four in the Mountain West, pushing New Mexico for first and Boise State as a possible challenger for second. "We now have a program, not just a good team every once in a while. Hopefully we'll get a little lucky and have some elite seasons. Good players attract good players. And if you're going to be good, you've got to have potential pro players.''
They have done that. Now the key is to make sure that trend continues.
January, 17, 2013
01/17/13
7:04
PM ET
The Mountain West was wildly unpredictable again on Wednesday.
And next season, it should be just as promising.
Boise State, a rising program, and San Diego State, a perennial contender, are now officially back in and not leaving. Utah State, easily one of the most consistent programs in the West, is on board to join in the fall of 2013.
The league will likely have more top 30-40 teams per percentage than the Pac-12 or maybe the SEC.
The competitiveness among the 11 schools in 2013-14 should rival the balance of the nine playing next season. Consider what happened on Wednesday:
[+] Enlarge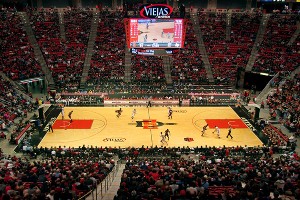 Kent C. Horner/Getty ImagesThe atmosphere at San Diego State's home, Viejas Arena, was built up for big-time games.
UNLV won at San Diego State.
New Mexico beat Boise State in overtime.
Colorado State crushed Air Force.
Fresno State upset Wyoming.
"What you've seen two weeks in is that it doesn't matter whether you're at home or away, you have to play well to win,'' said San Diego State coach Steve Fisher. "The separation is closer than ever in this league.''
Fisher should know. He is the only coach remaining from the original Mountain West in 1998-99. Fisher, along with the conference's administration led by commissioner Craig Thompson, saw the league from its inception into a basketball power in 2013.
Fisher didn't want to go to the Big West, but he went along with the San Diego State administration's desire to put the football program in the Big East. When that situation became unstable, the Aztecs looked at staying put. Boise State's decision to remain in the Mountain West was the clincher. San Diego State had to stay. It was the right call. The atmosphere at Viejas Arena was built up for big-time games, not for the Big West.
"I have great respect for how good this league is and I've seen the growth, seen the recognition slowly but surely come nationally,'' said Fisher. "We're in a league now where we're going to have be really good to win it. But if you don't win it, you can get to the tournament.''
That's a key statement. The Mountain West is now a likely lock for multiple bids on a yearly basis. Rivalries have been preserved like Wednesday's between UNLV and San Diego State.
The only issue will be, with 11 teams for basketball (Hawaii is only a football member), will the league go to a 20-game schedule for a true round-robin or stick with 18 and have a bit of an unbalanced schedule?
"There is no tougher travel league,'' said Fisher. "It's hard to get places like Wyoming, Colorado State and we're adding Utah State [and San Jose State] and I've never been there before.''
The decision to stay put may cost the school money and it will force Fisher to re-examine the schedule next season. The Aztecs originally were going to play nonconference games -- one home and one away -- against Memphis and Temple, per the Big East, as well as one against Cincinnati. Fisher said he isn't sure of the status of those games now.
Fisher said San Diego State will keep a series with Arizona, a road game at Kansas and play in the Anaheim Classic. He said he just has to decide how many tough games he wants to add now that the Aztecs are staying in the league.
What's next?
"We're at Wyoming Saturday,'' said Fisher.
Yet another difficult game, but an example of the depth of the conference on a game-by-game basis.
January, 10, 2013
01/10/13
5:22
PM ET
San Diego State decided to head to Dallas this weekend for the Big East meetings to hear what the financial possibilities are if the Aztecs stay with the original plan for 2013.
Boise State is already headed back to the Mountain West, leaving the Aztecs stranded on the West Coast in football among a scattering of future Big East football schools in Texas, Tennessee, Florida, Ohio, Pennsylvania, Connecticut, North Carolina and Louisiana.
Football and finances will determine the decision, but the hierarchy should seriously consider men's basketball in this equation. And, no offense to the Big West, but the Aztecs need to stay put.
I applauded the Big West for securing San Diego State for 2013-14 and beyond when the Aztecs apparently had locked in their football future in the Big East. But now with that league in a tenuous position, it seems like Boise State made the right move for its football program. The Broncos won't go anywhere, received favored status in the league and will be a perennial contender if not favorite in the conference.
The basketball program is on firm footing now, too, with Leon Rice putting the Broncos in a legitimate position for an at-large berth with two really nice road wins (Creighton, Wyoming) and a near-miss at Michigan State.
The Aztecs need to figure out a way to make this work and stay in the Mountain West. A decision is due by Jan. 31 from both the MWC and SDSU. The trip to Dallas is seen as a fact-finding mission before a final move is made.
All you had to do was flip back and forth Wednesday night to see the difference for the Aztecs. San Diego State was at Fresno State as Jamaal Franklin put on a display with 20 points, 18 rebounds and a ridiculous dunk contest slam where he followed his own throw off the backboard for a flush. The Aztecs won by three.
On the same evening, the Mountain West had a marquee matchup between UNLV and New Mexico in front of a sold-out and rocking Pit. The game on CBS Sports Network was a big-time event, just as good as the atmosphere at any high-major, top-25 game.
Meanwhile on ESPNU, Hawaii was at UC Irvine in a competitive Big West affair. But the gym was hardly full and the environment clearly a notch below.
Look, San Diego State will continue to have Viejas Arena as a destination arena. But losing the marquee opponents could take its toll. Longtime coach Steve Fisher has worked tirelessly to get the Aztecs the national credibility it now has across the country. If SDSU leaves, it will dominate the Big West much as UNLV did during the late 1980s and early '90s.
If SDSU stays, then it guarantees it will be in a conference that will be a top-seven league for the foreseeable future with programs like UNLV and New Mexico as anchors and now surging programs like Colorado State, Wyoming and Boise State. Oh, and the league adds Utah State next season, easily one of the most consistent programs in the West that usually fails to get the proper respect nationally but always seems to win.
Fisher can't say what his preference is, but it's obvious. He's being a good soldier. He is following the script. But he may need to let his voice be heard. Football drives the budget, but the men's basketball team has put the school back on the map. Now, San Diego State has a chance to stay in the MWC. Letting this opportunity go would be a major mistake and would run the risk of setting back all of the credibility the program has built.
The Aztecs have helped make the Mountain West what it is the past few seasons. There is no overwhelming reason, other than gambling on unknown financial rewards, to leave.
October, 16, 2012
10/16/12
10:44
AM ET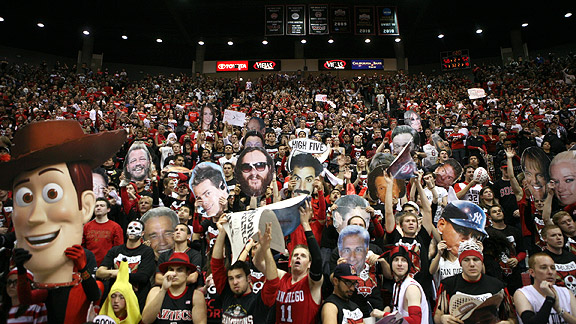 San Diego State University Media Relations -- Stan LiuSan Diego State's student section has turned into one of the wildest in the country.
So, Syracuse needed to play San Diego State to help the Orange's nonconference rating?
And Ole Miss coach Andy Kennedy is building up his otherwise weak nonconference schedule because the Rebels might get a shot at SDSU at the Diamond Head Classic?
How did this happen?
I covered the old WAC in the 1990s and I can tell you that San Diego State was a dead-end program. There was little life coming from the Aztecs at Peterson Gym or at the antiquated 1976 Bicentennial-themed San Diego Sports Arena.
Now? Now the Aztecs are chic. They're suddenly the cool kids at school. Viejas Arena is one of my favorite places in the country to see a game, mainly because of the raw enthusiasm of The Show, the school's raucous student section.
"We've become a marquee game for other people's RPI," said San Diego State coach Steve Fisher, who is now the dean of Mountain West coaches. "Ten years ago, and certainly 13 years ago, when we first got here, that wasn't the case. We want to keep it right where it is now and add to it."
Two seasons ago, the Aztecs were a No. 2 seed and reached the Sweet 16 with a first-round draft pick in Kawhi Leonard. Last season, in what was supposed to be a rebuilding year, San Diego State still made the NCAA tournament and finished tied for first with New Mexico.
Now SDSU returns the league player of the year in Jamaal Franklin, a legit first-team all-American candidate. Chase Tapley and James Rahon, who is nursing a foot injury in the preseason, are as experienced as any players in the MWC. Deshawn Stephens is a star in the making, according to Fisher. The transfers -- J.J. O'Brien (Utah) and Dwayne Polee II (St. John's) -- will have a significant impact and freshmen Winston Shepard, Skylar Spencer and Matt Shrigley give the Aztecs more depth inside than they've had under Fisher.
[+] Enlarge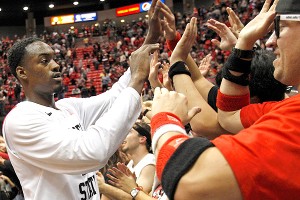 AP Photo/Lenny IgnelziAre Jamaal Franklin and San Diego State in line for another special season?
"The perception of who we are and what we might be and what we could be is because of what we did two years ago," Fisher said. "The expectations weren't as high last season and we won 26 games. We have six newcomers and now they're through the roof again. We know we've got lots of work to do. But we've got the experience. We've got a lot of depth. We can only play five, but we have to figure out which pieces fit best together.
"We'll be hard to guard. We can go small, we can go big-small. We have to make sure we can hit open shots because at times [last season] we struggled to make perimeter shots."
The Nov. 9 opener with Syracuse on the USS Midway in San Diego should be one of the best nonconference games in the country. Scheduling the game meant Fisher had to put in a zone offense much earlier than anticipated. He said if the Aztecs were playing a lesser-known zone team, he might not have bothered.
But Syracuse? The king of all zone teams? That requires special attention.
"This game comes up quickly," Fisher said. "I'm nervous. We've got to be ready to play. Most of the teams we play are primarily man-to-man. We have to know what we're going to do with a zone against Syracuse or we'll look like fools."
But make no mistake: No one thinks playing the Aztecs is a joke anymore.
Trust me, USC and UCLA didn't think much of the Aztecs prior to Fisher's arrival. Yet the Bruins didn't hesitate to play SDSU in this year's Wooden Classic in Anaheim. It's as tough a challenge as any they could've found.
As for Fisher, he said he has no plans to step down and hand over the team to his coach-in-waiting Brian Dutcher. He's got more work to do with the Aztecs, who will move to the Big West next season as the football team joins the Big East.
Even then, though, playing SDSU should be a quality game, regardless of conference affiliation. Why? Because the Aztecs are now a high-level team with pro-level talent that wins quality games, gets to March and has a legit chance to advance.
"I feel good and I'm having fun right now," Fisher said. "I'll know when it's time."
It's certainly not now.
August, 1, 2012
08/01/12
2:15
PM ET
The Big East couldn't afford to lose Boise State and San Diego State in football for 2013, so it didn't hesitate to help out their men's basketball programs with marquee nonconference opponents.
When the two schools agreed to become football-only members, there was a promise made about four guaranteed nonconference games in hoops in their first four years as members.
It was never publicly announced, but two of those games will come against new all-sport members Memphis and Temple, the last two programs added to the Big East. The schools for the two other home-and-home series are to be determined with the help of the league office.
The biggest winner in this deal is Boise State, but San Diego State, Memphis and Temple may not be as pleased with the forced partnership.
The Broncos are playing their last season in the Mountain West and are expected (like the Aztecs) to join the Big West in all non-football sports, although that won't be known until that league's presidents vote at the end of the month.
To get two home-and-home series over a two-year period against Memphis and Temple is a coup for Boise, which struggles to get nonconference games regardless of league affiliation.
"I don't care who you are, it's really tough to get home games," Boise State coach Leon Rice said. "Memphis is a perennial top 25 program, and in the last eight years, Fran [Dunphy] has Temple rolling. You can't get those type of teams into Taco Bell Arena. That's terrific."
[+] Enlarge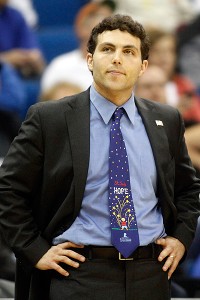 AP Staff PhotoSafe to say Memphis coach Josh Pastner isn't thrilled with two mandated nonconference games.
For some.
Memphis coach Josh Pastner isn't exactly gung-ho about the arrangement. He's wondering if the Tigers should be getting into guaranteed nonconference games against Boise State and San Diego State or anyone else without knowing how many Big East games the league will play in 2013-14.
"Will it be 20 or 18 or 16?" said Pastner of the future 18-team Big East, which will lose Syracuse and Pitt after this season but is adding Memphis, Temple, SMU, UCF and Houston for men's basketball.
"We have some commitments prior to joining the Big East with other events," added Pastner, who has Memphis in the 2013 Old Spice Classic in Orlando. "We've got a lot of balls we're juggling in our schedule starting next year. We need to have some concrete decisions before we move forward."
In addition, the Tigers' series with Tennessee ends after this season. There will be public pressure to continue the annual rivalry, but it's not a lock. Pastner said he wanted to hold off on renewing the in-state series so he has a clean slate to review the commitments from the Big East.
"Is there going to be an SEC/Big East Challenge? Then you add Boise State and San Diego State? There isn't a lot of room for error," Pastner said.
San Diego State coach Steve Fisher didn't want to publicly comment on the subject yet. He has heard about Temple and Memphis being locked in, but Fisher wants scheduling flexibility -- and anticipates being able to lure top 25-type teams to San Diego, even as a member of the Big West.
Of course, Temple and Memphis would fit that criteria quite well as both have been perennially successful programs over the years.
As for the Owls, they do have some recent experience with football-related scheduling mandates. As the school's football team competed in the Mid-American Conference, the men's basketball team was saddled with four MAC games last season, two home and two away.
But Temple could adjust to playing San Diego State and Boise State without having to worry about the MAC games. In conference play, the Owls are swapping two Big 5 teams (Saint Joseph's and La Salle) for one (Villanova), but they will still have to play St. Joe's and La Salle outside the league, along with Penn.
Still, the Owls, Tigers and Aztecs don't even come close to the scheduling problems of Boise State.
Rice said this has been the most challenging year scheduling-wise for him, even going back to his time as a Gonzaga assistant. The Broncos were in conference limbo for so long that it couldn't really schedule any Mountain West, WAC or Big West teams in nonconference games. Boise did commit to a tournament at UNLV in 2013, taking a chance that they wouldn't be conference members at the time.
The Broncos have a return game this season against Big West member UC Santa Barbara, but no Big West teams for 2013-14. They have a four-year deal with Utah and host LSU in a return game of a home-and-home series. They also play at Creighton in the MWC/MVC Challenge and at Michigan State in an exempt one-game event.
"And we have the MWC schedule this year, which will have some top-15 teams," Rice said. "We're trying to build a high-quality non-league schedule. Next year would be one of our veteran teams as we move into the Big West. I wanted to stack the scheduling going into the league, but that hasn't happened yet."
But Rice said he saw "in writing" that Memphis and Temple were locked in for 2013-14. So if they do indeed get in the Big West alongside San Diego State, they suddenly have quality games on the schedule for that season.
Boise State is also expected to get financial help from the Big East to offset any travel costs with the Big West, since all the schools are in California and Hawaii.
For a move that was made strictly for football purposes, it sure seems as if the Boise State men's basketball program will reap the benefits.
July, 6, 2012
07/06/12
11:59
AM ET
When it came to bylaws about departing teams, the Horizon, Colonial and America East didn't buckle.
There are consequences that come along with a departure. Being ineligible for the conference tournament is one of them for these leagues. Butler (Horizon) and Virginia Commonwealth (CAA) accepted that and got to the Atlantic 10 as fast as possible.
What school wouldn't do the same if the opportunity existed? Scheduling, television exposure and tourney access are the most important reasons -- outside of the financial benefits -- for being in a conference.
Take away the ability to play for an automatic NCAA tournament berth and the season can seem like a waste. Postseason bans, such as the one USC had recently and the one Connecticut will endure this season, take the air out of the season -- even if the schools and coaches do all they can to create a new goal of winning a regular-season title.
Even though both would likely be contenders for at-large berths, Butler and VCU took no chances.
Boston University, on the other hand, probably would leave for the Patriot League tomorrow if it could. The Terriers weren't pleased with the decision by the America East to uphold its bylaws, but they are stuck. The current team will have to deal with it.
Old Dominion and Georgia State were hoping the CAA would lift its ban, but it did not. Georgia State went as far as to explore trying to get into the Sun Belt sooner, but that didn't happen.
The Horizon, CAA and America East are actually not the norm historically.
After losing members in the past decade, the Big East, Atlantic 10, Big West, C-USA, Mountain West and WAC have not even broached the subject, much like the Big 12 didn't when it lost members to the Pac-12, Big Ten and SEC. The Big East didn't block West Virginia from playing in the conference tournament a year ago after it announced its hasty departure to the Big 12. Perhaps the smaller conferences are worried that the league will have only one bid and don't want it to go to the school with one foot out the door.
[+] Enlarge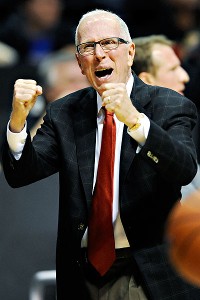 Christopher Hanewinckel/US PresswireSteve Fisher and the Aztecs will get a chance to compete in their final MWC tourney.
But when I asked some of the coaches playing in their final season in a conference, the question was met with near astonishment.
Pitt coach Jamie Dixon wanted to know if I was joking. San Diego State's Steve Fisher said he hadn't even heard of these conferences not allowing schools to participate. Utah State's Stew Morrill said he didn't think the WAC would do such a thing since previous schools that left weren't treated in that manner. Memphis coach Josh Pastner said he would be incredibly disappointed if that occurred. (C-USA took away the conference tournament from the city of Memphis but didn't remove the Tigers' ability to play for the title.)
But what would happen if these conferences turned on the departing teams in 2013? It's too late to change the bylaws and isn't going to happen, but it's still fun to play the "what if" game.
What effect would it have had on the Big East to take Pittsburgh and Syracuse out of the tournament?
A serious blow. The league may be squabbling with the two schools -- and will do so in court with Pitt -- but it needs these two in the conference tournament as long as possible. Syracuse is a natural draw at Madison Square Garden. Taking the Orange out of the Big East would have been a major mistake. The Orange and Panthers still don't have a definitive arrival date in the ACC, but it's likely to be in the summer of 2013.
What would it have done to Syracuse and Pitt for a potential at-large berth?
Likely no issue at all. Both have teams that look like virtual locks for an at-large bid.
What would happen to the Atlantic 10 if Temple and Charlotte weren't allowed in the tournament?
Let's be honest: Charlotte won't be missed on its way back to Conference USA. But Temple's departure will be a hit, as the Owls have consistently been a major part of the A-10 tournament. Not having a Temple presence, prior to the Owls' exit to the Big East, would have hurt the tourney's debut in Brooklyn. Bringing in Butler and VCU will offset the loss, but Temple still is very much associated with the A-10 brand.
What if the Big West banned Pacific?
That would be just cruel. The Big West has had teams leave before, and it might happen again. Plus, this is coach Bob Thomason's final season after a quarter-century at his alma mater, and he said he has a team that could challenge for the Big West title. He has been a loyal member, and Pacific is leaving for the all-private WCC. No harm in letting the Tigers finish up, and it won't hurt the Big West one bit.
What if Conference USA blocked Memphis, SMU, UCF and Houston?
Then C-USA would have a tournament that lacked any sort of buzz. Marshall is a legitimate title challenger to Memphis, and UTEP should be in contention. If the Tigers had been blocked from being in the tournament, after it was taken from the city, C-USA's relevance during Championship Week would have been diminished even more. It's still hard to say how many Memphis fans will travel to Tulsa, Okla., but the Tigers do have a significant following. This was a smart move by the league to not play bitter politics with the departing members.
What would the Mountain West tournament be like without San Diego State and Boise State?
A bit less exciting. The Aztecs have been one of the consistent winners in the MWC with UNLV and New Mexico. Take SDSU, off to the Big West, out of the event in Las Vegas, and the tournament would lose luster. No offense to Boise, but no one would likely notice if the Broncos weren't invited. But SDSU matters a great deal. The Aztecs will be a top-25 team alongside UNLV. Taking them out of the conference tournament would have been a storyline the MWC doesn't need in March.
What would a WAC tournament look like without Utah State and San Jose State?
Not worth it. USU has been the benchmark program in the WAC since Morrill arrived. New Mexico State can't anchor the conference on its own. NMSU needs a rival, and Utah State has been that nemesis. San Jose State wouldn't be missed, but the Aggies' absence would have been a glaring omission in Las Vegas. Rebuilding Utah State will likely need the tournament to get a bid this season, but the WAC was in no position to be punitive. So the Aggies will have one final chance to represent the WAC before it joins SJSU and former WAC members Fresno State and Nevada in the Mountain West.
December, 14, 2011
12/14/11
11:17
AM ET
The Big East probably couldn't care less what it did for the Big West by adding San Diego State in football.
But the addition of the Aztecs in men's basketball (the rest of the sports will join as well) for the 2013-14 season has a chance to change the one-bid Big West to some extent. It could be similar to UNLV's addition to the league in the 1980s, when the Runnin' Rebels were a national program that helped raise the profile of schools like Long Beach State, New Mexico State and UC Santa Barbara.
Getting multiple bids wasn't the norm, but it wasn't out of the ordinary, either. The Big West on a late Monday night was worth watching, and the competition was always raised to another level when the Rebels played. That's exactly what longtime commissioner Dennis Farrell (a 31-year Big West employee) hopes will be the long-term effect of adding the Aztecs.
It's a view shared by others, too. "I would compare San Diego State today for us to what UNLV was to the Big West Conference in the 1980s,'' Farrell said. "That's what attracted us to San Diego State. I would compare what we had with UNLV, the West Coast Conference has with Gonzaga now.
"That's the difference between the West Coast and the Big West,'' Farrell said. "The West Coast has a horse in Gonzaga. We used to have a horse in UNLV. When you have a horse that raises the profile for the other programs, [it] raises the exposure the conference is getting. Gonzaga has done that for the WCC. I'm expecting we'll have that with San Diego State.''
Farrell has a point. The rise of Saint Mary's to a legit NCAA tournament contender the last five seasons is a direct result of trying to compete with Gonzaga. BYU's attraction to the WCC this season wasn't just about joining a faith-based, private conference. The Cougars wanted to join a league that is a major player on the West Coast.
The San Diego State program that will join the Big West in two seasons is far different from the mediocre and irrelevant Atzec teams of the 1990s. Those squads played in the antiquated San Diego Sports Arena and on campus at Peterson Gym. Attendance was poor. Coaches came and went. And there was little passion for the program.
Now SDSU is one of the hot new spots in the sport with Steve Fisher revitalizing a once-dormant fan base. Viejas Arena is arguably the most passionate place to see a game in California (yes, even more so than UCLA, Cal or Stanford).
But more important, it's what the Aztecs have done in the NCAA tournament. San Diego State reached the Sweet 16 last March and has had multiple NCAA bids under Fisher. The tournament wins last March were the first in the program's history.
"When UNLV was in our conference, we could get multiple teams in the NCAA tournament,'' Farrell said. "They brought along attention, and whenever they came to town there were big crowds. Coaches used that in recruiting.''
Adding San Diego State in the 1990s wouldn't have caused a ripple. But this is a new era. The Big West has been relegated to a one-bid league, no different from the Big Sky. When UNLV left for the WAC and then the MWC, New Mexico State and Utah State eventually followed. The Big West ultimately became an all-California league. It remains that way but will branch out to add Hawaii (a return for its women's programs) when the Rainbow Warriors join in 2012-13 in all sports except football. "When UNLV left the conference, coaches were complaining,'' Farrell said. "All of the programs will have to raise the water level for all their programs in terms of commitment and media exposure. We have our primary and secondary media rights up in 18 months, and this will help us in our negotiations. Adding another time zone in Hawaii will also help us.''
Virginia Tech coach Seth Greenberg was the Long Beach State head coach when UNLV was challenging for the national title in the early '90s. He said the addition of San Diego State will challenge every other school in the league to make a choice. "It's no different than what Gonzaga has done in the West Coast Conference,'' Greenberg said. "Either you're going to raise the bar and be competitive or just have a basketball team. That goes across the board for recruiting budgets and coaches' salaries and facilities and in every aspect in how you run your program.''
Greenberg said he thinks Long Beach State and Santa Barbara will be able to compete. "But the other schools will have to make the tough choices,'' Greenberg said.
One of those other schools in the soon-to-be 11-team league is Cal-State Northridge, coached by Bobby Braswell, Greenberg's former Long Beach assistant.
Braswell said he met with his administration Tuesday about that subject.
"I would hope everybody has to look to step it up a bit,'' Braswell said. "Adding San Diego State and Hawaii is a signal that the other schools in the conference have to pick it up. We're in a situation where we are a legitimate program, and we've done well on the national level.
"I was at Long Beach State when the conference had UNLV, New Mexico State and Fresno State, and we had a darn good competitive league,'' Braswell said. "We can get it back there. We've got to look at the budgets and funding scholarships. We have to look at out-of-state tuition costs and things like that. This is where the budget comes in. We have to have the ability to play guarantee games. We don't have the budget to do that. We spend the pre-conference on the road. I know it's difficult times financially. But this is great for our conference to have [SDSU] in our league.''
Current Long Beach State coach Dan Monson, the former Gonzaga coach, is a bit of a contrarian on the subject. "We only have one private school in the league [and that's Pacific], so it's going to be difficult to match,'' Monson said. San Diego State is a state school, and there was a lot of lobbying to get Viejas Arena built.
"I hope [SDSU] helps the rest of the league, but they did win their first game in the NCAA just this year,'' Monson said. "Vegas was going to Final Fours. I understand why they [the Big West] did it, but it will make my job harder. I'm sure it's good for the overall league, but we've added a team with better facilities and a lot of resources that you're competing against.''
Monson said the other games in the league have to matter as well to help improve the overall power rating. That's a point Gonzaga has made in the past, and having Saint Mary's improve and now the addition of BYU will help offset the Zags' RPI from dropping too much in the WCC after a tough nonconference slate.
Farrell said Fisher wants a 14-game league schedule, but he said the athletic directors will meet about that in February. He said he wouldn't rule out 16 or 18 games, though. Fisher wants to schedule more national games, and as a result of the Big East football deal, the Aztecs could get a home-and-home with Connecticut.
"San Diego State has the profile, the culture and a brand that is totally different than what the [Big West] has,'' Greenberg said. "They have the ownership of their student body, their community is involved and [they have] a national recognizable coach that gives [the school] credibility across the board. And they've proven they can compete nationally with California kids.
"Does the league become a have and have-not league? A number of schools have to make a decision on if they want to compete.''
The fallout from the Big East's shakeup in football and basketball this week will continue for weeks, if not months or years.
[+] Enlarge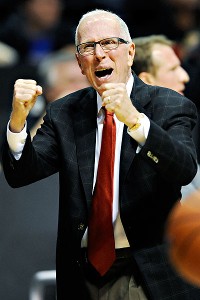 Christopher Hanewinckel/US PresswireSan Diego State could be the Gonzaga of the Big West under Steve Fisher.
So after another week of changes, the basketball winners and losers can be summed up this way:
Winner
The Big West: Getting San Diego State is a major coup for this league. Steve Fisher's Aztecs are going to be an NCAA tournament team on a regular basis and a national player for getting marquee games. SDSU has a chance to be the Gonzaga of the Big West. The Aztecs won't be as good as the old UNLV teams that won a national title, but being the dominant player that can attract marquee games and attention for the Big West is a great get.
Loser
The Big East: You simply can't make this three-team trade (Out: Pitt, Syracuse, West Virginia; In: Central Florida, Houston, SMU) and not come out looking worse. The pool of teams the Big East had to choose from was small, but it still could have made a few more moves to appease football and basketball. The conference acquired new television markets, but the quality of play will go down and the matchups for the television partners won't be as palatable.
Biggest mess
The 2013 season: If Big East commissioner John Marinatto gets his way, the Big East will have 19 members for one season when the three new schools come aboard and Pitt, Syracuse and West Virginia have to stay. Big East associate commissioner Tom Odjakjian will have a thankless job as he tries to schedule a season that will keep him up at night.
The ongoing fight
West Virginia: The Mountaineers want to play in the Big 12. The Big East says they have to stay. This will likely end up being decided by a judge.
The unknown
Boise State: If coach Leon Rice can continue to improve the program, the Broncos can flourish in the WAC and become a player for a bid quicker there than in the Mountain West.
The potential
Houston, which has a solid recruiting class in 2012, and SMU have had their moments in the past, but the school that gets the tag as the one with the most potential of all the additions could be Central Florida. The Knights have a shot to make more of an impact in the Big East than South Florida has because of UCF's location and facilities. The Knights must stay out of the way of the NCAA's enforcement group after getting caught with violations that cost coach Donnie Jones the first three games of the C-USA season. Still, Jones has taken down Florida and Connecticut on neutral courts in each of the past two seasons.
The biggest question
When the 2014 season begins, will Louisville, Connecticut and Notre Dame be in the Big East? We just don't know.
December, 7, 2011
12/07/11
9:18
AM ET
San Diego State and Boise State men's basketball, along with the rest of their sports, are moving from the MWC to the Big West and WAC, respectively, now that their football programs are heading to the Big East for the fall of 2013.
Multiple sources confirmed early Wednesday that San Diego State would go to the Big West, pending approval by the conference's board of directors, while Boise State plans to announce that it will join the WAC in all sports except football.
[+] Enlarge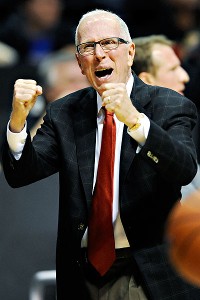 Christopher Hanewinckel/US PresswireSan Diego State coach Steve Fisher says moving to the Big West will help his program grow.
When contacted Tuesday, neither men's basketball coach -- SDSU's Steve Fisher or Boise State's Leon Rice -- has an issue with leaving the Mountain West for another conference.
Fisher's Aztecs are now established after their Sweet 16 run last season. They are relevant in laid-back San Diego, and Viejas Arena is one of the hidden gems in the country due to its passionate fan base. The Aztecs are off to a fantastic start this season, despite losing four of five starters. They beat Pac-12 favorite Cal at home and won at Arizona, and their only losses are to Valley favorite Creighton at home and at Big 12 title contender Baylor.
Fisher is so comfortable in San Diego State's current state that he has no issue about heading to the Big West. This is more about the Aztecs as a program, rather than any conference affiliation.
"Football appears headed to the Big East, and if we go to another league, we'll continue to grow the program,'' said Fisher, who said he expects the Aztecs to land in the Big West. A Big West source said late Tuesday night that San Diego State will join the league, but the conference's board of directors hasn't met to officially discuss the matter. That will likely occur soon.
The Big West already has taken in Hawaii for all sports except football. The Rainbow Warriors, who will leave the WAC, will join the Big West in 2012, while their football program goes to the Mountain West. The Mountain West won't accept a member without football, but is willing to take a program that only gives it football. The WCC, which looks at state schools, or the Big Sky weren't options.
The Big West will be a cost-saving move for the rest of the Aztecs' programs, and it certainly helps the baseball program since the all-California (plus Hawaii) league is a national player in that sport.
Fisher said that a move to a league (like the Big West) that has an ESPN television contract will change the Aztecs' scheduling. San Diego State's games against Cal, Creighton and Arizona didn't get the national exposure Fisher wanted.
"The one real big positive is that it would get us on the ESPN family of networks, and that will help our program and be a huge sell for us,'' said Fisher. The Mountain West Conference doesn't have a contract with ESPN. MWC teams can appear on an ESPN network only in a tournament that ESPN televises or in a nonconference road game against a school in a league that has a deal with ESPN.
"I believe that this will make it easier for us to schedule teams from the Midwest or the East,'' Fisher said. "It will greatly enhance our ability to recruit. And that's the lifeblood of any program. If I were to approach Illinois or Louisville and say you'll be on national television, that will resonate more than [saying] you'll be on local cable. I think we've got a lot going for us that we've created over a period of time. We are in a good position right now.
"Change should not be feared, but change should be an exciting time for us,'' Fisher said.
The Mountain West has changed recently with BYU's departure to the WCC. Utah's basketball program is in a terrible situation right now. But the Utes still have a national name, and their exit to the Pac-12 was another hit to the MWC. And adding Fresno State and Nevada don't equate to BYU.
Big West matchups against Long Beach State or UC Santa Barbara may resonate locally more than games against Colorado State or Wyoming, as long as Fisher can make good on his guarantee that he'll be able to land even more national games. The hope is that San Diego State can command a Gonzaga-like national schedule prior to the conference slate. And there's no reason to think that a deeper Big West couldn't land multiple NCAA bids in the future.
San Diego State's success so far this season is another indicator that Fisher has a program to build on, rather than just a hot team from a season ago.
"If you asked me before the season, I was nervous about this season,'' Fisher said. "We lost a lot of players, but we have nine that suit up that are really, really playing well together. It's been a wonderful start.''
[+] Enlarge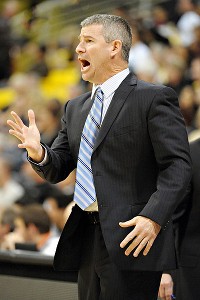 Kirby Lee/US PresswireBoise State coach Leon Rice isn't paying attention to the conference shake-up.
Meanwhile, Boise State was supposed to be rebuilding in Rice's second season. Yet the Broncos are 7-1, with their only loss coming at Long Beach State. They haven't played a strong slate but did beat a quality squad (Indiana State) at home. Boise State will learn more about itself in a winnable game at LSU on Dec. 10, and faces a very difficult game at surging Denver on Dec. 17, which is bound for the WAC. This is Boise's first and only season in the MWC.
"I was definitely concerned with having 11 new guys, but we're playing well together right now,'' Rice said.
The Broncos' move from the Big Sky to the Big West to the WAC to the MWC to the WAC again won't have much of an effect on the program's growth.
Rice said he was told that all options are being explored. The WAC does offer regional teams Idaho, Denver, Seattle and Utah State, which is still in the conference for 2013. One reported scenario which called for Utah State and San Jose State to replace Boise State and San Diego State in the MWC could be on hold.
One source with direct knowledge of the situation said the MWC may hold off on adding Utah State and San Jose State if a full merger with Conference USA occurs. If that happens -- and with C-USA losing three members (Houston, SMU and Central Florida) to the Big East in all sports -- the MWC and C-USA may see the benefit of merging and being at 16 to 18 members versus expanding again on their own.
"I'm not paying attention to any of this right now,'' Rice said. "Seriously, I could care less. We're in the middle of our season, we're grinding away. I have no control over it. I'll just be excited wherever we go and whatever happens. I don't think it matters. San Diego State would be leaving, too. So the Mountain West would be changing. The gap between the Mountain West and the Big East or the WAC won't be that much different. You wouldn't believe how little I've focused on it.
"Our football team moved from the WAC to the Mountain West, and then BYU, Utah and TCU all leave, so the league isn't the same when they get there,'' Rice said. "I don't want to speculate or even look at it.''
An MWC without San Diego State means UNLV and New Mexico should dominate at the top, while Colorado State, Wyoming, Nevada and Fresno State likely take turns at No. 3. If the MWC doesn't join C-USA in a full merger, the league will need to put Utah State and San Jose State back in the mix and weaken the WAC. The WAC would then be led by New Mexico State and possibly Denver, but would lack the depth Boise State could have gotten in the MWC.
But it won't matter to coach Rice. Just like it's irrelevant to Fisher. The mood for both is more inward now. If a program takes care of itself and wins, regardless of its conference affiliation, it can get noticed with possible nonconference games and a postseason berth.
San Diego State is a new member of the Western elite and can stand on its own under Fisher.
Boise State is so new in trying to become relevant in hoops that moving to the WAC may not alter much at all in its rebuilding process.
Both schools are moving football to the Big East at the expense of the rest of their sports. But neither coach seems to be upset about it. So why should anyone else?