Category archive:

Florida International Golden Panthers
May, 30, 2013
05/30/13
2:02
PM ET
Getting a head-coaching job is extremely difficult.
Moving upward in Division I from the MEAC and SWAC has been almost as hard as getting the first job.
Blame the ridiculous search firms that think they know the profession but don't. Point to athletic directors who are wowed by the brand name of an assistant.
But actually dig deeper and search for a head coach who has had to do a lot with a little and you'll see there are quality coaches in the Historically Black Colleges and Universities.
[+] Enlarge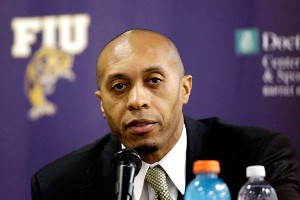 AP Photo/J Pat CarterAnthony Evans got a five-year deal at Florida International.
Florida International's new coach Anthony Evans had done wonders at Norfolk State. He won the league two years in a row, won the MEAC tournament title for the first time and had consecutive players of the year.
He also pulled off one of the biggest upsets in the NCAA tournament in 2012 when No. 15 seed Norfolk State beat No. 2 seed Missouri. Lehigh took out Duke in the same round, so Norfolk State didn't receive as much national recognition.
Evans tried to move on a year ago but finished behind Richard Pitino for the FIU job. He got a second chance when Pitino used his Sun Belt title game appearance to bounce to Minnesota.
Evans arrives as FIU is moving from the Sun Belt to Conference USA. This isn't the same C-USA as when Louisville and Cincinnati were atop the league or when Memphis started to dominate. Still, C-USA is a step up from the MEAC with a television deal that can make it more relevant.
"You always have a perception or a stigma in the MEAC," said Evans. "But we just kept putting the program forward to get to a consistent level and show we could compete with other schools.
"You would always hope that you could get great opportunities after a win like that," said Evans of Norfolk State's victory over Missouri. "There were a few. FIU was one, and I interviewed. It opened up again, I made some calls, and it worked out. I'm grateful to president Mark Rosenberg and athletic director Pete Garcia for giving me the opportunity."
And that's what it is -- a chance that a number of other schools don't always extend.
What gets lost by these coaching search firms and ADs is not looking at the overall picture of a coach coming out of the MEAC. Evans, like many of his colleagues, had to struggle to get games and played most of his nonconference contests on the road.
"Everyone plays your best game against you in your league," said Evans. "Every arena was packed to play us. There are a lot of good coaches in the MEAC and SWAC. We go against them every day in our league. We beat each other up, and yet look at the records when we get into conference. We have to play those guarantee games. That's why [schools] shy away because of our records. There are good coaches. There are a lot of good coaches who have to recruit in these leagues."
Evans, 43, got a five-year deal. Pitino left him with two players deciding to transfer and eight games to fill. There is work to be done at a school that struggles for attention in South Florida, let alone in the conference. Evans is the third coach in three years after Isiah Thomas was fired prior to Pitino. He's the first of the three without a national name.
"We're going to have to make changes," said Evans. "We've got to have consistency if we want a great foundation. They started that in the Sun Belt academically, and we have to continue that. We've got to upgrade now into Conference USA. We've got to get our program up if we want to contend and compete."
But he has a chance. And if he does, Evans can be a trailblazer of sorts for other coaches who may want to upgrade out of the MEAC and SWAC.
April, 26, 2012
04/26/12
9:14
AM ET
Florida International forward
Dominique Ferguson
's plan was to transfer to a school closer to his Indianapolis home. He wanted to be near his family and said he needed smaller classes and more academic attention to succeed.
He said he made his transfer request before Florida International fired third-year coach and NBA Hall of Famer Isiah Thomas on April 6.
[+] Enlarge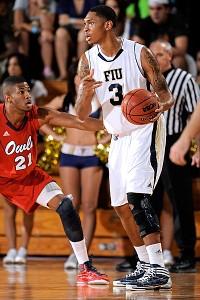 Samuel Lewis/Icon SMIFIU's decision to deny Dominique Ferguson's transfer left him no choice but to declare for the NBA draft.
A three-person academic board heard Ferguson's appeal on April 13 and blocked him from getting a full release that would allow him to receive a scholarship from another institution.
Ferguson said new FIU coach Richard Pitino had nothing to do with the appeal. He said Pitino knew that he was planning on leaving before -- and certainly after -- he met with the new coach. Pitino was hired from his father's staff at Louisville on April 16.
FIU's denial of Ferguson's transfer is another example of a rejected request. This case also happened a week before the nationally scrutinized situation with Wisconsin redshirt freshman Jarrod Uthoff. Wisconsin coach Bo Ryan initially denied Uthoff's request to transfer to any school in the Big Ten, ACC, neighboring states and Marquette. Uthoff won his appeal with the exception of being able to transfer within the Big Ten. The league has a rule that curtails transferring within the conference. It allows grant-in-aid but forces a player to lose a year of eligibility after sitting out.
"I wanted to go to a school close to my family in the Midwest,'' Ferguson told ESPN.com. "I went to Hargrave [Military Academy in Virginia] my senior year in high school and came straight here and had seen my family only a handful of times. It was hard on me and affected how I played.''
Ferguson, who is 6-foot-9, averaged 8.7 points and 6.2 rebounds a game this past season. He had been ineligible as a freshman.
"I wanted to be home and be more comfortable,'' Ferguson said. "I had my meeting with the board, three people [who] had nothing to do with academics. It was supposed to be a nonbiased meeting. It seemed like it went great.
"I told them that I wanted to leave to go to a smaller school, that I needed more one-on-one smaller classes,'' Ferguson said. "Four hours later I got an email on the decision that it was more beneficial for me to stay in Miami, at FIU. It was puzzling. I had never met them. They didn't know me. I wanted to be near my family, a big family that I don't ever see.''
Ferguson provided ESPN.com with the email that he received after the hearing:
HONORS COLLEGE
April 13, 2012
Dear Mr. Ferguson,
After considering your email appealing the decision of the Athletic Department to refuse to grant you permission to speak and transfer to another institution, and after listening to you during the appeal hearing, the appeal panel affirms the Athletic Department and denies your appeal.
We believe it is in your best interest to continue your studies here at FIU. We would particularly encourage you to apply yourself to your courses for the rest of the semester.
We wish you well in the future.
Sincerely, Stephen M. Fain, Ed.D. Professor Emeritus Faculty Athletics Representative to the NCAA
Professor Pete Markowitz, Ph.D. Physics Professor Thomas E. Baker, J.D. Law
CC: Julie Berg-McGraw
Valerie M. Sheley
Emails seeking a comment from Fain, FIU athletic director Pete Garcia and media relations director Paul Dodson weren't returned.
Ferguson said that he felt lost at the academic support center and that he was always on his own. "I told them I wanted to go to a small school known for graduating players,'' Ferguson said. "I wanted to go somewhere where I would get more help. Their response was to stay here. It was a waste of my time. They already knew what they were going to say.''
And that, he said, left him no choice but to declare for the NBA draft in advance of Sunday's early-entry deadline, even though he's unlikely to get selected.
"I couldn't pay for school again and go through all that stress that I went through my freshman year,'' said Ferguson, who added that he didn't have any contact with another school. "I just wanted to better myself in academics and on the court, and they denied me from doing that.''
Ferguson was ineligible as a first-semester freshman when he arrived in the fall of 2010 from Indianapolis.
"I didn't have anywhere to stay. I lived room-to-room and couldn't have any contact with any of the players or coaches,'' Ferguson said. "I wasn't on scholarship. I was always trying to find ways to get money, go to eat or find places to stay, mostly on couches. I didn't want to do that again.
"I do plan on getting my degree,'' Ferguson said. "But it won't be down here from Florida International.''
Ferguson said he formally sent in his paperwork to the NBA, meaning he is no longer an amateur in the eyes of the NCAA. He said he hasn't signed with an agent yet and will finish the semester this week, then continue to work out. He understands he might have to try to play overseas to make it professionally in basketball.
But he said his bitterness lies in the response from FIU's administration. He said he and a number of other players met with the school president the next week and asked whether they could get releases. He said he had heard of other players in other sports receiving them, and when he asked why he couldn't, he was told it was confidential.
Then he was blindsided, he said, when freshman center Gilles Dierickx got a partial release.
Ferguson said the panel asked him why his classes were "up and down," and he explained that he wasn't getting much help.
"I felt like I was on a farm, and we were a bunch of cows being tagged with a number,'' Ferguson said. "You'd be assigned a tutor, and the next day it could be someone else. I don't understand how someone on my team could go through the same process and get a scholarship [with a partial release and some school restrictions], and I have to stay here.
"It was like I was held hostage,'' Ferguson said. "They made me feel like I could never leave here.''
Ferguson said he believes FIU will say the academic progress rate is the reason his appeal was rejected and that the school feared that it could lose an APR point for a player who decided to leave while not in good academic standing.
"They'll try to say that, but it wasn't hurting the APR,'' Ferguson said. "I don't think I got a fair trial at all with my appeal. I didn't get the same treatment as someone else. I just wanted to go back home. I was stressed out the whole season. I think my mother and father came to see me play four times [in a season and a half]. The whole NBA was never on my mind.
"I'm happy now, though, because I feel like I'm free. But I definitely would have been fine sitting out. If I transferred [without a release], I would have had to pay for school and go through all that stress. I've had too much stress already.''
September, 2, 2009
09/02/09
1:00
PM ET
In a league with heavyweights like Kansas and Texas, Nebraska can't compete by going about the traditional way of recruiting.
The Cornhuskers have to mix and match their roster to be highly competitive. That means sprinkling in high school seniors, transfers and foreign players. That also means taking chances, even if the news on the eligibility of a foreign player isn't always known.
The Huskers tried that approach with Germany's Christian Standhardinger. The questions arose about his amateur status and how he would be classified by the NCAA. According to Nebraska coach Doc Sadler, the school was told that Standhardinger's grades (based on the grading scale from Germany) meant that he was not a qualifier when Nebraska went to an NCAA seminar in the spring on the subject of foreign admission.
However, Sadler said the information was a year old and Standhardinger was actually eligible. But that news didn't get to Nebraska until after it had committed to giving one-time UAB signee Adrien Coleman a scholarship in July. Coleman signed to play at UAB in November 2008 but failed to be admitted to the university, releasing him to sign a financial aid agreement with another school. Coleman's addition meant the Huskers were at the NCAA limit of 13 scholarships.
"We were trying to get Christian to a prep school to get the three courses he needed when we got the information last week that he was eligible,'' Sadler said.
Once it was clear that a mistake was made, the Huskers were at 14 scholarship players. Nebraska and the NCAA came to a unique agreement which allows NU to move up to 14 for this season -- with a condition. The Huskers could have only 13 players available on scholarship. They would have to redshirt a player.
Well, Sadler wasn't planning on redshirting anyone -- that is until sophomore center Christopher Niemann tore his ACL and was ruled out for the season. So, in a cruel twist, Sadler lost one German for the season but gained another. But there was also a catch with the 6-8 Standhardinger. He has to sit 50 percent of the team's games this season because he played on what was termed a German professional team.
The Huskers have had their issues before with eligibility, losing Roburt Sallie to Memphis after he was denied admission on a Big 12 rule. Sallie took a class at Nebraska, but then wasn't eligible so he left for junior college. But under an obscure Big 12 rule, a player who takes one class at a Big 12 school cannot reattend if he's deemed a nonqualifier and leaves. Sallie played last season at Memphis, averaging 5.8 points in 36 games, including scoring 35 in an NCAA tournament first-round win over Cal State-Northridge.
Finally, now that the eligibility issue is done, Sadler said he has a Big 12-level squad.
"This is the first time that I felt like athletically and sizewise, we can compete in this league,'' said Sadler, who had the 7-foot Aleks Maric his first two seasons but not much else in terms of size around him. "We've got size on the perimeter and inside now.''
But the Huskers are young at the wrong time in the league. They have 11 freshmen or sophomores on the roster for a season in which the Big 12 boasts two potential No. 1 seeds in Kansas and Texas and a host of possible NCAA teams led by Kansas State, Oklahoma State, Oklahoma, Texas A&M and possibly Missouri.
But lost among Nebraska's problems and relative anonymity nationally are the numbers Sadler's teams have produced in his first three seasons. It's hard to dismiss that he has had three straight winning seasons and improved in league play each time, going 17-14 (6-10) in Year 1, 20-13 (7-9) in Year 2 and 18-13 (8-8), capped off by a second straight NIT berth, in Year 3. Two late-game losses to Texas A&M and Oklahoma State last season really hurt NU's chances for the Big Dance.
This season the Huskers are rebuilding with talent that Sadler is convinced can win in the Big 12. Games against Oregon State and USC and a tournament in Las Vegas with BYU, Tulsa and Nevada should reveal how much this squad needs to mature before conference play.
"I think with this group, down the road, in the next two or three years, we can compete [for a top spot in the Big 12],'' Sadler said. "We can compete now, and even though we've been a seventh- or eighth-place team in the Big 12, that's not our goal. Being an NIT team is not our goal.''
• Rhode Island was ready to replace Florida International if the Golden Panthers had withdrawn from the Coaches vs. Cancer tournament. The Gazelle Group, which organizes college basketball's season-opening event, had URI ready to replace FIU and was going to send the Rams to North Carolina for a Nov. 9 date and then have them host the three games set for FIU against North Carolina Central, James Madison and Murray State.
URI coach Jim Baron said the issue is moot now that FIU has agreed to play at UNC, but the Rams are likely going to be given an opportunity for a Gazelle-sponsored event in 2010 or 2011 for offering themselves as a replacement. Meanwhile, the Rams already have a unique nonconference game against Oklahoma State in a Jan. 2 event at the Mohegan Sun in Uncasville, Conn. The game is a return for URI playing the Cowboys last season in Oklahoma City.
Baron recently returned from Turkey, where he was getting his son, Jimmy, situated for a pro career, before going to Worcester Academy (Mass.) to get his other son, Billy, set for his post-grad year. Jim Baron was noncommittal as to whether Billy Baron, who is being recruited by some Big East schools, will play for him like Jim did so well.
"I want to let him breathe for a bit,'' the elder Baron said. "Jimmy won 63 games here. It was tremendous. We had two postseasons, two coach of the years, it was a tremendous run. It was a fabulous experience and one that we will treasure the rest of our lives."
• FIU athletic director Pete Garcia and coach Isiah Thomas cited the American Cancer Society and the benefit of the program playing in the event as the reason they abided by the contract. Garcia said there was a miscommunication with the Gazelle Group about playing Ohio State as opposed to North Carolina. "What's gone on has actually given more exposure to the American Cancer Society,'' Garcia said. "What's great is that Isiah ended his college career against North Carolina and now he'll start his college coaching career against North Carolina."
• Mississippi State coach Rick Stansbury said Renardo Sidney, who is awaiting clearance from the NCAA Eligibility Center on his amateur status, has been able to practice in individual workouts. Stansbury said Sidney needs to get in shape and "toughen up." But the skill set is in place. John Riek is also working on his conditioning, getting his slender frame up to 245-250 pounds, according to Stansbury. Riek, a one-time NBA draft entrant and Cincinnati recruit, has been a tease but unable to deliver for two years. He should be ready to play once he sits out the first nine games of the season, per an NCAA decision. "He's got size and a work ethic that you can't teach,'' Stansbury said.
• Mississippi State, which always seems to be searching for games late into the summer, finalized its schedule with an opener against Wright State. That's not an easy opener, considering the Raiders should be the second pick behind Butler in the Horizon League. The Bulldogs will play eight of their 14 nonleague games away from Starkville, playing at Western Kentucky, at Houston, at San Diego, against DePaul in Tampa in the SEC-Big East Invitational, against UCLA in the Wooden Classic in Anaheim, against Louisiana Tech in Jackson, Miss., and against Richmond and likely Missouri in a tournament in South Padre Island, Texas. The Bulldogs will make two trips to California within a span of three weeks to play San Diego and UCLA.
• The Pitt staff doesn't appear to be too moved by the ineligibility of Gilbert Brown for the fall semester. Brown has been limited by injuries the past three seasons and averaged just 5.4 points and shot 28.2 percent on 3s.
• Every case of discipline is unique, but it's not hard to see why there is some grumbling within the Big East that Joe Mazzulla was reinstated by coach Bob Huggins for the season after he was suspended in the offseason for a violation of team rules, while Brown will miss the fall for academics and Reggie Redding at Villanova will miss the first semester of games for possession of marijuana.
Mazzulla was out for most of last season with a shoulder injury, but then was suspended in the offseason for an altercation at a Morgantown bar, which was his second arrest in nine months. He pleaded no contest to disorderly conduct and was sentenced to community service.
Fellow Mountaineers point guard Darryl Bryant is still awaiting his fate for the fall semester. On Wednesday, it was announced he would not face any jail time in two court cases involving traffic accidents this summer, but a university spokesman said Bryant is still indefinitely suspended from all basketball-related activities.