Category archive:

Georgia State Panthers
July, 6, 2012
07/06/12
11:59
AM ET
When it came to bylaws about departing teams, the Horizon, Colonial and America East didn't buckle.
There are consequences that come along with a departure. Being ineligible for the conference tournament is one of them for these leagues. Butler (Horizon) and Virginia Commonwealth (CAA) accepted that and got to the Atlantic 10 as fast as possible.
What school wouldn't do the same if the opportunity existed? Scheduling, television exposure and tourney access are the most important reasons -- outside of the financial benefits -- for being in a conference.
Take away the ability to play for an automatic NCAA tournament berth and the season can seem like a waste. Postseason bans, such as the one USC had recently and the one Connecticut will endure this season, take the air out of the season -- even if the schools and coaches do all they can to create a new goal of winning a regular-season title.
Even though both would likely be contenders for at-large berths, Butler and VCU took no chances.
Boston University, on the other hand, probably would leave for the Patriot League tomorrow if it could. The Terriers weren't pleased with the decision by the America East to uphold its bylaws, but they are stuck. The current team will have to deal with it.
Old Dominion and Georgia State were hoping the CAA would lift its ban, but it did not. Georgia State went as far as to explore trying to get into the Sun Belt sooner, but that didn't happen.
The Horizon, CAA and America East are actually not the norm historically.
After losing members in the past decade, the Big East, Atlantic 10, Big West, C-USA, Mountain West and WAC have not even broached the subject, much like the Big 12 didn't when it lost members to the Pac-12, Big Ten and SEC. The Big East didn't block West Virginia from playing in the conference tournament a year ago after it announced its hasty departure to the Big 12. Perhaps the smaller conferences are worried that the league will have only one bid and don't want it to go to the school with one foot out the door.
[+] Enlarge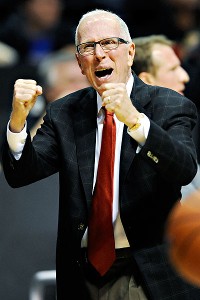 Christopher Hanewinckel/US PresswireSteve Fisher and the Aztecs will get a chance to compete in their final MWC tourney.
But when I asked some of the coaches playing in their final season in a conference, the question was met with near astonishment.
Pitt coach Jamie Dixon wanted to know if I was joking. San Diego State's Steve Fisher said he hadn't even heard of these conferences not allowing schools to participate. Utah State's Stew Morrill said he didn't think the WAC would do such a thing since previous schools that left weren't treated in that manner. Memphis coach Josh Pastner said he would be incredibly disappointed if that occurred. (C-USA took away the conference tournament from the city of Memphis but didn't remove the Tigers' ability to play for the title.)
But what would happen if these conferences turned on the departing teams in 2013? It's too late to change the bylaws and isn't going to happen, but it's still fun to play the "what if" game.
What effect would it have had on the Big East to take Pittsburgh and Syracuse out of the tournament?
A serious blow. The league may be squabbling with the two schools -- and will do so in court with Pitt -- but it needs these two in the conference tournament as long as possible. Syracuse is a natural draw at Madison Square Garden. Taking the Orange out of the Big East would have been a major mistake. The Orange and Panthers still don't have a definitive arrival date in the ACC, but it's likely to be in the summer of 2013.
What would it have done to Syracuse and Pitt for a potential at-large berth?
Likely no issue at all. Both have teams that look like virtual locks for an at-large bid.
What would happen to the Atlantic 10 if Temple and Charlotte weren't allowed in the tournament?
Let's be honest: Charlotte won't be missed on its way back to Conference USA. But Temple's departure will be a hit, as the Owls have consistently been a major part of the A-10 tournament. Not having a Temple presence, prior to the Owls' exit to the Big East, would have hurt the tourney's debut in Brooklyn. Bringing in Butler and VCU will offset the loss, but Temple still is very much associated with the A-10 brand.
What if the Big West banned Pacific?
That would be just cruel. The Big West has had teams leave before, and it might happen again. Plus, this is coach Bob Thomason's final season after a quarter-century at his alma mater, and he said he has a team that could challenge for the Big West title. He has been a loyal member, and Pacific is leaving for the all-private WCC. No harm in letting the Tigers finish up, and it won't hurt the Big West one bit.
What if Conference USA blocked Memphis, SMU, UCF and Houston?
Then C-USA would have a tournament that lacked any sort of buzz. Marshall is a legitimate title challenger to Memphis, and UTEP should be in contention. If the Tigers had been blocked from being in the tournament, after it was taken from the city, C-USA's relevance during Championship Week would have been diminished even more. It's still hard to say how many Memphis fans will travel to Tulsa, Okla., but the Tigers do have a significant following. This was a smart move by the league to not play bitter politics with the departing members.
What would the Mountain West tournament be like without San Diego State and Boise State?
A bit less exciting. The Aztecs have been one of the consistent winners in the MWC with UNLV and New Mexico. Take SDSU, off to the Big West, out of the event in Las Vegas, and the tournament would lose luster. No offense to Boise, but no one would likely notice if the Broncos weren't invited. But SDSU matters a great deal. The Aztecs will be a top-25 team alongside UNLV. Taking them out of the conference tournament would have been a storyline the MWC doesn't need in March.
What would a WAC tournament look like without Utah State and San Jose State?
Not worth it. USU has been the benchmark program in the WAC since Morrill arrived. New Mexico State can't anchor the conference on its own. NMSU needs a rival, and Utah State has been that nemesis. San Jose State wouldn't be missed, but the Aggies' absence would have been a glaring omission in Las Vegas. Rebuilding Utah State will likely need the tournament to get a bid this season, but the WAC was in no position to be punitive. So the Aggies will have one final chance to represent the WAC before it joins SJSU and former WAC members Fresno State and Nevada in the Mountain West.
January, 5, 2012
01/05/12
1:05
PM ET
Ron Hunter will always be known as the barefoot coach, the one coach who decided to draw attention to a cause on his own rather than be a contributor or worse simply a bystander.
There shouldn't have been any doubt about his coaching ability, though.
He consistently had IUPUI as a contender in the Summit League or at the very least a pest to put out.
[+] Enlarge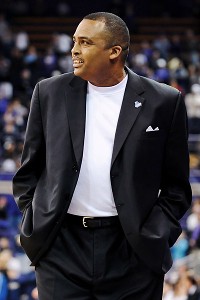 Steven Bisig/US PresswireRon Hunter, who coached barefoot while at IUPUI to raise awareness for group called Samaritan's Feet, will do the same later this month at Georgia State.
But he may be on the verge of doing something more noteworthy on the court.
Hunter has Georgia State atop the Colonial Athletic Association standings in his first season after knocking off two of the top three favorites to start this week -- Drexel and at VCU -- with a third on tap Saturday when the Panthers go to George Mason.
"This is my 25th year in coaching and I've never had this much fun,'' said Hunter. "There were low expectations and this has been an incredible ride. I've been to the NCAA tournament. None of these kids were recruited by me. We walked in and accepted each other. No one expected this.''
Hunter is known nationally for drawing attention to an organization called Samaritan's Feet. He started a trend by coaching barefoot and other coaches have caught on during Martin Luther King Jr. weekend. He has helped raise hundreds of thousands of shoes to be put on the feet of impoverished or disenfranchised children in the United States, Africa and South America.
Hunter will take his team to Africa this summer, just like he took IUPUI so they could experience the unmatched joy of seeing a child receive something that is such a basic necessity. His players at IUPUI bought into Hunter early and saw his genuine passion for his cause. It translated into their efforts on the court.
Hunter hasn't had to take this team abroad yet for them to believe in him.
The Panthers lost the first three games of the season at a tournament at Washington, including opening up with a loss to the Huskies.
Georgia State hasn't lost since falling to UW, Portland and Florida Atlantic Nov. 12-14. That means the Panthers have won 11 in a row and have a 3-0 start (they played William & Mary in early December) in the widely respected CAA.
This same collection of players finished 12-19 under Rod Barnes a year ago.
"We had a bunch of older kids that had never won in their life, the program hadn't won,'' Hunter said. "But I thought we could win right now. But I had to fit what I wanted to do with these kids and once I realized that we haven't lost since.''
Hunter said he came into the season assuming he could play the same pressing, matchup zone system he had in the previous 17 years.
But it didn't work.
"I got back to the hotel at Washington and realized no one was having any fun,'' Hunter said. "So I brought in music to practice to relax the kids. It was like we were coaching in a morgue when we started. Everyone was depressed. I had to lighten up the mood. Since then everything has changed. There is a swagger about this group. They think they're pretty good now.''
Hunter credits Barnes with instilling the desire to defend. Barnes, now the head coach at Cal State Bakersfield, was a defensive-minded coach when he was at Ole Miss, too.
"I didn't take over a bad team,'' Hunter said. "There are older kids like St. John's last season but they didn't know how to win.''
Two of the top three scorers --Jihad Ali and Eric Buckner -- are seniors with the leading scorer being sophomore Devonta White.
"They keep you off with their pressure and zone,'' Drexel coach Bruiser Flint said. "They're an older team with guys who have been around. Ron is doing a good job with those guys.''
Georgia State still has to get through GMU. The schedule actually has one break in that the Panthers get Old Dominion at home instead of going on the road. Still, it's a little early to start printing title T-shirts.
"Most people recognize me for the shoe thing but we won games at IUPUI,'' said Hunter, who will go barefoot Jan. 12 against UNC-Wilmington. "We were picked near the bottom. But we're loving this. I'm coaching with a chip on my shoulder. This team is playing like that.''