Category archive:

Pacific Tigers
July, 6, 2012
07/06/12
11:59
AM ET
When it came to bylaws about departing teams, the Horizon, Colonial and America East didn't buckle.
There are consequences that come along with a departure. Being ineligible for the conference tournament is one of them for these leagues. Butler (Horizon) and Virginia Commonwealth (CAA) accepted that and got to the Atlantic 10 as fast as possible.
What school wouldn't do the same if the opportunity existed? Scheduling, television exposure and tourney access are the most important reasons -- outside of the financial benefits -- for being in a conference.
Take away the ability to play for an automatic NCAA tournament berth and the season can seem like a waste. Postseason bans, such as the one USC had recently and the one Connecticut will endure this season, take the air out of the season -- even if the schools and coaches do all they can to create a new goal of winning a regular-season title.
Even though both would likely be contenders for at-large berths, Butler and VCU took no chances.
Boston University, on the other hand, probably would leave for the Patriot League tomorrow if it could. The Terriers weren't pleased with the decision by the America East to uphold its bylaws, but they are stuck. The current team will have to deal with it.
Old Dominion and Georgia State were hoping the CAA would lift its ban, but it did not. Georgia State went as far as to explore trying to get into the Sun Belt sooner, but that didn't happen.
The Horizon, CAA and America East are actually not the norm historically.
After losing members in the past decade, the Big East, Atlantic 10, Big West, C-USA, Mountain West and WAC have not even broached the subject, much like the Big 12 didn't when it lost members to the Pac-12, Big Ten and SEC. The Big East didn't block West Virginia from playing in the conference tournament a year ago after it announced its hasty departure to the Big 12. Perhaps the smaller conferences are worried that the league will have only one bid and don't want it to go to the school with one foot out the door.
[+] Enlarge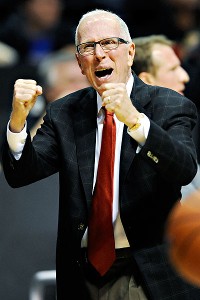 Christopher Hanewinckel/US PresswireSteve Fisher and the Aztecs will get a chance to compete in their final MWC tourney.
But when I asked some of the coaches playing in their final season in a conference, the question was met with near astonishment.
Pitt coach Jamie Dixon wanted to know if I was joking. San Diego State's Steve Fisher said he hadn't even heard of these conferences not allowing schools to participate. Utah State's Stew Morrill said he didn't think the WAC would do such a thing since previous schools that left weren't treated in that manner. Memphis coach Josh Pastner said he would be incredibly disappointed if that occurred. (C-USA took away the conference tournament from the city of Memphis but didn't remove the Tigers' ability to play for the title.)
But what would happen if these conferences turned on the departing teams in 2013? It's too late to change the bylaws and isn't going to happen, but it's still fun to play the "what if" game.
What effect would it have had on the Big East to take Pittsburgh and Syracuse out of the tournament?
A serious blow. The league may be squabbling with the two schools -- and will do so in court with Pitt -- but it needs these two in the conference tournament as long as possible. Syracuse is a natural draw at Madison Square Garden. Taking the Orange out of the Big East would have been a major mistake. The Orange and Panthers still don't have a definitive arrival date in the ACC, but it's likely to be in the summer of 2013.
What would it have done to Syracuse and Pitt for a potential at-large berth?
Likely no issue at all. Both have teams that look like virtual locks for an at-large bid.
What would happen to the Atlantic 10 if Temple and Charlotte weren't allowed in the tournament?
Let's be honest: Charlotte won't be missed on its way back to Conference USA. But Temple's departure will be a hit, as the Owls have consistently been a major part of the A-10 tournament. Not having a Temple presence, prior to the Owls' exit to the Big East, would have hurt the tourney's debut in Brooklyn. Bringing in Butler and VCU will offset the loss, but Temple still is very much associated with the A-10 brand.
What if the Big West banned Pacific?
That would be just cruel. The Big West has had teams leave before, and it might happen again. Plus, this is coach Bob Thomason's final season after a quarter-century at his alma mater, and he said he has a team that could challenge for the Big West title. He has been a loyal member, and Pacific is leaving for the all-private WCC. No harm in letting the Tigers finish up, and it won't hurt the Big West one bit.
What if Conference USA blocked Memphis, SMU, UCF and Houston?
Then C-USA would have a tournament that lacked any sort of buzz. Marshall is a legitimate title challenger to Memphis, and UTEP should be in contention. If the Tigers had been blocked from being in the tournament, after it was taken from the city, C-USA's relevance during Championship Week would have been diminished even more. It's still hard to say how many Memphis fans will travel to Tulsa, Okla., but the Tigers do have a significant following. This was a smart move by the league to not play bitter politics with the departing members.
What would the Mountain West tournament be like without San Diego State and Boise State?
A bit less exciting. The Aztecs have been one of the consistent winners in the MWC with UNLV and New Mexico. Take SDSU, off to the Big West, out of the event in Las Vegas, and the tournament would lose luster. No offense to Boise, but no one would likely notice if the Broncos weren't invited. But SDSU matters a great deal. The Aztecs will be a top-25 team alongside UNLV. Taking them out of the conference tournament would have been a storyline the MWC doesn't need in March.
What would a WAC tournament look like without Utah State and San Jose State?
Not worth it. USU has been the benchmark program in the WAC since Morrill arrived. New Mexico State can't anchor the conference on its own. NMSU needs a rival, and Utah State has been that nemesis. San Jose State wouldn't be missed, but the Aggies' absence would have been a glaring omission in Las Vegas. Rebuilding Utah State will likely need the tournament to get a bid this season, but the WAC was in no position to be punitive. So the Aggies will have one final chance to represent the WAC before it joins SJSU and former WAC members Fresno State and Nevada in the Mountain West.
May, 24, 2012
05/24/12
10:31
AM ET
All that's left for Bob Thomason to craft the perfect exit is for Pacific to win the Big West conference tournament and earn the league's automatic berth in 2012-13.
Few coaches have been able, regardless of conference, league or level, to put together an exit that is as tidy as this one.
[+] Enlarge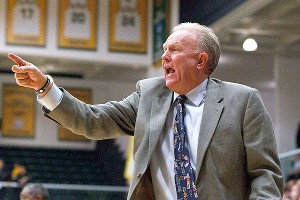 Jason O. Watson/US PresswirePacific coach Bob Thomason will retire after next season, his 25th at his alma mater.
Thomason announced his retirement last week, effective after the upcoming season, his 25th at his alma mater.
The Tigers will leave the Big West for the West Coast Conference after this season. It's the league Thomason said he had been pushing for Pacific, the lone private institution in the Big West, to join for decades.
And to set up this final run, the Tigers are taking a trip to France in August.
"It all turned out perfect,'' said Thomason, who is 64 and one of the most respected coaches on the West Coast even though in national anonymity for years. His fans among coaching colleagues are many, including former Long Beach State, South Florida and Virginia Tech coach Seth Greenberg and former UNLV coach Jerry Tarkanian.
I can remember covering a number of Fresno State-Pacific games and driving through the fog from Fresno to Stockton to find a packed house at the Spanos Center. The Tigers have been consistently good in the Big West, enjoying nine 20-plus-win seasons under Thomason, going to four NCAA tournaments and beating Providence and Pitt in successive NCAA tournament first-round appearances.
And although Thomason may be known for coaching Michael Olowokandi -- a relatively unknown walk-on who recruited the school -- he will be remembered as a coach who was reliable, respected and credible.
"It's an amazing story that he was the No. 1 pick after coming here and playing 12 minutes a game the first year,'' Thomason said Olowokandi, an England native who went No. 1 in the 1998 NBA draft. "I feel very fortunate that I coached players at all levels, and we were able to compete at a consistent level. We developed teams and kids.''
"I'm healthy,'' Thomason said. "But how do you know to get out? I told my wife four years ago when I signed my contract that I wanted to get out at the end of the contract. I knew we had a good team coming back, and I'm hoping Ron [Verlin, his longtime associate head coach], if he's the coach, would have a good team when we go to the West Coast Conference. It didn't seem right for me to coach one year in the WCC.''
Thomason said he advocated for Pacific to get into the all-private WCC four or five times. "It's a perfect fit for Pacific,'' Thomason said. "Gonzaga and BYU are doing great. It's an ideal fit. We'll have great excitement here, sellouts when Gonzaga and BYU come. Season tickets will go up. This is an event town, and this will come at the perfect time.
"I want to win before we go out, and we have a chance to win the league and go to the NCAAs. I'm proud of graduating 90 percent of our guys, of having three teams that won 16 in a row, one that won 22 in a row. That's not easy in any level.''
Thomason said the Big West's decline to a one-bid league amid defections (most notably UNLV) has made it harder to recruit players. "Now we're going to get a breath of fresh air for the program,'' Thomason said. "Now we could beat Santa Barbara with a kid being from the WCC, but before it would be tough.''
The Big West is improving its standing in replacing Pacific with San Diego State, a Top 25 program. If the league adds Boise State, it is, at the very least, gaining a national name, even if the Broncos are still a work in progress in men's basketball.
Thomason said he has played basketball since fourth grade and has coached since he was an adult. His parents, at 87 and 83, are still doing well and live in nearby Lodi, Calif. He wants to be with them and his grandchildren more often. "I'll be around, but I won't be a pest,'' Thomason said.
Staying a quarter century in one place isn't the norm these days. Hall of Fame coaches like Mike Krzyzewski (Duke), Jim Boeheim (Syracuse) and Jim Calhoun (UConn) have done it. Tom Izzo (Michigan State) is on the way to the Hall, and he may do it as well.
"I'm not sure it's great for everybody,'' Thomason said. "Nowadays you should change. The money is so good and the expectations and the pressure make for a change. It's good to have a new start, and moving around isn't so bad. There might be some. I could see Mark Few staying there [Gonzaga] for 30 years.
Pacific finished 11-19 overall and 6-10 in the Big West this past season. Long Beach State may be picked as the favorite again in the conference. But the return of top scorers Lorenzo McCloud and Ross Rivera and top rebounder Travis Fulton gives the Tigers a chance.
Verlin has been a trusted sidekick for 18 -- and soon to be 19 -- seasons, and former player Adam Jacobsen has been on the bench for 11 seasons.
Thomason has crafted a stable, loyal and professional program. That's his legacy. It's one that he should be proud of as he retires in a year.
The trip to France will begin the send-off. He hopes the NCAA tournament will be his curtain call.
January, 26, 2010
01/26/10
2:25
PM ET
Siena is in the midst of a three-game road swing and is currently without its best player,
Edwin Ubiles
, who is out with a shoulder injury.
If the Saints, who are cruising in the MAAC with a 10-0 record, can survive this stretch -- let alone another five-game string against upstart Iona and Fairfield at home and Niagara, Canisius and Rider on the road -- still unbeaten in the league, then the BracketBusters opponent on either Feb. 19 or 20 will be even more important to the Saints' NCAA at-large hopes.
It's essentially Butler or bust.
If the Saints can win this week (at St. Peter's Thursday and at Marist on Saturday), there's a very good chance the Saints will be Butler's opponent in the highest-profile BracketBusters game. Matchups will be made this weekend so teams have a few weeks to deal with travel and scouting.
The concept has done wonders for some and been irrelevant for others, but one thing is certain: Teams that have an outside shot at an NCAA tourney at-large or are looking for a seed boost once they qualify as an automatic can't go wrong with another quality nonconference game in late February.
Some teams won't get that chance. The West Coast Conference isn't participating in the event and there are some omissions from other conferences like the Summit (only Oral Roberts and not Oakland), the America East (no Maine), the Big Sky (served up only Montana State and not Northern Colorado or Weber State).
There are 98 teams involved in 49 games during BracketBusters. The 11 games that will air on the ESPN family of networks are determined first and then the conference commissioners will pair up the remaining 76 teams.
Home and road teams are already set for the event, so it's a bit difficult to maneuver who can go where. But the most important aspect of matching teams should be done based on who has a shot to be in the field. Not all of the 22 set teams are in that group. Actually, maybe only six could have an outside shot at an at-large.
[+] Enlarge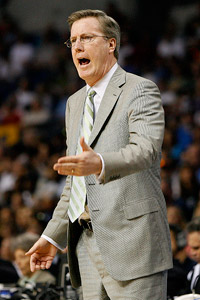 AP Photo/Mike CarlsonFran McCaffery is hoping BracketBusters provides a way to boost his team's NCAA at-large chances.
Siena is one of them.
"It's going to mean something and I would say if we could have a phenomenal league record and beat Butler and then not lose until the finals of the [MAAC] then we'd have a shot," said Siena coach Fran McCaffery. "We'll be right there in that discussion, but we don't want to get ahead of ourselves and assume the next five or six games."
McCaffery would actually be in favor of holding off on announcing the BracketBusters matchups until a few more weeks. But nevertheless, he still wants that Butler game. From a storyline perspective, it makes sense. Those are two of the better-known programs in the field and each has had some NCAA tournament success (Siena has won its last two first-round games).
"We're hoping we can put ourselves in position to get an at-large bid," McCaffery said. The problem for the Saints will be the six games prior to a possible showdown with Butler at Hinkle Fieldhouse in Indianapolis.
Ubiles didn't play against Manhattan on Jan. 18, played 33 minutes in a win over Loyola (Md.) on Jan. 21, but then missed the road game at Manhattan on Sunday. Meanwhile, guard Kyle Downey, who scored 16 points in Ubiles' absence in the first Manhattan game, broke his foot and is now out, possibly for the season.
"We're short-handed for this tough stretch, but I know we have to keep winning," said McCaffery.
Siena did beat Northeastern early in the season for what might turn out to be a solid win. It was a game McCaffery said was scheduled because "nobody wanted to play us and nobody wanted to play them and we're two hours away." But losses to Temple, St. John's, Georgia Tech and Northern Iowa were the supposed "up" games that the Saints failed to win.
Meanwhile, Butler has been rolling in the Horizon at 9-0 with a 16-4 record overall. That mark includes a win at Northwestern and home victories against Ohio State (without Evan Turner) and Xavier. Playing Clemson on a neutral court and UAB on the road (both losses) will help the power rating.
A year ago, Butler coach Brad Stevens said beating Davidson on the road was a key win for helping the Bulldogs get an at-large bid after losing to eventual champ Cleveland State in the conference tournament.
"We were coming off two losses that week before the Davidson game," Stevens said. "And you don't want to be on a losing streak at that time of the year. Doubt starts to creep in. That was a good win that got us going in the right direction."
Stevens knows the Bulldogs will get a quality BracketBusters opponent as the premier home team. There was a time when the staff was anticipating Wichita State as a possible opponent, but two losses last week for the Shockers have led to a belief that it could be Siena. Louisiana Tech, which tops the WAC, is also a possibility, but the name value of a Siena-Butler matchup may have more cachet.
The Bulldogs are handling their business in the Horizon as they become the top draw in every opposing building. That won't change as the Bulldogs go to Green Bay on Friday (ESPNU, 9 ET) and then to Milwaukee, two places the Bulldogs lost last season.
With Matt Howard staying out of foul trouble in the league after being in it throughout the nonconference, the Bulldogs are getting more of a complete effort. Gordon Hayward has been a Horizon MVP and barring a complete collapse, the Bulldogs are in good shape as far as the NCAA tournament is concerned.
Joining Butler as a BracketBusters home squad is Northern Iowa (8-1, 17-2), which leads the Missouri Valley. But Siena has already played Northern Iowa (the Panthers won 82-65) and that's why it makes more sense to send Siena to Butler and Louisiana Tech to Northern Iowa. The latter matchup may not seem headline-worthy to the mainstream fan, but these are the leaders in the WAC and MVC and both teams are talented enough to win a first-round NCAA tournament game.
If you were to pit Siena-Butler and Louisiana Tech-Northern Iowa, you'd likely have four teams that are going to be in the field of 65 matching up a few weeks before Selection Sunday.
The other hot teams are in the Colonial, but they obviously can't go up against each other. Northeastern, Old Dominion, George Mason and William & Mary all could be in play for the CAA's automatic bid with the Tribe the most likely at-large candidate because of nonconference wins over Wake Forest and Maryland on the road and Richmond at home.
That's why the question of who will play at GMU and Northeastern and where ODU and William & Mary will play during BracketBusters will be a fluid process this week.
I'd like to see the following: Wichita State at Northeastern as two of the top teams in the MVC and CAA; William & Mary hitting the road to play the best team in the Ohio Valley (Murray State); ODU traveling to Green Bay, pitting one of the top teams in the CAA against the second-best in the Horizon; and Charleston, which took out North Carolina, makes sense at George Mason in a matchup of two of the best from the Southern and CAA.
"We need a good game," said Northeastern coach Bill Coen, whose Huskies have won 11 games in a row, the third-longest streak in the country. "We've used all our mulligans and probably need to stay perfect the rest of the way to get an at-large berth. But in the spirit of the BracketBusters, we'd like to play our way into the conversation."
Northeastern failed to win games in the nonconference against potential NCAA teams Siena, Rhode Island and Saint Mary's before a humbling loss to Western Michigan in Honolulu on Dec. 23 -- its last loss -- set the team straight.
"It was good for us to be on the road because we had to take a hard look at ourselves," Coen said. "It was like a foreign tour. We were together all the time and had to go eat together breakfast, lunch and dinner and figure it out."
What happened was Northeastern got back to defending and Chaisson Allen started to play the point like Coen expected, teaming up with potential CAA Player of the Year Matt Janning.
Now Coen says the Huskies are cheering for a BracketBusters game "that will help us the most."
They're not alone.