Category archive:

Old Dominion Monarchs
July, 6, 2012
07/06/12
11:59
AM ET
When it came to bylaws about departing teams, the Horizon, Colonial and America East didn't buckle.
There are consequences that come along with a departure. Being ineligible for the conference tournament is one of them for these leagues. Butler (Horizon) and Virginia Commonwealth (CAA) accepted that and got to the Atlantic 10 as fast as possible.
What school wouldn't do the same if the opportunity existed? Scheduling, television exposure and tourney access are the most important reasons -- outside of the financial benefits -- for being in a conference.
Take away the ability to play for an automatic NCAA tournament berth and the season can seem like a waste. Postseason bans, such as the one USC had recently and the one Connecticut will endure this season, take the air out of the season -- even if the schools and coaches do all they can to create a new goal of winning a regular-season title.
Even though both would likely be contenders for at-large berths, Butler and VCU took no chances.
Boston University, on the other hand, probably would leave for the Patriot League tomorrow if it could. The Terriers weren't pleased with the decision by the America East to uphold its bylaws, but they are stuck. The current team will have to deal with it.
Old Dominion and Georgia State were hoping the CAA would lift its ban, but it did not. Georgia State went as far as to explore trying to get into the Sun Belt sooner, but that didn't happen.
The Horizon, CAA and America East are actually not the norm historically.
After losing members in the past decade, the Big East, Atlantic 10, Big West, C-USA, Mountain West and WAC have not even broached the subject, much like the Big 12 didn't when it lost members to the Pac-12, Big Ten and SEC. The Big East didn't block West Virginia from playing in the conference tournament a year ago after it announced its hasty departure to the Big 12. Perhaps the smaller conferences are worried that the league will have only one bid and don't want it to go to the school with one foot out the door.
[+] Enlarge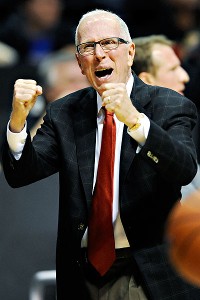 Christopher Hanewinckel/US PresswireSteve Fisher and the Aztecs will get a chance to compete in their final MWC tourney.
But when I asked some of the coaches playing in their final season in a conference, the question was met with near astonishment.
Pitt coach Jamie Dixon wanted to know if I was joking. San Diego State's Steve Fisher said he hadn't even heard of these conferences not allowing schools to participate. Utah State's Stew Morrill said he didn't think the WAC would do such a thing since previous schools that left weren't treated in that manner. Memphis coach Josh Pastner said he would be incredibly disappointed if that occurred. (C-USA took away the conference tournament from the city of Memphis but didn't remove the Tigers' ability to play for the title.)
But what would happen if these conferences turned on the departing teams in 2013? It's too late to change the bylaws and isn't going to happen, but it's still fun to play the "what if" game.
What effect would it have had on the Big East to take Pittsburgh and Syracuse out of the tournament?
A serious blow. The league may be squabbling with the two schools -- and will do so in court with Pitt -- but it needs these two in the conference tournament as long as possible. Syracuse is a natural draw at Madison Square Garden. Taking the Orange out of the Big East would have been a major mistake. The Orange and Panthers still don't have a definitive arrival date in the ACC, but it's likely to be in the summer of 2013.
What would it have done to Syracuse and Pitt for a potential at-large berth?
Likely no issue at all. Both have teams that look like virtual locks for an at-large bid.
What would happen to the Atlantic 10 if Temple and Charlotte weren't allowed in the tournament?
Let's be honest: Charlotte won't be missed on its way back to Conference USA. But Temple's departure will be a hit, as the Owls have consistently been a major part of the A-10 tournament. Not having a Temple presence, prior to the Owls' exit to the Big East, would have hurt the tourney's debut in Brooklyn. Bringing in Butler and VCU will offset the loss, but Temple still is very much associated with the A-10 brand.
What if the Big West banned Pacific?
That would be just cruel. The Big West has had teams leave before, and it might happen again. Plus, this is coach Bob Thomason's final season after a quarter-century at his alma mater, and he said he has a team that could challenge for the Big West title. He has been a loyal member, and Pacific is leaving for the all-private WCC. No harm in letting the Tigers finish up, and it won't hurt the Big West one bit.
What if Conference USA blocked Memphis, SMU, UCF and Houston?
Then C-USA would have a tournament that lacked any sort of buzz. Marshall is a legitimate title challenger to Memphis, and UTEP should be in contention. If the Tigers had been blocked from being in the tournament, after it was taken from the city, C-USA's relevance during Championship Week would have been diminished even more. It's still hard to say how many Memphis fans will travel to Tulsa, Okla., but the Tigers do have a significant following. This was a smart move by the league to not play bitter politics with the departing members.
What would the Mountain West tournament be like without San Diego State and Boise State?
A bit less exciting. The Aztecs have been one of the consistent winners in the MWC with UNLV and New Mexico. Take SDSU, off to the Big West, out of the event in Las Vegas, and the tournament would lose luster. No offense to Boise, but no one would likely notice if the Broncos weren't invited. But SDSU matters a great deal. The Aztecs will be a top-25 team alongside UNLV. Taking them out of the conference tournament would have been a storyline the MWC doesn't need in March.
What would a WAC tournament look like without Utah State and San Jose State?
Not worth it. USU has been the benchmark program in the WAC since Morrill arrived. New Mexico State can't anchor the conference on its own. NMSU needs a rival, and Utah State has been that nemesis. San Jose State wouldn't be missed, but the Aggies' absence would have been a glaring omission in Las Vegas. Rebuilding Utah State will likely need the tournament to get a bid this season, but the WAC was in no position to be punitive. So the Aggies will have one final chance to represent the WAC before it joins SJSU and former WAC members Fresno State and Nevada in the Mountain West.
Colonial Athletic Association commissioner Tom Yeager called Southern Conference commissioner John Iamarino on Thursday to give him the professional courtesy of knowing that he would be contacting a few of Iamarino's member schools, widely believed to be Davidson and College of Charleston.
[+] Enlarge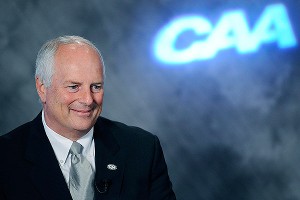 Rafael Suanes/US PresswireCAA commissioner Tom Yeager has seen three member schools depart in recent weeks.
"I appreciate that and I'm hoping to convince them [to stay]," Iamarino said. "We've got league meetings coming up [May 29-June 1 in Asheville, N.C.] and like every other conference, except the Ivy League, I suspect, 85 to 90 percent of the issues will be centered around realignment issues."
The trickle-down effect of conference realignment seems to never end. The CAA loses anchor programs VCU (to the Atlantic 10 in the fall of 2012) and Old Dominion (to Conference USA in the fall of 2013). Those two moves came on the heels of Georgia State moving to the Sun Belt.
The CAA has to do something to maintain relevance, and the Southern Conference, and possibly the America East Conference, are ripe for the pickings. (America East commissioner Amy Huchthausen said the league won't comment on any overtures from the CAA or anyone else toward its programs, such as Boston University and Stony Brook.)
"[The CAA] is such a Southern league I think they have to replace them with Southern teams," Delaware coach Monte Ross said. "I think they have to have that Southern flavor that the league is known for, and Davidson is a quality name and program."
Said Towson coach Pat Skerry: "But we've got to get someone in the North, too. Stony Brook could be a viable option."
Davidson and College of Charleston are the most obvious choices.
Iamarino is well aware of the interest in his league's programs. But he said he has every intent of reminding the schools that they are in a competitive league and the proximity of the member schools offers low travel costs.
"We're all within the geographic footprint," Iamarino said. "We avoid missing class time. The fans can travel to road games. That's why conferences were normally put together in the first place."
Iamarino said the exit fee is $300,000 for notice of two years or more and $600,000 for less than two years.
Charleston athletic director Joe Hull said the school doesn't have a position on the matter yet and said his school was happy in the Southern Conference.
Davidson athletic director James Murphy said it wouldn't be appropriate to comment on conference affiliation. But head coach Bob McKillop was willing to speak.
He said that 25 percent of the 1,800 students on campus play a sport, meaning that a move to the CAA affects a high percentage of the student population.
[+] Enlarge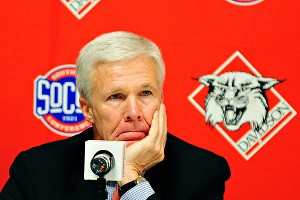 Jeff Siner/Getty ImagesDavidson head coach Bob McKillop doesn't necessarily believe the Wildcats' prospects would be improved by a move out of the Southern Conference.
"We have rigorous academic standards," McKillop said. "We've been to the NCAA tournament five times and the NIT twice in the past 10 years. We present a unique situation. But any decision will be made at the presidential level, not just a basketball decision."
Translation: Davidson is doing just fine in the Southern and doesn't necessarily need to move to the CAA. It also means that their options may not be limited to the CAA. The CAA needs Davidson to beef up its membership and provide a consistent competitor for the likes of George Mason and Drexel.
"VCU left the Colonial for the A-10, but who is to say the A-10 isn't going to change in the next three to four months? Who is to say the Big East or who is to say the Colonial won't change more?" McKillop said. "The dominoes have been blowing from the BCS. There are so many kinds of hypotheticals. Maybe James Madison and Delaware will go to the MAC in football or William & Mary to the Patriot."
Northeastern coach Bill Coen said he's hopeful that there are no knee-jerk reactions in the CAA.
"I think everyone needs to take a breath," Coen said. "You have to guard against doing something quickly that might not be a long-term solution."
George Mason athletic director Tom O'Connor said the onus is on the remaining schools to continue to show a commitment to remaining in the league.
"We all need to be proactive," O'Connor said. "You can't be stagnant. If you look internally and basketball is important to you then make sure you give the program all the tools to be successful."
Georgia State and Old Dominion are in the Colonial next season, but league bylaws prohibit their participation in the conference tournament. Towson and UNC Wilmington are ineligible for the tournament based on poor academic scores; Towson is appealing.
At this juncture, unless something changes, only seven schools would be eligible for the conference tournament in 2013.
O'Connor said the bylaw preventing Old Dominion and Georgia State from postseason participation should be changed when the league meets next week.
"My philosophy is that we should let the student-athletes play in championships," O'Connor said. "I think we can have conversations about our bylaws in the CAA."
O'Connor said there should be discussion about suspending or doing away with the rule altogether. He said the bylaw was put in place 10 years ago but "the world has changed in a lot of different ways. Student-athletes should have an opportunity to participate in championships."
If the membership can resolve the tournament issue, that might be the first step in trying to move ahead as one conference thinking about each other rather than the individual interests.
The CAA has to stick together at this point, or it will quickly fade from relevance.
August, 26, 2011
08/26/11
11:27
AM ET
The Colonial Athletic Association buzz is at an all-time high.
VCU went to the Final Four last season.
George Mason went in 2006.
[+] Enlarge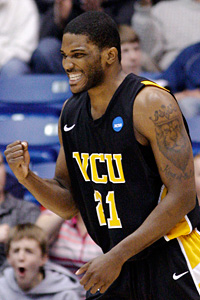 AP PhotoVCU went to the Final Four last season as a No. 11 seed.
The conference has put two more teams in the Final Four in the past six seasons than every other league outside the power six, although Memphis went from Conference USA in 2008 and Butler represented the Horizon League the past two years.
But the CAA still hasn't solved its provincial problem. The Virginia-based league hasn't had a team outside the state win the regular-season conference title since UNC Wilmington in 2006, and outside of Wilmington capturing the title four times since 2000, no other team outside Virginia has won the title since former member Navy did in 1987.
Look deeper at the stats, and you'll see that no Northern team has won the conference, either, unless you're going to count Navy's three-year title run from 1985-87 as a team from the North because it's in Annapolis, Md.
Granted, the conference is made up of five teams from Virginia, so that tilts the odds in the favor of the state. But the former America East schools -- Delaware, Drexel, Hofstra, Northeastern and Towson -- that arrived to change the demographic of the Colonial in the middle of the past decade haven't been able to crack through and earn a regular-season CAA title or a conference tournament championship.
That has to change for the CAA to truly be looked at as a game-changing conference, not just a collection of strong schools at the top with VCU, George Mason and Old Dominion as the most consistent players.
"It's pretty much been a steady three of late with VCU, Old Dominion and Mason," ODU coach Blaine Taylor said. "We've been more consistent than them, but we just don't have a Final Four run."
And if there is a chance that a Northern team can finally break through this year, the one candidate is Drexel if it can knock off favorite George Mason.
"Northern teams have always been in the mix, but it's been tough to win it," Northeastern coach Bill Coen said. "I think Bruiser [Flint] and Drexel have a chance. Drexel does two things terrific every game. They are outstanding defensively and one of the best teams in the country in rebounding. If you're going to separate yourself, it will come down to someone making a play at the end of the game, and in this league, typically you have to have upperclassmen to win it."
VCU had a strong senior class last season led by Joey Rodriguez and Jamie Skeen. Mason had an upperclassman-dominated team in 2006. ODU, which finished second to Mason last season, had a senior-dominated lineup.
Drexel didn't. The Dragons finished one game behind VCU and lost by two points in the CAA quarterfinals to the Rams.
"If VCU doesn't win that game they probably don't get a bid and ultimately go to the Final Four," Taylor said. "Drexel will be quite good this year. The thing that separates our league from other BCS conferences is that we have a lot of seniors or upperclassmen."
Drexel actually has more of a mix this season, but that could be enough with sophomores Dartaye Ruffin and Frantz Massenat complementing juniors Chris Fouch and Derrick Thomas and senior Samme Givens.
"We were one of the younger teams in the league last season and we won games," Flint said. "But we essentially return everybody."
The problem for the CAA is still a perception-based issue. Drexel won at Louisville last season, won 21 games and lost out to fellow member Hofstra for the College Basketball Invitational bid out of the CAA. James Madison, which finished behind Drexel, also received a CBI bid. The CAA had no NIT teams. Drexel didn't have any other postseason opportunities.
"VCU came in fourth in our league, and people forget that," Flint said. "Our conference doesn't get the respect it deserves. We're good, but we won't surprise anybody."
Flint didn't take any one-way guarantees this season and that will hurt the Dragons. Two seasons ago, the Dragons played at Syracuse and at Louisville last season -- splitting the two games.
Drexel has a soft schedule with games against still-struggling Saint Joseph's, likely second-place Ivy Princeton, Binghamton and St. Francis (Pa). Flint said he didn't want to add more guarantee games like last season because he had only three home games slated originally. A year ago, Drexel played only four nonconference home games. That puts even more pressure on the Dragons to do well in the Paradise Jam, in which the Dragons could get a chance to play upstart Virginia in their bracket, then possibly Marquette on the other side -- two possible NCAA tournament teams. Flint said he's working on a deal to play co-MAAC favorite Fairfield.
"We understand that to win this league you may have to go 16-2, but we're in the same boat as Mason was last year," Flint said. "We'll see. I'm not going to fool myself. The expectations are high for us. We can't let games get away from us. We want to be the first team not from Virginia, not Wilmington, to win a championship."
July, 28, 2011
07/28/11
9:19
AM ET
LAKE BUENA VISTA, Fla. -- Quick hitters after talking to several coaches here at the AAU nationals:
• The U.S. World University Games team -- led by Purdue coach Matt Painter (U.S. team head coach) along with Butler coach Brad Stevens and Tennessee coach Cuonzo Martin (U.S. assistants) -- continues to lose key players. Xavier's Tu Holloway turned down the invite to stay and play with his XU teammates. Wisconsin's Jordan Taylor is having minor ankle surgery. And now Painter said that UConn forward Alex Oriakhi is also out in order to rest an injury. Stevens said losing Oriakhi will be a big blow since the team that heads to China next month for the competition needs a rebounder like him in the tournament. Painter said Detroit's Ray McCallum Jr. and UConn's Shabazz Napier were added to the tryout list. Pitt's Ashton Gibbs and Syracuse's Scoop Jardine are still on the roster and are certainly favored to make the squad.
• There are still 22 players trying to make the U.S. squad and they'll compete and train in Colorado Springs from Aug. 4-7. The event runs Aug. 13-22 in Shenzhen, China. A number of players could use this international stage as a springboard for their college seasons; these players include Alabama's JaMychal Green, Texas A&M's Khris Middleton, Kentucky's Darius Miller, Northwestern's John Shurna, Minnesota's Trevor Mbakwe, Vanderbilt's John Jenkins, Michigan State's Draymond Green, Missouri's Kim English and Marcus Denmon and Notre Dame's Tim Abromaitis.
But perhaps more than any other player, Cincinnati's Yancy Gates needs to make this team and show he can be a force in order for the Bearcats to continue their rise in the Big East. Last season, he was suspended for a game due to team-related issues. Cincinnati coach Mick Cronin said Gates can come out of this looking like a team player and a stronger player who can change his image with a positive performance in China.
• Painter said fifth-year senior Robbie Hummel is tired of answering questions about his right knee (ACL surgery). And so are the Boilermakers. He said Hummel should be good to go once the season starts. Meanwhile, the Boilermakers are troubled by the foot surgery for John Hart that will keep him out for an extended period. Hart has had trouble with his right foot for quite some time.
• Villanova coach Jay Wright said JayVaughn Pinkston has been cleared by the school to play for the Wildcats this season. Pinkston was not allowed to play last season due to an assault charge. He was expected to have a major impact on last season's team prior to the incident. The Wildcats are prepping for a trip to Amsterdam, where they will play a few national teams. Wright said the Wildcats will be much different than any squad he's coached in recent years, with the team centered more around big men rather than being guard-oriented.
[+] Enlarge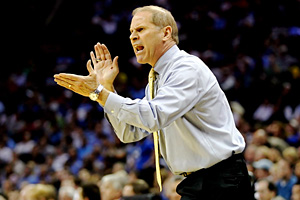 Kevin C. Cox/Getty ImagesJohn Beilein is looking forward to the two new guards he'll have on campus this season.
• Michigan coach John Beilein said the addition of freshmen guards Trey Burke and Carlton Brundidge should allow Stu Douglass to return to his natural off-guard position. Losing Darius Morris to the NBA draft was a huge blow to the Wolverines, but Tim Hardaway Jr. showed with the U-19 team in Latvia that he can create quite well with the ball in his hands. If the freshmen can be facilitators and Douglass can play off them, the Wolverines may not take a step back. Michigan is in the Maui Invitational in a loaded field, has to travel to upstart Virginia in the ACC-Big Ten Challenge, and gets a sleeper Big 12 team at home in Iowa State. The Wolverines are likely going to add a nonconference game at Arkansas that will take place during the Big Ten season.
• While on a recruiting trip in February, North Carolina coach Roy Williams took a side trip to an aircraft carrier in San Diego to see what it would be like in advance of the Carrier Classic on Nov. 11 against Michigan State. The USS Carl Vinson will be the host of the game, but it wasn't the ship that Williams toured. Williams wanted to see how this would work with a game on top of the ship deck. He couldn't get over the narrow passageways through the ship and wondered how his taller players would maneuver through the ship to get to the deck. Well, apparently there will be a lift that will help that occur so that shouldn't be a problem.
• Williams isn't ruling out Leslie McDonald coming back this season from an ACL injury. Williams said McDonald will have surgery on Aug. 3 and made it clear there's no reason to make any declarative statements at this juncture about a return.
• There was no consensus among the coaches in Orlando about whether to add a stipend, how it would be handled and how it could be divided up for all student-athletes. UConn's Jim Calhoun and Louisville's Rick Pitino said they would like to see $75 to $100 a week for the athletes -- roughly $400 a month.
• Not one coach endorsed the NCAA's new draft early-entry withdrawal date of April 10, 2012, after which no player will be allowed to enter the NBA draft. Makes you wonder why this was passed. Every coach who discussed it said it would lead to more poor decisions of players leaving early.
• Ole Miss coach Andy Kennedy tossed out this prediction about Vanderbilt: The Commodores are a Final Four contender.
• Old Dominion coach Blaine Taylor has gone to the Fred Hill makeover school. Hill, the former Rutgers head coach and current Northwestern assistant, was bald when he was head coach of the Scarlet Knights. Now he's gone with long hair in the back and new glasses. As for Taylor, he got rid of his famed mustache and dark hair. He's gone with something of an auburn or almost light red look. He was standing to the side of our TV set, and I wasn't the only one who had no idea who he was until you could read ODU on his golf shirt.
• Stanford is prepping for a trip to Spain in early September. The Cardinal and coach Johnny Dawkins need to get away to figure out who will stand out for them now that Jeremy Green is gone.
• New Fairfield coach Sydney Johnson squeezed in a team trip to Italy next month, which will be critical for him to get to know his players more and see how Boston College transfer Rakim Sanders meshes with a team that won the MAAC regular-season title last season and is back almost in full.
• The travel some of these coaches put on themselves is a bit ridiculous. Dawkins was in Orlando on Monday, then took off for Phoenix and then Los Angeles before he headed back to Orlando by Thursday. Temple coach Fran Dunphy was in Orlando on Monday and was off to Phoenix before a return to Orlando by the end of the week.
• New Maryland coach Mark Turgeon said he has reviewed his team enough to know that scoring up front will be a challenge. He said he'll likely go with four guards on the court on a consistent basis.
• Northwestern's Bill Carmody clearly wanted to be noticed in showing his school spirit. He had a rather loud pair of purple sweat pants that I'm not sure you could or would want to buy at the campus bookstore. Michigan State's Tom Izzo went with Spartan green, which Carmody pointed out, but the green was certainly more muted than the purple.
November, 23, 2010
11/23/10
2:31
PM ET
Wichita State's loss to Connecticut in the Maui Invitational put the Shockers in the losers' bracket against teams that won't be in the NCAA tournament.
The Shockers have one more nonconference game against a team that is likely bound for the NCAAs -- at San Diego State on Dec. 4.
[+] Enlarge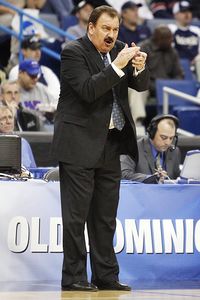 Derick E. Hingle/US PresswireBlaine Taylor knows that his Monarchs will be tough to beat.
That's why there is incredible pressure on teams outside the power six conferences to win the first game in these tournaments in order to ensure they'll play NCAA-bound teams on a neutral court.
Unless, of course, the nonconference schedule has more opportunities.
That's why Old Dominion coach Blaine Taylor wasn't sweating it as his team was heading off to the Paradise Jam in St. Thomas, U.S. Virgin Islands, this past week. He knew that even if the Monarchs didn't win the event, they would have more opportunities to enhance a possible at-large bid in March.
The Monarchs did end up winning the event -- beating Saint Peter's, Clemson and then Xavier Monday night -- and now are in an even better situation going forward toward a possible bid. Granted, of those three teams, Xavier is probably the only one that will be in the NCAA tournament, but that's more than Wichita State can say at this moment.
The Monarchs lost to Georgetown to open the season on Nov. 12. Old Dominion hosts Richmond (Dec. 1) and -- assuming the Spiders will still be an A-10 title contender and NCAA team despite losing at Iona -- this game will help ODU. The Monarchs also play another possible NCAA team in Dayton (the Flyers won at Ole Miss to show their strength) and visit Missouri, a Big 12 title contender, on Dec. 30.
And it will only help Old Dominion's strength of schedule in the Colonial Athletic Association if VCU does well in the NIT Season Tip-Off semifinals against Tennessee and then either UCLA or Villanova on Wednesday and Friday in New York.
Old Dominion didn't put as much pressure on itself prior to the St. Thomas trip -- and still won. "We don't have to win all of these games to position ourselves for at-large,'' said Taylor by phone from St. Thomas on Tuesday. "But we're going to be hard to beat. If you gave me a choice of beating Georgetown and winning this tournament, I'd take winning this tournament. I think if you'd talk to John [Thompson III of Georgetown], he would say the same thing that playing that game helped pay dividends for us winning here and them winning in Charleston [at the Classic].''
The Monarchs were in control for most of the Georgetown game but failed to close out the Hoyas at home. ODU won three close games, all with victory margins under nine points, in St. Thomas. "We were able to get a barometer in that Georgetown game,'' Taylor said. "We just didn't get it done late. We've got a resilient bunch. In the three games down there, we were physical and resilient. We believe we can play with anybody.''
But unlike ODU, VCU didn't fill its schedule with more quality games. The Rams also play at Richmond and go to South Florida, which is one of the worst teams in the Big East. Playing at UAB may not pay dividends either since the Blazers aren't projected to be an NCAA team. That's why getting to New York with the win against Wake Forest was critical in helping the Rams to a possible at-large situation. VCU needed to play higher-level teams for its strength of schedule and potential NCAA résumé.
Taylor said having VCU in the NIT semifinals is a huge get for the CAA. Obviously, VCU has a harder road to winning the NIT than ODU did at its tournament in St. Thomas. But there is an expectation for the Monarchs to win titles.
Taylor said that it has rubbed off on his veteran players. When the Monarchs were on the verge of winning the game, senior Ben Finney wanted to make sure the players weren't getting too excited.
"Some of the younger guys were celebrating and cheering, and Ben runs down there and tells them that it was too much. He said 'This is what we do,'" Taylor said. "What these tournaments continue to prove is that there is parity with a lot of schools out there, not just with the favored BCS sons. I know we will be hard to beat.''
Quick hitters
• Alabama left the Paradise Jam with an 0-3 mark after losing to Saint Peter's on Monday. The Crimson Tide were quick to say at SEC media day last month that they were a potential NCAA team and SEC West champ.
• Since beating Georgia Tech at home on Nov. 15, Kennesaw State has lost three straight games to Chattanooga, Alabama State and Northern Arizona.
• San Diego State concluded its season-opening five-game road trip undefeated. I'm not sure another ranked team or possible conference champ of a top-10 league will have something similar to claim prior to New Year's -- three true road wins and two neutral-site wins. The Aztecs are already on the board in March as a possible NCAA team.
• Kentucky coach John Calipari said Monday night that he expects Enes Kanter's appeal to be heard sometime next week. Kanter was ruled permanently ineligible by the NCAA staff for receiving excessive benefits beyond what was allowed while he played for a Turkish club team prior to coming to the United States for his senior year in high school. Kentucky is hoping that the appeals committee, made up of the membership and not the Indianapolis NCAA staff, will look at Kanter's desire to play college basketball and conclude that the benefits were for educational expenses. Kanter has remained in Lexington while waiting for a final decision.
• Wake Forest lost at home to Winthrop. The Demon Deacons have already fallen at home to Stetson and VCU. Pencil in Wake Forest for a last-place battle in the ACC.
• You can see why the WAC wanted Montana. The Grizzlies look to be a title contender along with Utah State after beating Idaho, 75-33, on Monday.
November, 12, 2010
11/12/10
12:05
PM ET
College basketball starts with a heavy dose of weekend games, before ESPN's 24-hour Tip-Off Marathon offers up a slew of must-see affairs Tuesday. But before looking forward, there must be some housecleaning done on a few issues. So here are my first impressions from a sprinkling of games this week: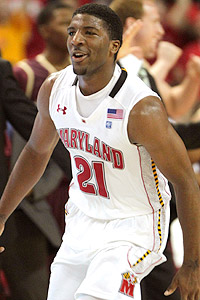 AP Photo/Rob CarrPe'Shon Howard made quite a first impression for Maryland this week.
Name to remember: Maryland freshman point guard Pe'Shon Howard
The offseason question for the Terps was who would replace Greivis Vasquez's leadership, moxie and overall late-game magic. The answer came rather quickly toward the end of the College of Charleston game. Howard made not just one, but two big-time shots to beat the Cougars. The second was all Howard, taking the ball down court and hitting a fall-back dagger of a jumper to win the game at the last second. I loved Maryland coach Gary Williams' stunned face as the buzzer sounded. He was obviously relieved, but also had to be thrilled that he had found a player who shares Vasquez's drive to do something special when the game matters most. Howard was an efficient 8-of-11 (2-of-7 at the line, though) in two games this week, scoring 19 points, dishing out 12 assists and snagging five steals.
Illinois can score: The Fighting Illini have been offensively challenged in recent years (who can forget the 38-33 loss to Penn State in '09?). But in two games this week -- albeit against poor competition -- Illinois averaged 81.5 points a game. That bodes well for a team that has plenty of talent that can push the basketball (expect games against North Carolina and at Gonzaga to be high-scoring affairs).
Texas has another stud freshman: Forward Tristan Thompson averaged 14.5 points in two games, but was even more impressive with a 17-point, seven-rebound, three-steal performance in a win over Louisiana Tech on Wednesday.
Pitt will rely on its veteran backcourt to win big: The Panthers played without injured forward Nasir Robinson in the first two games, and the consistency and production of the frontcourt is still an unknown. But Pittsburgh has two players in Ashton Gibbs and Brad Wanamaker who have matured into leaders, reliable scorers and money players in the final few minutes. Jamie Dixon can rely on these two to take over a game when needed. They carry themselves as mature young adults, ready to take the baton of leading Pitt to a possible Final Four.
Still-unresolved situations:
• Baylor coach Scott Drew said in a text message Thursday night that there had been no movement on reinstating senior guard LaceDarius Dunn for Friday's opener against Grambling State. The Bears can get by without Dunn for some time since the schedule is soft until Arizona State on Dec. 2 and Gonzaga in Dallas on Dec. 18.
• Kansas coach Bill Self said in a text Thursday night that he was hopeful there will soon be a resolution on the eligibility of point guard Josh Selby. But it didn't sound promising for the immediate future: Friday's game against Longwood and Monday against Valparaiso. Kansas starts the meat of its nonconference schedule with a rugged seven-game stretch -- Ohio, Arizona, UCLA, Memphis in New York, Colorado State, USC and at California. All of those teams, save perhaps Cal, should be in postseason contention. But the game against the defending Pac-10 champion is in Berkeley, which still makes it a difficult stop.
• Minnesota coach Tubby Smith suspended Devoe Joseph for a violation of team rules. The Gophers open against Wofford and then play Siena on Monday before going to Puerto Rico for three games, starting with Western Kentucky. Joseph is one of the better scorers for the Gophers, but this Minnesota team can take at least one suspension (unlike last season's team). In discussing this with the Minnesota staff Thursday night, I got the sense Joseph will be back sooner rather than later as long as he adheres to Smith's rules.
And now a glimpse at the weekend ahead:
Best games
No. 21 Georgetown at Old Dominion, Friday, 7 p.m. ET: The Monarchs are a CAA cofavorite, while Georgetown is a top-five Big East team. The Hoyas, who have lost two of their past three against the Monarchs, will be entering a rocking arena and will have to play well to win. This should have a February feel to it. Clearly, an ODU win will have more shelf life than a Georgetown road win. And the Hoyas have already started the season with one setback, as the school announced Friday that freshman center Moses Ayegba has to sit out the first nine games because someone who wasn't an immediate family member paid for his plane ticket to come to the United States before he enrolled in high school.
[+] Enlarge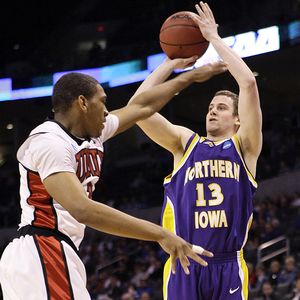 AP Photo/Tony GutierrezFresh off charming America in March, Johnny Moran and his UNI teammates open Friday at Syracuse.
Northern Iowa at No. 13 Syracuse, Friday, 7 ET (ESPN3): Don't be fooled into thinking this is the same Panthers team that upset Kansas. It's not. The Panthers lost too much of that squad to be looked at as a major threat to win at the Carrier Dome. But they will test the Orange zone. How well Kris Joseph emerges as the go-to guy and the impact of Fab Melo along the backline will be interesting developments to track.
Seton Hall at No. 22 Temple, Friday, 7:30 ET: The Pirates have been flying under the radar during all the Big East preseason talk, but still have enough talent to be a major player in the league's muddled middle. Meanwhile, Temple is the Atlantic 10 favorite and the one school at the top of the conference that has had no drama in the offseason. But a loss here at home could start the questions for Fran Dunphy's group.
Sneaky game to watch
Southern Miss at South Florida, Friday, 7 ET: The Golden Eagles project themselves as a real threat to take down Memphis in Conference USA. The Bulls are rebuilding a bit after losing Dominique Jones to the NBA. But USF is still a Big East team that won 20 games last season, so a road win here by Larry Eustachy's crew will go a long way toward earning credibility.
Notable debuts
East Tennessee State at No. 10 Kentucky, Friday, 7 ET (ESPN3): How well Brandon Knight plays at the point, Doron Lamb and Terrence Jones play on the wing and Eloy Vargas plays inside will all be interesting subplots for an Enes Kanter-less Kentucky squad. Don't forget that ETSU has gone to the NCAA tournament in each of the past two years. An upset is highly unlikely, but a young UK team had all sorts of problems with teams like Miami (Ohio) and Sam Houston State early this past season.
North Carolina A&T at No. 5 Ohio State, Friday, 7 ET (ESPN3): The Buckeyes' new stud forward, Jared Sullinger, is being billed as the possible Big Ten player/freshman of the year. Let's see if he lives up to the early-season hype.
Lipscomb at No. 9 North Carolina, Friday, 7 ET: The Tar Heels will be major players if freshman Harrison Barnes is a stud. This is our first look at America's No. 1 recruit, his fellow stud freshmen and a motivated group of UNC returnees.
Chattanooga at No. 20 Tennessee, Friday, 9 ET: The Vols have been the center of controversy this offseason due to the admitted NCAA violations by head coach Bruce Pearl and his staff. Then Tennessee lost an exhibition game to Indianapolis this week and had the critics howling. But the focus can, at least for now, return to the court and the expectations around Tobias Harris in his first game.
Detroit at New Mexico, Saturday, 9:30 ET: The Titans start the season at the refurbished Pit and get to unveil the hyped Ray McCallum Jr. The Lobos will play Tennessee transfer Emmanuel Negedu, who had to have a defibrillator put in his chest after he nearly died in 2009.
Tricky road starts
San Diego State at Long Beach State, Saturday, 7 ET: The MWC favorites begin a five-game road swing to start the season that will take them next to Spokane and then to Oxford, Ohio. Long Beach State is a Big West title contender and a heck of an opening challenge for a team with the highest expectations in SDSU history.
Florida State at UNC Greensboro, Sunday, 3:30 ET: The Seminoles, who fancy themselves to be a possible second-place finisher in the ACC, are going out of their way to challenge themselves this season with interesting road games. Florida State also goes to FIU on Nov. 18 and Loyola Marymount on Dec. 18 before opening up the Diamond Head Classic in Honolulu with a true road game against host Hawaii on Dec. 22.
November, 11, 2010
11/11/10
11:20
AM ET
Rhode Island had a shot to beat Pitt but faded in the final minutes.
College of Charleston was one shot away from a win, but it couldn't defend Maryland's Pe'Shon Howard.
Both of those games came on the road for programs trying to make early-season-statement wins that could've had shelf life for the rest of the season.
[+] Enlarge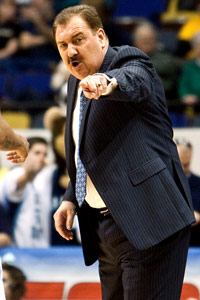 Icon SMIODU coach Blaine Taylor's tough early-season schedule begins with Georgetown at home on Friday.
Old Dominion doesn't have that disadvantage. The Monarchs get a ranked team, No. 21 Georgetown, at home Friday night. It's the final game of two separate home-and-home series. Surprisingly, Old Dominion has won the two games at Georgetown, on the Hoyas' campus at McDonough Gym, and lost the one game at home in Norfolk, Va. "I'm not sure there's a tougher opener than this one,'' ODU coach Blaine Taylor said. "But we're a good matchup for them. We're kind of like a Big East team. We're big and athletic. We can play with the big and athletic teams in the Big East, the beauty parlor teams in the ACC and the speed teams in the Big 12. It's the Big Ten that has given us trouble with their size, length and athleticism.''
Old Dominion, which had lost three straight games to Missouri, Mississippi State and Richmond in the three weeks prior to winning at Georgetown last season, won the CAA conference, took Notre Dame by one point in the NCAA tournament first round and then lost to eventual Elite Eight participant Baylor in New Orleans.
Taylor has led the Monarchs to the NCAA tournament three times in six seasons, and he knows that his team has a golden opportunity in getting a power-six school like Georgetown at home. Sure, the selection committee will put more stock on a road or neutral court win, but beating the Hoyas at home will carry weight. "It's not like the BCS where you lose one game and you're done,'' Taylor said. "We've got a lot of games left. And we've been awfully good the last five or six years.''
Taylor did upgrade the schedule, and this team should contend with VCU and George Mason for the CAA title. The Monarchs return the core of the team, save CAA tournament MVP Gerald Lee. Their stingy defense, which ranked sixth nationally, shouldn't dramatically change, and the four scorers after Lee -- Frank Hassell, Ben Finney, Kent Bazemore and Keyon Carter -- all return.
That's why Taylor didn't hesitate in scheduling quality games beyond the Hoyas. Old Dominion is in the Paradise Jam in St. Thomas next week with possible NCAA-bound teams Xavier, Seton Hall and Alabama. And it would be foolish to discount Clemson as a possible NCAA team. The organizers of the Jam actually seeded the event based on last season's power ratings, pitting Xavier and ODU on opposite brackets. The seeds were: 1. Xavier, 2. ODU, 3. Clemson, 4. Seton Hall, 5. Alabama, 6. Long Beach State, 7. St. Peter's, 8. Iowa. That means ODU could face Clemson in a semifinal and avoid the loaded other side (Xavier, Seton Hall or Alabama) until the final. Regardless, ODU will get at least two quality games in the Virgin Islands.
Hosting Atlantic 10 co-favorite Richmond on Dec. 1 and then another possible A-10 title team in Dayton on Dec. 11, before a trip to Big 12 top-three team Missouri on Dec. 30, should position the Monarchs quite well for a possible at-large bid, if they can survive the CAA well enough.
But it all starts with Georgetown.
Taylor credits Georgetown coach John Thompson III for continuing the series a second time and of course his willingness to open up his season on the road. "I wanted to test our team,'' Thompson said. "This team needs to be tested.''
A year ago, Thompson did something similar by opening up at Tulane (an easy win) and playing Temple (a grinding one-point victory). But opening up at ODU is a tougher task, especially since the Monarchs have played the Hoyas well. "They play a Big East brand of basketball,'' Thompson said. "I want this group to be tested early and often. That's why we put this schedule together.''
The Hoyas will lean heavily on a stellar group of returning guards in Austin Freeman (the preseason pick for Big East player of the year by the league), Chris Wright and Jason Clark. The frontcourt will be a mixed bag, as JT3 looks to replace Greg Monroe. He said the early leader upfront has been Julian Vaughn, who has stood out so far in practice. Henry Sims, Jerrelle Benimon, Hollis Thompson and freshman Nate Lubick will be rotating through. Freshman Moses Abraham, who worked out last May a few times with Kentucky's DeMarcus Cousins in Washington D.C., is a work in progress but will contribute.
The Hoyas return from ODU to face a home game against Tulane, three games in the Charleston Classic and back at home against UNC Asheville. Then it gets interesting again as the Hoyas visit Missouri, host Utah State and go to Temple in a three-game stretch from Nov. 30 to Dec. 9.
The rugged nonconference slate ends at Memphis on Dec. 23. Georgetown opens the Big East schedule with two of three on the road (at Notre Dame, home DePaul, at St. John's) before West Virginia and Pitt arrive in D.C.
JT3 has completely changed the Hoyas' scheduling philosophy, and teams such as ODU are the beneficiaries. It doesn't hurt that Thompson doesn't mind challenging his team on Day 1 after the sour taste of a stunning loss last season in the first round of the NCAAs to Ohio by 14 points. "That was disappointing after the way we played to get to the Big East championship game [losing on a last possession to West Virginia],'' Thompson said. "We've got a veteran team, and I'll be interested to see how we respond. There are no soft spots on the schedule.''
January, 26, 2010
01/26/10
2:25
PM ET
Siena is in the midst of a three-game road swing and is currently without its best player,
Edwin Ubiles
, who is out with a shoulder injury.
If the Saints, who are cruising in the MAAC with a 10-0 record, can survive this stretch -- let alone another five-game string against upstart Iona and Fairfield at home and Niagara, Canisius and Rider on the road -- still unbeaten in the league, then the BracketBusters opponent on either Feb. 19 or 20 will be even more important to the Saints' NCAA at-large hopes.
It's essentially Butler or bust.
If the Saints can win this week (at St. Peter's Thursday and at Marist on Saturday), there's a very good chance the Saints will be Butler's opponent in the highest-profile BracketBusters game. Matchups will be made this weekend so teams have a few weeks to deal with travel and scouting.
The concept has done wonders for some and been irrelevant for others, but one thing is certain: Teams that have an outside shot at an NCAA tourney at-large or are looking for a seed boost once they qualify as an automatic can't go wrong with another quality nonconference game in late February.
Some teams won't get that chance. The West Coast Conference isn't participating in the event and there are some omissions from other conferences like the Summit (only Oral Roberts and not Oakland), the America East (no Maine), the Big Sky (served up only Montana State and not Northern Colorado or Weber State).
There are 98 teams involved in 49 games during BracketBusters. The 11 games that will air on the ESPN family of networks are determined first and then the conference commissioners will pair up the remaining 76 teams.
Home and road teams are already set for the event, so it's a bit difficult to maneuver who can go where. But the most important aspect of matching teams should be done based on who has a shot to be in the field. Not all of the 22 set teams are in that group. Actually, maybe only six could have an outside shot at an at-large.
[+] Enlarge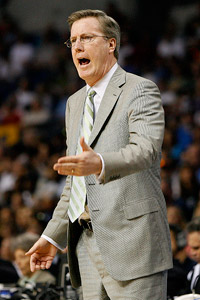 AP Photo/Mike CarlsonFran McCaffery is hoping BracketBusters provides a way to boost his team's NCAA at-large chances.
Siena is one of them.
"It's going to mean something and I would say if we could have a phenomenal league record and beat Butler and then not lose until the finals of the [MAAC] then we'd have a shot," said Siena coach Fran McCaffery. "We'll be right there in that discussion, but we don't want to get ahead of ourselves and assume the next five or six games."
McCaffery would actually be in favor of holding off on announcing the BracketBusters matchups until a few more weeks. But nevertheless, he still wants that Butler game. From a storyline perspective, it makes sense. Those are two of the better-known programs in the field and each has had some NCAA tournament success (Siena has won its last two first-round games).
"We're hoping we can put ourselves in position to get an at-large bid," McCaffery said. The problem for the Saints will be the six games prior to a possible showdown with Butler at Hinkle Fieldhouse in Indianapolis.
Ubiles didn't play against Manhattan on Jan. 18, played 33 minutes in a win over Loyola (Md.) on Jan. 21, but then missed the road game at Manhattan on Sunday. Meanwhile, guard Kyle Downey, who scored 16 points in Ubiles' absence in the first Manhattan game, broke his foot and is now out, possibly for the season.
"We're short-handed for this tough stretch, but I know we have to keep winning," said McCaffery.
Siena did beat Northeastern early in the season for what might turn out to be a solid win. It was a game McCaffery said was scheduled because "nobody wanted to play us and nobody wanted to play them and we're two hours away." But losses to Temple, St. John's, Georgia Tech and Northern Iowa were the supposed "up" games that the Saints failed to win.
Meanwhile, Butler has been rolling in the Horizon at 9-0 with a 16-4 record overall. That mark includes a win at Northwestern and home victories against Ohio State (without Evan Turner) and Xavier. Playing Clemson on a neutral court and UAB on the road (both losses) will help the power rating.
A year ago, Butler coach Brad Stevens said beating Davidson on the road was a key win for helping the Bulldogs get an at-large bid after losing to eventual champ Cleveland State in the conference tournament.
"We were coming off two losses that week before the Davidson game," Stevens said. "And you don't want to be on a losing streak at that time of the year. Doubt starts to creep in. That was a good win that got us going in the right direction."
Stevens knows the Bulldogs will get a quality BracketBusters opponent as the premier home team. There was a time when the staff was anticipating Wichita State as a possible opponent, but two losses last week for the Shockers have led to a belief that it could be Siena. Louisiana Tech, which tops the WAC, is also a possibility, but the name value of a Siena-Butler matchup may have more cachet.
The Bulldogs are handling their business in the Horizon as they become the top draw in every opposing building. That won't change as the Bulldogs go to Green Bay on Friday (ESPNU, 9 ET) and then to Milwaukee, two places the Bulldogs lost last season.
With Matt Howard staying out of foul trouble in the league after being in it throughout the nonconference, the Bulldogs are getting more of a complete effort. Gordon Hayward has been a Horizon MVP and barring a complete collapse, the Bulldogs are in good shape as far as the NCAA tournament is concerned.
Joining Butler as a BracketBusters home squad is Northern Iowa (8-1, 17-2), which leads the Missouri Valley. But Siena has already played Northern Iowa (the Panthers won 82-65) and that's why it makes more sense to send Siena to Butler and Louisiana Tech to Northern Iowa. The latter matchup may not seem headline-worthy to the mainstream fan, but these are the leaders in the WAC and MVC and both teams are talented enough to win a first-round NCAA tournament game.
If you were to pit Siena-Butler and Louisiana Tech-Northern Iowa, you'd likely have four teams that are going to be in the field of 65 matching up a few weeks before Selection Sunday.
The other hot teams are in the Colonial, but they obviously can't go up against each other. Northeastern, Old Dominion, George Mason and William & Mary all could be in play for the CAA's automatic bid with the Tribe the most likely at-large candidate because of nonconference wins over Wake Forest and Maryland on the road and Richmond at home.
That's why the question of who will play at GMU and Northeastern and where ODU and William & Mary will play during BracketBusters will be a fluid process this week.
I'd like to see the following: Wichita State at Northeastern as two of the top teams in the MVC and CAA; William & Mary hitting the road to play the best team in the Ohio Valley (Murray State); ODU traveling to Green Bay, pitting one of the top teams in the CAA against the second-best in the Horizon; and Charleston, which took out North Carolina, makes sense at George Mason in a matchup of two of the best from the Southern and CAA.
"We need a good game," said Northeastern coach Bill Coen, whose Huskies have won 11 games in a row, the third-longest streak in the country. "We've used all our mulligans and probably need to stay perfect the rest of the way to get an at-large berth. But in the spirit of the BracketBusters, we'd like to play our way into the conversation."
Northeastern failed to win games in the nonconference against potential NCAA teams Siena, Rhode Island and Saint Mary's before a humbling loss to Western Michigan in Honolulu on Dec. 23 -- its last loss -- set the team straight.
"It was good for us to be on the road because we had to take a hard look at ourselves," Coen said. "It was like a foreign tour. We were together all the time and had to go eat together breakfast, lunch and dinner and figure it out."
What happened was Northeastern got back to defending and Chaisson Allen started to play the point like Coen expected, teaming up with potential CAA Player of the Year Matt Janning.
Now Coen says the Huskies are cheering for a BracketBusters game "that will help us the most."
They're not alone.