Category archive:

Connecticut Huskies
December, 19, 2013
12/19/13
12:01
AM ET
HARTFORD, Conn. -- Shabazz Napier had his chances. He was so confident that the Connecticut Huskies would score, he even he passed on the final one, opting for a more open Omar Calhoun.
But none of them dropped for Napier, Calhoun or No. 10 UConn against the Stanford Cardinal's enveloping 2-3 zone. Not much went well in the second half as the Huskies went from leading by 10 at the half to a brutal 13-point, 5-for-31 shooting second half and lost for the first time this season 53-51 to a hungrier and more desperate Stanford team.
What happens next for both teams in their ensuing games -- Stanford against Michigan on Saturday at Barclays Center in Brooklyn and UConn at Washington on Saturday in Seattle -- could say a lot about their ultimate chase for a high finish in their respective conferences.
"We just had a bad shooting second half,'' said Napier, who entered the game as one of the national front-runners for national player of the year but had a mortal, 2-of-7 3-point shooting night. "We've got to get ready for Washington.''
UConn coach Kevin Ollie said earlier Wednesday he was approaching the Stanford game as a road game. He mirrored the scheduling to his time in the NBA in which the next day would bring a long trip. The Huskies are scheduled to leave Thursday for Seattle to get adjusted to the time change. UConn had lived on the edge to climb to No. 10, winning last-possession games against Maryland, Boston College, Indiana and the most thrilling one over Florida two weeks ago at Gampel Pavilion on a buzzer-beating, midrange shot by Napier.
[+] Enlarge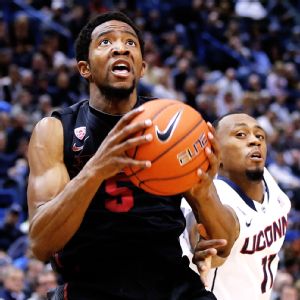 David Butler II/USA TODAY SportsStanford's Chasson Randle led the Cardinal in its upset win over UConn on Wednesday with 22 points.
The Huskies, though, were exposed a bit by Stanford's zone. Not every team will choose the style against UConn nor have the length the Cardinal guarded Napier with as Stanford coach Johnny Dawkins put Anthony Brown and Chasson Randle on Napier, a decision Dawkins said was a necessity to win.
But the Huskies will need to solve their interior issues if they are to win in Seattle, as well as stay with Louisville, Memphis and Cincinnati in the American Athletic Conference over the next three months. The Cardinal's length, Ollie's primary concern, was a factor that allowed Stanford to continue to limit UConn's second- and third-shot opportunities.
"This was huge for us,'' Stanford's Josh Huestis said."We knew inside our locker room we could compete with anybody, but not until you prove it.''
Stanford whiffed on its previous big games, giving up 112 points and losing at home to BYU on Nov. 11, getting blown out in the second half against Pittsburgh in the Legends Classic and fading from the list of any Pac-12 contenders as Oregon, Colorado and Arizona State all had at least one win to stand up and shout about.
"This was one of those big moments,'' Dawkins said. "This was big not just for us, but also for the Pac-12."
Dawkins was well aware the Cardinal needed to do their part to raise the profile of the conference. Beat Michigan in Barclays and suddenly Stanford, which lost senior guard Aaron Bright to a season-ending shoulder injury after the Pitt game, has to be taken seriously in the NCAA-bid chase.
Beating the No. 10 team in a true road game gives the Cardinal a signature win they coveted. Sweeping this second road swing to the East Coast can be a season changer. UConn has to make sure its season doesn't swing the other way on its road trip.
This was one game that showed the Huskies can look one dimensional, while the Cardinal proved they can diversify. UConn needs to make sure this was more of an anomaly, while Stanford must hope this is its norm.
December, 2, 2013
12/02/13
9:34
PM ET
STORRS, Conn. -- Shabazz Napier hit a game-winning, buzzer-beating jumper to beat Florida 65-64 in a thriller Monday at Gampel Pavilion. Here are five observations for the Huskies and Gators.
1. UConn and Napier came through late, again: Napier doesn't want to be compared to Kemba Walker.
It's not fair -- to Walker.
"Those are big shoes to fill,'' Napier said after his game winner.
"I'd have to win a national championship,'' Napier said of Walker's improbable run to claim Big East and NCAA tournament titles in 2011. "I'm trying to be myself.''
Napier learned from Walker and emerged from under his shadow a year ago with Walker off to the NBA. But a team Academic Progress Rate ban meant the Huskies couldn't go to the postseason, and anything Napier did wouldn't have the same cachet without the possibility of an NCAA tournament berth.
[+] Enlarge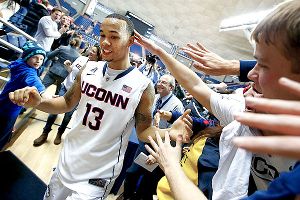 Jared Wickerham/Getty ImagesShabazz Napier had 26 points on 9-for-15 shooting to lead UConn to a win over Florida on Monday.
Walker made money shots for the Huskies during that magical run in 2011. No one is saying this season's Huskies are en route to a national title. But no one said that about UConn in 2011, either -- at any point until the Huskies won the Big East Tournament title.
Napier has had moments in his career already -- like beating Villanova in Philadelphia -- but nothing was quite like the walk-off shot he made Monday night.
"You always see highlight films of the guys hitting the last shot or guys at the free throw line making the free throws,'' Napier said. "You want to be the hero. You want to be the guy who's known as the hero at the end of the game. Growing up, I wanted to be Superman. Everyone wants to be a hero. I was fortunate enough to be in the right spot at the right time.''
The undefeated Huskies have late-possession wins over Maryland, Boston College and Indiana and now against a depleted, but gritty and determined, Florida team.
"I'm happy, but I'm a little exhausted,'' UConn coach Kevin Ollie said. "Another one-point game, but, once again, we showed our resolve. … You look on the stat sheet, and I don't know how we do it. They shoot 49 percent and outrebound us, but, at the end of the day, we get it done. It's a magical team. They've been through a lot.''
2. Napier might be the best late-game shooter: Napier isn't a lock for the first round of the NBA draft like the high-profile freshmen, but it's hard to go against Napier if a team needs one shot to win a game. Ollie said earlier Monday he doesn't hesitate to put the ball in his senior's hands for a late-game shot. It shows.
[+] Enlarge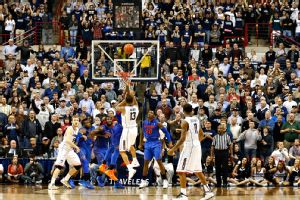 David Butler II/USA TODAY SportsFlorida stopped Shabazz Napier's initial shot, but he got one more look after fielding a tipped rebound.
Florida coach Billy Donovan did everything he could to try and fluster Napier. Scottie Wilbekin, his lone point guard, was down with an ankle injury in the final three minutes, so the Gators went to a 1-3-1 zone. They attempted to trap Napier on the final possession and did a good job forcing a bad shot, but DeAndre Daniels tipped the ball back and Napier got it for a last-second shot in perfect position facing the basket.
"We got him to take a very, very difficult off-balance shot,'' Donovan said. "The guy that won the game for him was DeAndre Daniels. He made an unbelievable tip out, off balance, which kept the ball alive.''
True, but Napier still had to have the presence to bury the shot.
"Whenever we need a big shot, he makes that,'' Ollie said. "Whenever we need a play to be made, he made that. He's got so much heart. Hopefully, America is starting to look at him as that man. He's one of the big-time players to ever put this jersey on and walk on the court at Gampel.''
Napier also converted a four-point play, and tweaked his ankle in the process, to give the Huskies a one-point lead with 33 seconds remaining. Napier made a strong case to be on everyone's All-American watch list heading into the heart of December.
3. The Huskies are more than just Napier: Napier and Ryan Boatright are going to take the big shots in key situations, but UConn has other key contributors. Daniels' tip was the last of seven rebounds for the slender forward, who also finished with 14 points. Niels Giffey hit two critical 3-pointers and continues to be the ultimate glue player. The Huskies got outrebounded by the physical Gators. Ollie said after the game he could use big men with size like Florida's Patric Young -- in the future, but for now, he has thin forwards who he says "have heart.'' And that is working for the Huskies in late-game situations.
[+] Enlarge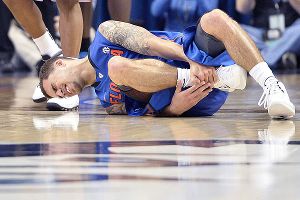 AP Photo/Bill Shettle/CSMFlorida senior point guard Scottie Wilbekin left Monday's game with a right ankle injury.
4. The Gators can't afford bad news on Wilbekin's ankle: Wilbekin -- who has already missed six games because of a suspension -- was erratic Monday, scoring 15 points and hitting two 3-pointers but committing three turnovers. Donovan said after the game he had no idea on the status of the point guard's turned right ankle. The Gators are still without star freshman guard Kasey Hill, who has a high-ankle sprain. Hill averaged 10 points in the four games he played. Donovan said Hill is probably two more weeks away from returning. Hill's game is speed and he hasn't been able to do anything because of the ankle injury. If Wilbekin is out for any extended period, the Gators will have to look to Dorian Finney-Smith or Michael Frazier to handle the ball some.
5. The Gators can be an SEC contender if healthy and eligible: Florida showed tremendous grit Monday. Casey Prather was unstoppable at times, scoring 19 points and grabbing seven boards. Young and Will Yeguete contributed in a variety of ways. If McDonald's All-American Chris Walker gets eligible (he has one online class left to finish), the Gators could have a formidable frontline. If Wilbekin and Hill get healthy and Finney-Smith and Frazier contribute on the perimeter, it would give the Gators more than enough to challenge Kentucky in the SEC. There are a lot of ifs, but it's still early.
February, 27, 2013
02/27/13
11:44
PM ET
STORRS, Conn. -- The possibilities of winning the Big East regular-season title and Big East coach and player of the year, and the outside shot at a No. 1 seed in the NCAA tournament were all within a minute of possibly evaporating.
Georgetown had been in control of UConn, up by 12 with just less than nine minutes to go in the game. But the Huskies have shown more resolve than any other team in the country this season, especially for one that has no postseason chance due to an NCAA academic progress rate penalty.
UConn had fought back to tie the game at the end of regulation on an Omar Calhoun 3-pointer that brought Hall of Fame coach Jim Calhoun out of his seat. Niels Giffey stole an inbounds pass and hurriedly missed a game winner at the buzzer.
Ryan Boatright missed a 3-pointer to win the game in the first overtime. And then UConn went up 78-71 with two minutes left.
[+] Enlarge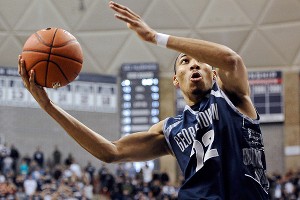 AP Photo/Jessica HillOtto Porter had the big shot for Georgetown in the second overtime.
Everything was slipping away from the Hoyas.
"We just needed to get stops and get quick baskets," Georgetown's Otto Porter said.
And they did. The Hoyas scored the final eight points of the second overtime, capped by a Porter slicing drive with eight seconds remaining to win 79-78.
Game over. Big East title in their sights. A No. 1 seed still a possibility. And awards to John Thompson III as coach and Porter as player of the year possibly on order and engraved.
"There's no one in that locker room that thought the game was over," Thompson said. "There was still a lot of time on the clock."
The Hoyas finish with Rutgers at home and at Villanova, and then conclude the Syracuse series with a season-ending game March 9. They hold a game lead in the standings over Marquette and Louisville, and are two up on Syracuse and Notre Dame.
With teams ahead of them losing and the Big East champ sure to be respected by the selection committee, a top seed is within reach.
The Big Ten is more of a grind -- but not by much this season. How many teams have won 10 in a row with ranked wins during that streak over No. 5 Louisville, at No. 8 Syracuse, versus No. 18 Marquette, at No. 24 Notre Dame and over a UConn team that beat Syracuse at home two weeks ago?
I'll venture to say none.
"We have a group that has a lot of resolve," JT3 said. "We just have a group that said, 'Let's figure out a way to win the game at halftime.'"
The game was hardly a good watch or well played at halftime with UConn up 22-19. But the second half, in which the Hoyas made eight 3s after only one in the first half, was highly entertaining. So, too, were the two overtime periods.
Porter had to score 33 of Georgetown's 57 on Saturday to win at Syracuse. He took one shot in the first half before finishing with 12 shots, making seven to finish with 22 points. The Hoyas showed they have a diversity of scorers, with D'Vauntes Smith-Rivera making three 3s, Markel Starks four and Jabril Trawick one.
Thompson said he never doubted the Hoyas' ability to win the league, even when they started 2-3 and lost at cellar dweller South Florida.
"I always thought we could," JT3 said.
Why?
"Because of everything you saw exhibited," said Thompson. "I thought this group had different pieces, unselfish pieces, and we fight for each other."
The Hoyas lost their second-leading scorer in Greg Whittington because of academics for the second semester. But you would hardly notice.
The Huskies played with such tremendous fight.
Shabazz Napier, who has been sensational in overtime periods this season and said it's because of his conditioning and late-game aggressiveness, knew the Huskies would be in the game to the final seconds. He was convinced Giffey's shot was going down, too.
The Huskies grew up with DeAndre Daniels playing his best game of his career with 25 points and 10 boards. Napier proved he's one of the best in the Big East. And if JT3 doesn't win coach of the year, Kevin Ollie must.
UConn hasn't stopped playing one possession, and easily could be in contention for the regular-season title save for a few second halves against Louisville and Villanova and a few late possessions at Marquette and St. John's.
"Everything happens for a reason, and this reason is teaching us another life lesson through this book that we're writing," Ollie said. "Another chapter. … Adversity is the intersection between character and opportunity. This team has character, and we had a great opportunity."
The Hoyas have had plenty, too, and continue to take advantage of them. What's next for Georgetown is still unknown since this team has a chance to make a deep run once it gets out of the Big East.
"I think we're playing our best basketball now," Thompson said. "I hope we're playing our best basketball in two weeks and then again in three weeks."
February, 22, 2013
02/22/13
1:50
PM ET
HARTFORD, Conn. -- The game(s) of the year in the Big East are upcoming between Georgetown and Syracuse and Syracuse and Louisville in the final three weeks of the season.
The game of the conference going forward occurred Thursday night and will again next Saturday in Cincinnati.
UConn beat Cincinnati 73-66 in overtime Thursday at the XL Center. The two teams have played competitive games, usually down to the final possession, in the past five years. The games have been physical but fair, always intense but respectful.
[+] Enlarge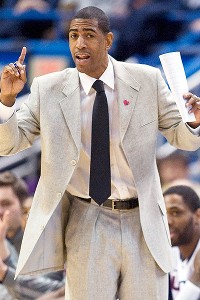 AP Photo/Jessica Hill,Kevin Ollie has UConn headed in a positive direction despite being ineligible for the tourney.
The new Big East, the one that for now will have the name, will need to be anchored by Cincinnati and Connecticut going forward. They are the two most established programs left behind after others fled to the ACC or chose to soon form their own conference.
Like it or not, Cincinnati and Connecticut are linked together. They both desperately wanted to be in the ACC but were passed over for Louisville. They would still jump at the chance to join the ACC and may if the Big Ten completes its British Empire-like expansion and gobbles up more land (grant-universities) areas out of its geographic footprint to get to 16.
The Big East looks like it will survive after a healthy competition between ESPN and NBC Sports to secure media rights, with sources confirming that ESPN matched NBC's offer. Barring a hiccup, ESPN will retain/acquire the new league's rights for the next seven years.
The Big East will have 18 members for next season, barring a last-minute dash by the seven Catholic schools. In 2014-15, Louisville and Notre Dame will be gone to the ACC, Rutgers to the Big Ten, and the Catholic seven to a new league. That will leave UConn, Cincinnati, South Florida with newbies Memphis, Temple, Central Florida, SMU, Houston, Tulane and likely East Carolina for a 10-team league. Adding Tulsa and/or UMass to increase the membership to 11 or 12 in all sports is possible.
Memphis and Temple have rich histories in men's basketball. But the new Big East will need anchors, programs that have been established to help shepherd in this new era. The only choices are UConn and Cincinnati.
After the game Thursday night, UConn coach Kevin Ollie said rivalries are with your conference foes and acknowledged that there is something healthy brewing between the Huskies and Bearcats.
"I think it already is (a rivalry)'' said UConn athletic director Warde Manuel. Manuel tossed in South Florida as well as a program committed to football and basketball. But this is strictly a men's basketball discussion and for the league to have a chance, UConn and Cincinnati have to maintain a high level of play, bring in NBA-type talent and play games down to the finish -- like Thursday night -- to keep viewers interested.
"I'm looking forward to the years competing against them,'' said Manuel. "We haven't played any of those other schools on a regular basis like Cincinnati. I like the feel of what we saw (Thursday night). We are in a similar position moving forward. And for the strength of the league, until the others can come up and develop a rivalry, this is the one. There is a lot of respect for both sides, and games like this solidify the rivalry.''
UConn, which would be an NCAA tournament team if it were eligible but is not due to an APR postseason ban, frustrated the NCAA-bound Bearcats by taking advantage of poor Cincinnati execution down the stretch and Shabazz Napier getting free for three 3s in overtime. Cincinnati coach Mick Cronin labored over the "inexcusable mistakes'' toward the end of the game and the need to play smarter.
[+] Enlarge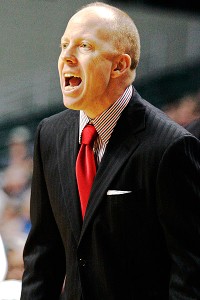 AP Photo/Skip PetersonMick Cronin's Cincinnati Bearcats are a natural rival for UConn.
But Cronin also spoke of the Big East's grind and how the league shows no mercy. The Bearcats are in a stretch where they played Pitt (loss), Villanova (win), Georgetown (loss), at UConn (loss) and play at Notre Dame, at Louisville and get UConn at home in the next week.
When the league splits, the gauntlet of conference games will mostly consist of two games against UConn with the hope that Memphis and Temple can be tough as well, albeit maybe not as intense.
"There's no doubt we're linked, but where it's going to be at going forward I don't know,'' said Cronin of the two schools. "Kevin and I have developed a friendship. We've talked a lot about taking over programs and we've sat together recruiting. He's one of the nicest guys in the world. Hopefully we can both stay relevant. If we both win, then it's a good blood rivalry for both of our programs.''
Cronin said the key will be for both schools to continue to recruit at a high level. That's a given.
But the players are already feeling as if there is something between the two schools, regardless if they'll be there when the league breaks up.
"I think you'll see Cincinnati and UConn be the two powerhouses no matter what,'' said Napier. "It has always come down to the last minute and in overtime. I enjoy playing that team.''
And the underclassmen and incoming recruits better as well. They are all stuck together until there is another shift in expansion. Who knows when that will occur. For now, UConn and Cincinnati have to be the two anchors of a league that desperately needs them to be elite.
January, 3, 2013
01/03/13
11:56
AM ET
The media swarm has left Newtown, Conn.
The national attention has shifted to the fiscal cliff.
The politics from the Newtown tragedy will likely return when the new Congress debates an assault weapons ban sometime this winter.
But college basketball has an opportunity to continue to honor the memory of the 20 children and six adults tragically killed at Sandy Hook Elementary School in the tranquil Connecticut town on Dec. 14.
UConn has done a wonderful job of honoring the victims and their families with a Sandy Hook patch on the men's and women's uniforms, a scholarship fund for siblings of the victims and other graduates of the elementary school that is up to $500,000 as of Saturday and a basketball clinic last week by the men's team.
[+] Enlarge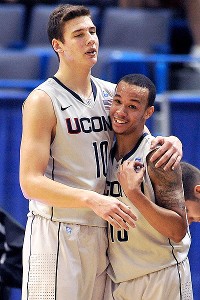 AP Photo/Jessica HillTyler Olander, Shabazz Napier and UConn were the first in the Big East to honor Newtown.
During a recent game, Providence shed its black-and-white attire for green uniforms, the school colors of Sandy Hook. The Friars have also sectioned off an area with 26 empty seats.
Now, the Big East has chimed in with a collective effort that shows the conference's unity in its final hours. This may go down as one of the lasting legacies of a great conference filled with old souls in the league office.
The Big East huddled in the week before Christmas to discuss what it could do to ensure the victims were honored appropriately. The consensus was for the men's and women's coaches, staff, players and officials, the latter two groups on their warm-ups, to wear green-and-white ribbons for the first 26 men's and women's games.
The Big East didn't publicize the move, but if you've watched any of the conference's games so far, you saw the staff wearing the ribbons.
Big East senior associate commissioner Paul Brazeau said the conference wanted to make sure it didn't upstage UConn. The conference wanted to respect how the Huskies had stepped up first to honor the victims and their families.
Brazeau said the schools don't have to stop wearing the ribbons if they choose.
"The first 26 games for both the men and women recognize the 26 losses in Newtown," he said. "Connecticut is in our community, near all of our teams. We wanted to do something league-wide to contribute to the memory and to keep everyone's mind on the topic."
Brazeau said there was tremendous cooperation from the home teams. The conference didn't have time to send out the ribbons to every team, so it sent them to the home teams and asked for their help in distributing them to their opponents, which is what happened at Pitt with Cincinnati on New Year's Eve.
College basketball has plenty of faults and failings, but one thing the sport has done well is drive awareness to causes and honor those who have fallen during the regular season, whether it is coaches wearing sneakers for cancer or no shoes for Samaritan's Feet or giving back to the military with on-site games. This display by UConn and the Big East may be one of the best.
December, 31, 2012
12/31/12
8:50
AM ET
Monday musings for the final time in 2012:
• The UConn administration did the right thing by auditioning Kevin Ollie. I wasn't a fan of the idea initially, but after watching how he handled himself with the team, coaching staff, in practice, in games and with the administration at home and abroad, as well as in speaking situations, it all made sense. He had to prove to everyone that he was deserving of a long-term contract. This team could easily pack it in without a bid to play for, but he has kept the Huskies motivated from the first day. You would never know they are ineligible for the postseason when you're around them.
[+] Enlarge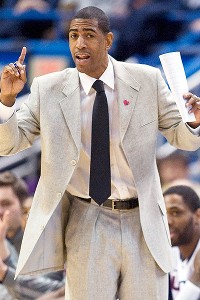 AP Photo/Jessica Hill,Kevin Ollie quickly proved that he's the best man for UConn.
• I'm also convinced that the Huskies wouldn't have found a coach with a similar passion for UConn at this tenuous time, as the school deals with conference instability. The shadow of Jim Calhoun, literally at times standing over Ollie or any other coach, takes the right person to handle. Ollie has done so without a hiccup.
I don't think I've ever come across one person who has said a negative word about Ollie.
• The Catholic 7 have the familiar names, the tradition and the media markets, but the schools had better start playing well to make offering a lucrative television deal sensible.
• I still think if Butler and Xavier get an offer from Marquette, Georgetown, Villanova, St. John's, Seton Hall, Providence and DePaul, then they'll both take it.
• The more I see Gonzaga's Kevin Pangos, the more I could see him shooting the Zags deep into the NCAA tournament. He has that special shooting touch to carry a team.
• I'm waiting for Baylor's Brady Heslip to have one of those Heslip-like 3-point displays again after only one so far this season -- he had eight 3-pointers against St. John's.
• I'm still not giving up on Nevada in the Mountain West, especially with Malik Story putting up 35 in a win over Yale.
• Missouri's end-of-game situation was poorly handled in an overtime loss to UCLA, but if you had to pick one point guard, it would be hard to turn down Phil Pressey after his 19-point, 19-assist performance.
• Larry Drew II deserved to be criticized for leaving North Carolina in the middle of February two seasons ago. But he also must be praised for the way he has handled himself since and his on-court presence for the Bruins. Drew has been sensational of late with 10 assists and 3 turnovers in 40 minutes against Missouri. He has 112 assists and 22 turnovers this season. Bravo, Larry, for the way you have transformed your career as a senior.
• Remember this about top-ranked Duke: The Blue Devils really play only seven players, and that's all they need.
• Maryland is 11-1, yet it's fair to question the ceiling since the last potential NCAA tournament team the Terps played was their first game against Kentucky -- their only loss.
• Xavier with Dez Wells and Mark Lyons is an NCAA tournament team. The Musketeers without both players are not.
• I'll wait before judging UNLV now that it finally has the frontcourt it envisioned with Mike Moser, Khem Birch and Anthony Bennett.
• North Carolina finally responded to Roy Williams with a win over UNLV. This team had to mature and go through growing pains. The down ACC will help the Tar Heels get back into the NCAA tournament discussion even quicker.
• Happy 50th birthday to Bill Self. I'm not sure there is a more perfect coach for Kansas. He will go down as one of the top coaches of his generation when he's done.
• Remember Texas' win over Rice. That's the game when Jaylen Bond was healthy enough to play 12 minutes. The Longhorns should be a more formidable team inside from this point forward.
[+] Enlarge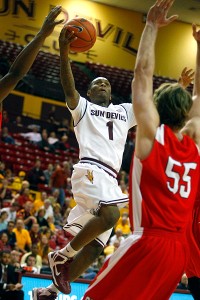 Rick Scuteri/US PresswireIneligible last season, Jahii Carson has made a big impact at ASU.
• One of the top players lacking national buzz is Arizona State's Jahii Carson. He is averaging 17.7 points and 5.5 assists for an 11-2 Sun Devils team. Carson wasn't eligible last season as a true freshman.
• BYU coach Dave Rose said in the offseason he hadn't seen a player return from a Mormon church mission as conditioned as Tyler Haws. Well, he must be in pretty good shape to light up Virginia Tech for 42 points. The Hokies have cooled since knocking off Iowa and Oklahoma State.
• UIC isn't the only Chicagoland team going through a renaissance. Loyola is off to a 9-3 start after winning just seven games last season. Porter Moser's crew beat DePaul for the first time since 1989.
• Valparaiso pulled off an undervalued road win when the Crusaders won at Murray State by two.
• Ryan Harrow continues to be a good story for Kentucky. He is healthy and scoring well from the point, adding 17 against Louisville.
• Who had Louisville's Russ Smith as the Big East Player of the Year in October?
• Oh, Creighton's Doug McDermott started off the Missouri Valley season where he left off his nonconference season, by scoring 29 points against Evansville.
• Harvard has become a yearly threat to beat anybody on its schedule. Cal was the latest power-conference team to go down.
• Indiana State wasn't a fluke in the Diamond Head Classic. The Sycamores followed up a 2-1 showing in Honolulu with a huge two-point victory over Illinois State to begin Valley play.
• A number of NBA scouts came through the snow to see Washington's C.J. Wilcox at the XL Center in Hartford, but he went 2-for-12. Wilcox had scored 20 or more points in three straight games.
• The SWAC picked up its second win of the season over the SEC when Alabama A&M beat Mississippi State. Southern had already taken down Texas A&M.
November, 29, 2012
11/29/12
3:07
PM ET
Connecticut athletic director Warde Manuel said late Wednesday night that his charge is to continue to make the Huskies better.
He could have added more attractive too. The same applies at Cincinnati.
There is a perception at Cincinnati and, to some extent, UConn that the ACC will at some point lose at least two more programs to the SEC (Florida State and Clemson?) and two to the Big Ten (some combination of North Carolina, Virginia and Georgia Tech?). The idea is that UC and UConn will get into the ACC -- not a question of if but when.
ACC commissioner John Swofford made it clear -- yet again -- that he likes the number 14 for football (15 for hoops with Notre Dame) and that there is no fear the league will lose any other members. North Carolina and Virginia have publicly stated their commitment to the ACC. Remember, though, no one had visions of Maryland leaving a few months ago either.
All this spin from Cincinnati and Connecticut is in reaction to Louisville being chosen to go to the ACC over the two Big East rivals. Now the question is what to do next.
[+] Enlarge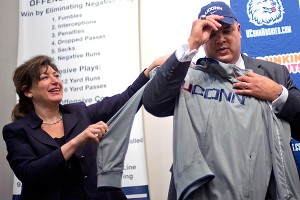 AP Photo/Jessica HillUConn AD Warde Manuel has to make his school as attractive as possible in case there's future realignment.
The issue for both schools is that they have no other option. As Manuel acknowledges, they have to keep doing well and prove that their athletic programs are worth the ACC's investment. North Carolina's outgoing chancellor, Holden Thorp, didn't mince words on Wednesday's teleconference. The choice of Louisville had nothing to do with academics and everything to do with deliverables on the field and court and in financial support and facilities.
Forget about newcomers Tulane, Houston, Central Florida, SMU or even Providence, Seton Hall, South Florida and DePaul. If the Big East is going to survive in the short term, the marquee programs with rich history and sustained success -- UConn, Cincinnati, Marquette, Georgetown, St. John's, Villanova, Memphis and Temple -- must become or stay elite in the Big East.
The assumption that the Big East is done or fading away doesn't sit well with Hall of Fame coach Jim Calhoun, who retired from UConn in September.
Calhoun is clearly frustrated by his school's ACC snub. He said he isn't sure what more UConn has to do since it has won three national championships in men's basketball and seven in women's basketball, played in a BCS bowl game two years ago and consistently competed for the national title in men's soccer.
"We have to make the best of the Big East as much as we possibly can and yet have the ability to listen to anything else," Calhoun said. "We've got to keep being the best that we can be. I still think we can win a Big East championship and a national championship down the line. We can still play teams like Syracuse and national games like North Carolina."
He said if you were to match the core hoop teams of UConn, Cincy, Marquette, Georgetown, St. John's, Villanova, Memphis and Temple against any other league, the Big East would more than hold its own. Calhoun would like to see the Big East add one more basketball (non-football) program and mentioned Dayton as a possibility. As of now, there is no public stand toward adding non-football schools.
"We're still in the cities you want to be in," said Calhoun of the major hoop hotbeds in the Northeast and upper Midwest. "I still believe if you look from a purely basketball perspective, we still have three of the four Final Four teams that were here when I came into the league [in 1985] in St. John's, Villanova and Georgetown. And we added [the other], Memphis."
But Calhoun said he is convinced the reshaping of college sports isn't over. He would love to see some stability at UConn and continues to push for his former assistant Kevin Ollie to be named the permanent head coach with a long-term deal, not just a seven-month contract.
Manuel said Wednesday that nothing new had occurred on the Ollie front but reiterated that Ollie is doing an outstanding job with the one-loss Huskies.
The next step for Connecticut and Cincinnati is to hope Big East commissioner Mike Aresco can secure a lucrative television contract for dollars and exposure. But now the Huskies and Bearcats have to lobby him -- the way Rick Pitino and Louisville did to get basketball-crazed Memphis and Temple in the league -- to add another significant basketball member, unlike the Tulane addition. Poaching the A-10 is still a viable option for the Big East to enhance its basketball brand.
For now, all the Huskies and Bearcats can do is win. UConn can't go to the postseason in March. Cincinnati can. Advancing deep in the tournament would certainly help the cause, at the very least making the ACC reconsider standing at 14.
Until then, the Huskies and Bearcats have no choice but to continue to be noticed, relevant and, more than anything else, highly competitive in every major sport.
November, 12, 2012
11/12/12
11:10
AM ET
Michigan State lost a tight game in its season opener to Connecticut on Friday. It was one that the Spartans were convinced they were going to win.
So, what happened after the game?
Did Tom Izzo and the players sit in the locker room and sulk? Hardly.
[+] Enlarge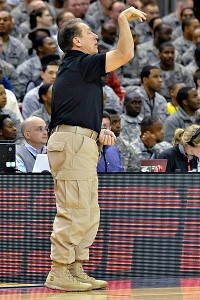 Martin Goldhahn/US PresswireAlthough his team lost to Connecticut, Tom Izzo and the Spartans had a memorable trip to Germany.
They spent a solid 30 minutes-plus on the court, talking to members of the Air Force and Army. They took photos. They signed autographs. And they shared thank-you messages with the troops, who were equally appreciative of the appearance by the players and staff.
The game at Ramstein Air Base was a huge success. I don't know what the ratings will show, and I don't have any financial figures to back up the claim. I can just tell you that's the case based on what I witnessed in person.
This USO-style tour is now in Year 1 of 5 (the plan is for ESPN and the Department of Defense to coordinate games at sites related to the four other branches -- Army, Coast Guard, Marines and Navy), and it works. The two games on the aircraft carriers that were canceled Friday in Mount Pleasant, S.C., and Jacksonville, Fla., were poorly timed. The games should never have been played on the East Coast and at night.
The game on the USS Carl Vinson last season in San Diego tipped at 4 p.m. local time. It started to rain about 40 minutes after that game. So when this year's contest between Syracuse and San Diego State on the USS Midway in San Diego was moved back from Friday to Sunday because of weather concerns, it made sense to play it during the day.
I'm not sure how much Ohio State, Marquette, Florida and Georgetown endorse the concept after dealing with canceled games. But if you talk to anyone on Michigan State or Connecticut who was in Germany, you're going to receive a glowing response.
The experience was unmatched for these two teams, as they were immersed on the base. You couldn't walk two feet without running into a member of the military in fatigues. And the educational aspect probably will be more beneficial than any other trip these players will take during their college basketball careers.
The players listened closely while medical personnel explained how they handled the wounded and fatalities. It was a sobering experience for players and coaches as they went from room to room at the hospital in Landstuhl and visited with the Wounded Warrior Center's injured troops.
The fun stuff -- flying in a C-130 plane -- can be duplicated in some similar form on various bases. Playing on a base ensures the game won't be interrupted by weather and guarantees a unique environment.
Those of us not in the military can't fully comprehend the sacrifice of being in a foreign land, living and working in a bubble and missing family milestones stateside.
The troops, officers, the families, the children of the enlisted and the civilian staff were incredibly appreciative to have a game on their terms. The line outside Hangar 5 stretched for blocks as troops filed in for the midnight tip. There was enough room for 3,100 to watch the game. There are 54,000 Americans in the area at the combined bases -- the largest number of Americans in a concentrated section outside the United States. If they could have fit seats for 10,000 fans in the hangar, I'm sure it would have been standing-room only.
Every single serviceman and woman appreciated having a game on their base. Many are career officers, a number are on multiple-year tours and getting to a game is almost impossible based on their schedules and location.
You can squawk that the games on ships are gimmicks. And maybe there were too many of them, considering two were canceled (with one shut down at halftime). But the military was genuinely overwhelmed that there was this much interest and commitment from two programs to fly to Europe.
The result had consequences for Kevin Ollie to potentially get the head-coaching job at Connecticut for the long-term. But neither teams' seasons will be affected dramatically by playing in Europe. This game was for the military -- a treat they were overjoyed to witness.
Brig. Gen. C.K. Hyde spoke Friday night about what it meant to the personnel to have this game on the base. This is arguably one of the most important military installations in the world with its gateway to North Africa, the Middle East and the rest of Europe.
Ramstein handles the wounded from down range. The base also handles the remains as a stop en route to the United States. Most recently, personnel at Ramstein dealt with the remains of the four Americans, including Ambassador Chris Stevens, killed in Libya.
It is a real and deep. And yet another reason why it meant so much to everyone in Germany to have a game played in front of them.
Bringing a game to a base is the right thing to do. I saw how much it meant to the men and women who are away from their families and friends. I saw the emotion. I heard the stories.
You don't think it meant something to a wounded warrior (Spc. Cory Gizzi) whose family probably saw him on television before he heads home to meet his 6-month-old daughter?
The military personnel are in a bubble away from home. College basketball came to them.
The game between the Huskies and Spartans was competitive, and that was a plus. But the event should be judged by the access the players and staff had with the military and vice versa.
And after three days on the base, the players were left in awe of their peers. That made it a win for everyone.
November, 9, 2012
11/09/12
10:44
PM ET
RAMSTEIN AIR BASE, Germany -- The Connecticut players circled around Kevin Ollie and hugged him.
Then, one by one, they ran over to congratulate their former coach, Jim Calhoun, who had watched his successor's debut, as a fill-in radio analyst.
Then, finally, Ollie and Calhoun embraced. The exchange was genuine. The emotion raw.
[+] Enlarge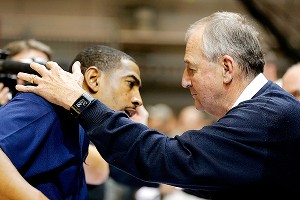 AP Photo/Michael ProbstMentor and mentee shared an emotional embrace after Connecticut's victory Friday night.
Ollie, who was given just a seven-month contract on Sept. 13, beat legendary coach Tom Izzo and No. 14 Michigan State 66-62 Friday night in a season-opening game that tipped off at midnight local time and ended well after 2 a.m., the first college basketball game on European soil.
And if that wasn't enough, despite the late hour, Ollie and the rest of the UConn players, along with the entire Michigan State staff and players, spent quality time taking pictures and signing autographs with hundreds of the 3,100 troops in attendance at Hangar 5 at Ramstein Air Base.
What a night for Connecticut and Ollie.
What an event for the men and women serving here.
What a moving few days for everyone who made the trip to Germany -- to be immersed here on the base, educated about the mission and then inspired and moved by the wounded warriors at the game and those visited in the Landstuhl hospital.
Forget about the moisture on the aircraft carrier courts that canceled the Ohio State-Marquette and Florida-Georgetown games. The decision to move games to the military bases is a home run.
And it made for the perfect opening for Ollie to prove himself to the decision-makers -- UConn president Susan Herbst and athletic director Warde Manuel -- who were sitting behind his bench.
"I was very impressed," said Manuel, who couldn't stop smiling after the game. "It was an unbelievable debut as a head coach."
"It was fabulous," said Herbst. "Kevin has so much heart and integrity. He's so connected to these guys. They overcame a highly ranked team with big guys. It's going to be a great season."
Herbst has been a fan of Ollie for the past two years, singing his praises when the Huskies went to the White House after the 2011 national title. She has listened intently to Calhoun's praise of Ollie. But she has empowered Manuel to make the call.
He might not wait long.
Manuel was at multiple practices here and saw the intensity with which Ollie coaches, pushing the depleted Huskies to defend and stay in the passing lanes and pressure the ball. And that's exactly how UConn beat the Spartans, by dictating tempo and forcing turnovers. Michigan State had 15 and had to play catch-up all game.
"I'm happy for him," said Izzo. "I thought he did a helluva job in the first 10 minutes. They played their butt off. It dropped down to normal, but give him credit, that was what he was as a player. He did a helluva job as a coach. He deserves way more than a one-year contract."
Calhoun certainly agrees. He wants Manuel to make a decision now so recruiting doesn't suffer.
"Kevin got them so jacked up," said Calhoun. "They ran out of gas, but as they made a rush, we found a little something. I've seen it before in Connecticut, and Kevin brought it out of them. It was special."
Calhoun couldn't stop grinning about the Huskies' performance.
"My hands were shaking," he said. "I'm so darn proud of them."
Calhoun credited Ollie for his substitutions, putting four guards on the floor and forcing Michigan State to shoot quickly and make poor decisions late.
[+] Enlarge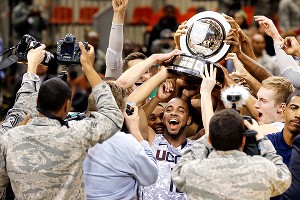 AP Photo/Michael ProbstThe Huskies were all smiles after a surprising win over No. 14 Michigan State.
"They just put in the work and executed the game plan," said Ollie. "It got tough in the second half, but they pursued the basketball and made plays. It was a collective effort."
Ollie isn't about to take any credit. When I was interviewing him for ESPN after the game, he made a point of getting his whole team in the shot. He said it's not about him.
But until Manuel and Herbst make the decision, it is all about Ollie.
"Kevin really inspires them," said Herbst. "The soldiers were so inspiring for our players. The whole atmosphere really made them step up during the game."
As for MSU, Izzo said he wasn't upset about his team's preparation. The focus wasn't there at the beginning, and he said as much as he loves playing in these military-themed games, he would like to win one, too.
He said his team can't turn the ball over like it did, Adreian Payne has to be more focused (three turnovers), and the freshmen need to tighten up their games (Gary Harris was 1-of-7 and Denzel Valentine had a pair of turnovers). But the Spartans have time to fix their issues, even before Tuesday's game in Atlanta against Kansas in the Champions Classic. Keith Appling, who like the rest of the players followed Draymond Green's lead of a year ago and donated his camo jersey to the troops, said that despite the loss, the experience at Ramstein was worth every second.
That feeling was felt by everyone here. The troops couldn't stop thanking the two teams enough for coming to Germany.
UConn won a competitive, intense game in Ollie's debut. The Huskies can't play in the postseason, or even the Big East tournament, due to a poor academic report card. So what are they playing for?
"Pride," said UConn guard Ryan Boatright, who played on a sprained left ankle and said he wasn't about to quit with real warriors in the crowd. "We want to prove everybody wrong. Nobody expected nothing from us. Everybody thought we didn't have enough talent. But we came out and grinded."
Boatright and Shabazz Napier combined for 38 points, with DeAndre Daniels adding a dozen. That's probably the ratio the Huskies will need to be successful. Forcing 15 turnovers and converting them helped, too.
But nothing topped the emotion of playing this game and being here for three days. The players and coaches -- all of them -- leave Germany humbled by the experience.
"It's a blessing to be here," said Boatright. "We see what they all do for us to have a free country. I'm calling this a blessing. I've learned a lot on this trip."
So, too, did the UConn decision-makers. One game doesn't give a coach a job. But the preparation, the adversity and the final product might help push a resolution sooner.
"God is in control," said Ollie. "I feel pressure inside, but they played hard like UConn always plays. I know there are going to be ups and downs and it won't be easy. But we showed resilience. We played tremendously hard. It means the world for [Calhoun] to be here. He just told me he's proud of me and said we played the right way. He told me to build on the success and don't lay on it."
November, 9, 2012
11/09/12
8:09
AM ET
RAMSTEIN AIR BASE, Germany -- Kevin Ollie's voice was hoarse.
But his energy was unchanged.
Sitting in the stands was UConn athletic director Warde Manuel, getting a strong look at his new "head" coach, in whom he was so confident that he gave Ollie a seven-month contract.
Seated courtside was Jim Calhoun, Ollie's mentor, former head coach and the three-time national champion Hall of Famer.
That was Wednesday night.
Manuel didn't attend UConn's Thursday night practice at the Ramstein Fitness Center.
What he missed was seeing Ollie as an equal clinician to Michigan State's Tom Izzo, a likely Hall of Famer in due time, in front of 100 military children who live on or off the base.
Manuel would have seen Ollie jump right into action during half-court defensive work. Sophomore Ryan Boatright couldn't match Ollie step for step. Calhoun was quick to point out from his courtside seat that he would never be able to do that during practice.
Ollie's seven-month contract is the story for UConn to start this season.
The Huskies cannot go to the postseason because of poor academic scores. They cannot be in the Big East tournament. Their numbers are limited and the frontcourt is devoid of depth, let alone reliable low-post scoring. UConn will be pesky defensively, pushing the ball and relying heavily on its guard play from Boatright, Shabazz Napier and Omar Calhoun.
But the decision on Ollie will drive the news cycle around the program.
And it starts here in Germany against Michigan State on Friday night.
"I'm as ready as I can be," Ollie said about coaching his first game. "It's all about our team and our will to prepare."
[+] Enlarge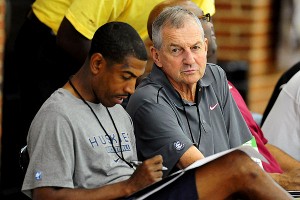 Evan Habeeb/US PRESSWIREJim Calhoun is still around the program, but it's Kevin Ollie runs the show now.
Ollie said having Calhoun being on this trip and working courtside as a radio analyst (he'll also be in the Virgin Islands next week for the Paradise Jam) is welcomed considering "he's a second father to me. He taught me a lot of things, supported me off the court. I love having him as a resource."
Calhoun wants Ollie to get the full-time job with a longer-term contract (say, three to four years) sooner than later. He's hoping Manuel sees the need to make this move to ensure recruiting is locked up in the coming years.
But as Calhoun sits courtside, he remarks about his "family" that is on the court and sideline. The entire staff -- Ollie, George Blaney, Karl Hobbs, Glen Miller and now Kevin Freeman and Ricky Moore -- has a UConn or Northeastern tie from Calhoun.
If Ollie isn't hired, the bond would be broken. If Ollie gets the job -- even for three years -- then at least he had a real shot instead of this season being a waste, especially in recruiting.
"I'm very pleased with what he has done as a coach and leader on and off the court," said Manuel, was at Friday afternoon's shootaround at Hanger 5.
"I'm an open person and once I make a decision to move we will. I'm not going to go behind his back and look at other people. If in the end Kevin is the choice I will be very happy and if he is not, we will find the best person to keep UConn moving in the right direction."
Manuel said he won't and doesn't have to wait until the end of the season to make a decision. He said it could come at any point.
"I'm always being evaluated," Ollie said of Manuel being on the trip. "I'm going to coach the way I coach and [if] they don't like it, they don't like it. It's all I can do. I can't reinvent myself. I can't be Coach Calhoun. I can't be Tom Izzo. At the end of the day, they'll either like me or not. Hopefully I'll be good enough. If not I'll move on. [Manuel] knows I want to be here.
"I'm coming in guns blazing," Ollie said. "I got an opportunity and I'm going to keep going. I'm not worried. I care, but I'm not worried."
Meanwhile, the only concern Izzo has is whether his star freshman guard, Gary Harris, is ready for the prime time of a unique season opener and whether Branden Dawson, coming back from a knee injury suffered last season, can handle the rigors of a long season.
If those two players answer quickly, then the Spartans could be a Big Ten title team and Final Four-bound.
Izzo coached the Spartans in consecutive Final Fours in 2009 and 2010 and had a locker-room leader and inspirational player in Draymond Green last season. The Spartans started 0-2 last season but, behind Green, still won a share of the Big Ten and earned a No. 1 seed.
Izzo said this is one of his more versatile and deepest teams. He has a leading voice in Keith Appling at guard, Harris and a plethora of big men led by Dawson and joined by Adreian Payne and Derrick Nix.
"I think we're ready," Izzo said. "I can't continue to worry about [Dawson] but he was out seven months. We're ready to play hard. But it will be unique for the first time in this environment. We'll be a work in progress for a while."
Izzo said he'll probably go big with Dawson, Payne and Nix for 10-12 minutes a game. He said he could go small with Appling, Harris, move Dawson to power forward and add in Travis Trice or Denzel Valentine.
The Armed Forces Classic is a USO-style game brought here for the troops. But Izzo and Ollie have plenty to focus on as well. Izzo has a title team to build. Ollie has a job to earn.