Category archive:

Florida Gators
December, 2, 2013
12/02/13
9:34
PM ET
STORRS, Conn. -- Shabazz Napier hit a game-winning, buzzer-beating jumper to beat Florida 65-64 in a thriller Monday at Gampel Pavilion. Here are five observations for the Huskies and Gators.
1. UConn and Napier came through late, again: Napier doesn't want to be compared to Kemba Walker.
It's not fair -- to Walker.
"Those are big shoes to fill,'' Napier said after his game winner.
"I'd have to win a national championship,'' Napier said of Walker's improbable run to claim Big East and NCAA tournament titles in 2011. "I'm trying to be myself.''
Napier learned from Walker and emerged from under his shadow a year ago with Walker off to the NBA. But a team Academic Progress Rate ban meant the Huskies couldn't go to the postseason, and anything Napier did wouldn't have the same cachet without the possibility of an NCAA tournament berth.
[+] Enlarge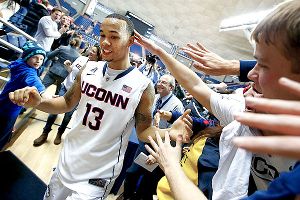 Jared Wickerham/Getty ImagesShabazz Napier had 26 points on 9-for-15 shooting to lead UConn to a win over Florida on Monday.
Walker made money shots for the Huskies during that magical run in 2011. No one is saying this season's Huskies are en route to a national title. But no one said that about UConn in 2011, either -- at any point until the Huskies won the Big East Tournament title.
Napier has had moments in his career already -- like beating Villanova in Philadelphia -- but nothing was quite like the walk-off shot he made Monday night.
"You always see highlight films of the guys hitting the last shot or guys at the free throw line making the free throws,'' Napier said. "You want to be the hero. You want to be the guy who's known as the hero at the end of the game. Growing up, I wanted to be Superman. Everyone wants to be a hero. I was fortunate enough to be in the right spot at the right time.''
The undefeated Huskies have late-possession wins over Maryland, Boston College and Indiana and now against a depleted, but gritty and determined, Florida team.
"I'm happy, but I'm a little exhausted,'' UConn coach Kevin Ollie said. "Another one-point game, but, once again, we showed our resolve. … You look on the stat sheet, and I don't know how we do it. They shoot 49 percent and outrebound us, but, at the end of the day, we get it done. It's a magical team. They've been through a lot.''
2. Napier might be the best late-game shooter: Napier isn't a lock for the first round of the NBA draft like the high-profile freshmen, but it's hard to go against Napier if a team needs one shot to win a game. Ollie said earlier Monday he doesn't hesitate to put the ball in his senior's hands for a late-game shot. It shows.
[+] Enlarge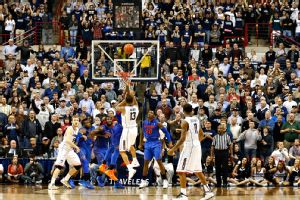 David Butler II/USA TODAY SportsFlorida stopped Shabazz Napier's initial shot, but he got one more look after fielding a tipped rebound.
Florida coach Billy Donovan did everything he could to try and fluster Napier. Scottie Wilbekin, his lone point guard, was down with an ankle injury in the final three minutes, so the Gators went to a 1-3-1 zone. They attempted to trap Napier on the final possession and did a good job forcing a bad shot, but DeAndre Daniels tipped the ball back and Napier got it for a last-second shot in perfect position facing the basket.
"We got him to take a very, very difficult off-balance shot,'' Donovan said. "The guy that won the game for him was DeAndre Daniels. He made an unbelievable tip out, off balance, which kept the ball alive.''
True, but Napier still had to have the presence to bury the shot.
"Whenever we need a big shot, he makes that,'' Ollie said. "Whenever we need a play to be made, he made that. He's got so much heart. Hopefully, America is starting to look at him as that man. He's one of the big-time players to ever put this jersey on and walk on the court at Gampel.''
Napier also converted a four-point play, and tweaked his ankle in the process, to give the Huskies a one-point lead with 33 seconds remaining. Napier made a strong case to be on everyone's All-American watch list heading into the heart of December.
3. The Huskies are more than just Napier: Napier and Ryan Boatright are going to take the big shots in key situations, but UConn has other key contributors. Daniels' tip was the last of seven rebounds for the slender forward, who also finished with 14 points. Niels Giffey hit two critical 3-pointers and continues to be the ultimate glue player. The Huskies got outrebounded by the physical Gators. Ollie said after the game he could use big men with size like Florida's Patric Young -- in the future, but for now, he has thin forwards who he says "have heart.'' And that is working for the Huskies in late-game situations.
[+] Enlarge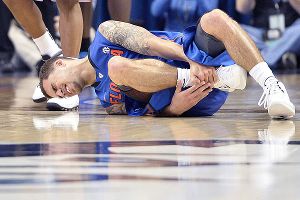 AP Photo/Bill Shettle/CSMFlorida senior point guard Scottie Wilbekin left Monday's game with a right ankle injury.
4. The Gators can't afford bad news on Wilbekin's ankle: Wilbekin -- who has already missed six games because of a suspension -- was erratic Monday, scoring 15 points and hitting two 3-pointers but committing three turnovers. Donovan said after the game he had no idea on the status of the point guard's turned right ankle. The Gators are still without star freshman guard Kasey Hill, who has a high-ankle sprain. Hill averaged 10 points in the four games he played. Donovan said Hill is probably two more weeks away from returning. Hill's game is speed and he hasn't been able to do anything because of the ankle injury. If Wilbekin is out for any extended period, the Gators will have to look to Dorian Finney-Smith or Michael Frazier to handle the ball some.
5. The Gators can be an SEC contender if healthy and eligible: Florida showed tremendous grit Monday. Casey Prather was unstoppable at times, scoring 19 points and grabbing seven boards. Young and Will Yeguete contributed in a variety of ways. If McDonald's All-American Chris Walker gets eligible (he has one online class left to finish), the Gators could have a formidable frontline. If Wilbekin and Hill get healthy and Finney-Smith and Frazier contribute on the perimeter, it would give the Gators more than enough to challenge Kentucky in the SEC. There are a lot of ifs, but it's still early.
June, 20, 2013
06/20/13
9:20
AM ET
The FIBA U-19 World Championships may not resonate here at home, but the goal of winning gold has never been more explicit within USA basketball.
As the seriousness of the men's national team has taken on a new level in the last eight years, the junior national team has followed that example.
Coaches are returning. Players are, too. Suddenly, playing for Team USA has value -- as it should.
But this is not an all-star team. This is a team that will compete in Prague next week, crafted to fit Florida's Billy Donovan's coaching style. He wanted a team that could press, rebound, defend and generate turnovers. The havoc fits the way one of his assistants -- VCU's Shaka Smart -- loves to coach.
"I like this team a lot,'' Donovan said. "More than anything this group of kids understands the sacrifice and attitude and work ethic.''
Here is the final 12-man roster and Donovan's assessment of what they've done and can do for Team USA, which begins play in the Czech Republic on June 27. The gold-medal game is set for July 7.
Michael Frazier, 6-4, G, So., Florida
"He comes in as the best shooter. One of the things we struggled with was behind the line. He really provides shooting. In our scrimmage against Air Force he was 4 of 6. He can be a spot-up shooter against a zone and help us space the floor a bit.''
Aaron Gordon, 6-6, F, Fr., Arizona
"He's really, really athletic. He's got a great motor. He can play the 3, the 4. He's really, really good in the press. He's really, really active, and he's going to be a very good player with a great motor.''
[+] Enlarge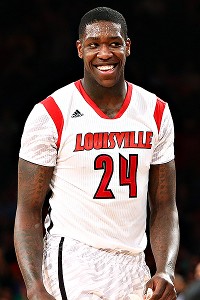 Debby Wong/USA TODAY SportsMontrezl Harrell will have an increased role at Louisville this season and his experience with Team USA should help.
Jerami Grant, 6-6, F, So., Syracuse
"He's been sick with strep throat. But he'll be healthy [for the tournament]. Like Gordon, he gives us another versatile frontcourt guy. Like Gordon, he can play a 3, 4 and 5 and his shooting has gotten better. He was on the team a year ago. He gives us great length and is versatile.''
Montrezl Harrell, 6-7, F, So., Louisville
"He's like Gordon and Grant in that he's really athletic. His skill level has gotten better [since last year]. He's really active. We can do a lot of things defensively with those three guys in Gordon, Harrell and Grant. We can press and switch and they can guard a lot of different positions, get out and run a little bit. We could play all three at the same time.''
Jahlil Okafor, 6-10, C, Whitney Young HS, Chicago
"He's really, really skilled in the low post. He's got a big body with a long wingspan. The way we're playing fast, running and pressing, he's the guy we can throw the ball inside and he'll make good things happen. He's a lot more mature than his age. He's going to play well with the pick-and-roll. He's a big, strong kid. We can go high-low with him and he can work his way to the basket. He's got a good skill level.''
Elfrid Payton, 6-3, G, Jr., Louisiana-Lafayette
"He came in as the surprise. He's really rangy and a very good defender. He can play multiple positions. He's really crafty with the ball and can get in the lane. The best thing he does is pass. He's a really good on-ball defender.''
Marcus Smart, 6-4, G, So., Oklahoma State
"He's been great leadership-wise. I think he's gotten better shooting the ball. His presence and competitiveness and strength and size will help us. So will his will. He came back to school and to us and that really helps our team. He has an incredible presence. I will play him at the point. But he'll also play the 2 and 3. We've got a lot of guys who can play different positions.''
Jarnell Stokes, 6-8, F, Jr., Tennessee
"He's really physical. He was with us last year and he can be a monster around the basket for us. Last year, we kept more guards. This year, more frontcourt guys.''
Rasheed Sulaimon, 6-3, G, So., Duke
"He's a good scorer. He was with us last year. He's shooting the ball with more consistency. He's more comfortable with the international line. We've got to get him to take over more of a leadership role. He was on the trip last year with Smart [when Donovan led them to the gold in Brazil for the U-18 title]. And he played a lot with Duke and that's important.''
Mike Tobey, 6-11, F, So., Virginia
"He's been really good. I think he'll really help us against the zone. After the first day or two, he adjusted and played really well.''
Nigel Williams-Goss, 6-3, G, Fr., Washington
"He's got a lot of the intangibles. He's a great leader and a really good motor. He's more advanced than his age. He's always played at a high level. He'll play the 2 for us.''
Justise Winslow, 6-6, F, St. John's HS, Houston
"He's a 6-6 guy that can play the 2, 3, 4 and really good in the press. The thing that's good for him is his overall skill, passing and unselfishness. He can guard several different positions. He's really athletic. He's a pass-first player that can slash to the basket.''
February, 12, 2013
02/12/13
8:21
AM ET
Kentucky doesn't have to be as deep, talented or efficient as last season's team. So don't bother comparing the two.
Or the year before that, or the year prior under John Calipari.
The rest of the country isn't comparable, either.
There are no dominant teams in college basketball, such as the Wildcats were last season.
Florida appeared to be on track for a dominant season in the SEC, but the Gators are looking much more mortal after flopping at Arkansas. An injury to Will Yeguete has taken away Florida's top defender on the press and created a potential crack in the efficiency of the Gators.
Kentucky has won five straight games against the Gators and enters Tuesday night's rivalry game only a game back in the loss column. A win over Florida would completely overturn the perception of the SEC race, as well as Florida's and Kentucky's fortunes.
"Coach [John] Calipari is great at improving individual players and about being unselfish," said sophomore Kyle Wiltjer. "We've been practicing really hard and it has translated into practice and into the game. We're always confident and the team has found its roles and identity."
Wiltjer said Kentucky took too many plays off early in the season, lost its intensity and didn't have the fire or defensive commitment for every possession.
That much was obvious in losses at Notre Dame and at home to Baylor earlier in the season, and even more so in a home loss to Texas A&M, when Elston Turner scored 40 on the Cats, and at Alabama in a low-scoring game Kentucky probably should have won.
But the focus has been there of late in winning five straight, finishing off at Ole Miss, holding on at Texas A&M in overtime and winning as expected against South Carolina and Auburn at home.
Remember, Calipari had to deal with Ryan Harrow being ill and ineffective early in the season at the point before settling down, incorporating a transfer in Julius Mays, getting Archie Goodwin and Alex Poythress to become much more committed on the defensive end, working on Wiljter to become an all-around player and waiting on Nerlens Noel to figure out just how good he could become.
Noel is leading the country in blocks at 4.5 a game and 5.7 during SEC play. His 12 blocks at Ole Miss probably felt like 25 judging by the way the Rebels couldn't get anything going in the paint.
"He's become so much more aggressive on both ends of the court," said Wiltjer.
Look, the Gators are as efficient a team in the country in manufacturing points and even better on the defensive end.
But the competition will change with Kentucky's arrival on Tuesday in Gainesville.
Kenny Boynton and Mike Rosario should have the advantage on the perimeter, but the wing and post play of Kentucky may well prove to be tougher. Erik Murphy may have a harder time finding open spots if Kentucky is committed to defense by using its length. Patric Young and Noel can tussle inside, but Noel's intimidation in blocking shots could be more effective then Young's strong man game.
A month ago, this game certainly would have been projected as a Florida win. That perception has changed and the reality is this could be the first of two games between these teams heading for a late-possession finish.
In an era with rivalries dwindling, Kentucky-Florida is the best the SEC has to offer. The reason is the two teams have separated themselves among the lot.
There is plenty at stake between two top-10 teams when No. 4 Michigan and No. 8 Michigan State meet on Tuesday in East Lansing because both teams have a shot at the Big Ten title.
But there may not be more intrigue than Kentucky-Florida. A Kentucky win in Gainesville would suddenly send a message to the rest of the country that this Kentucky team has what each of the past three Wildcats teams under Calipari had -- the makeup of a possible Final Four team.
A loss won't end that possibility, especially on the road to the Gators. But how the Wildcats play in this environment will go a long way toward proving whether a deep tourney run is possible again.
January, 8, 2013
01/08/13
2:44
PM ET
NEW HAVEN, Conn. -- Florida senior guard Kenny Boynton wants no part of the Elite Eight disappointment.
He's felt it twice.
"And it hurts,'' said Boynton. "We were with eight or nine minutes left to go feeling like we were going to the Final Four. It's worse than any loss we've ever had.
"Anything less than the Final Four will be a failure for me. We've seen the Elite Eight. We let teams get back. We have no excuse. We need to get to the Final Four and see what that is.''
The Gators should have been in the Final Four in 2011 but let Butler come back on them in New Orleans. The 2012 Elite Eight loss to Louisville in Arizona stung just as much.
[+] Enlarge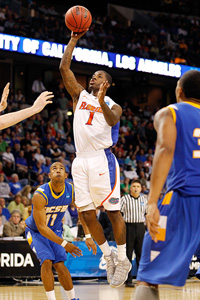 J. Meric/Getty ImagesGetting into the lane will help open up Kenny Boynton's game.
"I remember getting home after we lost to Butler and turning on the TV and seeing VCU beat No. 1 Kansas and saying we're better than VCU. We could have beaten them and played for the national championship,'' said Boynton. "Last year, we could have had another shot at Kentucky. Nothing below the Final Four. We can't. It would be a failure."
But herein lies the problem for coach Billy Donovan.
He has to make sure Boynton and the rest of the Gators are prepared for the journey. The tournament is unlike any other postseason. You can't assume anything. Pitt is a perfect example of a team that had multiple chances to advance toward a Final Four, but poor plays in final possessions against Villanova and Butler flushed the possibility in the single-elimination event.
It's hardly a given that the Gators, even the most experienced team in the SEC, can win the regular-season title over Missouri and Kentucky to put them in position to get a high seed.
"Are these guys willing to go through the process?'' said Donovan after the Gators Sunday night victory at Yale in which Boynton scored 28 points. "You can't just say you're going to get to the Elite Eight. I've been through this. We went to two NITs in a row, and it was you have to get over the hump to get to the NCAA tournament. Now it's get over the hump to get to the Final Four.
"Every year it has been some sort of hump. But are they willing to go through the process? Honestly we have to look at what has happened in these games. Why at Arizona? Why against Butler? Why against Louisville? It's not just one thing, but a combination of things."
Donovan put the collapse at Tucson last month as part of the recent losses that need to be explained. He said it has been a bad shot, a loose ball not retrieved, a poor defensive play all adding up to a lack of urgency.
Donovan has even taken to showing the current Gators the 1999 Sweet 16 loss to Gonzaga when Casey Calvary went over Brent Wright for a tip-in to beat the Gators to advance to the Elite Eight.
"The pain of blocking out every day in practice is far worse than the regret of missing one and all the other 12 guys looking at you because of one play,'' said Donovan. "That's the margin of victory. You can't just snap your finger and get back to that point. You have to build those habits."
And it may just start with Boynton's shooting.
Sure, he was in a shooting slump, going a combined 11 of 38 in the previous four games, which included losses to Arizona and Kansas State away from Gainesville. But it was the percentage of 3s that was the issue.
[+] Enlarge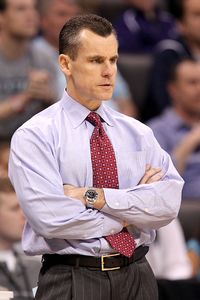 Ronald Martinez/Getty ImagesBilly Donovan knows that title teams are built through a daily process.
And despite making 8 of 10 against Yale, the problem still exists. Boynton took only two other 2-point shots.
Donovan said more than 60 percent of Boynton's shots are 3-pointers, and it makes him too one-dimensional and predictable. Donovan said Boynton has grasped that he has to shot-fake more and get to the basket so that opposing players respect his drive. Boynton averages only a few free throws a game, another stat that would likely increase if he were to attack the basket more often.
The Gators will be without another scoring threat for a spell as Erik Murphy heals from a fractured rib. That will put more scoring responsibility on Boynton as he shares the perimeter with Scottie Wilbekin and Mike Rosario. The latter two have to watch how they handle the ball, though, especially against pressure.
The frontcourt of Will Yeguete, Patric Young and Casey Prather isn't necessarily a skilled lot. So these three need to get their points off offensive rebounds and of course have to defend and create transition buckets at the other end.
Still, the experience is in place for the Gators to be the team to beat in the SEC and get to where Boynton said they belong.
The Gators won consecutive titles in 2006 and '07 due to the commitment of the players. Boynton was being recruited during this run and arrived two years later. He has seen Kentucky ascend to the top of the league, a fact that commands his respect even if the Wildcats are less experienced this season ("People say they're not as good this year, but I honestly respect them.'').
What Boynton and the rest of the Gators need/want is to leave their own legacy -- not of losing Elite Eight games but of reaching a Final Four.
"It would mean a lot because coach is a winner and I want to go out as a winner,'' said Boynton. "Everyone talks about that class (from 2004 that won two titles). I want to go out as a winner and try to win a national championship.''
November, 5, 2012
11/05/12
2:39
PM ET
Allan Chaney
was incredibly nervous to play Mars Hill.
This wasn't a game in the SEC, where he used to play for Florida. This wasn't Duke or North Carolina, the two schools he was hoping to go against when he made the decision to leave the Gators and transfer to Virginia Tech.
This was Mars Hill, in an exhibition. And he was playing for High Point University.
And you know what? He couldn't be happier to be on the court competing.
Chaney scored 16 points, grabbed six boards and blocked two shots in Saturday's game. He has a chance, alongside JC forward John Brown, to put High Point in contention for the Big South championship.
"It felt great to be out there for 40 minutes," Chaney said. "The first half was so nerve-wracking. But the second half I was straight. I don't know what to say about it. It was so stressful, having to be patient and not knowing when I would play again. I had this opportunity to play Saturday and I'm so grateful."
Earlier Monday afternoon, Jeff Goodman of CBSSports.com detailed at length Chaney's struggles over the past two years to get to this point.
Chaney is playing with an implanted wireless defibrillator and on Saturday wore a vest to protect his chest. Former Virginia Tech coach Seth Greenberg, now an ESPN analyst, said he used to battle with Chaney to get him to wear the protective vest. But it was a moot point anyway. Chaney was never cleared to play by the school's medical staff after he collapsed on April 24, 2010, during an individual workout.
Greenberg couldn't be happier for Chaney, whom he spoke with Monday and congratulated on making it back on the court. The Greenberg family and Chaney became close once he arrived in Blacksburg and the families still stay in touch.
Greenberg said his wife, Karen, found Dr. Francis Marchlinski at Penn through a mutual friend. Marchlinski ultimately was the one who cleared Chaney to play again.
But Chaney needed to find a place to play. High Point coach Scott Cherry said he was informed of Chaney's situation when they had a scholarship open up. Greenberg had been fired and was replaced by former assistant James Johnson, a friend and former fellow assistant at George Mason with Cherry. Cherry said he did his due diligence checking on Chaney with doctors, family and, of course, the university.
"We felt like the risk was something we could take on," he said. "I don't want to say it was easy, but it was smoother than we thought. Our administration and medical staff on campus didn't see anything that stood out. They read all the medical reports. Our cardiologist in town was familiar with Dr. Marchlinski. He respected his work and believed very much in his report that he was cleared to play and should be fine.''
[+] Enlarge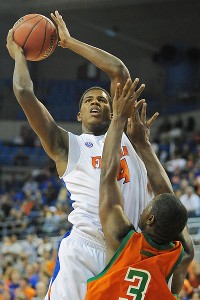 AP Photo/Phil SandlinAllan Chaney hasn't played a regular-season college hoops game since 2009.
Of course, there was the NCAA to get through, too.
Chaney played one season at Florida. He was now 22 years old. He had to get a waiver to play immediately and get a sixth year of eligibility back.
Cherry said the waiver had to be submitted since Chaney had graduated from school and was a 4-4-4 transfer, going to his third four-year school. Cherry said the waiver for him to play this season came back positive immediately. Getting the second waiver to get him a sixth year of eligibility took a personal note from Chaney detailing his medical hardship.
"The first one came through in two to three days," recalled Cherry, "but the second one had to take longer since Allan had to write his personal statement."
"I just explained what had happened and what I had been going through the last two years," Chaney said. "I talked about all the back-and-forth with doctors and explained my one year at Florida and presented my medical records and the steps it took me to get back to this point. I was fortunate to get back these years. It's a blessing."
The second waiver came through two weeks ago, giving Chaney two seasons of eligibility remaining.
"I applaud the NCAA for granting this kid the second year," Cherry said. "He deserves it. We're really excited."
There are conditions and precautions being taken.
Cherry said Chaney has to wear the protective vest. He said that a defibrillator is at practice and workouts and all the staff, including the coaches, have been trained on how to use it. He said the defibrillator, which is there as a secondary emergency device in addition to his implant, goes with the team and Chaney wherever he travels -- in a restaurant, on the bus, in the locker room and in the hotel.
"It has to be hands-on, no matter what," Cherry said. "That's the only additional thing to do with him. We won't also give him any punishment runs. But he's a great kid so there is no need to worry."
Cherry said Chaney's conditioning still isn't up to speed yet, which is to be expected.
"He's like a true freshman or a JC kid," he said. "When he gets a little more active he can get more fatigued. He tends to stand around and watch. But to have a 6-9 player that skilled who can shoot 3s and has length and can rebound at our level -- we're blessed to have a guy of his caliber."
Cherry said he will work the offense through Chaney and Brown, beginning with Friday's opener against a fellow North Carolina alumnus in Wes Miller of UNC Greensboro.
"Nobody can do the things like Allan and John, so we'll rely on their balanced scoring," Cherry said.
The head coach is also hopeful guards Derrell Edwards and Justin Cheek will give him his most balanced team in his four seasons at High Point.
"I've never had frontcourt scoring like this," Cherry said. "We were picked third in our division but nobody has seen Allan. He's an unknown right now. John Brown sat out last year. He couldn't practice. I brought in six other guys, and two will start. It's a new team with talent. We've got a chance. I feel like this is the best team I've had since I've been here. We've got good guys at every position. We've got a team that has a chance to fight for a championship this year."
Chaney doesn't want to think about the two years he has remaining in college, per the NCAA.
Instead, he's dealing with each day as a gift.
"I can't look too far ahead," Chaney said. "It's one game, one day at a time. I'm just trying to get better every day."
June, 15, 2012
06/15/12
11:44
AM ET
WALTHAM, Mass. -- Vanderbilt's
John Jenkins
, Kentucky's
Doron Lamb
and Florida's
Erving Walker
were all part of a Boston Celtics workout Thursday and shared some thoughts on their former teams in the SEC:
• Jenkins was at Vandy's workout Wednesday in Nashville and left with the impression that the Commodores are hardly gutted after losing him, Jeffery Taylor and Festus Ezeli.
"They know they lost a lot but they can't have any slippage,'' Jenkins said. "I was highly impressed with what the bodies look like. There was good talking, showing leadership.''
Jenkins said Rod Odom and Kyle Fuller were leading the workouts in much the same fashion that he and his fellow upperclassmen had done previously.
"That's important to me because I'm the one that put my arm around them when they came up,'' Jenkins said. "They understand what has to be done. I was highly impressed by the workout.''
Jenkins said he expects Odom and Fuller to do the same with incoming freshmen A.J. Astroth, Kevin Bright and Sheldon Jeter.
But the Dores will almost certainly take a step back without the shooting of Jenkins and Taylor, Taylor's defense, and the inside scoring of Ezeli.
• Lamb said Vanderbilt and Florida were the two SEC teams that pushed the Wildcats the most during his two years in Lexington.
"They got us in that game,'' Lamb said of the SEC title game. "But we won the national championship. Those were the two toughest teams for us. We had a lot of hard games, but those were the main games we got up for.''
• Lamb didn't bite on whether Kentucky is now missing a shooter like himself, which is what Anthony Davis said about next season's Wildcats. Still, Lamb expects UK to be in the thick of the title chase again.
• Jenkins and Lamb guarded each other quite a bit in the Celtics workout. Jenkins' strength is catch-and-shoot. Lamb is much more of a combo guard. Jenkins had trouble getting past Lamb, but that may not mean as much since a team would be drafting Jenkins as a pure shooting guard while Lamb could play both guard positions. Both players are likely to be drafted somewhere in the 20s.
• Jenkins is heading back to Denver (20th pick) for a second workout and may visit Cleveland (24th pick) a second time. Boston picks at 21 and 22.
• As for Walker, he said the Gators should be the favorite in the SEC next season over Kentucky and Missouri.
"They've still got Kenny Boynton, Patric Young, Erik Murphy, and I expect big things out of Mike Rosario,'' Walker said. "Mike got down a bit with me and Kenny being there and Brad [Beal] coming in. But he practiced hard and competed with us and will be a great scorer. They'll be right there to make a run at the Final Four.''
• Walker said losing in the Elite Eight and missing the Final Four two years in a row was hard to digest.
"We gave up late leads two years in a row,'' said Walker of the Gators losing in consecutive regional final games to Butler (2011) and Louisville (2012). "It sucks. We could have done more. I always wanted to see what it would feel like. We would have definitely given Kentucky a run since we got closer and closer.''
Kentucky beat Florida three times last season, twice during the regular season and once in the SEC tournament.
"They blew us out the first time, but it was closer at home and then right there in the SEC tournament,'' Walker said. "We had a great run.''
• Walker is unlikely to get drafted, but still competes extremely hard, especially on the defensive end.
• I'll be surprised if Boston keeps both 21 and 22, but the Celtics need to make sure there is a palatable trade. This is a huge summer for Boston's two 2011 draft picks, Purdue's E'Twaun Moore and JaJuan Johnson, who didn't get a chance to play much as rookies.
• Charlotte is entertaining offers for the No. 2 pick and would look to move down for multiple picks. But the Bobcats do like their options at No. 2 if they keep the pick, according to a source.
• Houston is unlikely to keep both 14 and 16, according to a source, but the Rockets don't fret at the prospect of retaining both.
• Utah would like to get into the first round if possible, according to a source.
• At 17th, Dallas could check out of the first round for the right price, said a source.
• The most interesting debate in the top five is where Thomas Robinson and Michael Kidd-Gilchrist will land. The certainties, at least at this juncture according to team sources, are Anthony Davis to New Orleans and Bradley Beal and/or Harrison Barnes staying in the top four. That means either Robinson or Kidd-Gilchrist could slide out of the top four to Sacramento at No. 5 or below.
March, 20, 2012
03/20/12
12:06
PM ET
A Sweet 16 appearance elevates a program to the next level.
A Final Four moves it up another notch.
The matchups usually make the difference in getting this far. Talent -- and star power -- also play big roles.
There is a certain level of pressure for all coaches and programs. For some, it's self-induced. For others, it comes from a passionate fan base. Some programs need to reach the Final Four for the season to be considered a success. Some do not.
With that being said, here is our Final Four pressure-meter (1 feels the least amount of pressure and 10 feels the most):
[+] Enlarge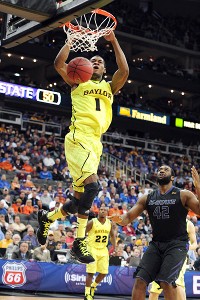 Peter G. Aiken/US PresswirePerry Jones' Bears have the talent to reach New Orleans, but they have a big hurdle to clear in the South Region.
Baylor (5): The men's team doesn't need to make a Final Four appearance. The women will take care of that, as they are the favorites to win the national title. But the men's team has the makeup to make this run a rare one. Few teams have length like the Bears do, and it's unlikely that Perry Jones III will stick around for a third season. The reason Baylor doesn't have as much pressure to reach the Final Four, even though it has the personnel to make it to New Orleans, is the bracket it's in. Kentucky could stand in the way of Baylor's potential first men's Final Four appearance. The Wildcats are the clear favorites, so expecting the Bears to advance to the Final Four from the South wouldn't be fair.
Cincinnati (3): Cincinnati has survived suspensions and a bumpy ride in the Big East. The Bearcats thrived at the end of the season and reached the conference title game. Mick Cronin and this crew have exceeded expectations by reaching the Sweet 16. Playing one of the favorites in Ohio State takes more pressure off the Bearcats. This ride now is all about extra credit for Cronin and Co.
Florida (4): The Gators won two national titles in consecutive seasons. It will be hard for any program to duplicate that -- ever again. Keeping a team together like the '04 class for the '06 and '07 titles will be extremely difficult to match unless the NBA draft rules change again. The Gators had an easier road to the Sweet 16 thanks to a depleted Virginia team and playing Norfolk State, which exhausted itself with the stunning upset over Missouri. But the Gators don't need to get to the Final Four. If Florida does reach New Orleans with this flawed group and its suspect inside game, it would be quite a feat. The Gators are the lowest remaining seed in the West, too. Expecting them to get past Marquette and possibly top seed Michigan State would be a bit much.
Indiana (3): Tom Crean has turned the corner in Bloomington. There was legitimate reason to be concerned last season. But Crean recruited exceptionally well, getting a star in Cody Zeller, and he got his players to believe they could win big-time games. The victory over Kentucky will resonate for some time. Reaching the Sweet 16 gives Crean even more credibility and respect in the state. However, for this team to get past Kentucky would be asking too much. No one should expect a win over the Wildcats again. To advance to the Elite Eight and the Final Four would be sensational accomplishments. Even though the fan base expects greatness, Indiana has already exceeded any expectations by getting this far.
Louisville (5): The Cardinals are the "pro" team in town. And like Kentucky, the expectations include Final Four appearances. But Louisville has gone through a slew of injuries, and there was no reason to believe it could maintain a high level of play throughout the season. Still, the Cards survived to reach the Sweet 16 and face top-seeded Michigan State. The most pressure may be felt in trying to keep up with rival Kentucky. The expectation is that the Wildcats will be in the Final Four, so why not join them and create even more frenzy in a hoops-crazed state?
Kansas (9): The Jayhawks have two of the top players at their positions in Thomas Robinson and Tyshawn Taylor. Kansas expects to compete for conference and national titles, regardless of personnel, every season. And while Bill Self had to deal with rotation players not being eligible, including top newcomer Ben McLemore, the Jayhawks still won the Big 12 regular-season title for the eighth straight time. Kansas survived against Purdue, but had it not been for a guard meltdown the Jayhawks may be idle right now. Instead, they have new life in the Midwest, thanks to NC State's Sweet 16 run and North Carolina potentially being without Kendall Marshall in the Elite Eight (if the Tar Heels get past Ohio). The pressure has ratcheted up for the Jayhawks. If Marshall is out for this weekend in St. Louis, the Jayhawks are the new favorites in the Midwest.
[+] Enlarge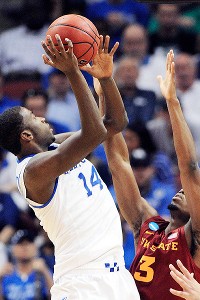 Jamie Rhodes/US PresswireAs the favorite to win the title, Michael Kidd-Gilchrist and Kentucky have to feel the pressure.
Kentucky (10): The Wildcats are the front-runners to win the national title, not just get to the Final Four. Let's be honest, anything less than a title would be a disappointment. No team in the Sweet 16 has as much pressure to get to the Final Four as Kentucky. The Wildcats have the most talent, the national player of the year in Anthony Davis, and plenty of other pro talent on the roster (Michael Kidd-Gilchrist, Terrence Jones and Doron Lamb). Darius Miller also played in the Final Four last season. John Calipari has coached in three Final Fours. The Wildcats are playing a team that handed them their only regular-season loss. A possible matchup with Baylor is more than formidable. The Bears can match Kentucky's length and shooting, but Baylor's defense has never been its strong suit. The region still lays out well for Kentucky in SEC-rich Catlanta.
Marquette (6): The Golden Eagles play as hard, if not harder, than any other team in the field. Marquette's beat down of BYU in the second half and its ability to run past Murray State late were quite impressive. Now, the Eagles get a Florida team that it matches up well with since they can defend the 3-point shot. Marquette should be the favorite in this game and has the personnel and the toughness to beat Michigan State or Louisville. A Final Four isn't expected with this group, but now the bracket has opened up a bit with Missouri gone. A loss in the Elite Eight makes more sense, but there is some pressure for Marquette to advance with Jae Crowder and Darius Johnson-Odom leading the way. The Eagles have been to a Final Four with Dwyane Wade under Crean. A berth for Buzz Williams would raise his coaching profile.
Michigan State (8): The Spartans lost one of their key rotation players in Branden Dawson in the final regular-season game against Ohio State. But they won the Big Ten tournament title without him and earned a No. 1 seed in the NCAAs. Draymond Green has been the most valuable player so far in the NCAA tournament and has a legit shot to lead the Spartans to another Final Four. Michigan State expects Final Fours under Tom Izzo, but this team certainly didn't look the part early in the season. It has matured into a title contender. And while the bracket is filled with potential hurdles, the Spartans have the pressure of being a top seed and the expectation of a Final Four appearance.
North Carolina (8): The Tar Heels would have had a 10 in this spot if Marshall didn't fracture his wrist against Creighton and have surgery on Monday. Now, the pressure of reaching the Final Four has dropped a few spots. North Carolina was as healthy as it had been in weeks at the start of the game with the Bluejays. But the Marshall injury makes the Tar Heels extremely vulnerable. Ohio is capable of pulling off another upset. And if the Tar Heels get past Ohio, a revenge-minded NC State team or title-contending Kansas awaits. The Tar Heels were built to win a title. That's why Harrison Barnes didn't opt for the NBA. Tyler Zeller had opportunities, as well. The roster is deep enough to absorb injuries to Leslie McDonald and Dexter Strickland. Let's see if it can take its worst hit and survive without Marshall or having him only on a limited basis. The expectations for a Final Four may have dropped outside of Chapel Hill, but it hasn't inside the Dean Smith Center. Carolina should expect to be in the Final Four yet again. It's just tougher with Marshall's injury and Kansas potentially looming.
NC State (2): The Wolfpack have far exceeded expectations under Mark Gottfried. NC State was the last team revealed on Selection Sunday. It had to be one of the last teams in the field prior to the four at-large teams that played in the First Four. NC State lost a 19-point lead at Duke, and the Wolfpack couldn't close out UNC in the ACC tournament. But they grinded out wins over San Diego State and Georgetown in their first two games of the tournament. This program has had low expectations for years. The Final Four would be gravy on what has already been deemed a highly successful season. The Wolfpack draw Kansas and if they somehow get past KU (not improbable), they could face a rematch with UNC. One can only imagine the scene in Raleigh if NC State, and not UNC, made the Final Four.
[+] Enlarge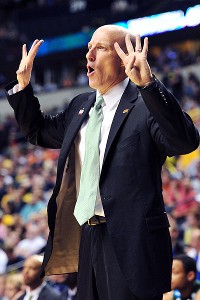 Don McPeak/US PresswireOhio coach John Groce could be walking into a difficult situation if he leaves for Illinois.
Ohio (1): The Bobcats are one of the tournament's great stories. Ohio played one of the more dramatic conference tournament title games when it knocked off Akron in thrilling fashion. The Bobcats got a decent seed at 13 and were matched up against a flawed Michigan squad. Ohio was aggressive and had the more experienced lead guard in D.J. Cooper (vs. the heralded Trey Burke) against the Wolverines. The Bobcats then faced a 12-seed in South Florida that couldn't score and was playing its third game of the tournament. Now, Ohio is playing with house money. The Bobcats have zero pressure in reaching the Final Four. Sure, they are facing a North Carolina team that will likely be sans Marshall. But to expect Ohio to win two more and get to the Final Four would be unfair. Ohio has already made its mark with this Sweet 16 appearance and coach John Groce can likely write his own ticket to a higher-paying job in the Big Ten if he chooses to do so.
Ohio State (9): The Buckeyes would have been a 1-seed if they had beaten Michigan State in the Big Ten title game. Jared Sullinger is healthy again, and the personnel hasn't changed. The Buckeyes possess some of the top players at their respective positions in Aaron Craft (top on-ball defender), William Buford (elite shooter) and Deshaun Thomas (a tough matchup as a face-up forward). Ohio State drew an instate rival in Cincinnati. The Bearcats will muck up the game and challenge everything. The top part of the bracket would be just as difficult with either a lock-down defensive team in Wisconsin or an up-and-down transition squad with a pesky zone in top seed Syracuse. But the Orange don't have Fab Melo, so if you were to re-rank the East bracket, the Buckeyes would have to be the favorites. That puts more pressure on Ohio State, and with Sullinger possibly leaving for the NBA, the window to reach the Final Four is now.
Syracuse (9): The Orange were built for a Final Four run. No team had players coming off the bench like Dion Waiters, C.J. Fair and Michael Carter-Williams. Fair is starting now, but the overall depth is still impressive. Melo's ineligibility knocks the Orange down from a 10. The expectation was Final Four or bust since they started showing their dominance during the Big East season. Syracuse has tremendous versatility with Scoop Jardine, Brandon Triche and Kris Joseph all able to make key shots. The Orange weren't tested by Kansas State after surviving a scare from UNC Asheville. The expectation is that it should beat Wisconsin and play against Ohio State. Syracuse may not be projected to beat the Buckeyes in a possible Elite Eight matchup now, sans Melo, but the pressure is there to get to a Final Four with a group that won't be together next season.
Wisconsin (4): Bo Ryan has never reached the Final Four. But he has had better teams projected to go farther. This squad has improved more than any of the previous teams he's coached at Wisconsin. The Badgers lost three early-season home games, and that rattled their confidence. But it didn't take away their resolve. Wisconsin found its shooting stroke, maintained its defensive intensity and got star-level play out of a role player in Ryan Evans. Jordan Taylor is still the leader and will take -- and make -- the big shots. The Badgers were the more polished team in wins over Montana and Vanderbilt. The expectation to knock off Syracuse isn't high. But if that occurs, then a team they already beat -- Ohio State -- could be standing in their way. The Badgers' last Final Four appearance was in 2000. The fan base is hungry for another run, but it doesn't need one. Ryan would like one, but he knows this may not be his best shot. Still, it's plausible in the current bracket.
Xavier (3): The Musketeers may not have been here had it not been for an A-10 title game appearance. Xavier had to mount a season-long repair project to get to this point. And it worked. Coach Chris Mack deserves as much credit for this run as the criticism he took for the way he initially handled the post-brawl situation. He matured as a coach during the season, dealt with his own knee injury and clearly got his lead guards, notably Tu Holloway, to refocus on the task at hand. Xavier survived Notre Dame by playing smarter than the Irish. It showed more moxie than Lehigh in finishing with a strong kick. No one is expecting Xavier to make the Final Four, even those that projected the Musketeers to do so in November. But Baylor is beatable. Taking down Kentucky would be quite a feat. The pressure is low. Xavier has already exceeded the expectations of a team that once had Final Four aspirations but didn't play that way for most of the Atlantic 10 season. Now that it's two wins away, the pressure is even lower. Xavier has already done well to finish the season on a high.
November, 14, 2011
11/14/11
1:50
PM ET
The atmosphere of the Carrier Classic, with its overwhelming sense of patriotism and the sheer uniqueness of playing a game on the deck of the USS Carl Vinson, along with the historical significance of that vessel, will be hard to top.
The view was magnificent. The Naval presence in all its glory and uniformity was as impressive as one would imagine. And the appreciation from the sailors for the break from the daily routine was genuine.
If you missed that game or any of the matchups on opening weekend, you're in for a treat because you won't be able to turn on the ESPN family of networks from 11:59 p.m. ET on Monday until about 1 a.m. ET on Wednesday without seeing college basketball on the screen.
Here are some questions to ponder as the fourth annual Tip-Off Marathon begins with Washington State at Gonzaga and ends with an NIT Season Tip-Off game the following night from Stanford.
1. Will Duke coach Mike Krzyzewski become the NCAA's all-time winningest coach? The Blue Devils play Michigan State in the first game at the Champions Classic (ESPN, 7 p.m. ET) from Madison Square Garden. Duke struggled against Belmont in its opener and then blasted Presbyterian on Saturday. Neither result should come as a surprise. The Blue Devils are usually the home team in New York, but it will be interesting to see how many Spartans fans are able to make the trip, especially if some of them just went to San Diego. Still, Michigan State has a real shot to upstage Coach K. Despite their loss to North Carolina, the Spartans were the aggressor, outrebounding the Tar Heels convincingly 42-31. The Blue Devils have as much size as North Carolina, so the challenge will be similar. But MSU must shoot better from 3-point range than it did against UNC (2-of-20). Another key to the game is seeing which team converts timely perimeter shots. If Duke wins, we'll have the unique setting of Krzyzewski winning No. 903 and passing his former coach Bob Knight, who will sit courtside calling the game for ESPN.
2. How will the Thomas Robinson-Anthony Davis matchup unfold? This could turn out to be one of the more anticipated frontcourt showdowns during the nonconference schedule, as this individual battle highlights the second game of the Champions Classic between Kentucky and Kansas (ESPN, 9:30 ET). Robinson began the season as the go-to guy for Kansas, finishing with 18 points and 11 rebounds against Towson. Meanwhile, Davis, UK's highly touted freshman, blitzed Marist with 23 points and 10 boards in the Wildcats' 50-point rout. Kentucky has more options than KU and can lean on Doron Lamb or Terrence Jones to get it plenty of points. But the tussle between Robinson and Davis will be good theater throughout the night.
3. How will Ohio State's Aaron Craft and William Buford handle Florida's perimeter? We're not conceding the Jared Sullinger-Patric Young matchup (well, we will for these purposes), but this game may come down to the guards. Florida's set of Kenny Boynton, Mike Rosario, Brad Beal and Erving Walker is off to a sensational start. Rosario scored 19 points off the bench, while Boynton scored 19 and Beal 14 (Walker added 10) in a rout of Jackson State. Craft and Buford will be tested defensively more so than they were a year ago, when Ohio State won easily at UF during this same event. The Buckeyes, who host the Gators at 8 p.m. ET (ESPN2), are the No. 3 team in the nation because of Sullinger. But this will be the first time OSU may feel the loss of defensive specialist David Lighty.
4. Can Belmont emerge from the brutal opening weekend with a split? The Bruins nearly nipped Duke in a comeback that fell one possession short. The next challenge is a visit to in-state Memphis at noon ET on ESPN. Belmont won't have any awe factor in playing the Tigers. The Bruins should come into this game oozing with confidence after their showing versus the Blue Devils. Memphis is still a young team and a work in progress. The Tigers have more talent, but the question is whether they will show patience against a Belmont team that will want to run and run and run. This could be one of the most entertaining games of the day.
5. How will Baylor handle its one and likely only test during Perry Jones III's suspension? Jones must sit for three more games after accepting an extra benefit. The Bears beat Texas Southern on Friday and Jackson State on Sunday. The two games that follow Baylor's home matchup with San Diego State (ESPN, 2 p.m. ET) are South Carolina State and Texas-Arlington. This is not the same Aztecs team from last season after the roster was gutted by graduating seniors and an early-entry NBA departure. Still, they are athletic enough to cause problems. The Bears have options with Quincy Acy, Quincy Miller and Anthony Jones, but this game should at least push Baylor a tad more than the first two did during Jones' suspension.
6. How will Gonzaga's guards respond after a poor first outing? The Bulldogs showed in a tight win over Eastern Washington that they can rely heavily on Robert Sacre (22 points and 10 boards). But the perimeter shooters went 3-of-13 on 3s, and Marquise Carter was 2-of-11 and Mike Hart, Gary Bell, Kevin Pangos and David Stockton were a combined 6-of-15 from the field. Washington State is a team in transition, and the Zags should win this game. But Gonzaga has plenty of tougher challenges ahead, and so its guard play will need to improve. Still, this will be a good chance to see Sacre and Elias Harris on display against the Cougars, tipping off the Marathon at 11:59 p.m. ET on Monday night (ESPN).
7. As for the two women's games on the Marathon schedule … How will Tennessee perform after coach Pat Summitt's health diagnosis? If you saw Robin Roberts' piece on "Good Morning America," you know it is clear that the Lady Vols are determined to win a national title for Summitt. The Tennessee coach also seems as driven as ever in her quest to keep coaching while she battles early-onset dementia. This should be an emotional game, as they all may turn out to be, for the No. 3 Lady Vols as they host No. 7 Miami (ESPN2, 6 p.m. ET). And how will Texas A&M handle its status as the reigning champs? The Aggies aren't expected to repeat as national champs, but they have established themselves as an elite program. The primer to the Tennessee game won't involve as much theater, but may be as competitive a game when No. 9 Louisville goes to College Station to play the No. 6 Aggies (ESPNU, 4 p.m. ET).
8. What should we expect from Texas' Myck Kabongo? Kabongo is an impressive young man who handles himself with poise and class. Now he has to translate that onto the court against a talented Rhode Island squad that lost at George Mason by two points in its season opener Friday. The Longhorns will lean heavily on Kabongo to start the season. How he handles this first assignment will be a strong indicator on what to expect, as URI will push Texas from the outset (ESPN, 4 p.m. ET).
9. How will Drexel handle the hype as the CAA's favorite? The Dragons play at Rider (ESPN, 6 a.m. ET) when most people might be waking up to watch the Marathon. Drexel is the early pick to win the Colonial Athletic Association, a conference that's receiving some buzz after placing its second team (VCU) in the Final Four since 2006. Drexel will be minus the injured Chris Fouch, but Samme Givens and Frantz Massenat should be enough to beat Rider. But the Dragons could do themselves a service by looking impressive, too.
10. How productive can the Saint Mary's frontcourt be this season? Randy Bennett anticipates that this frontcourt will be more productive than the one led by Omar Samhan, who led the Gaels to the Sweet 16 two seasons ago. That means Rob Jones will be getting help from Kyle Rowley, Brad Waldow, Mitchell Young and Beau Levesque. Jones dominated Fresno Pacific with 25 points and 12 boards, but Northern Iowa -- coming off an impressive road route of ODU -- will be a much more formidable foe for the Gaels (ESPN, 2 a.m. ET).
11. What should we expect from LeBryan Nash? Well, if you believe the hype, Oklahoma State has an all-Big 12 player who can elevate it to the NCAA tournament. The Cowboys will likely have plenty of chances to feature Nash against Arkansas-Pine Bluff in the NIT Season Tip-Off (ESPN3, 8 p.m. ET).
12. How polished will Syracuse look? If they defeat Manhattan on Monday, the Orange will face either Albany or Brown on Tuesday (ESPN3, 7 p.m. ET) in the NIT Season Tip-Off. The early indication is that this veteran team will be ready to compete for the Final Four. Of course, Syracuse isn't being challenged as much as some other teams, but the Orange smacked Fordham in the opener as Dion Waiters complemented Kris Joseph quite well.
13. A surprisingly close game? I'm going with Austin Peay at Cal (ESPN2, 10 p.m. ET). The Governors should be one of the favorites in the Ohio Valley Conference. Will Triggs and TyShwan Edmondson could play at any level. California is one of the Pac-12 favorites, but the Golden Bears will be tested in this CBE Classic matchup. Guards Allen Crabbe and Jorge Gutierrez will be tested versus Austin Peay.
14. What are the chances of a surprise to end the Marathon? I think Stanford will have a tough time with either SMU or Colorado State at home in the NIT Season Tip-Off. The Mustangs or the Rams are fully capable of being a pest and upsetting the Cardinal (ESPNU, 11 p.m. ET). Stanford first has to get past Fresno State, of course, to be in this matchup. To do that, Aaron Bright, Chasson Randle and Josh Owens will have to really take control.
15. How will Miami score inside? The Hurricanes are sans Reggie Johnson and Julian Gamble due to injuries. The given has been that the Canes have the guard play with Malcolm Grant and Durand Scott. But Rutgers will try and make Miami (ESPN3, 7 p.m. ET) beat the Scarlet Knights on the inside. This could turn out to be one of the closer games in the Marathon.
16. What should we expect from Villanova? This is somewhat of a blank slate. The Coreys -- Mr. Fisher and Mr. Stokes -- are gone. Maalik Wayns will be the dominant presence, but there are plenty of other options as Mouphtaou Yarou, JayVaughn Pinkston, Dominic Cheek and James Bell could all star against La Salle (ESPN3, 7 p.m. ET). The Wildcats are an unknown in the Big East, and this game will at least give us a taste of what we may see.
17. Is Kevin Jones ready to be a star? For two seasons, West Virginia's Bob Huggins has been waiting for Jones to emerge. He scored 20 points and grabbed eight rebounds in a season-opening seven-point win over Oral Roberts. Kent State will hardly be a walk for the Mountaineers (ESPN, 10 a.m. ET). Darryl Bryant can offset Jones' production, but the offense will likely flow through Jones as he adapts to being the front man for the Mountaineers.
18. How ready is Hawaii to make a run at Utah State? Gib Arnold has gone through a complete roster makeover and coached the Warriors to an impressive 19-13 record in his first season in Honolulu. Utah State beat BYU to open the season while one of the WAC favorites, Nevada, was flat at home in losing to Missouri State. Hawaii has a real shot to make a move in its final season in the WAC before heading to the Big West. Establishing an identity in a new conference is always key and ensuring that Cal State-Northridge (ESPN, 4 a.m. ET) is well aware of what it is in for when it visits the Stan Sheriff Center would do wonders for a first impression.
19. What will Morehead State and College of Charleston look like after losing their stars? This game could be one of the more competitive because of who both teams lost, rather than who they gained. Morehead State no longer has Kenneth Faried, while Charleston is without Andrew Goudelock. The Eagles made the NCAA tournament last season, defeating Louisville and then falling to Richmond. The Cougars reached the NIT quarterfinals before losing to eventual champ Wichita State. Regardless of how these teams look (ESPN, 8 a.m. ET) on Tuesday, you can expect them both to be factors in their respective conferences by February.
20. What are the chances Virginia Tech doesn't end up in New York for the NIT semifinals? We'll find out Tuesday night. The Hokies will likely play George Mason, assuming the Patriots beat Florida International and Virginia Tech knocks off Monmouth on Monday. Mason beat Rhode Island by two in overtime in its opener, and while it is a more depleted roster than expected when Paul Hewitt took the job, this is still a formidable squad. Virginia Tech used balanced scoring to beat East Tennessee State by 11 in its opener, but hitting 5-of-18 on 3s was an indicator that the perimeter shooting may not be the Hokies' strong suit.
Other notable names to watch: Does Tu Holloway have a monster game for Xavier against IPFW (7 p.m. ET)? Will Cincinnati's Yancy Gates dominate against Jacksonville State (7 p.m. ET)? How will Harvard fare as the hunted team on the road, even against a rebuilding Holy Cross squad (7 p.m. ET)? How will Dayton's Archie Miller fare in his road debut as head coach at Miami-Ohio (7 p.m. ET)? Will Mike Scott be a double-double performer for Virginia against Winthrop (7 p.m. ET)? Will LSU avoid plunging into irrelevance by winning at Coastal Carolina (7 p.m. ET)? Will Butler avoid a shaky 0-2 start by winning at home against Chattanooga (7 p.m. ET)? Will Saint Louis prove to be the team projected as an A-10 contender and win games it should -- even on the road at Southern Illinois (8 p.m. ET)? Will Missouri State continue to win on the road and take down Arkansas State (8 p.m. ET)? How impressive will Royce White be for Iowa State against Drake (9 p.m. ET)? How will Wyoming play for new coach Larry Shyatt against Northern Colorado (9 p.m.)? Will Arizona State start its climb toward respectability by winning a game at home versus Pepperdine (8:30 p.m. ET)? Will Utah State follow up its BYU win by beating rival Weber State (9 p.m.) on the road?
Andy Katz is a senior writer for ESPN.com.
November, 2, 2011
11/02/11
9:27
AM ET
If Florida is going to challenge Kentucky and Vanderbilt in the SEC, then
Mike Rosario
and
Patric Young
must accept their definitive roles.
If they do, the Gators could be in the thick of the conference race.
So far, both players are saying the right things and are doing what they've been told to ensure that Florida doesn't have any issues.
But there's a reason the optimism is guarded in Gainesville. Neither had previously been asked to do exactly what they must do this season.
Rosario was the focal point at Rutgers two seasons ago and was a high-volume shooter. But at Florida he must focus on defense and limit his shots, which means he could be a second-unit player.
Young played behind forwards Vernon Macklin, Chandler Parsons and Alex Tyus as a freshman last season. He didn't need to do more than provide strength, rebounding and defense. He might not need to do more than that again as long as he doesn't try to be something he is not: a reliable double-figure scorer.
[+] Enlarge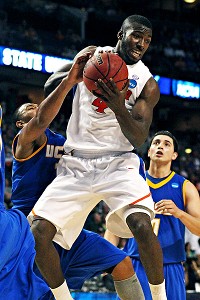 Cliff Welch/Icon SMIFlorida will need Patric Young to provide defense and rebounding when he's on the court.
The givens on Florida are on the perimeter with Erving Walker, Kenny Boynton and newcomer Bradley Beal. But Rosario and Young could be keys to the Gators reaching their potential.
"Rosario is playing every second of practice but what happens when something doesn't go well? That will be the true test,'' said Florida coach Billy Donovan. "Patric can't lose his identity. He has to play hard defensively, take good shots. He realizes he has an opportunity to play.''
In addition to Young, Erik Murphy, Cody Larson, Casey Prather and Will Yeguete are all viable options inside. Scottie Wilbekin will be in the mix for the perimeter rotation as well.
Donovan said he hasn't made up his mind on the starters.
It won't matter. Rosario and Young have to produce in their own ways.
Rosario won't be a 16.7-ppg scorer at Florida this season like he was as a sophomore at Rutgers two seasons ago.
"It's a major adjustment for me, something new for me,'' Rosario said. "I knew when I came here that there were three really good guards. I knew that I would have to have a different role. I know it's not all about me. I just love being a part of this team, and I will do whatever it takes to make everyone better.''
Rosario could be a second-unit player who helps keep the Gators' offense moving. But Donovan said he has made it clear that this team will have to win defensively because it won't be able to outscore everyone.
"I'm really buying into the defensive end of the floor,'' Rosario said. "Everyone knows I can score the ball. It's the other things I have to do to help my team win games. Coming off the bench is something new for me and something to adjust to, but I'm around more good players. I'll do any role Coach Billy has for me. I want to embrace winning here for the two years. I feel like for us to accomplish our goals, it has to be on defense. We have to be a real scrappy, tough, hard-nosed team.''
Young exhibits those traits the moment he gets on the floor.
"We'll see if this is my time, but I don't feel I need to be a 30-point scorer,'' Young said. "That's not my role.''
Young admittedly wasn't ready to assume anything more than a complementary role last season.
"I had a lack of confidence I guess, a little bit of nervousness and a lack of skill,'' Young said in an honest assessment of his overall game last season.
The confidence rose when he was an instrumental member of the USA FIBA under-19 team this summer. He added to his newfound confidence at the adidas Nations tournament.
"I gained a lot [and saw] that I had the potential to be a good player,'' Young said. "But I still get nervous. Someone told me Bill Russell said he used to get nervous before every game. He said he would vomit, and he's Bill Russell. So maybe being nervous is a good thing -- as long as I'm not nervous as the game is going on. Before the game is OK.''
Young has worked tirelessly on the skill aspect, trying to shed the reputation that he was all brawn but no finesse. "I've always been the raw talent, trying to out-muscle everybody,'' Young said. "I had a hook shot and when I got to college I had to be more disciplined. I've worked on my skill level. It's taking time, and I'm being patient in the post. I'm finishing a lot more moves, and the people see potential in me.''
But Young concedes he can't try to do more than he should offensively. Donovan doesn't want him to push his ceiling just yet.
The Gators will be tested often before the SEC schedule gets underway. They have road games at Ohio State, Syracuse and Rutgers. Donovan said he hasn't decided if he'll go with four guards. The Gators scrimmaged Central Florida over the weekend, but the Knights played zone. That made it hard for Donovan to evaluate the lineup with four guards because he needs to see it against a man-to-man defense.
"We can get better,'' Donovan said. "We're just going to have defend and rebound at a high level.''