Category archive:

South Alabama Jaguars
August, 29, 2013
08/29/13
10:49
AM ET
Editor's Note: All week ESPN.com is taking a look at new faces in new places. As part of our coverage, Andy Katz will be diving into the mid-major ranks to profile a first-year coach each day.
Matthew Graves had no idea Brad Stevens would leave for the NBA or anywhere else.
There was no deal for Graves to succeed Stevens. This was not like Gonzaga, where top assistants had been tabbed in their contracts to succeed Mark Few, only to leave once it was apparent Few wasn't going anywhere.
Graves had nothing in writing. Butler athletic director Barry Collier doesn't operate in that manner.
"There was never a guarantee,'' Graves said. "That wasn't in [Collier's] nature. He doesn't show his cards very often. You go in and do the best you can and work hard, and through your hard work you're rewarded appropriately.''
[+] Enlarge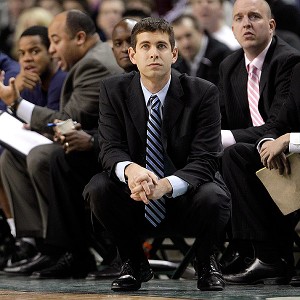 AP Photo/Amy SancettaLike most people, Matthew Graves (right) was caught off guard when Brad Stevens took the Boston Celtics job in July.
Besides, Stevens wasn't going anywhere, right?
"I always certainly thought he owed it to his family to explore his options," Graves said, "but to be honest I never dreamed he would be going anywhere anytime soon."
So Graves tried to forge his own identity. He was a finalist at Boston University in 2011, losing out to Joe Jones. He was a finalist at Morehead State in 2012, losing out to Sean Woods.
Graves, a former standout player at Butler, had never lived outside of Indiana. But he was willing to take a chance and not wait for Butler's head-coaching position, which might not open for years.
"I knew I was in a great spot as associate head coach at Butler," Graves said. "Why would I take a bad job and leave that? But I did want to see what it would be like to move a seat over and run your own program. And this is a wonderful opportunity.''
The chance he got this spring was at South Alabama. The Jaguars finished 14-6 in the Sun Belt last season (17-13 overall) and received a bid to the CollegeInsider.com Postseason Tournament. There is plenty of room for growth this season and beyond, especially with Western Kentucky leaving for Conference USA in 2014.
"Even though it's not a traditional powerhouse in basketball, I really believe it has a lot of untapped potential,'' Graves said. "The vision here is similar to Butler and the way they work and go about their business. I've been really impressed with the athletic administration's forward thinking. We've got a practice facility. We have a 10,000-seat arena with chair backs. We've got a nice weight room, a brand-new locker room, a player lounge. There are a lot of exciting things happening here.''
That said, he played and coached at Butler, so when Stevens shocked the basketball world and got the Celtics job in early July, Graves' name was naturally brought up in the replacement conversation.
Collier called him on July 4. Graves, after all, had been instrumental in building the Bulldogs' run with Stevens, coaching with him in consecutive national title games in 2010 and 2011.
But Graves couldn't do it. He didn't flinch, declining to even go through any kind of formal interview process.
"I had been trying to get a head-coaching job the last couple of years and South Alabama was willing to give me my first opportunity,'' Graves said. "I had been down here for four months. I couldn't turn my back on them. I didn't feel it was the right thing to do. I appreciate [the opportunity] and was thankful and really excited.''
Why? Well, for starters, Graves is convinced the Jaguars will be in the NCAA tournament in Year 1.
"We can be,'' Graves said. "We've got the best player in the league in Augustine Rubit. He's a sleeping giant, a phenomenal basketball player.''
Rubit averaged 19.4 points and 10.5 rebounds last season for Ronnie Arrow and interim coach Jeff Price, who replaced Arrow last December.
"Most people will see and truly appreciate how good a basketball player he is,'' said Graves of the 6-7 senior forward. "We'll allow him more freedom at the offensive end of the floor. We'll showcase his face-up game more. He's an outstanding talent. He could play for anybody in the country.''
Rubit will team up with wing Mychal Ammons, who Graves said will be a double-figure scorer again, and guard Antoine Allen.
"We're returning almost 40 points a game with those guys,'' Graves said. "We're putting our system in place, and if we cut down on turnovers we'll be a lot more successful this year.''
Graves said the "Butler Way'' can be transported out of Hinkle. He said putting team and character above self are easily movable traits.
"There's no reason why you can't take it other places,'' he said.
Graves brought in another Butler alumnus, Darnell Archie, so the Bulldogs' influence is strong.
South Alabama is hardly a lock to win the Sun Belt. Georgia State, Western Kentucky, Louisiana Lafayette and Arkansas State are all viable contenders for the league title.
But the plan is to mix in high school recruits and transfers to establish a winner long term.
Graves is just 38 years old, and with his wife and two elementary-school daughters, he is ready to forge his own path deep in the South.
Would he have gotten the Butler job (which eventually went to Brandon Miller) if he had remained on staff? Would he have gotten it if he had gone through with the interview process? Who knows. Graves and Miller have talked about the Bulldogs, but not much else. They have their own programs to run now.
And Graves, for one, is anxious to bring national exposure to South Alabama and the Sun Belt, much like Butler and the Horizon experienced while he was there.
"It is, in some respects, a lot like the Horizon League,'' Graves said. "We're in an undervalued league with a lot of talent that not a lot of people know about.''
Now it's his chance to make everyone notice by creating a Butler-like culture and winning attitude in Mobile.
January, 13, 2010
01/13/10
10:45
AM ET
GAINESVILLE, Fla. -- If Florida is to be an NCAA tournament team again -- if it's to snap a two-year hiatus after consecutive NCAA titles -- the Gators must start a roll Saturday against LSU.
They came close to upsetting Kentucky on Tuesday night, coming back from 15 points down to tie the game. But alas the Wildcats were too talented at the major positions, point guard, interior rebounding and finishing -- something the Gators used to own in the SEC a few years ago -- and closed out the game.
[+] Enlarge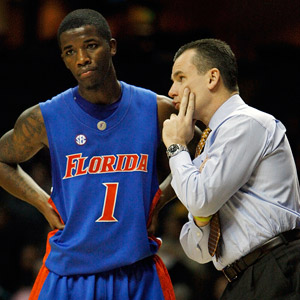 AP Photo/Mark HumphreyKenny Boynton (left) is one of Billy Donovan's most productive players, but the Gators need more help.
So now, after beating Michigan State in New Jersey, knocking off Florida State at home and giving Syracuse a game at times before losing in Tampa last month, the Gators find themselves in a precarious position.
They are 0-2 in the SEC after losing at Vanderbilt and to Kentucky. In the next two weeks, they'll face LSU at home, travel to Arkansas and then host South Carolina and Georgia. If Florida is an NCAA tournament team, it must win these games to create some separation.
Gators coach Billy Donovan has had quite a philosophical viewpoint while coaching an elite program. He has plenty of experience managing egos with a roster that has had its share of big-time players mixed with classic four-year players who are necessary to win at a high level. He has been to three national title games and won two, and consistently has Florida known as a national name, even during the past two struggling seasons.
Donovan said he has seen the arc of a season.
"Every team is jacked up for the start of practice, but then the excitement wears off," Donovan said. "You have the first game and then everyone is focusing on minutes. Then you start to distribute them and then you start to understand there is a ceiling to get better. We have a high ceiling."
But Donovan admits there was a dip in intensity when the Gators came off the Michigan State win and Syracuse effort but then landed with a thud when they failed to hold on to a double-digit lead against Richmond in Sunrise, Fla., and then fell flat by losing at home to South Alabama.
Getting beaten at Vanderbilt was arguably expected because the Commodores are always a tough out in Nashville, especially when they are as talented as they could be this season. Kentucky simply was more talented.
"I'm anxious to see how this team responds against LSU," Donovan said. "It's critical for us to separate ourselves. Do they come together as a group? How will this team come together for practice Thursday? What kind of effort will we have? There are external motivational things that happen, like playing Michigan State or Kentucky. But how internally motivated are you?"
The Gators have an entertaining and productive backcourt in Erving Walker and Kenny Boynton. Walker can shoot the Gators out of a game or keep them in one, as he did against Kentucky with four 3s. Boynton can make nearly as many plays.
Alex Tyus is finding his role as an inside-out player, but Donovan said the Gators need a third reliable scorer behind Boynton and Walker. It was evident that it can't be Dan Werner, who made 1 of 8 shots, which included four 3-point attempts. Werner is a leader when the Gators play zone, a player Donovan relies on defensively to get his teammates in the right place. But he has become an offensive liability. It's a tough call because Werner has been such a loyal player for Donovan and is needed on defense.
Georgetown transfer Vernon Macklin had foul trouble in the first two SEC games and can't seem to find a groove. Chandler Parsons, Erik Murphy and Ray Shipman are all role players who might make a shot, grab a board or facilitate a pass. But none is a third scorer for the Gators.
"We've got some stuff there, but every team comes to a crossroads," Donovan said. "You can go into the league with false sense of who you are. We're at that crossroads right now, and which path will we choose?"
It's not healthy to consider how the Gators would be with Nick Calathes in the backcourt with Boynton and Walker. Calathes left Florida after his sophomore season last year for a Greek contract and may not be heard from again professionally stateside. The Gators would be a tough out with those three together. But he's not here, so it's not worth thinking about.
The Gators are no different than a number of teams that have had some decent wins, a lucky win (Parsons' 75-foot heave to win at NC State) and a bad loss or two. They will be in a pool of teams with countless others that the selection committee will have a hard time separating. That's why the Gators must act now and take care of the teams perceived to be below them to erase some of the questions.
• Former DePaul coach Jerry Wainwright, who was fired Monday, said in a text message that he wants to continue coaching but isn't sure he can. Wainwright is one of the more respected coaches in the country for his basketball knowledge. He is held in high esteem by USA basketball and had success at UNC Wilmington and Richmond. But he never got into a good groove at DePaul with NBA early-entry defections.
Romanticizing DePaul is not the answer. DePaul was a better fit for Conference USA than the Big East. For DePaul to be successful in the Big East, it will take playing games closer to campus, not in a barren facility. Money must be poured into the program. Marquette has passion, a loyal fan base and an NBA arena that it can fill. The Golden Eagles have done things right. DePaul hasn't.
I've known Tracy Webster, DePaul's interim coach, since he was a high school senior and was recruited to go to Wisconsin in 1989-90. Webster is Chicago strong and deserves a shot. He's a good man. But the Blue Demons may need something to jolt the program back to life, and that could be taking a flier on Isiah Thomas from Florida International. We'll see how it plays out, but the Blue Demons must take a chance.