Devoe Joseph could have helped Gophers
January, 24, 2011
01/24/11
2:41
PM ET
If things had worked out differently, Devoe Joseph would have been Minnesota's starting guard during a critical stretch for the Gophers in the Big Ten, replacing the injured Al Nolen. Instead, Joseph is at Oregon, and the Gophers are holding out hope for Nolen.
Nolen suffered a broken right foot during Saturday's win at Michigan and will have surgery to insert a pin Wednesday. According to the Gophers' staff, there is a possibility that Nolen, the team's leader, top defender and senior guard, could be back by the end of February.
[+] Enlarge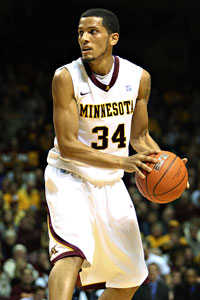 Brace Hemmelgarn/US PresswireDevoe Joseph averaged over 11 points per game this season before transferring.
"We will definitely miss the leadership of our senior point guard," Gophers head coach Tubby Smith said in a statement. "We knew that Al was playing with a lot of pain since the previous injury occurred so we are hoping that the procedure will relieve the pain and make it possible for him to return to the lineup by the end of the season. In the meantime, we know that Al will continue to be a leader from the bench."
The timetable to return obviously is hard to project.
Joseph's transfer made little sense then and makes less now, especially when you go back and read the comments from Joseph's AAU coach, Ro Russell, as told to the Star Tribune on Jan. 9.
Russell said then that Joseph wanted to "figure out the best playing opportunity.'' He continued by saying, "His main thing was senior year, he wanted to make a major impact.''
Really? Smith told ESPN.com when this move occurred that Joseph came to his office and complained about his playing time and shots. Smith was befuddled by the action.
Joseph was averaging 25.1 minutes a game, 11.3 points and 3.5 assists. He had taken 81 shots in just eight games, that's already half of what he had taken in 33 games as a freshman. He took 285 as a sophomore. The reason he missed the first six games of the season was due to a violation of team rules. Joseph didn't make the trip to Puerto Rico for the Gophers' win in the Honda Puerto Rico Tip-Off.
Throughout that event the players, notably Nolen and fellow senior Blake Hoffarber as well as the staff, said that Joseph was the team's best creator off the dribble in getting a bucket. They all fully expected him to return to the team in good standing and make a contribution.
He did, although the team lost three of the eight games he played in, including a home game to Virginia when Nolen was out with a foot injury. He took 12 shots in Nolen's absence. He shot in double figures in all but three of the eight games he played in this season.
Russell was also quoted as saying that Joseph chose Oregon due to coach Dana Altman's high-paced offense and that "he felt he needed to make a change.''
Once again, another move by a player in the middle of the season that was short-sighted. Could Joseph have predicted that Nolen would go down? Of course not. But this is a classic example of why bolting on your team midseason is rarely a good idea and leaves carnage behind in its wake.
The Gophers had so much promise in the preseason. I saw it firsthand in late October with Nolen, Joseph and Hoffarber as the main three on the perimeter. Underclassmen Chip Armelin, Maverick Ahanmisi and Austin Hollins added depth and were allowed to develop at their own pace.
The athletic wing was set with Rodney Williams and the front line was as imposing as any team's in the country with Trevor Mbakwe, Ralph Sampson III, Colton Iverson and Mo Walker.
Since then, Nolen has missed five games due to a foot injury and will now, at the very least, likely miss the next seven with the staff's best-case scenario being a return for Michigan State on Feb. 22. And don't forget that Walker tore his ACL after the first 12 games. Mbakwe didn't miss any games but did spend a few hours in jail after he was arrested for violating a restraining order by sending a Facebook message. Mbakwe, who pleaded not guilty and faces another court appearance in February, lost his starting position as a result but remains the Gophers' best all-around player.
Smith can go with Armelin as the lead guard in Nolen's place, or if he opts to put the five best players on the court, he'll go big with Hoffarber, Williams, Mbakwe, Sampson III and Iverson. At some point during the game that lineup will be on the floor and it's a tough matchup for opponents, although on-the-ball defense against a quick guard will be dicey at times for the Gophers.
Minnesota (15-4, 4-3) had the toughest opening to the Big Ten of any of the league contenders, going to Wisconsin, Michigan State and Ohio State in three of its first four games. The Gophers lost all three. Now the trick for Minnesota will be to survive the next month without Nolen, with critical games at home against Northwestern (Wednesday), Ohio State (Feb. 6) and Illinois (Feb. 10). Let's assume the Gophers lose at Purdue on Saturday. But a more intriguing question is can they win the games they should win on the road at Indiana (Feb. 2) and Iowa (Feb. 13) before they go to a tricky spot for contenders, Penn State (Feb. 17).
Hollins and Armelin are more than capable of making shots for the Gophers. Sampson's face-up game is a difficult matchup. Williams probably has the best ceiling to improve the Gophers going forward.
But losing Nolen's experience can't be replaced. Joseph would have helped immeasurably. But he left. The Gophers will feel the effects of that now, but ultimately it will be Joseph's loss since he would have had a chance to shine on an NCAA tournament team, not increase his scoring for a program that is likely still years away from being in the Dance.