Fisher critical of timing of Schroyer's firing
February, 15, 2011
02/15/11
11:15
AM ET
San Diego State coach Steve Fisher has the cachet to challenge the pointless February firing of a college basketball coach.
And the Mountain West is looking small by reprimanding him in a public forum.
Fisher was irate, and rightfully so, at Wyoming's decision to fire coach Heath Schroyer on Feb. 7. Schroyer was going to lose his job at the conclusion of the season anyway, which is the appropriate time for college firings to occur (barring NCAA violations or legal issues).
When DePaul fired Jerry Wainwright in January last season, did it really change anything for the Blue Demons? No. Did it help DePaul get a head start on its head-coaching search? No. Clemson's Oliver Purnell was a surprise choice to take over the DePaul job when it was announced on the night of the national title game, three months after Wainwright's exit. The same was true of Fordham getting rid of Dereck Whittenburg in December 2009; Hofstra's Tom Pecora eventually got the job and likely would have had gotten it regardless of when Whittenburg was fired.
If the purpose of such decisions is to allow the school a head start on looking for a new coach, isn't that the type of tampering athletic directors squawk about when their coach talks to other schools during the season?
[+] Enlarge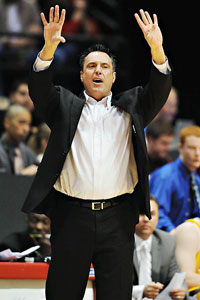 Christopher Hanewinckel/US PresswireSteve Fisher was reprimanded by the MWC for critical comments he made about Wyoming's firing of coach Heath Schroyer (above).
Fisher's comments in question were:
"For a coach to be fired with six weeks to go in the season is inexcusable. We talk to our players about commitment, not cutting and running, and yet when things go south a little bit, often our administrators say, 'What do we do to please our biggest donor or the perception standpoint?'
"This is not the NBA. This is not the NFL. Yes, I do know this has happened before and will happen again. That doesn't make it right.
"It's wrong. It should not have been that way. It should have been done in a professional manner. A six-week jump on the market is not worth it."
The Mountain West said Monday night that it has a strict policy that no coach is allowed to criticize another member institution in public. Seriously? The MWC needs to get a thicker skin. This isn't criticizing officials. This is about looking at the timing of a firing. I highly doubt Fisher would have called out Wyoming if Schroyer had been fired in mid-March or April once Wyoming was eliminated from the conference tournament and its season was over.
Wyoming is one of the most difficult jobs in a top-eight conference with few players in the region. A number of coaches have tried to get traction to no avail, from Jim Brandenburg to Benny Dees to Joby Wright to Larry Shyatt to Steve McClain and now Schroyer.
Assistant Fred Langley, who has taken over as interim head coach, likely has no shot to get the job full time, and giving him three weeks to prove himself is pointless. The Cowboys were 8-15, 1-8 in the MWC, when Schroyer was fired. He was in his fourth season, which was enough time to turn the program around. He didn't. But that doesn't make the timing of his dismissal any less troubling.
It's a job that requires someone with a command of the region and the conference. Former UTEP, Texas A&M and Kentucky coach Billy Gillispie makes sense because Wyoming must be able to recruit the Southwest, but if the Cowboys are looking for someone who is revered within the region and has had success wherever he has gone, they should look strongly at BYU assistant Dave Rice, who has been at UNLV and Utah State. Rice would jump at the chance to take over at Wyoming -- after BYU's season is over, which is the way a job search should work. There is plenty of time to make the appropriate change.
Fisher spoke from the heart and, when reached Monday night, didn't want to go into the topic further. The MWC should be fawning over what Fisher has accomplished at San Diego State, not making national headlines for publicly reprimanding him.
Fisher let Schroyer know at the right time that he would defend him. And it came during a conference call.
As for the season, not much has gone wrong for Fisher outside of a number of possessions at BYU in the Aztecs' only loss thus far.
"When it looks like the wheels are going to come off, we get it going again," Fisher said of the Aztecs' 25-1 overall record (10-1 in the MWC). So much of the chatter has been about Kawhi Leonard, and rightfully so, but D.J. Gay hit a game winner to beat Colorado State on the road, then scored 20 points in 40 minutes at UNLV on Saturday.
"There's always different people," Fisher said. "That's been the mark of this team, and I'm proud of how we've been able to accomplish it. We have not panicked. We've been able to maintain composure, and that has allowed us to have a chance."
San Diego State has never won an NCAA tournament game. The Aztecs were a No. 11 seed last season, losing to No. 6 Tennessee in the first round. San Diego State is in contention for a No. 1 seed if other teams slip from now until Selection Sunday, and it should be in the No. 2 range and no lower than a No. 3 seed.
The top six of Leonard, Gay, Billy White, Malcolm Thomas, James Rahon and Brian Carlwell are all highly productive for the Aztecs.
"We've got a good team, and we can beat you in a variety of ways," Fisher said. "D.J. has been spectacular for us the way he has played at both ends of the floor. He guards smartly, and he's gone forever without a turnover." (To be precise, it's four games without a turnover and only one in his past seven games.)
Fisher said he's not giving one thought to being a top seed, especially with the slew of close games the Aztecs have won (UNLV by six, TCU by seven, CSU by two) and with New Mexico paying a visit on Wednesday.
"I don't want to get too far ahead of myself," Fisher said. "I appreciate what we've done so far, and if we can continue to win, then we'll see down the road. But absolutely, we've never had the luxury of a high seed, and, in the three times we've been to the tournament at San Diego State while I've been here, we've been a double-digit seed. Seeding is critical to give us an opportunity to get a win for the first time in the history of the program, and once you get a win, who knows what can happen? We're in a position now to get a good seed, and with that good seed, it's on us to perform."
Fisher doesn't muzzle himself. And he shouldn't. He talks up his team when he should, and he can this season. And he spoke out against the timing of Schroyer's firing when he could, regardless of the discipline he faced from a thin-skinned MWC.