Coaches have the right to speak out
December, 18, 2012
12/18/12
2:33
PM ET
Rick Majerus and Skip Prosser would have had something to say about gun control in the wake of Friday's massacre of innocent children, teachers and administrators in Newtown, Conn.
I cannot say where they would have been on the issue, but they would have offered an opinion. Whether you agreed or disagreed with them, they would have spoken their minds.
Majerus and Prosser were two of my favorite coaches to cover because they weren't just basketball coaches. They were participating members of society. They had thoughts and ideas on a whole host of subjects.
They are sorely missed right now as a number of topics swirl through our country that intersect with the sports world, from violence to mental health issues.
Hall of Fame coach Jim Boeheim of Syracuse spoke on the issue of gun control Monday night after he won his 900th game. And he didn't exactly hold back.
"This will probably offend some people," said Boeheim at the news conference. "If we in this country as Americans cannot get the people that represent us to do something about firearms, we are a sad, sad society. I'm a hunter. I've hunted. I'm not talking about rifles. That's fine. If one person in this world -- the NRA president, anybody -- can tell me why we need assault weapons with 30 shots in the thing. This is our fault. This is my fault and your fault. All of your faults if we don't get out and do something about this.
[+] Enlarge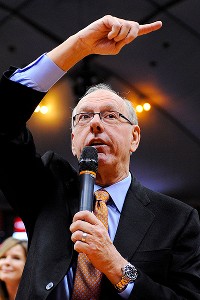 Rich Barnes/USA TODAY SportsJim Boeheim didn't mince words in his postgame presser with the media Monday night.
"I saw one guy, a representative I was very proud of, somebody in his state had just come out and said, 'We need more guns. We don't need less. We need to give teachers guns so they can shoot people.' Yeah, that's really good thinking to do that.
"If we can't get this thing done -- I'm with the mayor of New York City [Michael Bloomberg] -- if we can't get this thing done, I don't know what kind of country we have. This is about us. This isn't about the president or those other people down there [in DC]. We have to make them understand somehow that this needs to get figured out. Real quick. Not six months from now."
Boeheim reiterated again Tuesday in a tour of radio shows why he chose to speak out. Simple: After his historic 900th win, he had everyone's attention.
Boeheim has gotten himself into trouble with his comments before, notably a year ago as he was much too insensitive initially to the alleged victims in the case against former assistant Bernie Fine. No charges were filed against Fine.
Boeheim said on the Dan Patrick radio show Tuesday, "I think everybody is a little too scared to go out on a limb. Sometimes I am little too outspoken, but I am old now."
Villanova coach Jay Wright went on Twitter on Tuesday afternoon and tweeted, "Cannot comprehend any reason for assault weapons to be legal in any way."
Look, gun control in any form is a highly volatile and emotional issue, just like a number of other hot-button topics.
But at least some coaches aren't afraid to speak on matters of public interest.
College basketball coaches have long been the faces of their programs in a sport in which the players come through for one season at a time in many instances. Asking the players to be outspoken is somewhat unfair.
But coaches have a forum. And -- when moved by a topic, regardless of which side of the issue they are on -- they should feel free to express themselves.
Coaches have the ability to generate discussion. The "stick to sports" line is naive. Nothing in society is pigeonholed into one corner.
Connecticut women's basketball coach Geno Auriemma and his wife, Kathy, didn't hesitate to take a stand for the Newtown victims and contribute $80,000 toward a scholarship fund at the school for the surviving students if they were to get into UConn when old enough. Funds for siblings and dependents would be available now.
Words by Boeheim and Wright and actions by Auriemma should be applauded. Why stand idle if you're interested in the cause? Every fan can tune out what is being said or done if there is a disagreement. But these coaches have the right to use their privileged pulpit. They may represent a university, but they also are individual citizens who should be able to offer an opinion.
Majerus and Prosser were outspoken. They didn't hide their beliefs. They were students of history. They knew the power of words.
Boeheim provided an opening Monday night for other coaches to speak out, no matter what side they fall on. When it is appropriate based on what occurs locally, nationally or abroad, then no coach should be muzzled for expressing him- or herself.
We will all be better for having the discussion and the debate.