Spanning the world of college hoops
January, 14, 2013
01/14/13
10:08
AM ET
Monday musings with no more undefeated teams remaining in D-I college basketball (working my way down the standings on this edition):
• The A-10 renaissance is a reminder of just how fragile the league is. Check the top of the A-10. Lose Butler, Xavier and Saint Louis (Temple is already going in the fall to the Big East) to the departing Catholic Big East 7, and it leaves VCU in a glorified Colonial.
• Saint Louis had been on an incredible run, winning nine in a row and not losing since Rick Majerus had passed away on Dec. 1, before losing to Temple on Saturday.
[+] Enlarge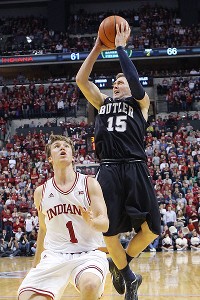 AP Photo/Pat LovellButler's Rotnei Clarke appears OK after a scary fall on Saturday.
• I'm so glad, like everyone else, that Butler's Rotnei Clarke will eventually be fine after that scary, nasty fall against Dayton. But I also love the immediacy and social media savvy of coach Brad Stevens to tweet out a picture of Clarke sitting in his hospital bed with a torn game shirt. There is a thirst for information and visuals, and Stevens delivered on all accounts in a timely manner.
• It doesn't always work out when a coach stays put, because he is confident he has a contending team instead of chasing a larger payday. But VCU coach Shaka Smart played the coaching carousel perfectly. He was comfortable with the Rams, stayed put and has a contending team.
• The storming of the court in Raleigh was justified when you consider how much the NC State Wolfpack have been desperate to beat Duke and be treated like equals.
• Miles Simon and I discussed Duke standout Seth Curry (leg/ankle injuries) on College Basketball Live on Saturday night. We both asked: Why not rest Curry against ACC-winless Georgia Tech on Thursday in advance of a showdown at Miami on Jan. 23? Good thing we don't actually have to make this decision.
• If I had to pick an MVP for NC State, I'd go with Richard Howell. He rebounds, he scores in the post and he's nearly alone in the frontcourt.
• Freeze the ACC standings. Wake Forest is 2-1.
• I think we're going to see some separation with NC State, Duke and Miami. The rest of the ACC is going to beat up on each other.
• Baylor's beatdown of Texas Tech was quite a show on offense. I can't get over how long and athletic Cory Jefferson and Isaiah Austin are around the basket, running the floor and finishing.
• Did Oklahoma State peak in Puerto Rico?
• Texas (0-3 in the Big 12) may have too deep of a hole to climb out of before Myck Kabongo returns on Feb. 13.
• Oklahoma finally has found its stride and should be taken seriously. The win over Texas A&M should be respected now, and the loss to Stephen F. Austin is no joke. The Lumberjacks are 14-1 and lock teams down defensively.
• Syracuse is deeper than projected, and that depth was on display with no James Southerland against Villanova. C.J. Fair was the latest to shine for the Orange in the win.
• Louisville has handled injuries as well as any team this season.
[+] Enlarge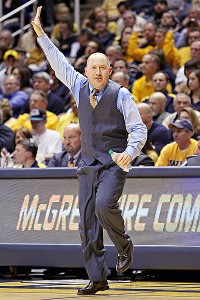 AP Photo/David SmithEven Buzz Williams is kept on his toes with this Marquette team.
• Marquette continues to play on the edge and has had a season in which one possession could send the Golden Eagles in two different directions (remember the buzzer-beater from Butler's Clarke in Maui?)
• Notre Dame's Eric Atkins should have been on the Cousy midseason list with his 7.1-1.9 assist-to-turnover ratio.
• UConn's Kevin Ollie will be one of the finalists for Big East coach of the year two months from now.
• Please tell me if anyone has figured out how to predict/project Georgetown or Pitt.
• Montana has already played six Big Sky conference games two weeks into January -- and won all of them.
• Ohio State's Aaron Craft did as good a job defending Trey Burke as he could have on that last 3-point attempt Sunday. Unfortunately for Michigan, the ball just didn't drop.
• I loved Minnesota's effort against Indiana. The Gophers never stopped playing every possession.
• I'm not predicting it now, but I won't be surprised if there are three Big Ten schools at the Final Four in Atlanta.
• This will be an interesting coaching challenge for John Groce at Illinois. These are some of the same players who struggled in the middle of the Big Ten last season and are now 1-3.
• Northeastern has already played nine games away from home. The Huskies have been tested and are the surprise of the CAA at 4-0.
• Illinois-Chicago and Loyola (Ill.) had solid non-conference portions of the schedule, won key games and had momentum going into Horizon play. Both teams are now 1-3 in the league.
• Losing a road Missouri Valley Conference game isn't such a big deal. That's why no one should get down on the short-handed Shockers after Wichita State lost at now fellow 4-1 Evansville on Sunday.
• Doug McDermott put a 39-stamp on Missouri State -- on the road. The other contenders are going to have to outshine him for the Wooden.
• Air Force forcing OT at UNLV shouldn't come as a big surprise. The Falcons have as much experience as any other team in the league.
• The Wyoming road win at Nevada was imperative to stop any perception of bleeding after the Pokes lost at home to Boise State sans four players.
[+] Enlarge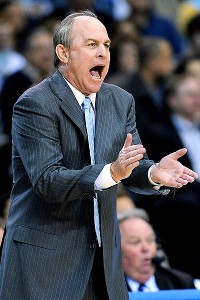 Jayne Kamin-Oncea/US PresswireBen Howland and the UCLA Bruins have turned their season completely around.
• UCLA showed maturity and composure in sweeping the Mountain trip (at Colorado, at Utah).
• Washington looked lost and dysfunctional early in the season but now has won three road games to start the Pac-12 slate.
• Oregon is my sleeper team to make a decent run, with Arsalan Kazemi fitting in even more and the young guards enjoying every possession.
• You must check out Arizona State point guard Jahii Carson. He was worth waiting for in Tempe.
• It has been a while since an Arizona at Arizona State game was this anticipated in men's basketball.
• I don't care what Holy Cross' record was prior to the Lehigh game. For Lehigh to hold the Crusaders to 47 points and score 79 without C.J. McCollum has to do wonders for their confidence.
• Mississippi coach Andy Kennedy has long been Mr. Bubble. He may finally crack through and, gulp, seriously challenge for the SEC title with Florida. The Rebels play the Gators only once, but it's in Gainesville.
• OK, who had Texas A&M, Auburn and Mississippi State 2-0 in the SEC and Kentucky one possession away from being 0-2?
• Elston Turner. Wow -- 40 points. At Rupp. Texas A&M over Kentucky. Let that one sink in again.
• The Texas A&M loss to Southern back in December sounds awful in theory. But the Jaguars are 6-0 in the SWAC, and if they win the league, the committee won't look on the Aggies' loss as so bad.
• Few coaches have been beaten down by a crisis that they had nothing to do with more so than San Diego's Billy Grier (see: point-shaving scandal) and still survived. The Toreros are 3-0 in the WCC after sweeping a road swing to USF and Pepperdine.
• Keep an eye on BYU's offense. Since scoring just 64 at Baylor, BYU has scored 80-plus points in five of the past six games.
• Who had Gonzaga's Kelly Olynyk as the WCC MVP in the preseason?
• Utah State is up to its old tricks. Stew Morrill's Aggies have won 13 in a row and are likely to exit the WAC with yet another title.