Mike Montgomery remorseful after incident
February, 19, 2013
02/19/13
2:13
PM ET
Cal athletic director Sandy Barbour wasn't at Sunday night's game against USC.
She was traveling back to the Bay Area, but upon landing, was quickly apprised of what occurred during the Bears' game against the Trojans.
Cal coach Mike Montgomery had shoved star player Allen Crabbe in an attempt to get him to focus. The two-hand push to the chest was uncharacteristic of the intense, but usually more reserved Montgomery.
[+] Enlarge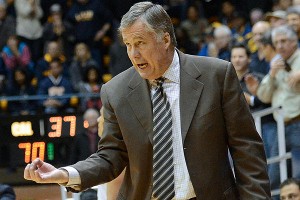 Bob Stanton/USA TODAY SportsCal coach Mike Montgomery has apologized after shoving star player Allen Crabbe during Sunday's game vs. USC.
Whether Crabbe was fine with the incident is irrelevant. Coaches cannot put their hands on a player in that manner -- ever.
Montgomery has apologized and clearly is embarrassed. Barbour said she has made it clear to him that this is "not acceptable behavior." Pac-12 commissioner Larry Scott took it one step further by issuing a public reprimand Monday afternoon. It was the right thing to do. Conferences will reprimand coaches for comments about officials. Surely, they should at least come out with a strong statement for an incident involving physical contact.
Barbour easily could have suspended Montgomery for one game. The punishment would have been justifiable, just like it was in the Morehead State case in November, when coach Sean Woods shoved Devon Atkinson during a loss at Kentucky. If you want to dissect the difference in the two cases, it can be argued that Woods took it one step further by continuing to berate and embarrass Atkinson in a public forum by following him to his seat on the bench.
Barbour said later Monday that she considers the case closed, and added Montgomery apologized to the team and Crabbe and made public statements to the community. But she said any further incident like this "would be dealt with differently."
"Mike and I had a good discussion about it," said Barbour, who added she gave Montgomery an extension last year, giving him three years remaining on his contract. "We know what he was trying to do and his intentions were the best, but he knows he went too far. It was an emotional game. Basketball is an emotional game, and there was a lot on the line. Coaches want to win and student-athletes want to win and emotions went too high.''
But what would have happened if Montgomery had done this when he coached the Golden State Warriors? How would the team, the NBA office and the players' association react to an incident like this?
I spoke with a former NBA executive Monday who said it would depend on the player. The league might not fine him, but the team probably would. And if the player was not well-liked by his teammates, it might not have as much of a reaction. But it also could cause him to lose his locker room.
College coaches are the rulers in the NCAA. But the NBA is a players' league. There are only a handful of recent coaches who were bigger than their teams at times (Phil Jackson, Jerry Sloan, Gregg Popovich, and to some extent, Doc Rivers). Montgomery likely would have lost his team if this had occurred while coaching the Warriors. He didn't have the equity built up in the NBA, like he does in college basketball.
Morehead State's Woods doesn't come close to Montgomery in terms of collegiate longevity and stature.
Montgomery built Stanford into a national power, taking the Cardinal to the Final Four and a No. 1 ranking. He recruited and produced multiple NBA players. The program hasn't been the same since he left for the Warriors.
He made the transition back to college, returning to the Bay Area and to Stanford's archrival in Berkeley. Cal has been competitive and near the top of the Pac-12 under Montgomery, making the NCAA tournament last season. After a disappointing start to this season, it is making a late push for another tournament berth.
A lot of the credit goes to Crabbe, who was our national player of the week for his 31 points in a road win at Arizona and 16 in a win over UCLA. The Bears can pull off a sweep of Oregon on Thursday to put themselves into the chase for the Pac-12 regular-season title, which would be quite a comeback for Montgomery's crew.
The shove shouldn't define Montgomery. He has been too good for Bay Area basketball to let it cloud his accomplishments. He could have apologized quicker after the game rather than refer to the tactic working in the Bears' comeback. But Barbour assured that he was sincere in his apology issued late Sunday night and in a meeting with her.
He is likely embarrassed by the public censure from the Pac-12 office. Now, everyone involved can move past this incident by continuing to play at a high level while Montgomery coaches with the same intensity he has had for decades.
He has learned his lesson, a valuable one at this late stage in his career.