Georgetown beats UConn in 2 OTs
February, 27, 2013
02/27/13
11:44
PM ET
STORRS, Conn. -- The possibilities of winning the Big East regular-season title and Big East coach and player of the year, and the outside shot at a No. 1 seed in the NCAA tournament were all within a minute of possibly evaporating.
Georgetown had been in control of UConn, up by 12 with just less than nine minutes to go in the game. But the Huskies have shown more resolve than any other team in the country this season, especially for one that has no postseason chance due to an NCAA academic progress rate penalty.
UConn had fought back to tie the game at the end of regulation on an Omar Calhoun 3-pointer that brought Hall of Fame coach Jim Calhoun out of his seat. Niels Giffey stole an inbounds pass and hurriedly missed a game winner at the buzzer.
Ryan Boatright missed a 3-pointer to win the game in the first overtime. And then UConn went up 78-71 with two minutes left.
[+] Enlarge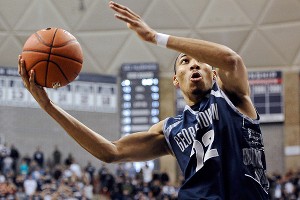 AP Photo/Jessica HillOtto Porter had the big shot for Georgetown in the second overtime.
Everything was slipping away from the Hoyas.
"We just needed to get stops and get quick baskets," Georgetown's Otto Porter said.
And they did. The Hoyas scored the final eight points of the second overtime, capped by a Porter slicing drive with eight seconds remaining to win 79-78.
Game over. Big East title in their sights. A No. 1 seed still a possibility. And awards to John Thompson III as coach and Porter as player of the year possibly on order and engraved.
"There's no one in that locker room that thought the game was over," Thompson said. "There was still a lot of time on the clock."
The Hoyas finish with Rutgers at home and at Villanova, and then conclude the Syracuse series with a season-ending game March 9. They hold a game lead in the standings over Marquette and Louisville, and are two up on Syracuse and Notre Dame.
With teams ahead of them losing and the Big East champ sure to be respected by the selection committee, a top seed is within reach.
The Big Ten is more of a grind -- but not by much this season. How many teams have won 10 in a row with ranked wins during that streak over No. 5 Louisville, at No. 8 Syracuse, versus No. 18 Marquette, at No. 24 Notre Dame and over a UConn team that beat Syracuse at home two weeks ago?
I'll venture to say none.
"We have a group that has a lot of resolve," JT3 said. "We just have a group that said, 'Let's figure out a way to win the game at halftime.'"
The game was hardly a good watch or well played at halftime with UConn up 22-19. But the second half, in which the Hoyas made eight 3s after only one in the first half, was highly entertaining. So, too, were the two overtime periods.
Porter had to score 33 of Georgetown's 57 on Saturday to win at Syracuse. He took one shot in the first half before finishing with 12 shots, making seven to finish with 22 points. The Hoyas showed they have a diversity of scorers, with D'Vauntes Smith-Rivera making three 3s, Markel Starks four and Jabril Trawick one.
Thompson said he never doubted the Hoyas' ability to win the league, even when they started 2-3 and lost at cellar dweller South Florida.
"I always thought we could," JT3 said.
Why?
"Because of everything you saw exhibited," said Thompson. "I thought this group had different pieces, unselfish pieces, and we fight for each other."
The Hoyas lost their second-leading scorer in Greg Whittington because of academics for the second semester. But you would hardly notice.
The Huskies played with such tremendous fight.
Shabazz Napier, who has been sensational in overtime periods this season and said it's because of his conditioning and late-game aggressiveness, knew the Huskies would be in the game to the final seconds. He was convinced Giffey's shot was going down, too.
The Huskies grew up with DeAndre Daniels playing his best game of his career with 25 points and 10 boards. Napier proved he's one of the best in the Big East. And if JT3 doesn't win coach of the year, Kevin Ollie must.
UConn hasn't stopped playing one possession, and easily could be in contention for the regular-season title save for a few second halves against Louisville and Villanova and a few late possessions at Marquette and St. John's.
"Everything happens for a reason, and this reason is teaching us another life lesson through this book that we're writing," Ollie said. "Another chapter. … Adversity is the intersection between character and opportunity. This team has character, and we had a great opportunity."
The Hoyas have had plenty, too, and continue to take advantage of them. What's next for Georgetown is still unknown since this team has a chance to make a deep run once it gets out of the Big East.
"I think we're playing our best basketball now," Thompson said. "I hope we're playing our best basketball in two weeks and then again in three weeks."