Monday musings around college hoops
March, 4, 2013
03/04/13
10:46
AM ET
Monday musings on the final regular-season Monday of the season:
• My player of the year ballot continues to be fluid. My top three as of Sunday: Victor Oladipo (Indiana), Doug McDermott (Creighton) and Otto Porter Jr. (Georgetown). I can be swayed to put Trey Burke (Michigan) in that group, as well, after his two steals Sunday beat Michigan State. The Penn State loss earlier in the week took him down a notch, fair or not. Kelly Olynyk of Gonzaga rounds out my top five for this week.
[+] Enlarge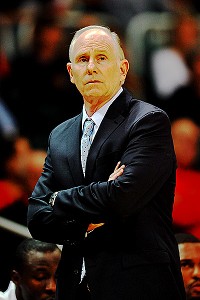 Steve Mitchell/USA TODAY SportsJim Larranaga is the leader in the clubhouse for coach of the year honors.
• The coach of the year award could go in myriad directions. Wisconsin's Bo Ryan has done a superb job, with Sunday's game as an exception. So, I'm still leaning toward Miami's Jim Larranaga, New Mexico's Steve Alford and Georgetown's John Thompson III, with Marquette's Buzz Williams and UConn's Kevin Ollie in pursuit. If you're looking for two dark-horse choices, then go with Saint Louis' Jim Crews and Gonzaga's Mark Few. I'll be very interested to see the vote totals in the Big 12, where Bruce Weber (Kansas State) and Bill Self (Kansas) should be 1-2 in some order.
• The two most important freshmen have been Kansas' Ben McLemore and Oklahoma State's Marcus Smart. But will one of those two win Big 12 Player of the Year or will the vote split and create an opening for Kansas State's Rodney McGruder?
• The most remarkable race could be in the A-10 this week. La Salle could actually win the league. The Explorers already beat VCU and haven't played Saint Louis yet. La Salle hosts George Washington and then plays at Saint Louis to end the season. SLU plays at Xavier prior to the La Salle game. VCU has to play rival Richmond and at Temple, which could be playing for a bid. There are a lot of moving parts, but La Salle could be playing for the A-10's top seed, and that in itself is remarkable.
• Barring a collapse, I'm going with Shane Larkin as the ACC Player of the Year. Virginia's Joe Harris was a close second before Sunday's loss at Boston College.
• No one wants Ole Miss to make the NCAA tournament more than coach Andy Kennedy. I felt for him watching the Rebels self-destruct at Mississippi State on Saturday. The Rebels simply haven't played well enough in the final month of the season to deserve a bid, but Ole Miss isn't quite toast. The Rebels still have a chance if they beat Alabama, win at LSU and go deep in the SEC tournament. This is on the players now.
• Finishing undefeated in a conference is an incredibly tough chore, regardless of conference affiliation. Gonzaga is the top target on the road every time out in the WCC. The attendance is always going to be the best when the Zags come to a city. Ask Akron how tough it is to go undefeated in a conference after the Zips were bit at Buffalo for their first loss in the MAC. Louisiana Tech is attempting to go undefeated in the WAC, but it ends with New Mexico State and Denver. Norfolk State will make a run at going undefeated in the MEAC, and so will Memphis in Conference USA. Like Gonzaga, Memphis is the top draw during every road trip.
• Virginia may be the most enigmatic team in the country. I wouldn't be surprised to see Virginia bounced in Round 1 (yes, I think the Cavaliers will be in the field) or win two games. How can you predict what the Cavs will do? Brackets will bust with the Cavaliers.
• Kansas State may never have another end-of-game situation like the one against Baylor on Saturday. All Isaiah Austin had to do was touch the ball on the long inbounds pass, and the game would have been headed to overtime. Instead, the ball sailed out of bounds and Kansas State got the ball under Baylor's basket. Inexplicably, Rodney McGruder -- only the best player on the floor -- was left open against the zone and buried the winning shot for the Wildcats.
• If you don't think there is pressure to win late in the season, then watch how hard Cincinnati coach Mick Cronin was coaching in the final minutes Saturday to beat Connecticut, which has played with as much purpose and passion as any team in the country despite being ineligible for the tournament. The Huskies were in the game down to the final possessions despite missing a first-team all-Big East player in Shabazz Napier (foot injury).
• Napier and Ryan Boatright aren't first-round NBA picks. If they want to make UConn's progress this season during the postseason ban really mean something, then they should return for 2013-14 when they could lead the Huskies to a Big East regular-season title.
• Mississippi State's Rick Ray will remember this season for the rest of his career. With a limited roster, he has had one of the toughest first-year coaching jobs that didn't have an NCAA probation or penalty attached to it. Ray went around to 17 different student organizations to rally the students and have them turn out Saturday when the Bulldogs played Ole Miss. A Mississippi State official said Saturday was the best student participation of the season. Ray said late Saturday night that he didn't want this group of Bulldogs to have the longest losing streak at MSU. The team had lost 13 straight games, and they snapped it by beating their rival. Ray has been all class since taking over in Starkville.
• Harvard is in an odd predicament again. The Crimson end with Columbia and Cornell at home. Princeton plays at Yale, Brown and Penn. A season ago, Harvard needed Princeton to beat Penn to get the Ivy League bid. This season, if Harvard wins at home, the Crimson may need Penn to beat Princeton to get a bid. Regardless, this has been Tommy Amaker's best coaching job without two starters.
• Zach Spiker has Army in position to celebrate its first winning season since 1984-85. The Black Knights are 15-14 with one game left against American.
[+] Enlarge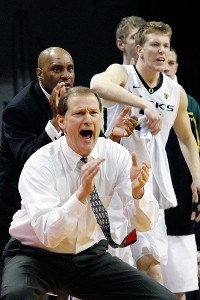 AP Photo/Don RyanDana Altman has kept his Oregon Ducks afloat despite injuries.
• The Pac-12 race comes down to the final week. Oregon holds the lead at 12-4 and a tiebreaker with a win at UCLA. But the Ducks could easily lose at Colorado this week and drop to 12-5 heading into the finale at Utah. UCLA (12-4) has to go to Washington State and Washington. A sweep is probable but not a lock. This could all leave an opening for Cal (12-5) to slide in for a piece of the Pac-12 title with a win over Stanford. Cal split the season series with UCLA and swept Oregon.
• Providence coach Ed Cooley has done a phenomenal job coaching up the depleted Friars. The problem with trying to put Providence on the bubble is this: Of the Friars' eight Big East wins so far, only one was against a lock for the NCAAs (Notre Dame), with three others against bubble teams (Villanova twice and Cincinnati once). Still, PC should be a pest in New York.
• Villanova proved it was a tough out in a November win over Purdue, and that same grittiness was on display Sunday in forcing Pitt into overtime. This Nova team will be hard to punch out in the Big East and NCAA tournaments.
• Arizona and Arizona State were trending toward the top of the Pac-12 at one point this season and now are heading in the complete opposite direction before their final meeting Saturday. Arizona is safe but needs momentum. ASU has to win this game or maybe get to the Pac-12 final in order to receive a tournament bid.
• Credit Purdue coach Matt Painter for maximizing a team that is one of the least talented in his tenure. The second-half comeback at Wisconsin on Sunday was stunning.
• Florida is healthy and has a second gear. The Gators are once again an Atlanta favorite.
• Kentucky has one of the hardest remaining schedules for a bubble team. Winning at Georgia may be as tough as beating Florida at home.
• Saint Mary's will get one more crack at Gonzaga, but only if the Gaels beat pesky BYU in the semifinals of the WCC tournament in Las Vegas later this week.
• Indiana State is in the same bracket as Creighton in the Missouri Valley. That's what the Sycamores need: one more opportunity.
• USC may not hire interim coach Bob Cantu, but he deserves serious consideration for a California job opening after leading the Trojans to a 9-7 record in the Pac-12 thus far.
• The NCAA was harsh on Myck Kabongo with the 23-game suspension and essentially messing with Texas' season. But Kabongo must also share the blame for putting himself in this situation. A number of Texas sources said they told Kabongo not to play on the edge with the workout in question.
• Suddenly, one of the most dangerous teams to pick in your bracket may be North Carolina. The switch was flipped on this team. They are having fun again, running the floor and scoring well.
• If I have to pick one SEC team between Alabama and Tennessee to make the field of 68, I'll still lean toward the Vols.
• If there is one Big East team I trust to make the Final Four, it's Louisville.