Butler shakes the stench from VCU loss
March, 8, 2013
03/08/13
9:08
AM ET
AMHERST, Mass. -- Brad Stevens gathered Butler in the postgame locker room and made it clear that these Bulldogs had finally found their identity.
They were a Butler team now.
[+] Enlarge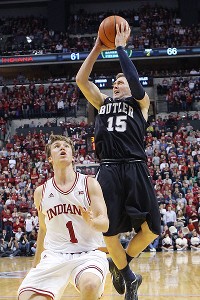 AP Photo/Pat LovellRotnei Clarke provides scoring and toughness for the Butler Bulldogs.
The Bulldogs had provided college basketball with three of the best finishes this season: beating Marquette on a wild running 3-point shot by Rotnei Clarke in Maui; an Alex Barlow shot in the lane to knock off then-undefeated Indiana in Indianapolis; an epic driving midrange floater by Roosevelt Jones to beat Gonzaga at Hinkle.
But all of those highlights meant nothing when Butler was getting blitzed by VCU last Saturday, exposed during the Rams' havoc as a team that looked like it couldn't handle the pressure -- on the court or off -- of being an elite team this season.
Suddenly, Butler appeared to be pedestrian, losing at home to Saint Louis by four and at VCU by 32. If Butler was to be taken seriously in the NCAA tournament, or even next week in Brooklyn at the A-10 tourney, then it had to show it against a pesky UMass on Thursday and certainly in a home finale against Xavier on Saturday.
On Thursday, at least, the Bulldogs did.
"We responded,'' said Stevens. "I told the team, 'You're a real Butler team now, because when people doubt you or you find yourself getting beat like that, it's how you respond.' I told them, 'You earn your stripes in games like this.' I'm proud of them, really proud of them.''
UMass can disturb a team with its frenetic pace. But the Minutemen, who had visions of being a bubble team after winning at Xavier, don't take care of the basketball well enough. There was a stretch when Butler turned it over due to the pesky nature of UMass point guard Chaz Williams (four steals), but the Bulldogs didn't wilt and ultimately had more steals (8-7) than UMass and won 73-62.
Under Stevens, Butler hadn't been beaten down before like it was against VCU. This was a true test for the Bulldogs.
Stevens said he couldn't take Sunday off and let that result linger, so Butler practiced the day after losing to the Rams, took Monday off and locked in the UMass game with the hope that the real Bulldogs would emerge in that game. The players also had a team meeting, not to complain or whine but to discuss roles.
"I couldn't sugarcoat things,'' said Stevens. "This is what it is. VCU is a tough team for us, a tough matchup. We didn't play very well. They played great, and they made us play that way. I've coached in Assembly Hall and coached at Saint Louis when it's rocking, and Xavier rocks, too. I'm not sure I've ever been in a place that rocked like VCU did that day.''
Center Andrew Smith said during the team meeting, the players went around the room and made sure everyone knew what they were supposed to do. "We got hit pretty hard and had to make some changes,'' Smith said.
The Bulldogs have a quality shooter in Clarke (17 points against UMass despite going 3-of-12 on 3s). Smith brings production in the post (15 boards and 13 points against UMass). Roosevelt Jones (eight assists Thursday), Barlow (four steals) and Kellen Dunham provide a combination of energy, rebounds, assists, steals and can be other scoring options. Khyle Marshall has always been a potential X factor as a small forward and was efficient Thursday (14 points).
But sophomore Kameron Woods, who scored a career-high 17 points in 19 minutes off the bench, was an unexpected offensive threat, which may be a good omen. He made athletic plays, including two consecutive alley-oop dunks, and buried shots with range while making it difficult for the Minutemen to defend the power forward spot.
If an opposing defense focuses on Clarke, Dunham (1 of 7) or even Jones, then Woods has the ability to answer. Woods played his best Thursday night, despite slamming the back of his head on the floor at one point.
"It hurt really bad,'' Woods said. "What I did was think about what I could do to help this team: hustle and rebound and score."
Smith said Woods hitting his head and then coming back five minutes later and playing hard motivated the team.
[+] Enlarge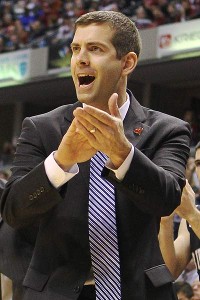 Brian Spurlock/USA TODAY SportsWith the VCU loss behind him, Brad Stevens feels better about his team.
"I told him that moving forward, as Butler moves forward, he has to be one of our leaders,'' Stevens said of the lanky 6-9 Woods. "As he continues to play as he does, that gives him more cache as a guy who can be that rock for us.''
The Bulldogs played Saint Louis twice in the A-10 and went to VCU, La Salle and UMass without a return. They also opened up against Xavier in a nonconference game that was scheduled before Butler left the Horizon League to join the A-10. Stevens said that essentially gave the Bulldogs a hard (if not the hardest) A-10 schedule.
This may be the Bulldogs' only season in the A-10 if the new Big East, led by the departing Catholic 7, comes calling as expected in the next few weeks for fall 2013. If so, then Butler earned its name in the conference in the Bulldogs' only year in the league.
But Butler has never been just about league wins or conference titles. Playing in consecutive national championship games puts the focus on a higher goal. That's why Butler still needing a win over Xavier on Saturday to earn a bye in the A-10 tournament next week didn't register with Stevens. He said he didn't care about the bye and was completely indifferent. All he wanted to do was play good basketball.
The Bulldogs did that Thursday night after the VCU loss naturally created questions.
"We got rocked, but now I feel like we got better,'' Stevens said. "That's the most important thing. We've done quite a bit in this regular season. It's hard to argue we haven't accomplished quite a bit. But we need to play better. I feel good about our team, though, I do.''
Stevens now has a "true" Butler team again, which means only one thing: It could be one of the toughest outs in the NCAA tournament.