Selection Sunday hoops musings
March, 17, 2013
03/17/13
3:08
PM ET
Some afternoon musings on Selection Sunday:
• Northwestern should go through the process, but barring a botched interview, athletic director Jim Phillips should hire Duke associate head coach Chris Collins. There are plenty of tremendous candidates out there, but Collins is ready for this job with his energy, connections and desire to make Northwestern relevant. Bill Carmody poured his life into this job but had so many unfortunate breaks. Forget about the track record of former Duke assistants or any other theories. Northwestern needs a new voice and enthusiasm -- the type that Collins can provide. The Wildcats have tried so many different ways to turn this program around, and now it's time for a younger approach. Plenty of assistants have thrived in their first coaching gig (Jamie Dixon, Brad Stevens, Mark Few, etc.), so you don't know if you don't try. If Collins is ever going to leave Duke, now is the time and this is the right job for him.
• The timing of Texas Tech firing six assistants except for interim coach Chris Walker was a bit odd. Athletic director Kirby Hocutt will interview other candidates, but Walker will get a fair shot to be the head coach. But it just seemed abrupt to do this and keep Walker. I thought the approach would be everyone stays for the next two weeks while Walker and others are interviewed, and then if Walker is hired, let him decide who is on his staff. Now if he's hired, he clearly can't hire any of the assistants back.
• Buffalo has been relevant under Reggie Witherspoon. He's a solid coach who is well respected by his coaching brethren. I was not alone in being surprised he was dumped. I'm not sure how many others would do a better job in such a tough spot.
[+] Enlarge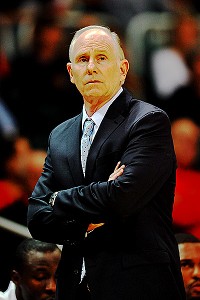 Steve Mitchell/USA TODAY SportsJim Larranaga won the ACC regular-season and conference title this season.
• Miami's Jim Larranaga and Saint Louis interim coach Jim Crews should share national coach of the year honors. Larranaga won the ACC. Crews won the A-10 under extraordinary circumstances.
• USC has the potential to be a coaching domino. If I'm AD Pat Haden, I'm calling Josh Pastner of Memphis with his West Coast ties and unbridled optimism. I don't think Pitt's Jamie Dixon would go West.
• Siena should make a play for Carmody. He should bounce back like Bruce Weber did. If that occurred, don't be surprised to see him be a conference coach of the year candidate.
• FDU should look at Fred Hill now that he's no longer on Carmody's staff or a sleeper pick in Northeastern top assistant Pat Duquette.
• Old Dominion could end up being the major player in Conference USA with Memphis gone. If I'm AD Wood Selig and there isn't a deal to hire Dennis Felton, his former head coach from Western Kentucky, then I'm calling Al Skinner. Skinner, the winningest coach at Boston College, has been on our ESPNU Expert shows twice and is still dialed into the game and has the renewed energy to get back to coaching. He deserves a shot.
• I hope Richmond gets another chance in the postseason after the way the Spiders' season ended in Brooklyn.
• Georgetown coach John Thompson III said the Big East isn't going anywhere and neither is the Big East tournament. He's right. But I will be very interested to see if Madison Square Garden will sell out with the 10 teams coming to the new league next season.
• If the ACC wanted, it could put its tournament at Madison Square Garden or the Barclays Center. Book it.
• If you gave West Virginia's administration truth serum, I'm sure they would all say the SEC would have been better for the Mountaineers instead of the Big 12. But the offer never came.
• I'll repeat that Texas' Myck Kabongo should come back and play a full season.
• Michael Carter-Williams can be a special player next year at Syracuse. He needs to come back. His late-game decision making is still erratic.
• DePaul and Seton Hall better improve. They got pushed further down with the additions of Butler, Xavier and Creighton to the new Big East. And as good as the young talent is at St. John's and Providence, those two schools can't afford to slip, either.
• Memphis and Gonzaga should be applauded for not only running the table during the regular season but also in the conference tournament. That's dealing with the same teams that know each team extremely well and not losing a game. Not easy.
• Utah coach Larry Krystkowiak needs to build off the Pac-12 tournament momentum like Colorado did a year ago. I know the Buffs won two more games and a game in the NCAAs. But the Utes have the ability to make similar progress. The other "Coach K" is a winner and was the right pick for Utah.
• Good moved by the Mountain West to put down a new, neutral floor at the Thomas & Mack Center in Las Vegas. I know it's at UNLV, but making it at least seem neutral for the viewer is important for perception.
• Tommy Amaker's name will come up for Northwestern, USC and others. But every time I've talked to him, and those close to him, the same thing comes up: He really likes being at Harvard and so does his wife. Remember, Shaka Smart stayed at VCU, Few at Gonzaga, Stevens at Butler -- Amaker can lead the Ivy team of record for years to come. He made Harvard basketball relevant. He has a great quality of life. Why leave?
• UCLA had the look of a team that could make the Final Four on a four-game run with its talent and leadership at the point. Losing Jordan Adams is a terrible blow, but Adams can be a star in the Pac-12 next season.
• Arizona coach Sean Miller's postgame comments following the Wildcats loss to UCLA in the Pac-12 tournament were must-see TV. I loved Miller's honesty about the technical.
• Notre Dame's Mike Brey has been the perfect ambassador for the Irish during his tenure. He doesn't change, and even when he got upset Friday night and slammed the scorer's table after a late halftime Louisville 3-pointer, he was quick to apologize for it postgame. At a time when there was so much turmoil for a spell in football, Brey has been a consistent presence for hoops in South Bend.
• Arizona State's Jahii Carson is an NBA-level talent, but if stays next season, the Sun Devils can be an NCAA team. It's too bad if he doesn't give himself that shot.
• What would happen if the Kentucky players (not named Nerlens Noel), who aren't ready to play in the NBA (although I'm sure Willie Cauley-Stein, Alex Poythress and Archie Goodwin would be selected) returned? The Wildcats would have a scholarship issue but would also have the right veteran balance to pair with another star-studded freshman class coming in.
• Marshall Henderson and Andy Kennedy in the NCAA tournament? Good TV.