Larranaga brings Miami up to speed
March, 19, 2013
03/19/13
8:26
AM ET
Editor's note: Andy Katz spoke with 66 of the 68 coaches in the NCAA tournament on "Katz Korner." This is his Q&A with Miami coach Jim Larranaga, which will appear in ESPN the Magazine.
How did your life change after taking George Mason to the Final Four [in 2006]?
I accomplished one of my goals by being invited to work for the Washington Speakers Bureau as a corporate speaker, and I absolutely love that. Number two, I got invited to work the Michael Jordan Fantasy Camp, which opened up the opportunity to come here to Miami because of the friends I made there. Number three, I had a chance to really advance my philosophy at the highest level by coming here, so to test what we had done at the mid-major level for 25 years and now to see if it works at the highest level in college basketball.
What was the most memorable moment of the 2006 run to the Final Four?
[+] Enlarge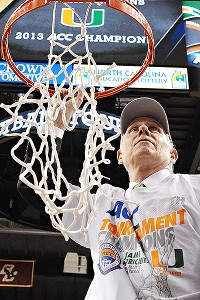 AP PhotoJim Larranaga has already cut down the nets once this season with Miami and he's confident the Hurricanes have what it takes to reach the Final Four.
Most people would think a basketball memory, but to me it was the first day I got to see my grandson James, when my son, Jay, and his family flew from Naples, Italy, to Indianapolis the day we played Florida and he arrived at the hotel.
I had never gotten to see my grandson because he was born on Feb. 9 during the middle of the season, and when he arrived there it brought tears to my eyes. He is named after me. He's actually James III. I'm James Sr. and my son, Jay, is James Jr., and my grandson is James III. That was probably the greatest memory I have of the run.
What did you think were realistic expectations at Miami?
I think we could win the national championship.
What makes this team ready to handle the grind of the postseason?
The very first thing is, and I said this before the season, if we could stay healthy, we could have the best season in Miami history because we had senior leadership and a talented group of underclassmen.
What would you rather have: an older, experienced team or one with exceptional young talent?
I'd like both. One of the things I look at, and this is a very simple thing for me and because I'm a teacher, when guys have been with me for a while, they really improve and learn what we want from them, and I learn what they're good at. I think all the players will tell you I try to put them in position where they do good. If they do something well, we will try to figure out a way to get it into the offense.
How much younger do you feel coaching this team?
I can tell you this: Physically I'm better now than I was 10 years ago because I had both my hips replaced, and before that I lived in a lot of pain. So, I feel 10 years younger.
What's the biggest difference between coaching in the ACC in the 1980s as an assistant [with Virginia] and now as a head coach in the 2010s?
Two things: Moving over a seat and being the one responsible making the decisions as compared to being the assistant making suggestions. And number two, the level of the player that I have inherited has given me an opportunity to really experience the success we're enjoying this year.
Back then we didn't have Ralph Sampson until a few months after I took the job. The success of that run at Virginia was based on [former UVa head coach] Terry Holland and his staff signing the best player in the country. This year we wouldn't be where we are without Shane Larkin, so we had to recruit that, too. But a lot of the pieces were already here.
What do you want to be the most lasting image from the 2012-13 Miami Hurricanes?
Cutting down the nets.