Chris Collins has plans for Wildcats
April, 11, 2013
04/11/13
11:02
AM ET
New Northwestern coach Chris Collins left his comfort zone as an assistant at Duke. But he didn't venture outside his area of expertise when he returned to where he grew up.
He is now at a school where the pool of talent is small and is limited by the highest academic standards in the Big Ten.
Collins, who been on the job for a little more than a week, has one goal, and that is to get Northwestern to the NCAA tournament for the first time.
Since he arrived in Evanston last week, his main focus has been on these five items:
[+] Enlarge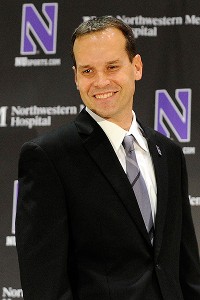 David Banks/USA TODAY SportsChris Collins hopes to duplicate some of Duke's success at NU.
1. Know his team: Collins has spent the first week working on developing relationships with his returning players. "We're on the quarter system, and that kind of helps us. They'll be in school until June, so it gives me time to work our guys out some and get to know them in individual meetings and get on the court to get to know them as players. I've got to develop relationships with the whole team." Collins held his first individual workouts Tuesday with the hope that his players could immediately understand his coaching style and get a feel for how he wants them to play. One of the key decisions he's waiting on is from leading scorer Drew Crawford, who missed all but 10 games this season with a torn labrum. Collins said Crawford could do a fifth year because he has graduated. "He's being sought after," Collins said. "It's the new free agency. He loves it here. He's been a good player." Collins said he expects JerShon Cobb, who was suspended for the year because of academic issues, to return.
2. Assemble a staff: Collins decided to keep assistant Tavaras Hardy, who played at Northwestern and recruited many of the players on the current roster. But that's been his only hire so far. "I have to take time to figure out what's going to be the right mix. I need guys who are going to complement me in all areas of coaching, recruiting and player development and all of those things. I have to take my time to get it right." Collins said he's not sure whether he will hire anyone from Duke. He will be able to lean on his father, Doug, in an advisory role when the NBA season is over. Obviously, that could turn into something more if the senior Collins doesn't return to coach the Philadelphia 76ers next season.
3. Recruit: Collins is visiting one-time Northwestern commit Jaren Sina, a point guard out of Lake Hopatcong, N.J., this weekend. Sina asked for and received his release when Bill Carmody was fired. Nate Taphorn, a 6-7 forward from Pekin, Ill., has never wavered in his commitment to Northwestern and will honor his national letter of intent. "The fact that I'm at a similar type of school helps," said Collins when comparing Duke and his current situation. "We will aspire to attract the same quality player and character kid at Northwestern."
4. Get to know his surroundings: Collins is back in the Midwest and Chicago. Although he needs to figure out his recruiting needs, he also has to embed himself in the area. Northwestern is a national-profile job, and he understands its importance to the Chicago area and the state. He will need to make a concerted effort to get out and know key basketball people in the city and beyond.
5. Family: This is usually the time of year when Chris is at home with his wife and two elementary school-age children. Instead, he's staying in a hotel while the rest of his family stays in North Carolina so the children can finish school. The plan is to attempt to sell their house near Duke, find one near Evanston and decide on schools. "There's so much on your plate right now," Collins said. "You're working long days, and there are so many loose ends. We've got to find a place to live." Collins was on the Team USA staff last summer, which meant a long summer in Europe. Now a new job has meant no free time to be around the family, and he's missing the spring sports season at home. That can be a stressful situation for anyone. "It puts a strain on everything in your family," Collins said. "But fortunately I have a great family, and they've been supportive through all of this. But it has made it crazy."