Calipari, Izzo back practice changes
April, 23, 2013
04/23/13
11:45
AM ET
Kentucky coach John Calipari wished he had a foreign trip this summer to prepare for what could be an unprecedented season with a seven-player recruiting class -- so far -- that rivals any collected recently.
But the Wildcats went three years ago, which is within the once-every-four-years allowable time period. So, just in time, here comes the NCAA board of directors with a chance to provide more practice time for the Wildcats when they need it most.
If the proposal goes through, teams will essentially be allowed to practice 30 times in a 42-day period before the first game on Nov. 8. They could start those practices as early as the last week of September or first week of October.
"I like it," said Calipari, who added he wouldn't change his Midnight Madness date of Oct. 18. "What we're about to undertake has never been done before -- to bring in a group like this. They recruited each other. We've got a great staff, but they recruited each other. It took the Miami Heat two years to do what they did. We've got to do it in three months. We'll have the summer, but we could have used a foreign trip with this group."
[+] Enlarge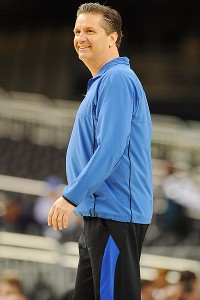 Bob Donnan/US PresswireWith a new wave of incoming players, John Calipari supports proposed practice changes.
Calipari said he'll go back to using more of the dribble drive with this group (led by the Harrison twins, Aaron and Andrew).
"This thing has never been attempted," said Calipari on Tuesday. "But we've got young players who need to be coached, who are great competitors and who love to work and want to win. I'm excited and already preparing this summer for what we're trying to get done and get it done earlier."
Michigan State coach Tom Izzo is also a proponent of the potential earlier start, but with a twist. The Spartans, who may be one of the top challengers for a title in 2014 -- along with Kentucky, Louisville, Arizona, Duke and North Carolina -- are still waiting for Adreian Payne to declare for the draft or return to school. But what Izzo would like to see in the fall is a gradual increase of practice time.
"I've got a 10-15-20 hour plan," said Izzo on Tuesday. "I'd like to see the week of Oct. 1 go for 10 hours and then the week of Oct. 7 go for 15 hours and then go to 20 hours the week of Oct. 15.
"We're killing those kids. The games have moved up so early, and there have been so many injuries. It should be gradual. If you do that, then you can go every other day during those early weeks. There are so many players leaving and transferring and fifth-year guys getting eligible immediately that we do need some time to work with the team."
The Wildcats and Spartans have their share of early-season games that will have March significance. Kentucky will host Louisville and Boise State and go to North Carolina -- all NCAA teams last season -- while playing NIT teams Baylor (in Dallas) and Providence (in Brooklyn, N.Y.) as well as Michigan State in the third edition of the Champions Classic (in Chicago).
The Spartans play in the Coaches vs. Cancer Classic in Brooklyn with Seton Hall, Virginia Tech and Oklahoma, go to Texas and could draw Duke in the ACC-Big Ten Challenge at home if the two leagues -- and ESPN programming -- pair up the possible front-runners in each league.
Meanwhile, both coaches are in favor of moving the shot clock to 30 seconds from 35. If that doesn't get a true vote-in at the rules committee meeting May 6-9 in Indianapolis, it could be used as an experimental rule change in early-season events like the ones both teams are playing in November.
Izzo warned that losing five seconds isn't going to make much of a difference. There will still be bad shots with fewer seconds on the shot clock. Calipari said the shot clock won't change the pace of the game or style of playing unless officials call more fouls.
"I'm going to tell my guys to be aggressive on the verge of fouling," said Calipari. "Hipchecking is a foul. It is in the NBA. We have to watch all the post-mugging that goes on."
More on the proposed changes
Since conducting an informal poll on the subject, some coaches who weren't reached Monday have chimed in on the proposed shot-clock change.
Villanova's Jay Wright, Oklahoma State's Travis Ford, Alabama's Anthony Grant, Long Beach State's Dan Monson, Georgetown's John Thompson III and Virginia's Tony Bennett are all fine with the move to a 30-second shot clock. Creighton's Greg McDermott is not.
McDermott isn't in favor of a longer preseason either, adding, "The season is long enough already from a players' perspective. If it passes, managing practice time and days off will be very important. That is essentially a six-month season."
Monson agreed with McDermott. Ford added that he would like to see a universal date for Midnight Madness, suggesting Oct. 18 for this season.