Friend leaves UNM and Neal gets his shot
April, 25, 2013
04/25/13
11:40
AM ET
It's not fair to say Craig Neal was forever content to be an assistant coach. He tried to get the head jobs at Georgia Tech and Colorado State in recent years. The effort was made.
But it's also safe to say Neal wasn't heartbroken when the offers didn't come.
He was coaching with -- not really ever under -- his best friend Steve Alford at New Mexico. His son Cullen was tearing up the Albuquerque high school scene as a big-time scorer. He loved taking his motorcycle on rides through the mesa and beyond. He was in a good place.
"The more Steve took care of me, the harder it was to take certain jobs,'' Neal said. "If I never became a head coach, I was good with it. I was at peace. I was doing this with my best friend. I was good where I was professionally.''
[+] Enlarge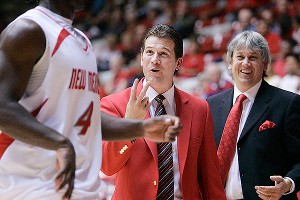 AP Photo/Jake SchoellkopfCraig Neal was by Steve Alford's side for nine seasons, first at Iowa and then at New Mexico.
And then, in a 48-hour whirlwind a few weeks ago, his life and career forever changed.
Alford was approached by UCLA athletic director Dan Guerrero a week after the third-seeded Lobos' stunning Round of 64 loss to Harvard. Alford hesitated at first, but then jumped at the chance to take over the iconic program.
"We never talked about a [succession plan],'' Neal said. "This really came out of the blue. He made a decision in a 48-hour window and it happened real fast. He loved the state. His family loved it here. He had his son Kory playing here and Bryce coming here. [But] it was too good an opportunity to pass up."
So New Mexico athletic director Paul Krebs had to decide whether he was ready to commit to Neal. The players said publicly they wanted it to happen. If it still mattered, Alford certainly wanted it to happen. And it probably didn't matter, but countless members of the coaching fraternity were in his corner as well.
And so it happened. On April 2, the 49-year-old man known by so many as "Noodles" -- who starred at Georgia Tech in the 1980s, played eight years professionally, spent several more in the Toronto Raptors organization, and then enjoyed the past nine years as Alford's loyal assistant at Iowa and New Mexico -- became a head coach for the first time in his career.
And with it, the Lobos picked up a new signee.
The Alford boys -- one on the team and one coming to the squad -- followed their dad to UCLA, but the father-son connection didn't end when the Alfords left town. Cullen Neal, who had battled Bryce Alford in city and state high school hoops the past four years, got out of his letter of intent at Saint Mary's and will play for his father. But it wasn't an easy decision.
Neal said his son was torn. He said Saint Mary's coach Randy Bennett was great to deal with and understood the decision. But nevertheless, Cullen did his homework, calling Bryce Drew about what it's like to play for your father at the college level. He also talked to the Krugers (Lon coached Kevin at UNLV) and he texted back and forth with Doug McDermott about playing for his father Greg. Craig Neal also spoke with Greg about how to coach his son.
"There was a lot of talk about this,'' Neal said. "It wasn't just a slam dunk. I even had him spend some time at the Final Four with Rick Barnes to talk about this. He did his homework. We ended up getting a top-150 recruit, which they haven't had a lot here. I'm excited about the things he can do with passing, scoring and really help us out on the perimeter. His shooting will help us a lot.
"The biggest pull was that he grew up here. He is considered a kid from New Mexico and they love their own here. He's excited to come and give a different dimension to the team. He's a great fit. We're losing Snell and this gives us another shooter. We've also added [late signee] Arthur Edwards and had Merv Lindsay sitting out [from Kansas]. We have added some pieces.''
UNM also had 6-foot-8 Devin Williams sitting out, and he should be a rotation contributor as well.
Tony Snell was going to declare for the NBA no matter who was the head coach, and so he did. But the return of Mountain West player of the year Kendall Williams, rising big man Alex Kirk and guard Hugh Greenwood, as well as forward Cameron Bairstow, gives the Lobos a nucleus that should put them in position to be the Mountain West preseason favorite.
[+] Enlarge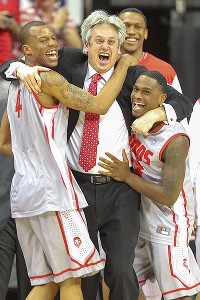 Steve Conner/Icon SMINeal was an extremely popular assistant among UNM players and many of them campaigned for him to get the head-coaching gig.
"The biggest thing that we had to get accomplished was keeping everyone together,'' Neal said. "With Steve leaving there could have been adversity, but everyone stayed. When there is a change, you have to make sure everyone is doing the right things academically. When I was the interim coach I had to make sure they were doing the right things academically. I had to hire the right staff. I hired Lamont Smith as my associate head coach. I kept Drew Adams and Craig Snow. The only person on the staff who went with Steve was Duane Broussard. I've got to hire an operations guy, but I'm not in a hurry.'
"A lot isn't going to change,'' Neal added. "We've got the blueprint for a championship.''
But to erase the disappointment of the Harvard loss -- something that he continues to remind the players about as an unfinished business moment -- the Lobos must have a good start to the 2013-14 season. That's why Neal is pumped about the Aug. 2-13 trip to Australia, where they'll play three games in Sydney, Melbourne and the Gold Coast.
"Australia will be a good time for me, to take our freshmen and all our players and give me a chance to experiment and coach three games,'' Neal said.
The Lobos have a rugged schedule too, playing Kansas in Kansas City, competing in the Charleston Classic, hosting Cincinnati, and possibly partaking in a two-day event in Las Vegas, where Neal is hoping Marquette signs on to be the other marquee team. He also hopes to be back in the ESPN Tip-Off Marathon, where UNM hosted Davidson last year.
The Mountain West will once again be full of potential NCAA teams, with UNLV, San Diego State and Boise State joining New Mexico as the most likely contenders. But will the conference -- and the Lobos in particular -- deliver when it matters the most?
"All our fans were disappointed,'' said Neal on the team's disappointing loss to a 14-seed. "We were more so than they were. The last month we were playing as well as anyone. We won some big games and then played Harvard and it was the worst game we played in three years. It hurts, but our guys are motivated. We've got to do better in the tournament.''
But instead of Alford picking up that responsibility, it's all on Neal now.
Don't expect him to back down from the challenge.
"I've been ready," Neal said. "I spent 12 years in total with the Raptors and then making the transition to college [in 2004] it was a bit like starting over. But my patience paid off and it worked out well. I'm taking over a program that has won six championships in six years, has four starters back and should be ranked in the top 20.
"To get your first head-coaching job in this situation with this fan support and fan base and the resources we have, I'm very fortunate.''
Editor's Note: For more on the Lobos and their transition to Neal, check out Eamonn Brennan's take here.