Texas needs Javan Felix to emerge
May, 28, 2013
05/28/13
2:10
PM ET
Javan Felix needs to make the USA U-19 team next month. Rick Barnes needs him not only to earn a spot, but to play and perform with confidence.
Texas' season may depend on it.
Felix will have the ball in his hands next season as the Longhorns attempt to rid themselves of the sour taste of a 16-18 (7-11 Big 12) season. Gone are Myck Kabongo to the NBA draft and guards Julien Lewis and Sheldon McClellan to transferring (Jaylen Bond also bolted).
Felix stayed.
[+] Enlarge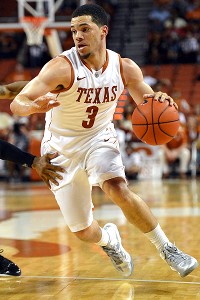 Cal Sport Media via AP ImagesJavan Felix is one Longhorn who accepted the challenge of turning Texas around.
"I want to do anything I can to make that team,'' said Felix of the U-19 tryouts June 14-19 in Colorado Springs before he'll head to the Czech Republic for the FIBA World Championships in late June. "I want to have a good presence on the defensive and offensive end. I know they may look at my size and how short I am, but I can make up for that. I want to run the team. I really want to take advantage of this opportunity.''
The 6-foot Felix will have plenty of competition that will make the selections tough for junior national team chair Jim Boeheim and U-19 coaches Billy Donovan (Florida), Shaka Smart (VCU) and Tony Bennett (Virginia).
Villanova's Ryan Arcidiacano, Florida's Michael Frazier, Oregon's Damyean Dotson, UConn's Rodney Purvis, Pitt's James Robinson, Oklahoma State's Marcus Smart, Duke's Rasheed Sulaimon and Washington-bound Nigel Williams-Goss are all listed as guards on the 24-man roster trying out for the team. You can lock in Smart, and I'd be surprised if Arcidiacano, Robinson, Sulaimon and Dotson aren't on the roster too.
Smart has been told by the coaching staff that he will be playing point as he attempts to transition to the NBA after likely one more season at Oklahoma State. The playmaking minutes will be limited. Felix needs to get a few.
Felix averaged 27.2 minutes, 6.8 points, 2.6 rebounds, 4.1 assists and 2.5 turnovers last season. The Longhorns will be young next season, but Felix is adamant they will be more cohesive. They weren't last season.
"We have to become a team,'' said Felix. "Last year we weren't a real team. Everyone wasn't fully bought into what we wanted to do, and everyone wasn't giving their all. It's a whole new vibe now.''
Felix said he was surprised Lewis and McClellan both transferred, but none of the freshmen left.
"It says a lot,'' said Felix. "We all know last season was a disappointment. We have to be better. Most of the people who have played at Texas under coach Barnes have been winners. Last year we didn't have a winning record, and that's a slap in the face to the people who came before us. We have to fix that and redeem ourselves.''
Felix doesn't blame the players for leaving, but he said if they didn't want to be at Texas, then it's good they're gone.
"Obviously they didn't want to be here,'' said Felix. "They weren't fully here. They had one foot in the door and one foot out. They weren't locked in, and because of that we suffered. Now we're all locked in and have the same goal and same mindset.''
Kansas has a stellar recruiting class and the top player incoming in Andrew Wiggins, in addition to the few veterans it has back at guard. Oklahoma State has Smart. Baylor got its two best bigs back. Sleeping on Iowa State and Oklahoma would be a mistake. Texas will struggle to crack the top five of a 10-team league. Beating out teams like Kansas State, West Virginia and TCU is a must.
"We've got to cut down on turnovers and be more vocal,'' said Felix. "I have to defend better than I did.''
Barnes has no issues with the players who left. There is a buzz in Austin around the basketball program this spring that is better than recent years. Whether that translates into a more productive season will depend on the summer these players have in the next few months, especially Felix.
"He has definitely challenged me,'' Felix said of Barnes. "I've taken the challenge, and I'm working very hard.''