MWC's Aztecs have staying power
June, 10, 2013
06/10/13
12:13
PM ET
San Diego State has finally become a major West Coast player thanks to its great home court at Viejas Arena.
The organically formed student-crazed fan base dubbed "the Show" has made it a happening place to go for games.
[+] Enlarge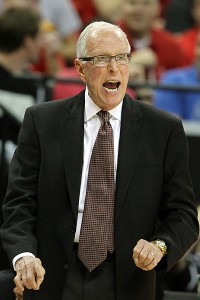 AP Photo/Isaac BrekkenSteve Fisher is continuing to develop NBA-caliber players at San Diego State.
By reaching the Sweet 16 and earning a No. 2 in 2011, the Aztecs also made a significant step toward becoming a regular name in the national conversation.
And deciding to stay in the Mountain West instead of leaving for the Big West was a critical move (or nonmove in this case) in maintaining their current status.
But putting two players in the first round of the NBA draft in the past three years -- both of whom are expected to be major contributors -- is a strong sign that they have staying power.
The basketball mainstream is now seeing what the West and the grinders knew about former San Diego State star Kawhi Leonard. Outside of the core big three of Tim Duncan, Manu Ginobili and Tony Parker, Leonard has been one of the most important pieces in the San Antonio Spurs' run to the NBA Finals.
"You looked at him, and he looked like an NBA player,'' said San Diego State coach Steve Fisher. "He had the biggest hands I had ever coached next to Chris Webber. He had the physical skills. He set himself apart. I knew he would make it. He was in the gym relentless. He had the good fortune to land with an organization like the Spurs. He is not doing anything out of the box. He is flourishing in that environment, and now he's on a stage for the whole world to see.''
Jamaal Franklin could be next. He's battling a foot injury now, but he's still a likely first-round draft pick. He was the Mountain West Player of the Year two seasons ago. He followed Leonard and learned from him and is now on the verge of getting a similar chance in the NBA if he's selected in the right spot.
"I haven't had anyone work as hard as he did on his game,'' said Fisher. "He's such a gifted athlete. He changed his shot to become one of the better free throw shooters. He has that tough-mindedness that no one is better than him. I tried to redshirt him his first year but he didn't want to since he didn't think anyone would be better. He was MVP in his second year and then had to deal with being the focus. He benefited from being around Kawhi. Jamaal will be the guy [who] will do what they want.''
If Franklin goes in the mid- to late first round, the Aztecs will surely benefit. Programs can survive without placing multiple players in the first round. But San Diego State was so far down for so long that this is still new territory. If the Aztecs can continue to produce pros, even though they aren't always the highest-rated prospects entering college, it's yet another sign the program is on the rise.
Now if San Diego State can pull off the draft hat trick, it will prove something substantial. So who's next?
Fisher is looking at 6-7 rising junior JJ O'Brien (7.2 ppg, 4.5 rpg), 6-8 sophomore Winston Shepard (5.7 ppg, 3.5 rpg) and 6-8 senior Tulane transfer Josh Davis (17.6 ppg, 10.7 rpg).
"JJ has improved his offensive game and can shoot it rather than drive it every time he gets it,'' said Fisher. "He has the size to play multiple spots. Josh Davis will be with us for just one year, but he'll be physically mistaken for Kawhi. He was the second-leading rebounder at Tulane. He needs to work on shooting the ball. I haven't seen him enough yet on that. But if he can make the face-up 17-footer, then he'll have a chance. Our most heralded recruit is Winston Shepard. He's got the size, versatility and athleticism from multiple spots.''
From day one, Fisher recruited pro-bound players as the coach at Michigan. He's now developing them at San Diego State.
"It's something we take great pride in,'' said Fisher, whose Aztecs will once again be picked to finish in the top four in the Mountain West, pushing New Mexico for first and Boise State as a possible challenger for second. "We now have a program, not just a good team every once in a while. Hopefully we'll get a little lucky and have some elite seasons. Good players attract good players. And if you're going to be good, you've got to have potential pro players.''
They have done that. Now the key is to make sure that trend continues.