Siena's Jimmy Patsos still a MAAC guy
August, 30, 2013
08/30/13
1:14
PM ET
Editor's Note: All week ESPN.com is taking a look at new faces in new places. As part of our coverage, Andy Katz will be diving into the mid-major ranks to profile a first-year coach each day.
If Loyola (Md.) had stayed in the MAAC, Jimmy Patsos would not be the coach at Siena.
No chance.
He knows it. Siena knows it.
He wouldn't have attempted to make a play for the gig, but Loyola bolted for the more academic Patriot League. And that was the signal to Patsos that if the Siena job opened, he was all over it to stay in the MAAC.
"I got the offer and I just took it," Patsos said. "I went to lunch with my AD [Jim Paquette] and he understood. Everyone was on board. I had four years left on an extension. But I just felt I should go and got a five-year deal at Siena."
Patsos helped transform Loyola into a contender within the MAAC. The Greyhounds weren't a regular in the conversation for conference title. But he slugged through a rebuilding project and led the them to the MAAC championship in 2012. He did this during a down era at Siena.
The Saints had a lengthy list of successful runs by coaches such as Mike Deane, Louis Orr and Fran McCaffery before Mitch Buonaguro's three-year run. Buonaguro was 35-59 in three years and never finished with a winning record in the MAAC.
[+] Enlarge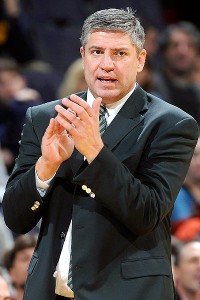 G Fiume/Getty ImagesJimmy Patsos wouldn't be the Siena coach had Loyola stayed in the MAAC.
The Catholic school just outside of Albany, N.Y., had always been deemed the top job in the conference. The Saints played in a pro-style arena. They had a passionate fan base. They had history. They were the team of record in their city, which isn't the norm in an urban league like the MAAC.
"I wouldn't say I had my eye on it," Patsos said. "I was happy. But I knew that the kids I was recruiting in the MAAC, I wouldn't be able to always get as many of them in the Patriot League."
Patsos said he leaned heavily on his mentor, Gary Williams, whom he worked for at Maryland when the two were a part of multiple Final Four appearances and a national title in 2002. Williams told him to go to a job in a capital city if he could (he loved Ohio State) and more than anything to take the advice of the late Dave Gavitt: Always try to have the best job in your league.
"We put all the pieces together and said if the offer came I would take it," Patsos said. "I loved the job. I love Albany. I love politics and culture. I live in Saratoga. I was the only coach in the MAAC who said keep the tournament in Albany at Siena [it got moved to Connecticut and then Massachusetts for fear of too much of an advantage for the Saints]."
Patsos had seen the top at Maryland. He didn't covet going back. He pursued College of Charleston to no avail. If an ACC job opened, and he was approached, he wouldn't dismiss it. Patsos could be a great fit at a number of spots with his energy, bombastic personality and overall exuberance for life.
He's a Bostonian who has flourished in the Beltway and Baltimore from Catholic U to Maryland. But he has constantly -- and correctly -- looked for the right fit.
"Sure, do I want more money, the money would be great," Patsos said. "But I would spend it no matter what. I like a traditional basketball school. I love Loyola but it's always going to be a lacrosse school. I was always supportive of that. But North Carolina is basketball, Syracuse is basketball, Cal State Fullerton is baseball, Boston College is hockey and Siena is basketball. We added Monmouth and Quinnipiac, which both have great facilities, to the MAAC, so the league has gotten better."
Patsos said Siena should always be one of the premier jobs. He's not hiding who he is and what the Saints should be in the college basketball landscape.
Patsos isn't going to say Siena is going to be the next Gonzaga or Butler. It's not. He's no fool.
"It's not Gonzaga, it's not VCU, it's more of a mid-major minus," Patsos said. "We're the old-school mid-major, but a good one. I like it. I'm happy in the MAAC. It's really tough. It will always be up for grabs with Manhattan, Iona and that's OK. I'm a challenge guy. I would have been happy to stay at Loyola, but we're not getting 10,000 fans at a game like we will for our opener against Albany. We never played in an arena."
The Patriot League academic perception had Patsos a bit on edge. He's not looking for low-rent students. But he didn't want his pool to be too limited. He's telling it as clear as can be -- saying he wanted to be able to recruit a wide swath of talent.
"Patriot scared me a bit," Patsos said. "It's hard to get transfers in. They don't want to drop down to a transfer league. I like transfers. This was a good fit for me."
Patsos knows who he is and what should be expected at Siena. The Saints were originally going to take a trip to Italy in August. But Patsos looked at the real numbers, saw the trip could cost over $100,000 and decided to bus to Montreal.
"A great $30-35,000 trip," Patsos said. "We played five games, won four, really enjoyed Montreal. I know all these guys since we played against them when I was at Loyola. Now I have to get them to play fast, run and trap. We had a great week. It was cheaper. I really recommend going to Montreal."
The Saints have a difficult slate of games, playing at La Salle, going to Purdue, opening with Memphis in the Old Spice Classic in Orlando, Fla., with LSU or Saint Joseph's in the second game. The MAAC schedule is 20 games, a full round-robin, only to likely produce a stressful four-day tournament in Springfield to produce an automatic bid.
Patsos will play five freshmen in his top nine, so the 46-year-old Patsos isn't prepared to claim a MAAC title. But he is convinced this team will be a viable contender in late February.
"It's the right fit," Patsos said. "It really is."