Category archive:

Boston College Eagles
October, 4, 2012
10/04/12
11:19
AM ET
If anyone was wondering whether 15 schools could agree and get along in the new ACC, all they had to do was check the reaction to the new primary partners released Wednesday.
There was an unusual consensus. Every school was pleased.
The ACC had to adjust its scheduling format with the addition of Notre Dame, which could join anywhere from 2013 to 2015. The conference, committed to an 18-game schedule, had to lock in to two annual home-and-home series.
For a few schools, such as Virginia, there was nothing to ponder. The Cavaliers have two natural rivals in Virginia Tech and Maryland. Done.
"It makes sense geographically," UVa coach Tony Bennett said. "They've been our natural rivalries for years."
[+] Enlarge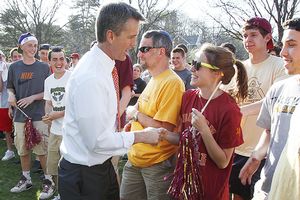 AP Photo/Michael DwyerCoach Steve Donahue believes BC's fans will be pumped to host old conference rivals Syracuse and Notre Dame each season.
Boston College landed two tough opponents, but the Eagles couldn't have been happier to get two schools that will help fill the usually staid Conte Forum. BC will play Notre Dame and Syracuse twice every season.
"It's great for our alumni and fans," Boston College coach Steve Donahue said. "I'm sure excited about it."
Understandbly, no school got both Duke and North Carolina. That would be too cruel, and it would be too hard to pull off with two other schools in the state in Wake Forest and NC State. The ACC had to balance the four schools, and it did.
Duke gets UNC and Wake Forest. NC State got UNC and Wake. Wake Forest got Duke and NC State. And of course that means Carolina got Duke and NC State, which based on the current trajectory of the four schools, is the toughest slate among the schools in North Carolina.
"I loved it," NC State coach Mark Gottfried said. "They got it right."
Wake Forest athletic director Ron Wellman, who is the 2014 chair of the men's basketball selection committee and understands the importance of getting quality teams on the schedule, said "playing two in-state rivals is the best scenario for us."
ACC associate commissioner Karl Hicks, who oversees basketball and scheduling in particular, said the majority of the matchups simply made sense.
The most intriguing issue was what to do with Notre Dame's second rivalry after Boston College. The Irish and Georgia Tech were paired up by process of elimination. Hicks said the schools have a rivalry in football, but not in basketball.
"Notre Dame has a lot of alumni in urban areas," Hicks said. "Maryland was a better fit with the partners they had [Pitt and Virginia]. Washington, D.C., would have been a good place [for Notre Dame], but Maryland's partners fit. Georgia Tech was the next one that made the most sense."
ND coach Mike Brey said it worked for him since he wanted to create new rivalries and, "I love Atlanta."
Tech coach Brian Gregory knew the Yellow Jackets would get Clemson as one rival and was overjoyed that the Irish were the other.
"I think it's great for us," Gregory said. "These are two great academic schools with great traditions. I think it will turn into a great rivalry."
Maryland coach Mark Turgeon said Pitt and Virginia are strong defensive teams which should provide four gritty games for the Terps every season. Pitt coach Jamie Dixon had no issue with Maryland and Syracuse as his school's natural rivals, saying that he expected as much based on geography.
The rest of the 14 games on the schedule will include two more home-and-home opponents (which will rotate every year) and five home and five road games that make up the other 10.
The other set partners are:
Clemson: Florida State and Georgia Tech
Florida State: Clemson and Miami
Miami: Florida State and Virginia Tech
Syracuse: Boston College and Pitt
Virginia Tech: Miami and Virginia
Hicks said the Miami-Virginia Tech series marries two former Big East rivals. Syracuse's two partners are also former Big East foes. Clemson and Florida State got natural regional rivals.
"I'm not bent out of shape one way or another," said Florida State's Leonard Hamilton, who added he wasn't against going to 20 league games. "I like the challenge night in and night out of 18 hard-nosed games."
What the two-team partner lists and the reaction proves is that a 16th team in men's basketball doesn't seem necessary. ACC commissioner John Swofford said the ACC isn't going to go to 16, and frankly, there's really no need.
September, 22, 2011
09/22/11
10:10
AM ET
The ACC's decision to add Pitt and Syracuse will undoubtedly strengthen men's basketball more than its last round of expansion (Boston College, Virginia Tech and Miami).
But it will create more controversy given how a potential 14-team league might be divided.
The Panthers and Orange may come in 2012 if they can buy their way out of the Big East's exit demands of 27 months and a $5 million departure fee. The Big East has publicly stated that it wants the two schools in for the duration and for BCS purposes it may need them to ensure that the league still has the necessary amount of teams. The ACC is in no rush to add Pitt and Syracuse, but those two schools would rather not go through more than one lame-duck season.
Nevertheless, there is already discussion about how the two will be incorporated into the ACC. Formal talks on the matter won't occur until the annual meetings later in the academic year. But if the league goes to divisions, or at the very least goes to a divisional-style scheduling format, there still might be at least one team in a difficult spot: Wake Forest.
Virginia Tech coach Seth Greenberg looks at the divisional setup along regional lines -- and it makes some sense. ACC associate commissioner Karl Hicks agrees, and he acknowledged that's the way it might turn out.
If that were to happen, the North would have to be Virginia Tech, Virginia, Maryland, Pitt, Syracuse, Boston College and one more team.
The South would be Georgia Tech, Clemson, Florida State and Miami, and then there are the three schools in the Research Triangle (Duke, UNC and NC State) that would likely demand to be in the same division together.
[+] Enlarge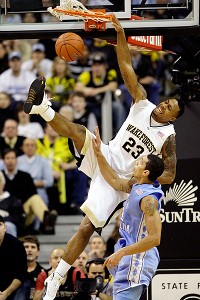 AP Photo/Chuck BurtonThroughout the years, Wake has savored its home games against powerhouses like North Carolina.
That leaves the Demon Deacons as the odd team out. Would Wake have to be put in the North, separated from its three in-state rivals?
The current 12-team divisional alignment in football isn't set up in a North-South split. Wake Forest is in the Atlantic and at least has NC State on its side with Maryland, Clemson, Florida State and Boston College. But the Demon Deacons' two in-state rivals that it would rather play more -- UNC and Duke -- are in the Coastal with Georgia Tech, Virginia Tech, Virginia and Miami.
Wake will make it clear that it doesn't want to be shipped away from the three other North Carolina schools if the league goes to two seven-team divisions. The Demon Deacons want in some form two games against the three in-state schools if there are divisions or if it's one 14-team league.
"If you do it North-South, then one North Carolina team has to be in the North,'' Wake Forest athletic director Ron Wellman said. "We want to play North Carolina more than we do. It's been four years since we played them at home in football, so we are interested in a concept where we play the North Carolina schools. That's a point of emphasis for us. As soon as we announce our schedule, our fans are disappointed that we don't play every North Carolina school in football or [twice in] basketball. Those rivalries were established before the league was in 1953.''
Wellman said when the ACC gets together next month, the topic of how to align a 14-team league will likely be discussed. Wake Forest is nearly two hours away from the Raleigh-Durham-Chapel Hill area, but Deacons fans clearly want to feel attached to the state's other ACC teams.
The other option for the conference would be to keep Wake Forest in the South and ship Miami to the North with the rationale that the Hurricanes would have to fly to every ACC school anyway due to its location (technically, the Hurricanes could drive to Tallahassee for FSU, but even that is a lengthy drive on a school night).
If the ACC were to go to 16 (which is the preferred number by Duke coach Mike Krzyzewski and North Carolina's Roy Williams, among others) and the additions were two more Big East schools (say, UConn and Rutgers), then geography naturally would put both in the North. That would be the easiest solution for the ACC, allowing Wake Forest to compete in the South.
Of course, there will be some other issues here, too. Maryland will demand that it still has its rivalry games with Duke and North Carolina. The Terps would still get to be paired with the two Virginia schools, but losing a Duke home game would seriously dampen the spirits in College Park.
In the end, Hicks said the league doesn't have to go to divisions.
"Ultimately, it will come down to a vote of the ADs and they'll decide what they'll want to do,'' Hicks said. "It will be hard to take those North Carolina schools and separate them. Rivalries and geography will be in play. The good news is that we have time to work through it. We do have permanent partners in our scheduling now. It's the same issue we have now in scheduling, but we added two more teams.''
• If Big 12 commissioner Dan Beebe is officially out of a job, then the NCAA tournament selection committee will have two of its 10 members not working while serving on the committee. The other is Jeff Hathaway, who was forced to retire at Connecticut as athletic director.
WAC commissioner Karl Benson, a former committee member, said that the personnel on the committee has always been overrated and that the committee will be fine since the system itself is all that really matters.
Hathaway's term as chair of the committee started on Sept. 1 (replacing the outgoing chair, Ohio State AD Gene Smith) and NCAA men's basketball tournament spokesperson David Worlock said there has been no change in his position. The same may be true of Beebe if he's officially out. The committee won't meet again until November, and the heart of their work doesn't really begin until January and February, anyway. Hathaway and Beebe certainly would have more time to focus on the national landscape.
The only issue that will be in play for the selection committee: Would Hathaway have to leave the room when UConn is discussed and would the same apply to Beebe when Big 12 teams are talked about, since neither would be employed by either entity?
The consensus from former committee members is that bringing in two more new members to go along with the two regularly scheduled new members to the committee wouldn't be prudent. No one wants to see a committee that has four of its 10 members doing the selections and seeding for the first time. So if Hathaway and Beebe both stay, then the only hiccup will be their role when the teams that they formerly served are being discussed.
September, 21, 2011
09/21/11
3:00
PM ET
Despite the losses of Syracuse and Pitt, Louisville coach Rick Pitino is confident the Big East brand of basketball will not only survive but thrive.
He said the Cardinals have no desire to go to another conference and are committed to making the Big East a strong and stable conference.
"I'm happy with Big East basketball," said Pitino, who was on the road recruiting when reached by ESPN.com on Wednesday afternoon. "I didn't want to lose Pitt and Syracuse, but now we're at a manageable 15 teams. We still have top-20 teams in Cincinnati, Georgetown, Marquette, Louisville, Villanova and West Virginia. We still have a great league. The schools like Rutgers and DePaul are getting much better. Losing Syracuse and Pitt hurts our quality, but 17 was going to be ridiculous."
The Big East still may have 17 teams in men's and women's basketball when TCU joins the conference in 2012-'13, unless Pitt and Syracuse can buy their way out of the 27-month departure bylaw that the conference is going to enforce before those schools leave for the ACC. The exit fee is $5 million.
"None of us here want to leave the Big East or playing in Madison Square Garden," Pitino said. "We want to be in the Big East in recruiting. We're very happy in the Big East."
Pitino said he was told that the Big East will add service academies Air Force and Navy by the end of the week -- but only in football. The conference will have football-playing members Louisville, Cincinnati, South Florida, Rutgers, Connecticut, TCU and West Virginia in 2012 if Pitt and Syracuse leave, making it imperative to add more football programs. Of course, at the same time, UConn is actively trying to get into the ACC with Pitt and Syracuse.
Pitino said the Big East was trying to secure Air Force and Navy before the departures of Pitt and Syracuse. Navy is an independent, but Air Force would have to decide if it makes sense to leave the Mountain West for football and keep its other sports in the league. The MWC has a similar reverse deal with Hawaii joining the conference in 2012 only for football. The Warriors will play in the Big West in all other sports. Hawaii is currently in the WAC in all sports.
As he first pointed out in a blog he wrote earlier this week, Pitino is skeptical of what Boston College has gained from joining the ACC.
"What has it done for them?" Pitino said. "Syracuse and Pitt are risking everything and all these great traditions and for what?"
Pitt and Syracuse will say for security and stability.
SU coach Jim Boeheim told ESPN.com that his program would continue to play St. John's and Georgetown after the Orange move to the ACC. Pitino said there won't be room on UL's schedule to take on Syracuse and Pitt.
"It's not that I wouldn't play them, but we can't," he said. "There is no animosity. I don't blame them. But there's no reason for them to play us and no reason for us to play them."
Pitino said going to 15 teams in men's basketball is a much more palatable situation. He said he'd like to see 14 league games then two repeat teams to get up to 16 league games. Having a 17-team basketball conference would be a long-term nightmare, he added.
"We don't want any more basketball teams," Pitino said. "I feel very comfortable saying that we're going to be in the Big East. Now if you said to me two months ago that Syracuse and Pitt would leave the Big East, I never thought that.
"We have a great conference. If it stays at 15, then we could get eight or nine in the NCAA tournament. We just had 11 out of 16. We will still have one of the strongest conferences in the country."
Louisville will be one of the favorites in the Big East this season, along with Connecticut, Syracuse and Pitt. The latter two are on their way to the ACC and the first wouldn't mind going, too.
"I feel very comfortable today that Big East basketball will be fine," Pitino said. "I never thought a charter member like Syracuse would leave. We don't know what will happen, but my feeling is that we will continue to have a great conference."
September, 20, 2011
09/20/11
2:35
PM ET
Here are some quick hitters during this crazy week in college sports …
• Villanova is trying to use its rising football program as a way to get in somewhere in the ACC or a Big 12/Big East hybrid. The school is hoping the Philadelphia market and the ability to get its football to FBS status (unlike, say, Georgetown) is attractive. And by the way, Nova is not pleased about the way Pitt helped block the Wildcats from being accepted into the Big East for football.
• If what's left of the Big East became a basketball-driven league, it would still be a very attractive conference. Imagine if the league were Villanova, St. John's, Georgetown, Marquette, DePaul, Seton Hall, Providence and possibly Notre Dame, then add Xavier, Butler, Saint Louis, Dayton, Creighton and maybe Saint Joseph's.
• The remaining non-FBS teams in the Big East have to commit to unity for a setup like this to work. The problem with this idea is that it still wouldn't command major media dollars. Non-football conferences don't make the major money. Check out my colleage Dana O'Neil's take on it here.
• The Big East is saying the right things by holding Pitt and Syracuse to the 27-month departure bylaw. But it's in the best interest of the remaining Big East schools to let the schools go so that they can figure out what the conference will look like in two or three years. Multiple lame-duck seasons serve no purpose.
• Pitt is having some selective memory these days about refusing to play Boston College after the Eagles broke off to the ACC eight years ago. The Big East office was not a fan of anyone playing the Eagles in anything and made that clear to Pittsburgh. The Panthers were supposed to play BC in the Jimmy V Classic but were replaced with Indiana.
• The Barclays Arena in Brooklyn will provide the New York City area with multiple opportunities to host conference tournaments. The ACC, Big East and A-10 should all have choices for tournaments in the coming years.
• Adding Missouri to the Southeastern Conference makes the most sense for what the league wants from a 14th member. The SEC wants the perception to be that it is adding a new market (St. Louis/Kansas City) and a school that has some respect academically. Texas A&M obviously delivers a major market (Houston) and respect. But there aren't really two other natural schools out there for the SEC to bump up to 16.
• Pac-12 commissioner Larry Scott will have to do some serious convincing when he talks to his presidents -- especially the Bay Area ones -- about adding Oklahoma State and Texas Tech with Texas and Oklahoma. I would love to hear that conversation.
• I like that Mountain West commissioner Craig Thompson is being proactive, but the proposed MWC-Conference USA confederation to have a football championship that would decide a BCS bid is odd. Would it really produce an automatic qualifier to the BCS? Would there be some sort of basketball agreement?
• Texas would still rather stay in the Big 12 and have all of its program compete in the region. But it all depends on Oklahoma at this point.
• Can you imagine if the ACC added Notre Dame and Connecticut to get to 16? The Irish are always solid under Mike Brey and UConn is a three-time national champ. The top of the ACC would be scary good. But moving up from the bottom would be extremely difficult for some programs. The jobs at Wake Forest and Boston College would get even tougher.
• It really is amazing to think about how much super-conference talk is going on recently and yet Butler played in the last two national championship games and VCU was in the Final Four last season. March reminds us that there are hundreds of others schools competing in Division I and plenty of high-level players and coaches. It's not all about the big boys!
• The NCAA still hasn't decided on the fate of ousted Connecticut athletic director Jeff Hathaway. He's the men's basketball tourney committee chair yet is currently jobless. But a number of former committee members and current Big East officials want Hathaway to be on the committee for this final season as long as the NCAA can figure out a way around him not having a job. Hathaway would be able to focus solely on the task of running the committee, which meets again later in the fall.
• Michigan State coach Tom Izzo is as excited about this season as he has been in years. The Spartans are finally relatively healthy and it's clear some of the issues in the locker room are gone. Meanwhile, North Carolina coach Roy Williams, whose team will face off with Izzo in the Carrier Classic on Nov. 11, said he has been told the pickup games in Chapel Hill involving a number of locked-out NBA players have really helped his crew develop.
• UCLA's Class of 2012 commitments from the East and South, Kyle Anderson (New Jersey) and Jordan Adams (Georgia), continue to show the Bruins are a national program. Every former UCLA coach has consistently said the Bruins can't simply recruit California. UCLA has to be a national player to be a national contender. The recruiting by the Bruins and rival Arizona -- the top two teams in the latest ESPN rankings -- is a credit to Ben Howland and Sean Miller, who cut their teeth recruiting in the cut-throat East Coast. But it also shows that the down cycle of the Pac-12 elite was merely a blip on the radar.
December, 29, 2010
12/29/10
1:50
PM ET
Jordan Taylor
led Wisconsin with 22 points in the Big Ten opener, a 68-60 victory over Minnesota on Tuesday night in Madison.
Jon Leuer
finished with 16 points.
And while Taylor's steady play at the point is critical to Wisconsin's climb toward contender status in the Big Ten, the Badgers will rise and fall with Leuer.
[+] Enlarge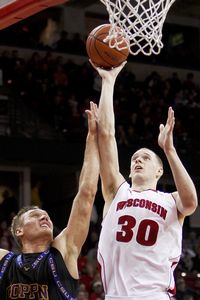 AP Photo/Andy ManisJon Leuer finished with 16 points in the victory over Minnesota.
There are a number of teams that are relying on one key player this season.
• Junior guard Kemba Walker will determine if Connecticut makes the NCAA tournament. He is clearly one of the frontrunners for national player of the year and Big East player of the year, and he's been one of the most dominating performers in the nation to this point in the season. But if he's off his game, then the Huskies likely have no chance against elite competition.
• Washington State relies heavily on Klay Thompson to be on his game. He has been in nearly every contest. But even when he did score well against Butler (31 points), it wasn't enough to beat the Bulldogs in the Diamond Head Classic final. If Washington State is going to challenge for the Pac-10 title, it will be due to Thompson, even if he gets help from guards Faisal Aden and Reggie Moore and DeAngelo Casto inside.
• BYU got a stellar game out of Jackson Emery, but does anyone really believe the Cougars can win the Mountain West if Jimmer Fredette isn't playing at a high level? Fredette is the money player who can change a game with his shot.
• And Boston College's rise as a potential second-place finisher in the ACC is all because of Reggie Jackson. Jackson had the talent to be a star the past two seasons, but he's really blossomed in Year 3. He gets help at times from Corey Raji, Biko Paris and Joe Trapani. But Jackson is the one player on the Eagles who can create good offense out of poor execution.
Leuer has become that kind of player for the Badgers, despite being a big man. "That's a position he has put himself in by delivering,'' Wisconsin coach Bo Ryan said Wednesday. "It's not like he got all these accolades, and everybody is supposed to move aside. The other guys need to play well defensively, rebounding and scoring-wise but he's a threat, and he gets the attention from the other teams.''
Ryan concurred that Leuer is that "guy," much like Fredette, Walker, Thompson and Jackson. Jackson didn't have his best shooting game against the Badgers in Orlando (6-of-21, 18 points), and the Eagles lost, 65-55.
When Leuer was injured last season, Trevon Hughes was the player the Badgers leaned on to get out of broken plays. Taylor has assumed Hughes' role, but when the offense goes awry, Leuer is the one who can change the direction of the possession. "If he's guarded by a big and someone is helping on Jordan penetrating, then that leaves Jon open,'' Ryan said. "He's a big factor for us. He's tough, hard-nosed. Jon is our go-to guy. We do have one big and one small like that so we're pretty steady.''
The reliance on one player is hardly a new development. But it shows the difference among some of these potential NCAA teams and the ones that are more likely to challenge for the title.
Ohio State has been led by freshmen Jared Sullinger, Deshaun Thomas and guards William Buford and David Lighty.
Duke lost the top guard in the country in Kyrie Irving, but having All-Americans Kyle Singler and Nolan Smith and role players Mason and Miles Plumlee make the Blue Devils balanced. Kansas, arguably the third team in the race for the national title at this juncture, has an elite lead guard now in Josh Selby and power players in Marcus and Markieff Morris. The Jayhawks don't need just one player to perform to win at a high level.
And that's why Walker, Leuer, Fredette, Thompson and Jackson should be applauded for their play. They are taking on more than most, with the need to be on for every game and provide leadership for their teams.
December, 18, 2009
12/18/09
8:37
AM ET
Quick hitters for Friday during exam week (not for me, but for those NCAA student-athletes):
• When I was with Minnesota in Anaheim at the 76 Classic, I never got the sense that Royce White was going to return to the team. White, who announced recently that he's leaving Minnesota because of his legal troubles, had a much different case than Trevor Mbakwe in that there seemed to be only one side.
The Gophers had a hard time defending the shoplifting charge and were starting to really question if it made sense for White to be a part of the program. Mbakwe, who is currently suspended pending an assault case, always had a much better chance of joining the team if he is proven innocent. Minnesota coach Tubby Smith doesn't put up with much and he wasn't about to disrupt his program if there was no need. White's announcement that he's no longer a part of the program was likely a preemptive move on his part, before a decision was officially made for him by the Gophers.
• Boston College's plan was to bring in Brady Heslip early so he could redshirt and learn Al Skinner's system. Heslip has already graduated from Burlington, Ontario's Nelson High but has been playing at New Hampton Prep (N.H.). Skinner announced Thursday that Heslip was joining the squad. He will technically be eligible to play this month but unless there is a glaring need for a sharp shooter -- which there is -- the Eagles will likely continue to redshirt him. But if the 6-2 guard has a quick learning curve and is knocking down shots then the Eagles might be tempted to bring him off his redshirt.
• The Bob Cousy Award named its candidates for the honor for the top point guard in the country. Harvard's Jeremy Lin was not one of them. According to at least one member of the committee Lin wasn't nominated by the Crimson. But he will be added. He should. Lin is one of the top point guards in the country.
• I'm not sure you could get any basketball coach among Pitt's Jamie Dixon, Syracuse's Jim Boeheim, Rutgers' Fred Hill, Nebraska's Doc Sadler or Missouri's Mike Anderson to say they would want to leave their current conference and go to the Big Ten. Sources close to the situation in the Big East claim there is mutual interest among the Big Ten and Rutgers. That may be the case, and it is so early in the process, but I still don't get how Rutgers makes sense. I don't see the Big Ten penetrating the New York media market when Rutgers can't consistently do it. Rutgers basketball in the Big Ten would be a disaster. It's barely surviving in the Big East. Memphis would have to be the choice for the Big East if it loses a member. Central Florida is fool's gold. Memphis' faithful care about the Tigers more than any other prospective school's fan base. It's not even close. The Florida infatuation is limited to the big three in the state -- Florida, Florida State and Miami.
• There is no reason to be optimistic that Renardo Sidney will play for Mississippi State this season. The NCAA will conduct more interviews next week with the Sidney family. The key thing here is this: The NCAA is under no legal pressure to clear Sidney to play. Sidney's legal team won't sue to get a court injunction because Mississippi State won't play him without an NCAA clearance and run the risk of one day having to vacate games.
• Two of most inspirational stories so far this fall have been BYU's Dave Rose coming back from a rare pancreatic cancerous tumor and the graduation of Duquesne shooting victim Sam Ashaolu. I'm no longer a voting member of the United States Basketball Writers Association, but both are deserving honorees of the Most Courageous Award.
• Penn may flirt with current Siena and former Quaker coach Fran McCaffery but it might be considered a lateral move. McCaffery has told me in the past how much he loves his gig. Penn is arguably the best job in the Ivy League but Siena is the top job -- with scholarships -- in the MAAC.
• As much as Siena, Niagara and Rider got the early-season pub, the best team in the MAAC may end up being Fairfield. Coach Ed Cooley was raving in the preseason about his combo of Yorel Hawkins and Derek Needham, both averaging in the mid-teens.
• The A-10 is deep, but maybe too deep. There is no question that Charlotte, Rhode Island, Temple, Dayton, Richmond, La Salle, Xavier and Saint Joseph's have the capability to beat each other up and to sleep on Duquesne, George Washington and Saint Louis in league play would be a mistake. The problem for the A-10 may come if the top four to five teams have four or five losses.
• Watching high school senior Jared Sullinger play Thursday night must make Ohio State melt. The Buckeyes could desperately use Sullinger -- now. If Evan Turner comes back from his fracture in his back to play next season then the Buckeyes -- with Sullinger -- should be in line to compete for the Big Ten title and make a deep NCAA run. Sullinger holds the ball like an oversized grapefruit, can handle the ball and post up. He's everything the Buckeyes need now to shore up the middle, assuming they get Turner back.
• It's amazing that UCLA at Notre Dame Saturday has no pregame buzz. That speaks volumes about the season the Bruins are having and the drop the Irish suffered after losing at home to Loyola Marymount.
• I did say on a preseason Big East show on ESPNU that West Virginia would win the league by two games. That was before Syracuse emerged as not only a league title threat but a national championship threat as well. Still, I do like the Mountaineers quite a bit. Maybe not as much as the Orange right now, but West Virginia will continue to improve and the addition of Turkish center Deniz Kilicli in early February could be a huge boost, filling a necessary big man void.
• Good to see Mike Davis at ease at UAB. Watching Davis coach the Blazers to the rout of Cincinnati might have been the most comfortable I've seen Davis in a decade.
• Seriously, I would not be surprised if Washington State won the Pac-10. Washington and Cal should win the league but there is no reason to have complete faith in either one of those squads. No one in the league has been as dominant as Klay Thompson at Wazzu.
• Tasmin Mitchell came back to LSU for his senior season to be a leader and a productive player. He hasn't disappointed. Mitchell has been Mr. Everything and so far, averaging nearly 17 points and almost nine boards a game for the Tigers. He had a 24-point and 18-rebound game for the Tigers against SE Louisiana.
• I'm not sure I've seen a player come back from major knee surgery (ACL) as well as Ole Miss' Chris Warren. He has been superb, averaging 19 a game for the Rebels. The two Ole Miss-Mississippi State games should be dandies.
• Coach of the year so far? If you don't have Northwestern's Bill Carmody on the list then you're missing something. Carmody has done an outstanding job putting the Wildcats at 8-1 without Kevin Coble (foot injury and done for the year). The Wildcats looked toast after losing at home to Butler and now are cruising with wins over Iowa State, Notre Dame and NC State. None of those wins may be NCAA-caliber but the Wildcats will be in contention for a bid from this point forward.
December, 7, 2009
12/07/09
10:24
AM ET
CHESTNUT HILL, Mass. -- On Sunday afternoon against Miami, BC guard
Reggie Jackson
had the flush dunk that might end up being the slam of the season, even if it was waved off as a debatable charge.
But the decision to dunk, the aggressive play to make a play, ultimately will be a telling move for Boston College this season.
Jackson can be the game-changer for the Eagles in lieu of Tyrese Rice, who departed to play in Greece. Jackson has the ability to sky, make active plays around the basket and create something out of nothing. The Eagles were playing their fifth straight game without Rakim Sanders, who's been out with a high-ankle sprain. Yet BC won two true road games without Sanders (at Providence and at Michigan) and hopes to get him back on the court as early as Wednesday's game against Harvard.
Jackson, who likely will return to the sixth man role once Sanders is back, needs to be the one who can make plays from driving on the perimeter. But even after Sanders returns, Jackson will be a matchup nightmare for big guards as they try to keep him from posting up.
"We need that," BC coach Al Skinner said of Jackson, who scored a team-high 18 points in the Eagles' ACC-opening 61-60 win over the previously unbeaten Hurricanes at Conte Forum. "That's who he is and part of who we are as a team. He understands that, and eventually he will make all the right decisions."
Jackson let the game come to him and was more of a passive participant in the first half; he scored only five points on six shots as the Eagles built a 31-25 lead. But the 6-foot-3 sophomore made a conscious effort to be more assertive in the second half, especially when the Canes mounted a furious late 19-3 comeback run to tie the game behind Villanova transfer Malcolm Grant's 18 points.
[+] Enlarge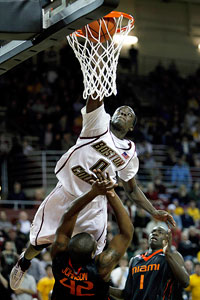 AP Photo/Michael DwyerReggie Jackson's postering dunk was one of the highlights of the season, whether it counted or not.
The Eagles were up 59-57 with 18 seconds left when Jackson went in for the finishing flush. Miami's Reggie Johnson stepped in and took the charge. The one-handed posterizing power jam was "one of the best things that has happened so far, the No. 1 on my memory list," Jackson said.
Miami coach Frank Haith said he didn't see the dunk. More than likely he was saying this tongue in cheek because it was hard not to notice the ferocity with which the dunk was flushed.
But what happened after the dunk may be just as important for Jackson. The Eagles defended Grant well on his 3-pointer with six seconds left, and Jackson grabbed the rebound. He was fouled and made two free throws to ice the game. Grant's 3-pointer at the buzzer tightened the score to one.
Skinner wasn't upset with the charging call, in large part because the Eagles won the game. But what peeved him a bit was the inconsistency of the new rule of the invisible cylinder that rises up from the floor to the hoop. Unlike the NBA, college basketball doesn't have the half-moon diagram on the court that serves as the no-charge zone. It was hard to tell where Johnson stood as he moved up into position. The Eagles showed the play on the replay board, and it did look as though Johnson was moving into position just as Jackson flushed over him.
"If a guard gets to the rim and dunks the ball, how far out away could he be from the basket?" Skinner asked rhetorically. "If he can get to the rim and dunk it, he's got to be pretty close [implying that the defender would be in the no-charge area]. It's a great call, and the ref stepped up and made the call and made it aggressively. But [Jackson] got all the way to the rim that way, and the way the rule is now, well, I'm still trying to figure out where the invisible cylinder is. The only way I'm saying this so calmly is that we won."
The Eagles, picked to finish ninth in the ACC, are 6-2 with Harvard up next. The Crimson gave UConn fits Sunday and handed BC one of its most humbling losses in years last season right after the Eagles had knocked off undefeated and top-ranked North Carolina in Chapel Hill.
Boston College will improve once Sanders returns and needs to continue to storm through games it should win on the way to the full ACC schedule. The Eagles play home games against Harvard, Rhode Island, Bryant, UMass and then South Carolina before Maine and NJIT come to town before a road game at Clemson.
Meanwhile, Miami dropped to 8-1 and hardly had the look of a 10th-place team after being picked to finish that low in the conference during the preseason.
The Canes beat South Carolina for the Charleston Classic title last month and Minnesota last week at home for their two best wins of the season. Heralded freshman guard Durand Scott scored 20 against the Gophers. If the Canes are to be a player, they'll need Grant to make plays. He decided to be a game-changer Sunday.
"That's the kind of player he is. He's mentally tough, even though he's only a sophomore," Haith said. "I wanted to go for the win there at the end, and I thought Malcolm had a good look."
Grant said he could feel the Canes struggling when they got down 14 points and felt he needed to do something.
Miami's guards have had a tough mentality during Haith's tenure. Jack McClinton was the elixir for this group last season. Grant can do that for the Canes this season whether he starts or comes off the bench, as he did against BC. Scott has the talent to go off, and James Dews can be a solid contributor.
The difference for Miami is whether Dwayne Collins wants to be a game-changer. The Hurricanes were outrebounded by 25 on Sunday, and Collins had just one rebound in 18 minutes. He declared for the NBA draft in the spring and clearly thought he was a pro, yet he had trouble -- and this by no means is meant as a dis -- scoring or rebounding over Cortney Dunn or Josh Southern. Can you imagine what would've happened in the NBA if that's where Collins thought he would be this season?
Frankly, Haith has had enough of Collins' lack of effort. And this season he has a hungrier redshirt freshman in the 6-10 Johnson, who gave his team plenty of spark by grabbing three boards, being more active and scoring seven points to Collins' four. Johnson had no turnovers, while Collins had two. Johnson had one block, Collins none.
"Rebounding is all about effort and desire, not how tall or athletic you are," Haith said. "In five years we've never been beaten like that on the boards [46 to 21]. That's a big part of who we are. I needed some energy, and for whatever reason [Collins] didn't have it."
If the Hurricanes are to continue their early-season success, Collins has to become more consistent and be a much more active participant. Having Grant create offense was huge for this squad on Sunday, but his inexperience makes it impossible for the team to rely on Johnson in the post. The Hurricanes need Collins to exhibit more and earn more minutes again for the balance to be there going forward.
Both of these teams have potential to finish much higher than projected. Whether that happens likely depends on Jackson making plays for the Eagles and Grant doing the same for the Canes.
November, 20, 2009
11/20/09
1:36
AM ET
NEW YORK -- The Cal we saw Thursday night was not the Cal we picked to win the Pac-10. No way.
No Theo Robertson or Harper Kamp means no chance for California to win the Pac-10, at least until those players are back from a stress reaction (Robertson) and a knee injury (Kamp).
"Those two guys, along with [then-senior] Jordan Wilkes were key guys for us last season," Cal coach Mike Montgomery said. "All of a sudden we're picked with all the hype."
[+] Enlarge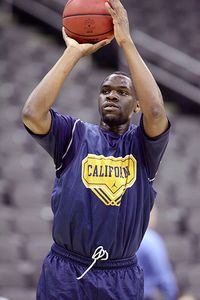 Douglas Jones/US PresswireSyracuse was already a tough enough opponent for Cal. And being without Theo Robertson certainly didn't help.
The Golden Bears were the best 3-point-shooting team in the nation last season and did return Robertson, along with senior guards Jerome Randle and Patrick Christopher. Robertson was averaging 18 points in the first two games, but suddenly couldn't practice when the team got to New York because of his bum right foot. Kamp stayed back in Berkeley because he's not ready to consistently practice after offseason knee surgery.
"They're the glue," Montgomery said. "They're the best thinkers and the people that really know what's going on now."
Cal could never catch Syracuse on Thursday night at Madison Square Garden, losing 95-73 in the semifinals of the 2K Sports Classic benefiting Coaches vs. Cancer.
Randle said he assumed Robertson was going to play.
"Then I saw he wasn't going to suit up and saw him in a boot," Randle said. "We had to have a different mindset for the game."
Montgomery said the Bears will know about Robertson's situation when they return to Berkeley on Saturday after Friday's third-place game against Ohio State. He said Robertson was "really, really sore and there was no way we were going to risk it at this stage in the season." Montgomery said Robertson wore a boot to keep his foot from flexing and to isolate where the pain was on his foot.
As for Kamp, Montgomery noted that he'd been practicing well but can't string together a few in row without discomfort.
"He wants to get to the point where he can practice hard and play the next day," Montgomery said. "He doesn't want to play, sit out and then play again."
Against the Orange, Randle had to take on much more of the scoring load with 25 points on 17 shots. Christopher struggled against Syracuse's zone by going 6-of-20 from the field and 0-of-7 from the 3-point line. The Bears were forced to play some big men that haven't had as much time like 7-foot-4 Max Zhang and 6-9 freshman Bak Bak.
"We need Theo, we need Harper, but until we get them back we have to pick up the slack," Randle said. "Missing Theo or missing Harper, we still have to win."
Senior Jamal Boykin got more involved without Robertson and Kamp with 14 points on 12 shots. Foul issues (four) limited the effectiveness of starter Markhuri Sanders-Frison.
The good news for the Bears is that the rest of the Pac-10 is in a state of flux, too. Washington, the other preseason favorite, hasn't been challenged yet. But UCLA fell flat to Cal State-Fullerton, Oregon State dropped two of three at a tournament at Texas Tech, and it's hard to say how good Oregon or Arizona are just yet. The likelihood of Arizona State having staying power is probably unrealistic with such a young team.
"I don't know if Syracuse is a great gauge to say if we're any good," Montgomery said. "They're big and we're not. I knew the zone would be a problem, and they had a lot of run-outs on us."
• Ohio State junior guard Evan Turner started the season with a triple-double against Alcorn State with 17 points, 10 assists and 11 rebounds. He got his second triple-double of the season Thursday night against North Carolina -- although this one wasn't nearly as nice: 23 points, 11 rebounds and 10 turnovers.
"It was a rough night, obviously," Turner said after the 77-73 loss to the Tar Heels. "I just have to come out [Friday]. The game is over and I just have to make sure it never happens again. Sometimes I might have thought about the situation too much, whether I should shoot or pass, so I traveled here and there."
• The tournaments on the ESPN family of networks get plenty of pub. But there is one tourney not on ESPN's air that is flying too far under the radar. The Paradise Jam begins Friday in the Virgin Islands and could provide a stellar final four of its own this weekend.
If the seeds hold, the semifinals in this event could feature four teams that are destined for the NCAA tournament.
Tennessee, which needs to beat East Carolina in the first game, would match up against Northern Iowa in one semifinal, assuming the Missouri Valley Conference preseason favorite beats DePaul.
The Volunteers are coming off an otherworldly 124-49 win over UNC Asheville in which Scotty Hopson came out of his shell and scored 25 points.
The Panthers beat a solid Denver squad 71-65 in their opener with a balanced effort, led by Kwadzo Ahelegbe's 18 points and 13 from Adam Koch.
On the other side, assuming Purdue gets past South Dakota State (which upset Wyoming on the road last week), the Boilermakers could face Boston College. The Eagles have to fly past a Saint Joseph's team that opened up with wins over Drexel and Holy Cross. But BC gets suspended starters Rakim Sanders and Corey Raji back for the opener against the Hawks. Boston College found a new scorer in their absence, as senior Tyler Roche has gone for 30 and 19 in the two games. The Eagles already knew they had a stable set of guards in Reggie Jackson and Biko Paris.
Purdue will enter this tournament minus point guard Lewis Jackson, who is out indefinitely with a foot injury. Coach Matt Painter said he expects Kelsey Barlow to get more minutes in the rotation, even though Barlow doesn't play the same position. The Boilermakers will still lean on Keaton Grant at the point and have veteran leadership up front with Robbie Hummel, JaJuan Johnson and E'Twaun Moore with D.J. Byrd (13 ppg) and Chris Kramer (11 ppg) more than holding their own.
So don't sleep on this weekend's Paradise Jam. A final four in St. Thomas of Tennessee-Northern Iowa and Purdue-BC would probably be one of the better semifinals of any of these early-season events.
November, 4, 2009
11/04/09
11:34
AM ET
CHESTNUT HILL, Mass. -- Is it really early November?
No, it can't be. Boston College's practice gym has no windows, so you can't see the weather outside, whether there's snow on the ground or the first fall leaves are still blustering on campus.
It's easy to lose track of the date if you're watching BC practice. There is very little teaching going on here, because there is no need. This team knows what to do.
It's more fine-tuning -- an injection of new plays, a critique on making a cut on the inside when popping up for a pass off a screen. But nothing too dramatic. In one of the more unusual circumstances in major Division I college basketball, the Eagles didn't add a single player to an NCAA tournament team that won against eventual national champion North Carolina in Chapel Hill and beat Duke at home last season.
Sure, they lost point guard Tyrese Rice (16.9 ppg) and his long-bomb, high-arching 3-pointers that kept defenses extended. He was always a threat, no matter the score. But Rice's departure after his senior season hasn't ruffled this bunch. There is more than enough here to score at four of the five positions (center being the exception) against any team in the ACC. Whether the Eagles can defend in the interior and rebound from the frontcourt positions is still in question.
Make no mistake: This is not a title contender. But it should be an NCAA tournament team yet again, despite a predicted ninth-place finish by the ACC's (heavily North Carolina-based) media contingent.
"I've never had a situation where I haven't brought in someone new to help energize the guys returning," said BC coach Al Skinner, who is universally respected and admired by his coaching colleagues for his ability to live a serene coaching life. "I thought this was a unique group."
Skinner said the staff made a decision last season not to bring in someone unless that person provided a special need that they didn't have. Now, of course, if the Eagles had been hand-delivered Kentucky freshman John Wall, they would have taken him. But the players still must adapt, and this group has adapted as well as any other Skinner has coached.
"The one thing everyone understands with no newcomers [is] that this is it," Skinner said. "We are who we're going to be without new wrinkles."
And who they are is more than capable of surviving in what should be a highly competitive and unpredictable ACC.
"People slept on us last year," BC junior Joe Trapani said. "We were picked 11th and finished sixth and beat Duke and Carolina. One of the pluses of nobody new is that we start where we left off last year. No practice is wasted on teaching guys plays. We're leaps and bounds ahead of where we are from last year."
Part of the reason is the development at the position Rice vacated -- the position that probably caused many to project a BC decline.
[+] Enlarge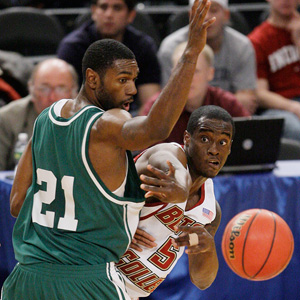 AP Photo/Julie JacobsonOnce the season starts, look for Biko Paris to start at the point position for the Eagles.
Throughout Tuesday's practice, junior Biko Paris and sophomore Reggie Jackson were matched against each other. They will share the position and give the Eagles two totally different looks.
Paris is listed at 6-1, Jackson at 6-3. Paris is much more the distributor but can make the deep 3-pointer. Jackson's length makes him a tougher matchup, and he can drive to the basket a bit easier. Senior forward Tyler Roche said, "They both handle the team very well."
"Everyone wants to know the same thing: How will this team be without Tyrese?" Paris said. "If you really know basketball, you would see that we really jelled better last year when I was at the 1 and he was at the 2. He was free to get his shot off."
Skinner didn't hesitate to make that switch in key games, and there were times, such as when the Eagles nearly clipped Duke in the ACC tournament, that he put Rice on the bench for stretches.
"My confidence is above the rim," Paris said. "My teammates have a lot of confidence in me. I know they have my back."
Jackson said he was a point guard in high school in Colorado. But that didn't appear to be the case when he was put at the position in a game early last season.
Paris said Jackson approached him and told him he was nervous about playing the position.
"And he dribbled the ball off his foot," Paris said of Jackson. "That's when Coach said, 'I can't put him at the position.' It was his first game, and he knew he had to learn. Since then he's come into the gym and done dribbling drills. I told him it's 75 percent confidence. He's a wonderful player at nearly 6-4 with his long arms and athleticism. I don't know if I'll go against a guard that is as athletic as him in the ACC."
Jackson said he was too anxious playing the point last season. He said he has found his pace this season and is increasingly comfortable. His handle is not as tight as that of Paris, but the high dribble and drive to the hole will be hard at times to defend.
"We'll miss Tyrese's leadership and his 17 points a game, but we relied too heavily on him last year," Jackson said. "We're leaning more on each other's talents. We'll be a more aggressive and better defensive team."
Skinner will likely start with Paris at the point and the physically imposing, 6-5 Rakim Sanders at shooting guard. Last season he made the two biggest shots for the Eagles by beating Virginia Tech and Georgia Tech at home in those games' final possessions (two wins that were essential to receiving an NCAA bid). Up front, the Eagles will have Trapani, Corey Raji and Josh Southern. Skinner will probably start with Jackson off the bench. Roche will be next, giving BC a solid seven that includes five juniors, a senior and a sophomore. Junior forward Cortney Dunn and sophomore forward Evan Ravenel will compete for the eighth spot.
Jackson is fine with his role as the energizer off the bench, but don't think for a second that he won't have plenty of minutes on the floor, either in place of Paris or subbing for Sanders or Trapani if the Eagles go smaller.
Skinner said Jackson's approach to playing the point has "changed tremendously. He now has an idea what the role encompasses. He's a little more mentally ready to do what's necessary. Last year, when he was at the point, it was about him. Now when he's at the point, it's about us."
The Eagles had their stumbles last season. The dreadful loss to Harvard, just days after BC knocked off the previously undefeated and top-ranked Tar Heels, was one of them. Rice's problem last year was his sense that he could flip a switch when he wanted to raise his game. But it was sometimes too late when teams gained confidence on him, as Harvard's Jeremy Lin did. That shouldn't happen with this group.
That said, the Eagles have a tough stretch of games early in the season. If they get past Saint Joseph's in the first round of the Paradise Jam in the Virgin Islands, they will likely play Purdue in the semifinals. Then, in a third game, they would probably play either Tennessee or the Missouri Valley favorite, Northern Iowa. BC also plays return games at Providence (a lower-level Big East team, in a game BC should win) and at Big Ten contender Michigan, and then the Eagles open up the ACC on Dec. 6 against Miami.
"I purposely challenged them with this schedule," Skinner said. "I'm not looking for a paper lion. We only got 10 guys. We've got eight guys who can legitimately play and two others that might have to figure it out. So let's go. You don't need more than eight anyway."