Category archive:

Boston University Terriers
July, 6, 2012
07/06/12
6:59
PM ET
When it came to bylaws about departing teams, the Horizon, Colonial and America East didn't buckle.
There are consequences that come along with a departure. Being ineligible for the conference tournament is one of them for these leagues. Butler (Horizon) and Virginia Commonwealth (CAA) accepted that and got to the Atlantic 10 as fast as possible.
What school wouldn't do the same if the opportunity existed? Scheduling, television exposure and tourney access are the most important reasons -- outside of the financial benefits -- for being in a conference.
Take away the ability to play for an automatic NCAA tournament berth and the season can seem like a waste. Postseason bans, such as the one USC had recently and the one Connecticut will endure this season, take the air out of the season -- even if the schools and coaches do all they can to create a new goal of winning a regular-season title.
Even though both would likely be contenders for at-large berths, Butler and VCU took no chances.
Boston University, on the other hand, probably would leave for the Patriot League tomorrow if it could. The Terriers weren't pleased with the decision by the America East to uphold its bylaws, but they are stuck. The current team will have to deal with it.
Old Dominion and Georgia State were hoping the CAA would lift its ban, but it did not. Georgia State went as far as to explore trying to get into the Sun Belt sooner, but that didn't happen.
The Horizon, CAA and America East are actually not the norm historically.
After losing members in the past decade, the Big East, Atlantic 10, Big West, C-USA, Mountain West and WAC have not even broached the subject, much like the Big 12 didn't when it lost members to the Pac-12, Big Ten and SEC. The Big East didn't block West Virginia from playing in the conference tournament a year ago after it announced its hasty departure to the Big 12. Perhaps the smaller conferences are worried that the league will have only one bid and don't want it to go to the school with one foot out the door.
[+] Enlarge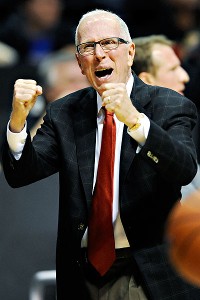 Christopher Hanewinckel/US PresswireSteve Fisher and the Aztecs will get a chance to compete in their final MWC tourney.
But when I asked some of the coaches playing in their final season in a conference, the question was met with near astonishment.
Pitt coach Jamie Dixon wanted to know if I was joking. San Diego State's Steve Fisher said he hadn't even heard of these conferences not allowing schools to participate. Utah State's Stew Morrill said he didn't think the WAC would do such a thing since previous schools that left weren't treated in that manner. Memphis coach Josh Pastner said he would be incredibly disappointed if that occurred. (C-USA took away the conference tournament from the city of Memphis but didn't remove the Tigers' ability to play for the title.)
But what would happen if these conferences turned on the departing teams in 2013? It's too late to change the bylaws and isn't going to happen, but it's still fun to play the "what if" game.
What effect would it have had on the Big East to take Pittsburgh and Syracuse out of the tournament?
A serious blow. The league may be squabbling with the two schools -- and will do so in court with Pitt -- but it needs these two in the conference tournament as long as possible. Syracuse is a natural draw at Madison Square Garden. Taking the Orange out of the Big East would have been a major mistake. The Orange and Panthers still don't have a definitive arrival date in the ACC, but it's likely to be in the summer of 2013.
What would it have done to Syracuse and Pitt for a potential at-large berth?
Likely no issue at all. Both have teams that look like virtual locks for an at-large bid.
What would happen to the Atlantic 10 if Temple and Charlotte weren't allowed in the tournament?
Let's be honest: Charlotte won't be missed on its way back to Conference USA. But Temple's departure will be a hit, as the Owls have consistently been a major part of the A-10 tournament. Not having a Temple presence, prior to the Owls' exit to the Big East, would have hurt the tourney's debut in Brooklyn. Bringing in Butler and VCU will offset the loss, but Temple still is very much associated with the A-10 brand.
What if the Big West banned Pacific?
That would be just cruel. The Big West has had teams leave before, and it might happen again. Plus, this is coach Bob Thomason's final season after a quarter-century at his alma mater, and he said he has a team that could challenge for the Big West title. He has been a loyal member, and Pacific is leaving for the all-private WCC. No harm in letting the Tigers finish up, and it won't hurt the Big West one bit.
What if Conference USA blocked Memphis, SMU, UCF and Houston?
Then C-USA would have a tournament that lacked any sort of buzz. Marshall is a legitimate title challenger to Memphis, and UTEP should be in contention. If the Tigers had been blocked from being in the tournament, after it was taken from the city, C-USA's relevance during Championship Week would have been diminished even more. It's still hard to say how many Memphis fans will travel to Tulsa, Okla., but the Tigers do have a significant following. This was a smart move by the league to not play bitter politics with the departing members.
What would the Mountain West tournament be like without San Diego State and Boise State?
A bit less exciting. The Aztecs have been one of the consistent winners in the MWC with UNLV and New Mexico. Take SDSU, off to the Big West, out of the event in Las Vegas, and the tournament would lose luster. No offense to Boise, but no one would likely notice if the Broncos weren't invited. But SDSU matters a great deal. The Aztecs will be a top-25 team alongside UNLV. Taking them out of the conference tournament would have been a storyline the MWC doesn't need in March.
What would a WAC tournament look like without Utah State and San Jose State?
Not worth it. USU has been the benchmark program in the WAC since Morrill arrived. New Mexico State can't anchor the conference on its own. NMSU needs a rival, and Utah State has been that nemesis. San Jose State wouldn't be missed, but the Aggies' absence would have been a glaring omission in Las Vegas. Rebuilding Utah State will likely need the tournament to get a bid this season, but the WAC was in no position to be punitive. So the Aggies will have one final chance to represent the WAC before it joins SJSU and former WAC members Fresno State and Nevada in the Mountain West.
September, 14, 2011
09/14/11
7:39
PM ET
Patrick Chambers signed a contract extension on May 5 that was supposed to take him through the next five seasons at Boston University.
A little over three weeks later he was the head coach at Penn State.
And the timing couldn't have worked out any better for Boston College associate head coach Joe Jones.
The best job in the America East was open.
Boston University may face plenty of apathy in a pro sports-dominated city, and it lacks a rousing atmosphere for anything save an America East tournament title game. And yes, the Terriers did lose the league's top player, John Holland. But the rest of the roster is intact to make BU (along with Stony Brook) the favorite to represent the America East again in the NCAA tournament next March.
[+] Enlarge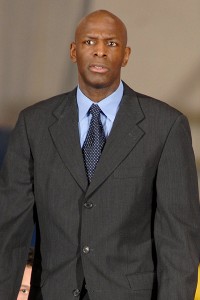 Mitchell Layton/Getty ImagesThe best job in the America East now belongs to Joe Jones.
"I spent five years as an assistant there,'' said New Hampshire coach Bill Herrion. "It was before they dropped football, before the Agganis Center was built, but I know that it is a very, very good job and has been for a long time. From Rick Pitino to Mike Jarvis to Dennis Wolff to Pat Chambers, year in and year out it's a job that should compete for the title."
Jones was about to fall into one of the more fortunate situations in college basketball. Few coaches -- if any -- have ever been able to land a job at a new school without having to move. Mike Montgomery did it when he was the head coach of the Golden State Warriors; after two years, he got the Cal job. Montgomery was already in the Bay Area at Stanford before his Warriors gig. And while he did get closer to his new job, he didn't have to do anything substantial, save change traffic patterns.
"I could not have imagined that this would happen,'' said Jones. "You really have to count your blessings and be fortunate. My first thought was my family. I wasn't going to put them through this again and move my [two] kids and my wife in a year. It was an unbelievable opportunity to stay in the same household and not disrupt my family.''
The Terriers didn't want to mess with a crazed head-coaching search that would stretch too far into June.
Boston University athletic director Mike Lynch was deciding between Butler associate head coach Matthew Graves and Jones. Graves had never been to Boston, but he had coached in consecutive national title games. Jones knew the area and had experience as a head coach.
He got the nod on June 23 and now has the most desirable job in the league -- and a second chance at success as a head coach.
"People don't think about your family, but to get a job and not have to move your family …'' said Joe's brother James Jones, the head coach at Yale. "He didn't anticipate this job opening. But it was the perfect storm for him. He did a tremendous job at Columbia but everyone wants to win a championship, and he's in a situation where he's got the best job in that league.''
Chambers' Terriers team had one senior last March but still won the league. And the Terriers gave Kansas fits in the first half of the NCAA tournament as a 16-seed; they were down only four at the half before losing by 19 to the top-seeded Jayhawks in the second round of the Southwest Region in Tulsa.
Now the pressure is on Jones to continue the upward climb. Sure, this is BU. The only pressure is self-imposed. But it exists, even if there isn't anyone flocking to picket the school if the Terriers don't win the America East, where BU's home attendance averaged 979 in 14 games last season.
"I think it can happen, but it's not an easy thing to win 20 games back-to-back. And with everybody back except one guy from the championship game, hopefully we'll have the same success and build on what Pat did in the past,'' said Jones.
There is a familiarity with Chambers, who was a Villanova assistant. So, too, was Jones. So the transition shouldn't be too difficult to navigate.
"It's good to have that expectation,'' Jones said. "I think they have an idea of what they want to be here. They have shown the commitment to be successful, and I love that. I've enjoyed getting to know everyone here. They know the budget and the travel, and that we need the money to go where we need to go to be successful. Now it's up to me and my staff to perform.''
Jones never finished above fourth in his seven seasons at Columbia. But that was Columbia, in a conference where Penn and Princeton dominated for so long -- and then toward the end of Jones' tenure, Cornell made a nice three-year run. Now it's Harvard's turn at the top of the Ivy League. Columbia hasn't made its mark in quite some time.
At one point, Boston University had visions of being in the Atlantic 10. Maybe it still does, and with the changing landscape in college sports there is no way to discern what direction any of these schools -- even those at this level that don't play football -- will land within 10 years. But the Terriers have plenty going for them, with strong finances, a tremendous city to attract recruits, and a destination that would be appealing to a potential conference looking to expand. Still, BU has to maintain competitive excellence to even be palatable, and that's where Jones has to take advantage of the roster.
He lost senior Jake O'Brien for this season with a broken foot. O'Brien had surgery on the foot again after he first injured it against UMass on Dec. 31, 2010. But Jones said he wasn't sure when he took job if O'Brien would have been available anyway this season. O'Brien was the team's top rebounder and third-leading scorer when he went down. But the Terriers still won the league behind Holland's 19.2 points a game. The Terriers have five seniors and will lean heavily on returnees Darryl Partin, Matt Griffin, Patrick Hazel and Jeff Pelage; all played double-figure minutes last season, with Partin the only double-figure scorer in the bunch.
"We've had three workouts so far, and this group really enjoys itself,'' Jones said. "They understand the level of intensity needed to be successful. Coach Wolff and Chambers set the tone on how it needs to be done here.''
It's all set up for Jones: the roster, the league, the city, the support. Now he just has to win -- even in Year 1, when the team is set for an America East championship run.
October, 15, 2009
10/15/09
4:09
PM ET
Georgetown expects to challenge for the Big East title.
And it's obvious with the turnover of rosters that Louisville and Pitt should drop out of the top two slots from last season to make room for a contender that finished in the bottom six.
Connecticut, which was tied with Pitt, a game behind Louisville, will slide down a peg, too, albeit maybe just out of the title chase.
Upstart teams like Cincinnati, Seton Hall and St. John's all say they're going to make runs at NCAA berths. If that's the case, a team from the top eight of the Big East has to drop to the bottom seven, right?
Picking Providence to drop makes sense because it lost five key players off last season's team. The Friars didn't make the NCAA tournament but did win 10 league games. Second-year coach Keno Davis has to put his own imprint on the roster this season.
But that's still not enough if those other teams are going to climb higher in the Big East. Another team has to drop.
The consensus among the rest of the league is that team probably will be Marquette, which lost a trio of guards (Jerel McNeal, Wesley Matthews and Dominic James), the driving force in Tom Crean's and Buzz Williams' success on the court the past three seasons.
"Everyone is making that push, and in order for someone to go up, someone else has to go down,'' second-year Golden Eagles coach Williams said late Wednesday as he finished an exhausting day that started with a 5 a.m. boot camp wakeup call with his team. Marquette is preparing for Friday's first official day of practice. "If Providence and Marquette are those teams, then maybe that's what it will be.''
With Cincinnati's addition of highly touted talent Lance Stephenson, the healthy return of Anthony Mason Jr. for a veteran St. John's team, and the impact of transfers Herb Pope and Keon Lawrence for surging Seton Hall, Williams isn't dismissing the expected turnarounds.
He's not going to argue any of those points.
But it would be hard to push the Marquette staff into thinking it isn't finishing somewhere in the top eight with the current roster, despite a turbulent offseason.
Marquette's staff exhibits pride, albeit somewhat privately, and its members believe there's no reason the Golden Eagles should be seen as any less deserving of consideration among possible postseason teams than Pitt, which lost four of five starters and two key players for this season (Jermaine Dixon and Gilbert Brown, who currently are shelved with a broken foot and a fall academic suspension, respectively).
The Pitt comeback is hard to debate, considering the Panthers do have an immense talent in 6-foot-9, 235-pound big man Dante Taylor to replace DeJuan Blair, a gold-medal-winning (Under-19 U.S. team) point guard in Ashton Gibbs and a coach in Jamie Dixon who has a stellar 163-45 record in his first six seasons as a head coach. With Dixon's track record, the expectation is he won't slide out of a top-eight finish.
The Golden Eagles' case would be stronger had freshman point Junior Cadougan not ruptured his right Achilles tendon, which will keep him sidelined for the season. Their case to stay relevant this season would have been nearly impossible had senior guard Maurice Acker not flip-flopped and returned to the team after deciding earlier in the summer to focus on his academics. Acker's minutes jumped from three a game to more than 27 after Dominic James went out with a foot injury in the final six games of the 2008-09 regular season.
Williams said it was déjà vu that Acker was in the same position from last winter to now, standing idle until an injury opened up an opportunity for him.
The other point Marquette was counting on was sophomore Darius Johnson-Odom, who injured his left foot in a workout last month. The hope is Johnson-Odom can come back next week.
The off-court news got worse last month when 2010-11 committed recruit Monterale Clark was arrested and charged in an alleged sexual assault at Hill College in Hillsboro, Texas. The 6-foot-10 Clark was a highly touted junior college player who was being heavily pursued by schools in the Big 12 and SEC. Clark hadn't signed a national letter of intent yet (until the November signing period), so the Golden Eagles can't comment on him. However, privately they say that regardless of what happens with the case, Clark will never play for them.
The eligibility of Youssoupha Mbao, a 7-foot-2 freshman expected to contribute, is not settled, and junior forward Joe Fulce is still recovering from surgery on his right knee.
Despite all the body blows that seem to be coming, the Golden Eagles don't seem to be wilting. There are high expectations for senior Lazar Hayward, who averaged 16.3 points and 8.6 rebounds a game last season, and won a bronze medal for the U.S. at the World University Games. And the returns of Acker and sixth man Jimmy Butler, who averaged 5.6 points and 3.9 rebounds last season on the wing, certainly help.
"Lazar will be one of the better players in the league,'' Marquette assistant coach Tony Benford said. "Acker, Hayward and Butler all averaged 25 minutes or more toward the end of last season when James went down, and we have experience at the right spots -- point guard and the 4 man. Everybody is going to pick us [as the team that drops]. We'll see.''
While Johnson-Odom is expected back, not having Cadougan is a blow. The expectation that senior point David Cubillan will cushion some of it means the Golden Eagles will have two seniors sharing the point, even though neither was projected to be the main distributor at the end of last season.
If junior college stud Dwight Buycks can make an impact on the perimeter, freshman wing Jeronne Maymon can produce, and there is helpful depth behind Hayward with Fulce, sophomore center Chris Otule, freshman Erik Williams and Mbao (assuming his eligibility is resolved and he doesn't miss games), there will be quality depth, as Benford professes.
Benford isn't shying away from the Golden Eagles' needing Otule to score on the block, Maymon to be the strong power body inside or Mbao to be the skilled big man who can run the floor and defend. "Everybody thinks it's going to be us, the team that slides,'' Benford said. "But we'll defend. And you know a Buzz team is going to play hard.''
Getting an early read on this squad could come in late November at the Old Spice Classic in Orlando, Fla. Marquette opens with Xavier and then plays either Creighton or Michigan on Thanksgiving weekend.
Playing rebuilding NC State and at Wisconsin in December also will tell a tale about where this team is headed before it opens the Big East with easily the hardest first four games of any team in the league. Marquette faces three favorites who might win the league: at West Virginia, Villanova, Georgetown and at Villanova. That slate alone could push Marquette to the cellar. Whether it stays there will be determined by how much the newcomers have matured by January.
Williams was facing a daunting task of filling the roster with high-profile recruits after the expected departures of Jerel McNeal, Wesley Matthews and James.
He did that.
He couldn't control the injury to Cadougan, and the 2010 recruiting took a major hit with the Clark situation. Getting Jamail Jones (the No. 13 small forward in the ESPNU Top 100) out of Montverde Academy in Decatur, Ga., helps.
But the long-term success of this program might be determined by how Williams handles this season now that Cadougan is gone and the focus will be on whether or not the Golden Eagles fall in the league.
Since the expectation is that they will drop, finishing in the top 10 in the Big East will be seen as a major accomplishment that proves the Golden Eagles have sustaining power even in a transition year.
• Equal time for the rest of the America East is due after all the negative words focused on Binghamton's issues. Albany returns two all-conference players, Tim Ambrose (14.3 ppg) and Virginia transfer Will Harris (12.9 ppg), to a team that was fourth nationally in rebound margin. Boston University first-year coach Pat Chambers is loaded with 91.5 percent of the scoring back from last season, including John Holland (18.1), Corey Lowe (17.2) and league rookie of the year Jake O'Brien (12.5). New Hampshire coach Bill Herrion made the America East semifinals last season for the second time since 1995, and Alvin Abreu (12.8 ppg), Tyrone Conley (8.9 ppg) will ease replacing two-time all-conference player Tyrece Gibbs. With 16 wins last season, Stony Brook's total was its most in Division I, and it should be a factor again with Muhammad El-Amin (15.7 ppg) and all-rookie players Tommy Brenton (6.7 ppg, 8.9 rpg) and Bryan Dougher (11.2 ppg). SBU held teams to only 60.9 points a game last season. Vermont returns the America East player and defensive player of the year, Marqus Blakely (16.1 ppg, 9 rebounds per game and 2.7 blocks per game), and Michigan State transfer Maurice Joseph (8.1). The Catamounts averaged a league-best 76.1 points a game. Hartford's Dan Leibovitz is hopeful he'll have an injury-free team this season. Leibovitz got his team motivated by proving he can stay in shape, too. He ran and finished the Hartford Marathon on Saturday -- his first.